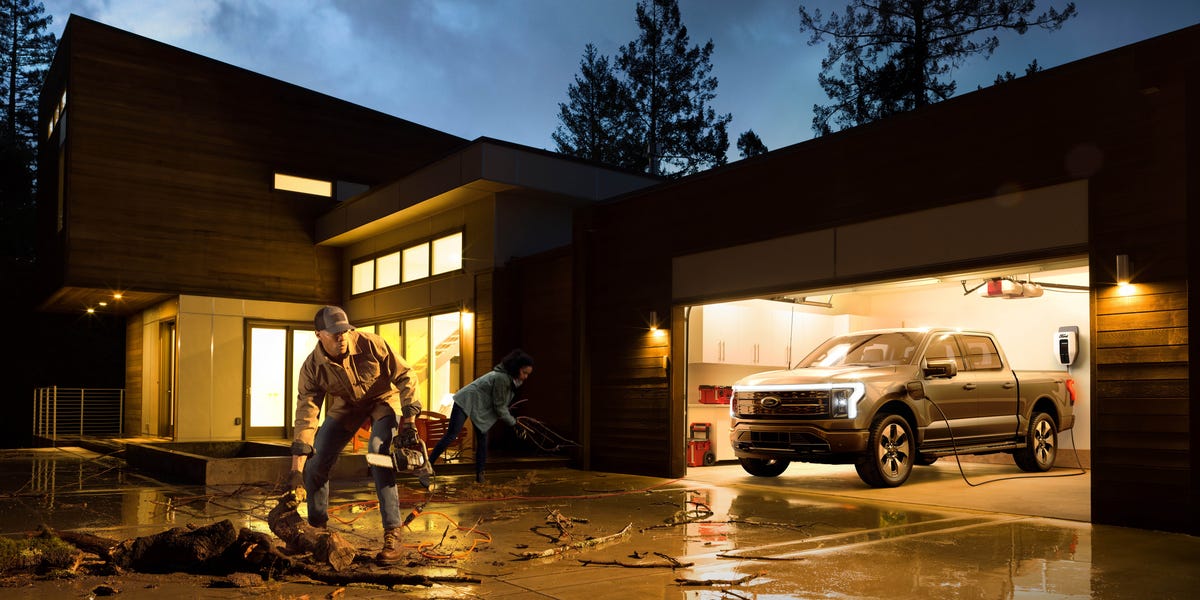 From the April 2022 issue of Car and Driver.
To combat electric-power interruptions, a new solution taps into the batteries in electric cars and trucks. All EVs have enough energy storage to theoretically power a home for several days. The trick is transferring the electrical energy from an EV into useful home AC power.
Most EVs accept electrical power only through their charge ports. A handful can output power [see below], but Ford is one of the few that has introduced the components to make powering a home possible.
The upcoming F-150 Lightning and its Intelligent Backup Power capability will allow owners to keep the lights on at home. Even with the standard 98.0-kWh battery, the Lightning's battery capacity is more than seven $10,500 Tesla Powerwalls, a common home battery. Look at it this way: At $41,699, a base Lightning costs 43 percent less than seven Tesla batteries, and you get a truck for free. The Lightning can pump as much as 9.6 kilowatts into your home, which is plenty during a power failure.
Plugging a Lightning into your home requires the 19.2-kW Ford Charge Station Pro, which comes standard on extended-range models and costs extra on base models. No pricing yet, but we would guess that the Charge Station Pro will cost about $2000. You also need the Home Integration System. This sophisticated power electronics box takes the high-current DC from the Charge Station Pro and converts it into usable AC power. It connects between your utility power meter and your main power panel and disconnects your house from the power grid whenever it's in use. The price for this hasn't been set either, but we'd guess at least $3000.
Finally, you'll need an electrician to install these two pieces of hardware, including the control and 80-amp power wiring between them. Depending on your garage and house layout, this cost will vary widely, but it's hard to see how any installation would cost less than $1000.
To ease this process, Ford has partnered with Sunrun, a nationwide solar-system installer. Sunrun can also add solar panels to the installation to stretch how long the system can power your house and maintain the charge in your Lightning's battery.
Our estimate of $6000-plus for the overall system is not out of line with the cost of installing a whole-house backup generator. Depending on how much electricity you use, even the Lightning's standard-range battery could power your house for about three days, according to Ford. And unlike most portable generators, it's quiet. Just remember that if you drive your truck, your backup power will go with it.
---
This content is created and maintained by a third party, and imported onto this page to help users provide their email addresses. You may be able to find more information about this and similar content at piano.io
Most Related Links :
honestcolumnist Governmental News Finance News