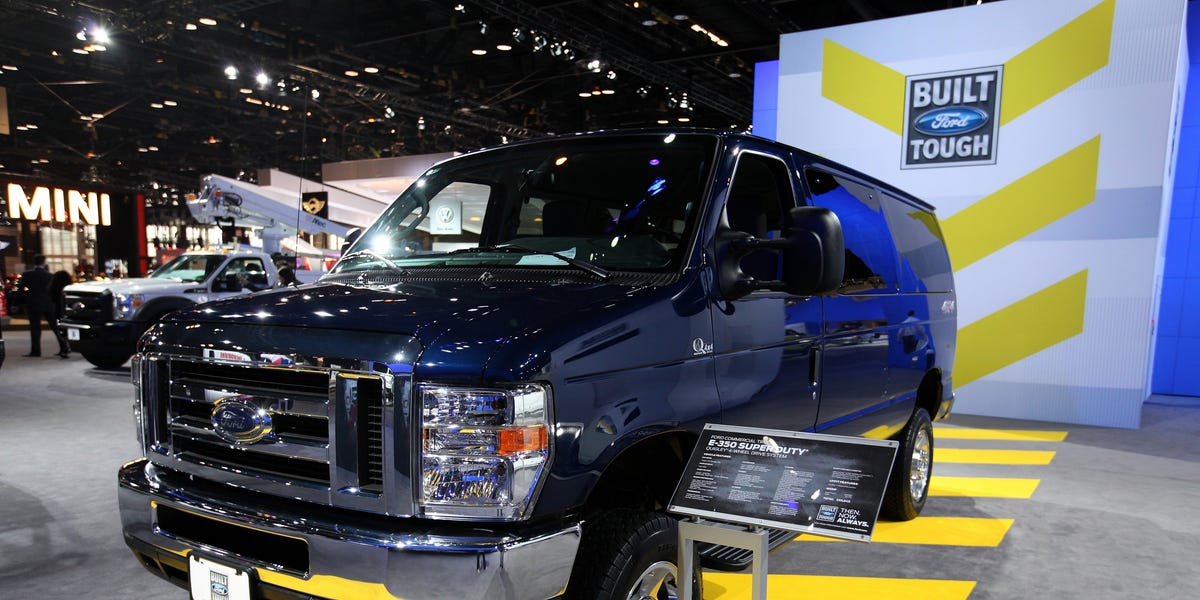 Your Guide to Ford E-350 Seat Covers
The Ford E-350 is part of the Ford E-Series, which initially consisted of a cargo or passenger van and a cutaway van chassis. Since 2016, The Ford E-Series has been exclusively available as a cutaway model that you can configure to suit your unique business needs. Even though the E-350 was made for tough handling, the parts of the vehicle can eventually suffer from wear and tear. Protect your seats with Ford E-350 seat covers so you can stop worrying about the wear and tear on your vehicle and focus on the job ahead.
What Are Ford E-350 Seat Covers?
Ford E-350 seat covers are protective covers that have been made specifically for the seats of Ford E-Series vehicles. You can also opt for universal seat covers, since these covers will fit the seats of most vehicles, unless you're driving an outlandish sports car, for instance. There are many benefits to using seat covers, such as:
Protection: If you're using a vehicle such as the Ford E-350 for business purposes, your seats will get dirty, whether from placing packages on them or quickly eating your takeaway burger in the van before continuing with work. Seat covers add a layer of protection over your seats, which will keep them clean and protect them from wear and tear.
Convenience: Seat covers are very easy to clean. Some materials, such as vinyl, can easily be wiped down, while others can be removed when dirty and then washed. To ensure that you wash your car covers correctly, check the cleaning instructions first.
UV protection: Apart from protecting your seats from dirt, seat covers can also protect them from the sun's UV rays. When the sun beats down on your seats day after day, they will eventually become faded. Installing seat covers will keep your seats looking as good as new.
An upgraded look: If you've invested in a previously owned Ford E-350 or have had your van for a while, you can spruce it up by installing seat covers. They can cover tears and stains on worn upholstery and can give your cabin a more upscale look.
Resale value: Protecting your seats will boost the resale value of your vehicle. When you're ready to trade your vehicle in for a newer model, a well-kept interior with seats that are in mint condition will most definitely get you a better price.
Types of Ford E-350 Seat Covers
You're spoiled for choice when it comes to selecting seat covers for your Ford E-350. Apart from seat covers that are custom-made to fit the Ford E-Series, there's also a wide range of universal seat covers to choose from. Here are a few examples of some of the materials that seat covers are made from:
Polycotton
Polycotton is a mixture of cotton and synthetic polyester fibers, which means it provides the comfortable feel of cotton while also offering the durability and wear resistance of the synthetic material. Seat covers made from this material are water-resistant and can be washed in a washing machine. You can opt for Covercraft SeatSaver heavy-duty polycotton seat covers, which are custom-made for the Ford E-Series. WeatherTech sells universal polycotton seat covers that are designed to fit most bench and bucket front and rear seats. They come with an extra layer of nylon lining, which offers another layer of protection.
Neoprene
Neoprene seat covers are made from wetsuit material, which means they consist mostly of rubber. These seat covers are extremely durable and water-resistant, which make them the perfect choice for drivers who have active lifestyles. They are also great for hot days, as they absorb less heat. Conversely, they will remain warmer in the cold winter months. Pic Auto provides universal neoprene covers that fit most van and SUV seats. It's smart to wipe these seat covers down with some detergent and a wet cloth since they can incur damage when you wash them in a washing machine.
Mesh
Seat covers that are made from mesh allow for air to flow through. They are the perfect seat covers if you live in warmer areas, since the mesh material is extremely water-repellant. This, together with ventilation, prevents moisture from building up in the seat covers.
Mesh seat covers also remain nice and cool when it's hot outside. You can either hand-wash these covers or put them through a gentle washing machine cycle. You can take a look at the Car Pass sophisticated leather and mesh universal car seat covers. They are air-bag compatible and also allow for 40/60 or 50/50 split-folding seats.
How To Replace/Install Ford E-350 Seat Covers
Disclaimer: The guidelines in this story are general and not meant to replace instructions for your specific vehicle. Please consult your owner's manual or repair guide before attempting repairs.
Installing car seat covers is a quick and easy process. Follow the instructions that come with your seat covers to ensure that you install them correctly. Here is a step-by-step example of how the process may go:
Remove the Headrests
First, remove the headrest from the seat, which you can do by pressing a release button or simply pulling the headrest out. If the seat has an armrest, you'll also need to remove it, which may require undoing a screw or bolt. You can replace the armrest once the cover has been installed.
Apply the Seat Cover
You can now pull the seat cover over the backrest of the seat. If there's a tag for an air bag, ensure that it's on the same side that the air bag is located. Once the backrest is properly aligned and fitted, pull the straps through the area where the backrest and the seat bottom meet. Then guide the straps underneath the seat to where the buckles are and clip them in. Tighten the straps as needed. Adjust the base part of the seat cover, ensuring that it fits neatly. There may be loops underneath the seat that you need to clip in.
Reinsert the Headrests
You can now reinsert the headrest and then pull the headrest cover over it. Tighten the elastic straps inside to ensure that it fits snugly and neatly. You can also now replace the armrest.
This content is created and maintained by a third party, and imported onto this page to help users provide their email addresses. You may be able to find more information about this and similar content at piano.io
Most Related Links :
honestcolumnist Governmental News Finance News