Automobile
View Photos of the 2022 Mercedes-Benz S500 4Matic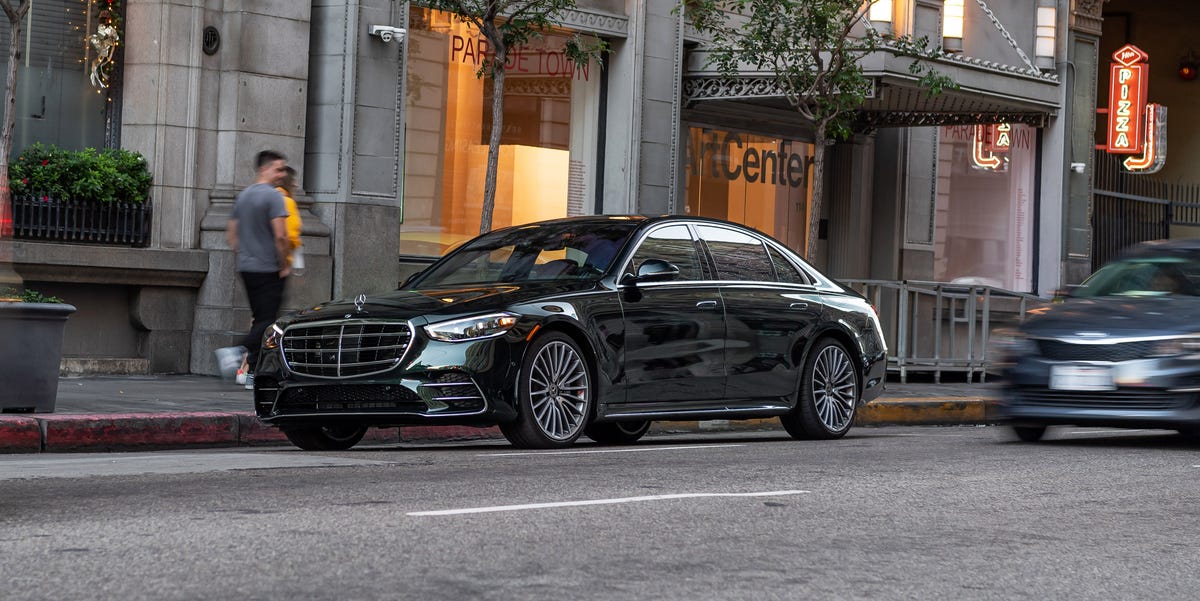 Jessica Lynn WalkerCar and Driver
The redesigned Mercedes S-class marks the first time an S500 model is powered not by a big V-8 engine, but by a boosted 3.0-liter inline-six. Fortunately, this new car still musters a strong 429 horsepower and is every bit as sumptuous as the more powerful S580 version.
1 of 59
Code-named W223, the seventh generation of the Mercedes S-class was first introduced as a 2021 model.
2 of 59
Our test car featured the AMG Line package, which includes specific wheels, bumpers, and side skirts, while the interior features stainless-steel pedals and AMG-branded floormats.
3 of 59
A 3-D effect is optional for the 12.3-inch instrument cluster, which uses stereo cameras to track the driver's eye movements.
4 of 59
The S-class's navigation system uses three-word address technology for more precise location inputs.
5 of 59
At 43.8 inches, rear-seat legroom is greater than the front row by two inches.
6 of 59
The base S500 model costs $112,150 to start, with our well-equipped Emerald Green test car ringing in at $127,330.
7 of 59
The S500's supercharged and turbocharged 3.0-liter inline-six also employs a 48-volt hybrid system. Output is rated at 429 horsepower and 384 pound-feet of torque.
8 of 59
Concealed door handles pop out and illuminate as the car's keyholder approaches.
9 of 59
The leather covering the S-class's seats is perforated by a machine equipped with 16,000 needles.
10 of 59
The S-class's ambient lighting system utilizes approximately 250 LEDs across the dash and doors.
11 of 59
2022 Mercedes-Benz S500 4Matic
12 of 59
2022 Mercedes-Benz S500 4Matic
13 of 59
2022 Mercedes-Benz S500 4Matic
14 of 59
2022 Mercedes-Benz S500 4Matic
15 of 59
2022 Mercedes-Benz S500 4Matic
16 of 59
2022 Mercedes-Benz S500 4Matic
17 of 59
2022 Mercedes-Benz S500 4Matic
18 of 59
2022 Mercedes-Benz S500 4Matic
19 of 59
2022 Mercedes-Benz S500 4Matic
20 of 59
2022 Mercedes-Benz S500 4Matic
21 of 59
2022 Mercedes-Benz S500 4Matic
22 of 59
2022 Mercedes-Benz S500 4Matic
23 of 59
2022 Mercedes-Benz S500 4Matic
24 of 59
2022 Mercedes-Benz S500 4Matic
25 of 59
2022 Mercedes-Benz S500 4Matic
26 of 59
2022 Mercedes-Benz S500 4Matic
27 of 59
2022 Mercedes-Benz S500 4Matic
28 of 59
2022 Mercedes-Benz S500 4Matic
29 of 59
2022 Mercedes-Benz S500 4Matic
30 of 59
2022 Mercedes-Benz S500 4Matic
Advertisement – Continue Reading Below
This content is created and maintained by a third party, and imported onto this page to help users provide their email addresses. You may be able to find more information about this and similar content at piano.io
Most Related Links :
honestcolumnist Governmental News Finance News