Celebrity
Amazon Actually Has Tons of Cute Stocking Stuffer Gift Ideas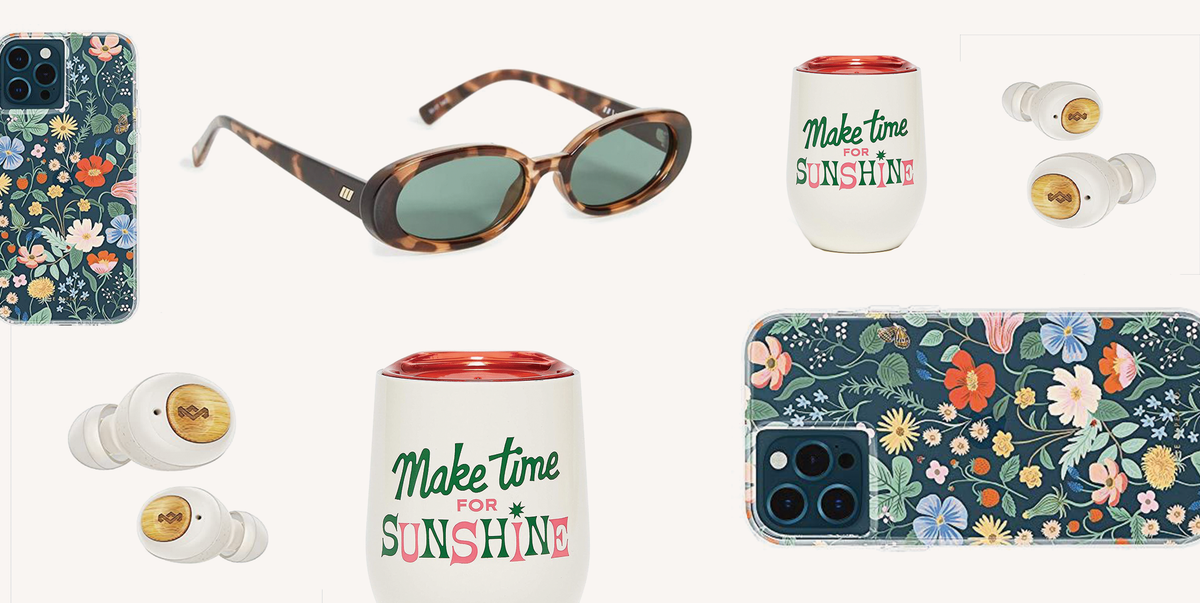 Stocking stuffers are the unsung heroes of holiday gifts. After all, sometimes the best things do come in small packages. But even if you can't fill someone's stocking with a duplex or checks (anyone else have "Santa Baby" on a loop inside their head at all times? Just me?), there are still so many incredible presents that fit inside the glorified socks we hang by the fireplace each year. You don't even have to try hard, either! The sheer number of stocking stuffer ideas on Amazon is unmatched. And sure, maybe it's a little early in the year to start your holiday shopping, but if Santa can work year-round, so can we!
Of course, one of the best things about stocking stuffers is that you won't just find options for every type of person—there are gifts for every type of budget, too. Only have $10 to spend? No problem. Want to opt for a luxe present? You're totally covered. In fact, the selection on Amazon is so good that the entire gift guide below is loaded with picks all under $150. Go big or go small—just don't go into the holiday season without snagging one (or all) of these fun prezzies for your loved ones.
Advertisement – Continue Reading Below
1
This Mini Puzzle
Little Puzzle Thing: Gummy Bear
Areaware
amazon.com
$15.00
I'm not sure what I love about this puzzle more, the fact that it's a gummy bear, or that it's so perfectly miniature.
2
This Adorable Tumbler
Pink Stainless Steel Stemless Wine Glass Tumbler with Lid
OK, these stainless insulated travel cups are a necessity. I use one for my cold brew every dang day, and the ice never melts before I finish. (And for the record, I'm a super slow drinker.)
3
This Milk Foamer
NanoFoamer
Subminimal
amazon.com
$39.95
Oh, and while you're at it, you might as well add this milk foamer to someone's stocking, too. It's the perfect addition to any at-home coffee situation.
4
This Cute Travel Pouch
Airplane Avocado Mini Pouch
Stoney Clover Lane
amazon.com
$77.00
You can never have too many pouches, and this pick from Stoney Clover Lane is just the right size for a little stocking stuffer.
5
These Chic Sunnies
Outta Love Sunglasses
Le Specs
amazon.com
$58.90
These sunglasses are honestly just too cool to pass up—so there's no shame in snagging a pair for your own stocking, too. Spoil yourself, babe.
6
This Sticker Set
Planner Sticker Book with Over 700 Assorted Stickers
As someone who uses a daily planner to keep track of everything in my life, I can tell you that cute stickers make organizing so much more fun.
7
This Face Serum
Hyaluronic Acid Serum for Dry Skin
SheaMoisture
amazon.com
$10.97
Every stocking deserves a self-care moment! Shea Moisture is one of my skincare faves, and you can't go wrong with a coconut oil face serum.
8
This Smart Speaker
Echo Dot (3rd Gen) – Smart speaker with Alexa
Slip one of these smart speakers into anyone's stocking, and they'll be singing your praises.
9
This Floral Phone Case
Case for iPhone 12 Pro Max
Case-Mate
amazon.com
$30.00
Phone cases are an underrated accessory, folks. This floral pick is sure to make your giftee's holiday bright.
10
This Little Notebook
Pink Rough Draft Mini Spiral Notebook
I'm all for filling up stockings with items that are cute and practical. Enter: a mini spiral notebook perfect for jotting down thoughts and ideas.
11
This Wireless Charger
Catch:1 Qi Certified Single Device Wireless Charger Station
COURANT
amazon.com
$80.00
Tons of extra cords? Out. Tech that makes your life easier while also staying chic? Very in.
12
This Holiday Candle
Wonder Holiday Collection Scented Candle
Paddywax Candles
amazon.com
$16.18
You'll find hints of sparkling lime, sugar cane, and vanilla in this cute lil candle.
13
This Stone Diffuser
Stone Diffuser, Ceramic Ultrasonic Essential Oil Diffuser
VITRUVI
amazon.com
$119.00
Maybe I just grew up with an extra-big stocking (thanks, mom!), but I still think you can stuff in one of these stone diffusers if you try hard enough. It's worth it for the aesthetic.
14
These Wireless Earbuds
True Wireless Champion Earbuds
House of Marley
amazon.com
$68.97
I don't know why cool tech gifts make for can't-miss stocking stuffers, but they just do. And frankly, everyone needs a good pair of wireless earbuds.
15
This Cozy Bralette
Full Coverage Seamless Bra with Embedded Pad
Floatley
amazon.com
$35.00
Ever since trying this bralette myself, my life has been changed. Do your giftee a favor and roll up one of these babies in their stocking.
16
This Astrological Wristlet
Revolve Black 2 One Size
Calling all astrology fans! These adorable wristlets come in every zodiac sign, and are perfect for attaching to a keyring or purse.
17
This Bath Soak
All Natural Coconut Milk & Rose Petals Bath Soak
LIVE BY BEING
amazon.com
$34.00
Give the gift of relaxation with this milky bath soak with rose petals. 
18
These Martini Earrings
CZ Encrusted Colored Glass Martini Glass Studs Earrings
For the kitschy person, these martini earrings are a must. It seriously can't get any cuter than this.
19
This Handy Keychain
Key Ring Bracelet
This wristlet keychain is a game-changer. It attaches to just about anything—and can even clip a full-sized bag onto a suitcase or fence.
20
These Butterfly Clips
Plastic Mini Butterfly Clips
Welcome back to the era of Y2K fashion, y'all. You might as well embrace it with this mini butterfly clips.
21
These Tiny Storage Bags
Platinum Silicone Food Grade Reusable Storage Bag
Stasher
amazon.com
$13.99
Sometimes, a practical gift is the way to go. These tiny storage bags will help cut anyone's use of extra plastic, too.
22
This Bold Red Lip
Vegan Lip Stick- Baby Bellini
The Lip Bar
amazon.com
$12.00
Makeup is such an easy stocking stuffer, and you can never go wrong with a classic red lipstick.
23
This Portable Bonfire
5 Pack of City Bonfires | Portable Fire Pit
CITYBONFIRES
amazon.com
$89.95
This might be the coolest stocking stuffer anyone ever receives. A portable bonfire is perfect for cozy vibes (and making s'mores) on the go.
24
This Toilet Spray
Before-You-go Toilet Spray
Poo-Pourri
amazon.com
$25.09
Don't knock Poo Pourri before you try it, K? This toilet spray is a life-saver.
25
this gift card
$50 Gift Card in a Premium Gift Box
Of course, if you really can't decide what stocking stuffers to snag for your loved ones, you can always let them pick something out themselves.
This content is created and maintained by a third party, and imported onto this page to help users provide their email addresses. You may be able to find more information about this and similar content at piano.io
Advertisement – Continue Reading Below
Most Related Links :
honestcolumnist Governmental News Finance News