Celebrity
Hear Us Out: It's Time to Invest in a Loft Bed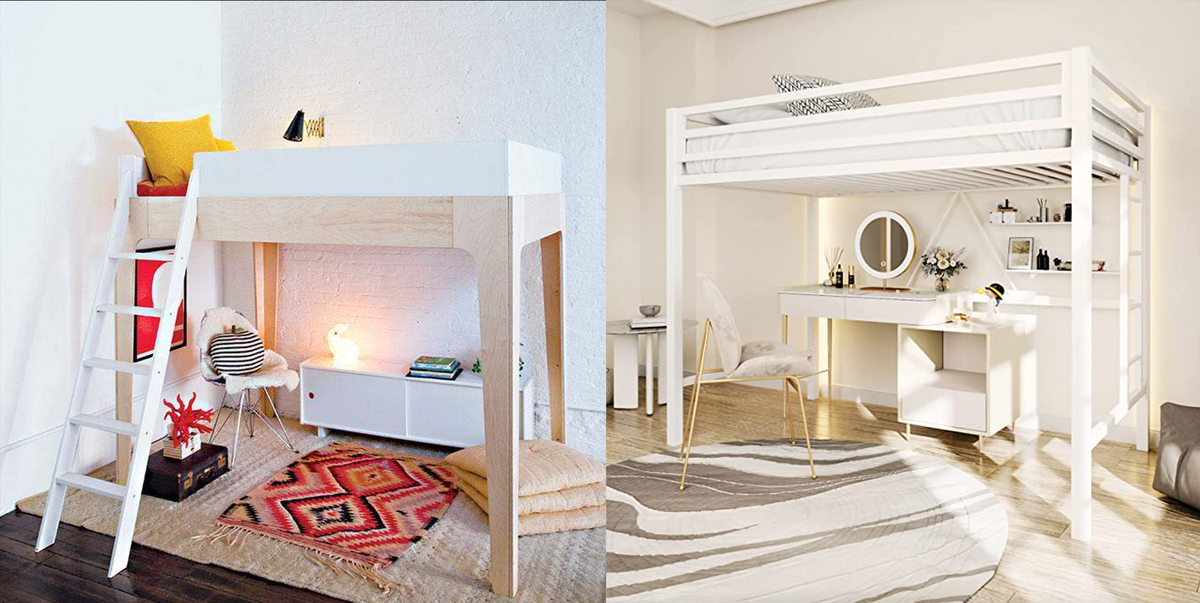 If you're anything like me, then your bed is more than just a designated spot for sleeping and sex. It's your temporary WFH office, at-home movie theater, place-to-hide-all-the-sh*t-under-because-we-have-guests-coming-over, reading nook, and snack spot all packed into the perimeter of a bed frame. And as convenient as that may sound, there's an easy way to make the most of your space while giving your mattress a much-needed break—that's right, you can hang out/work/eat takeout underneath your bed instead. Enter the loft bed.
 Best of all, the newly found free space your loft bed provides can be tailored to what you need, especially if you're working with minimal square footage. Need some room to store all those thrifted clothes you told yourself you would definitely wear? Or, ya know, maybe just a place to get some work done that isn't your lap? Whatever it is, maximizing your room with a loft bed also gives you the opportunity to get creative, by sticking anything from your makeup vanity to a bar cart underneath. Take a quick peek at what we're talking about here…
Don't know where to start on your journey to loft bed ownership? We've gotchu. Below are 15 adult loft beds that will add both fun decor opps and prime real estate to your space.
Advertisement – Continue Reading Below
1
For the Pet Parent
Purdy Hill Twin Solid Wood Loft Bed with Shelves by Harriet Bee
Sturdy
Includes storage and bedside tray
Assembly directions can be confusing
Def requires having sandpaper on hand for rough patches of wood 
I would literally do anything for my dog. And unfortunately for my back, that means scrunching up my body so she can chill at the bottom of my bed while I try to sleep. Instead of sacrificing your comfort like I do, consider swapping out your current bed situation for this loft bed with a pet-friendly cubby to stick your dog or cat's bed. The open space underneath means both you and your fur bb will each get a solid night's sleep!
Glowing review: Love the end result and so do my dogs.

2
For the Hostess with the Mostess
DHP Twin-Over-Futon Metal Bunk Bed
Great price
Easy set-up
Couch converts to full size sleeper
Loft bed only holds up to 200 pounds
We've all been there: night out with friends, one too many vodka sodas, and before you know it, the birds are singing and you've woken up on your friend's floor still clutching a half-eaten Taco Bell quesadilla. You don't wanna be the person who lets their friends sleep on the floor, right? Instead, give your guest some comfort with this convertible futon/sleeper and loft bed set. Also, works great for sober guests, like you know, when mom comes to visit.
Glowing review: I purchased this bed because I am moving to a room and I wanted to maximize its space, but I still wanted to accommodate guests comfortably every now and then. This bed was spot on.
3
For the Sleeper Who's Afraid of Heights
Camaflexi Tribeca Solid Wood Low Loft Bed Frame
Super sturdy
Easy to build
Fits full size mattress
At just under 4-feet high, this full-size lower loft style bed is ideal for spaces with low ceilings or those afraid of heights (@ me). With over 700 reviews and a 4.5/5 star rating, this lil loft bed is tiny but mighty.
Glowing review: Almost 1 year with this bed and I still love it. I'm 21, living in a crowded city in a tiny apartment with a roommate. I needed a bed frame that would allow me to use my room as more than just a sleeping quarters. This bed frame is incredibly sturdy, no wobbling or squeaking even when my partner sleeps over (we're about 400lb combined)! Long story short, get this bed!
4
For You and Your FWB
Francis Loft & Bunks Queen Loft Bed
Just like Four Loko and Kraft Easy Mac, hooking up on a twin bed should be left in your college years (I must confess, I still occasionally crave Easy Mac). This queen size loft bed by Francis Lofts & Bunks holds up to 2,000 pounds., meaning you and your FWB don't have to worry about breaking the bed. Rendezvous-approved: check.
Glowing review: Bed is excellent for sleeping, binging TV, and, yes, 'adult activities'…Together we weigh about 500 lbs and there are no worries about furniture integrity, quality, shifting, or noisiness.
5
For the Solo Assembler
W. Trends Twin-Size Loft Bed with Desk and Shelves
Durable
Easy to build
Comes with a rolling desk
You shouldn't have to be an engineer or drown your frustrations in a bottle of wine to assemble a bed (both can obv help though). Luckily, this loft bed/desk combo comes together like an absolute *dream*. Several reviews actually praise the building process, to which I say, I am sold.
Glowing review: Got the bed about a week ago. I dread putting together RTA furniture. Instructions are never clear and there's usually not enough nuts and bolts. This bed was a joy to assemble.
6
For the Budget-Conscious Babe
Ikalido Metal Loft Bed Twin Size
Quick assembly
*So* affordable
Includes spare hardware
Can be shaky (consider anchoring to a wall)
How cute is this setup? At under $200 and the most-budget friendly option on the list, this loft bed is ideal for revamping your space without the extreme makeover price tag. Add a lamp, jumbo bean bag chair, and your TV for a cozy little hangout.
Glowing review: For an adult the bed works well. All hardware was included with spares so that was nice. The metal pieces were labeled to match instructions and after organizing them everything came together within 40 minutes.
7
For the WFHers
DHP Adobe Loft Bed, Silver, Full
Full size mattress
Easy assembly
You no longer have to take Zoom meetings from your bed (tbh I am a big offender of this). Instead, look like the professional that your boss thinks you are, and start taking those meetings under your loft bed. This full size loft bed features an entire workspace below, complete with desk and shelves. All you need to add is a lamp and your laptop to make yourself feel (work) at home.
Glowing review: I love it! The fact that it's a loft leaves me with plenty of room to fit more things in my small apartment room, and supplies me with a sturdy desk area to put my computer and give me an area to work and play games.
8
For a Touch of Glam
Monarch Hill Haven Metal Platform Loft Bed
Available in full size
Sturdy
200 pound weight limit
Tends to creak a bit
You'll be feeling Fergie-level *glamorous* with this two-toned white and gold loft bed. Go first class all the way by adding a bar cart, stocked with all your cutest bottles of wine of course, and a statement chair. Enjoy your nighttime cocktail before climbing up to bed and tucking yourself in for a good night's sleep.
Glowing reviews: "It's a great color and I love the GOLD rail," writes one reviewer. "Love the metal look, easy to put together," writes another.
9
For the Bookworm
DHP Tiffany Storage Loft Bed with Book Case
Strong and stable
Has so much storage space!
Comes in a heavy box
Ladder isn't the comfiest to climb up
If you have long been waiting to show off your first edition Twilight series (tbt), or you know, any of your other fav reads, then I have some good news for you. This loft bed features a built-in bookcase which doubles as the ladder. Genius.
There is plenty of room underneath for you to add an accent chair and some string lights, turning your new space into a cozy little book nook. And for those who are not big readers, the shelves work great as a plant sanctuary, shoe rack, or added storage for all your odds and ends.
Glowing review: "I absolutely love it! Very sturdy. Best loft bed I've seen and purchased yet," writes one reviewer. "Having the shelves double the use as the ladder going up the bed itself, was just brilliant," writes another.
10
For the Minimalist
Crate and Barrel Abridged Charcoal Glaze Low Twin Loft Bed with Left Ladder
Sustainably made
Solid frame and rails
Lower than most loft beds
Your living space should be an extension of yourself. So, if you are the clean-faced, low-bun, crisp white button-down type of girly who lives for simplicity, then this loft bed from Crate&Barrel is for you. The modern design of this bed proves that loft beds are not just for the kiddos and can totally serve as the focal point of your minimalist home. This beauty is also available in a charcoal glaze, which gives off some major dark academia vibes.
Glowing review: The look of the bed is clean and modern and we like the wood grain showing through the glaze.
11
For the Studio Apartment
Reese White Loft Bed
Storage. Storage. STORAGE.
Only two online reviews (but they are both five-star!)
Big city living comes at a cost, esp when it comes to square footage. This loft bed will help you maximize your studio apartment, so much so that your landlord will be wanting to raise the rent. This loft bed provides plenty of additional storage with eight (yes, count them, EIGHT) drawers, an exterior shelving unit A a desk which would look ah-mazing as a makeup vanity or workspace.
Glowing review: One reviewer describes the bed as "elegant," adding that it is "sturdy and worth the price."
12
For a Pop of Color
Forest Gate Twin Loft Bed
Real sturdy
Easy assembly
Comes in a heavy box
Uncomfy ladder
Don't get me wrong, I love me some classic neutral tones (personally, I am a sucker for the rich wood tones of the mid-century mod trend), but sometimes a pop of color is exactly what you need to liven up your space. This mint beauty will add some much-needed floor space and make you feel like you are sleeping in a Tiffany's box. Shine bright like a diamond, bb :')
Glowing review: I am 5' in my 20's and got this bed because I just moved into a studio and needed the extra space. I am VERY happy with this product. I practically assembled it by myself (all parts were numbered. Very easy to assemble).
13
For Netflixing & Chilling
Hampton Loft Bed with Cushy Loveseat, Media & Bookcase Set
Full size bed
Shipping price includes delivery, assembly, AND clean up
Pricey
No product reviews
Alright so it's kind of a splurge, but after seeing this multi-piece loft bed set, I can't stop thinking about this whole setup. Complete with a loveseat (which I would TOTALLY take the best nap on), media console, and bookcase, you basically have an entire living room underneath your bed. Add a flat screen, record player, and some of your fav books (love that for you!) .
14
For Mama Earth
Perch Loft Bed – Twin Size
Solid frame and rails
Available in full size
Lower than some standard loft beds
Sleep well knowing you've done some good for planet Earth on top of your Perch loft bed by Oeuf. Not only is this bed made from sustainably produced materials and GREENGUARD Gold certified (aka it's made without chemicals that could mess with your clean air), but it looks like it came straight out of the MoMA. Oh, and it ships in recycled cardboard packaging!
Glowing review: I highly recommend these lofts. The quality is great, and I am super pumped they are Greenguard Gold Certified.
15
For the Gal with a Sh*t Ton of Clothes
DHP Leroy Closet Storage Loft, Twin, White Bed
Easy to move
Good assembly directions
Can be a little wobbly
Ladder is not comfy
Carrie Bradshaw once said, "I like my money where I can see it, hanging in my closet." Unfortunately, not everyone has a quaint million-dollar Upper East Side apartment with a walk-in closet/bathroom. I present to you this closet storage/loft duo to function as a lil extension of whatever closet your apt has going on. Equipped with a rod to hang all your fav wardrobe pieces and a shelf to show off the pair of shoes that cost more than your rent. Maybe you are a bit more like Carrie than you realize?
Glowing review: Under the bed, there's plenty of space. A shelf and rod were included, which have been very convenient and make up for a lack of space in the closet. Both the shelf and rod feel very stable.
16
How to Choose a Loft Bed
Measure. Your. Room. TWICE.
For real, the immense amount of frustration you will feel if your new bed does not fit, will only be emphasized as you disassemble it then cry yourself to sleep on the floor. Oh, and do not forget about ceiling fan height too! 
Keep ladder configuration and mattress thickness in mind!
Unless you can magically float to the top of your loft bed, you are going to want to pay attention to ladder configuration. Some styles have a fixed ladder that cannot be moved. This is a BIG deal when determining the layout of your space and which loft bed to purchase. And also, be mindful of how thick your mattress is versus the rails. We don't want you going off the rails. Literally.
Plan ahead if you're a hot sleeper.
Since hot air rises, you might be sleeping warmer in your loft bed. For those hot summer nights, put away the fleece blanket and consider attaching a small clip-on bed fan or installing an oscillating wall fan like this one. 
This content is created and maintained by a third party, and imported onto this page to help users provide their email addresses. You may be able to find more information about this and similar content at piano.io
Advertisement – Continue Reading Below
Most Related Links :
honestcolumnist Governmental News Finance News