ECONOMY
Pfizer, Moderna Tout Boosters; Singapore Outbreak: Virus Update
(Bloomberg) — Booster shots are in the spotlight, as a highly anticipated study in Israel showed a third Pfizer Inc. dose can dramatically reduce rates of virus-related illness in people 60 and older. The analysis comes as Pfizer and Moderna Inc. said the immunity offered by their vaccines may wane over time. 
Hong Kong sees no urgent need for a third shot because the city hasn't recorded a local infection in three months. Singapore continues to see infections surge, with more than 800 cases on Wednesday, as the island nation sticks to its course of living with Covid-19 for now. An outbreak in the eastern Chinese province of Fujian continued to grow.
Malaysia is set to further ease its containment measures Friday, allowing workers to return to offices based on vaccine status. Ho Chi Minh City, Vietnam's commercial hub, is also considering a gradual reopening starting next month.
Outbreak in China's Fujian Province Grows (9:45 a.m. HK)
An outbreak in the eastern Chinese province of Fujian continued to grow, with 48 new cases. A prefecture bordering Myanmar also reported one local infection, though it's unknown whether that case bears any link to those in Fujian. 
At Putian, where the Fujian outbreak was detected about a week ago, 49 kids under 12 at kindergartens and primary schools have been infected, though none of them have developed severe disease, state news agency Xinhua reported. Covid vaccines have yet to be rolled out to children under the age of 12 in China.
As many as four rounds of Covid testing have been done in some of the jurisdictions that have detected clusters and officials have warned of more cases in the coming days.
Overnight in Beijing, a positive result from a Covid test sample prompted local health officials to seal off some residential compounds for a few hours, only to find it was false after another test was ran. Beijing has been on high alert for any potential spread of the virus ahead of major holidays, and have taken preemptive measures such as cutting transport from regions with cases in an previous outbeak spreading widely across China in August.
New South Wales Outbreak Steadies (9:38 a.m. HK)
The delta surge in Australia's most populous state is steadying after New South Wales found 1,351 new infections overnight. The state's seven-day moving average has fallen to its lowest level in more than a week, according to Bloomberg calculations on New South Wales health department data.
Meantime, neighboring Victoria recorded 514 more cases as health authorities struggle to bring delta under control. The state's outbreak has doubled in size to 6,307 cases in seven days, according to Bloomberg calculations of Victorian health department data.
Australia's economy shed more jobs than expected in August as the outbreaks forced a prolonged lockdown in the nation's two largest cities and prompted firms to cut workers. 
Alberta Imposes New Curbs (9:01 a.m. HK)
Alberta imposes new restrictions to control a surge in cases that is overwhelming hospital intensive care units, public officials including Premier Jason Kenney said in a press conference. The Canadian province may run out of ICU beds in the next 10 days.
The restrictions require people to work from home and forbid indoor dining at restaurants. Limits are imposed on indoor social gatherings for people who are vaccinated and forbids gatherings for those who aren't vaccinated.
Raytheon, Walgreens Add Mandates for U.S. Workers (5:50 a.m. HK)
Raytheon and Walgreens will require all U.S. workers to be vaccinated, while Southwest Airlines Co. is rolling out a new carrot-and-stick approach, as pressure grows across corporate America to ensure employees are protected.
The steps by several of the largest companies in the U.S. come as the fast-spreading delta variant has fueled a surge in cases, prompting other big corporations to require shots or impose penalties.
CDC Meeting Next Week on Boosters (5:25 a.m. HK)
Advisers to the Centers for Disease Control and Prevention will hold a two-day meeting next week to discuss booster shots.
The Advisory Committee on Immunization Practices posted notice of the meeting, which will be held Sept. 22-23, on its website on Wednesday. The panel of outside experts advises the CDC on how best to administer new vaccines.
Booster Dose Slashes Infections (5:00 a.m. HK)
A third dose of the Pfizer-BioNTech SE vaccine can dramatically reduce rates of Covid-related illness in people 60 and older, according to data from a short-term study in Israel. 
Starting 12 days after the extra dose, confirmed infection rates were 11 times lower in the booster group compared with a group that got the standard two doses, the analysis released Wednesday by the New England Journal of Medicine found. Rates of severe illness were almost 20 times lower in the booster group.
Early versions of the highly anticipated analysis have been cited by Biden administration officials, including the president's Covid medical adviser, Anthony Fauci, as they push for a booster program scheduled to start Monday. The Israeli analysis is expected to be highlighted at a meeting of Food and Drug Administration advisers reviewing Pfizer's application for clearance of the booster shots. 
Slovenia Protests Turn Violent (5:00 a.m. HK)
Demonstrations against pandemic curbs turned violent in the Slovenian capital of Ljubljana on Wednesday, as tighter restrictions came into force.
Protesters threw bottles, cobblestones and flares toward the parliament building and police, according to the N1 news site. Police dispersed the crowd with tear gas and a water canon. Several protesters were arrested.
Prime Minister Janez Jansa condemned the protest on Twitter, saying the government "won't give into pressure" and will insist on measures to protect health and lives.
Fed to Require Shots for All Staff (4:40 p.m. NY)
All 12 regional branches of the Federal Reserve and the Board in Washington will require staff to be vaccinated. Staff were informed in recent weeks of the decision, apart from those at the Minneapolis Fed, which led the way when Neel Kashkari, its president, announced on July 7 that it would require vaccinations. About 23,000 people work at the Fed. 
Moderna Says Vaccine Immunity May Wane (4:05 p.m. NY)
Moderna said that a new analysis of the late-stage clinical trial of its vaccine found a higher rate of breakthrough cases in people who got shots early in the study.
The analysis examined instances where immunized people in the company's trial still contracted Covid-19 this summer, when the delta variant was surging. 
Los Angeles to Require Vaccine Proof at Bars (3:15 p.m. NY)
Proof of vaccination will be required at indoor bars, wineries, breweries, nightclubs and lounges in Los Angeles County under a forthcoming health order, the Los Angeles Times reported.
The mandate will also apply to employees of those establishments and require that both they and patrons have at least one vaccine dose by Oct. 7 and are fully vaccinated by Nov. 4, Public Health Director Barbara Ferrer said at a Board of Supervisors meeting Wednesday, according to the newspaper.
N.Y. to Allow EMTs to Give Vaccines (11:30 a.m. NY)
New York state will allow basic emergency medical technicians to administer vaccines, to alleviate anticipated staffing shortages once boosters are approved, Governor Kathy Hochul said.
Approximately 2,000 EMTs are eligible, while another 50,000 can be eligible once they complete training that takes a few hours, she said.
Hochul also added child-care centers to the list of facilities in the state that must require masks.
ICU Beds Full in Southern Illinois (11:10 a.m. NY)
The Illinois Department of Public Health reported zero available intensive-care unit beds in the southern region of the state, according to the latest count. None of the 88 ICU beds were available in region 5 of the state's emergency medical services regions. Region 5 is made up of 20 of the state's southernmost counties. 
World Expo Requires Vaccination or Tests (10:45 a.m. NY)
Visitors to Dubai's World Expo will now be required to provide vaccination certificates or get tested to enter the event, under new rules issued days after organizers said inoculations weren't needed.
Visitors will be required to present proof of vaccination or a negative PCR test taken within the previous 72 hours, Expo 2020's organizers said. Those who aren't vaccinated and haven't been tested can get a free PCR test at the event site.
The Expo is one of the world's biggest in-person events since the pandemic began and is expected to attract 25 million visits over six months.
Pfizer Says Vaccine Efficacy Erodes (8:55 a.m. NY)
Pfizer said that data from the U.S. and Israel suggest that the efficacy of its vaccine wanes over time, and that a booster dose was safe and effective at warding off the virus and new variants.
The company detailed the data in a presentation it will deliver to a meeting of outside advisers to the U.S. Food and Drug Administration on Friday. 
Separately, blood plasma taken from people immunized with the vaccine was able to neutralize the lambda and delta-plus variants in a lab study, a sign that the shot continues to be protective. The company-sponsored study was posted on BioRxiv, a pre-print site, and hasn't been subject to peer review.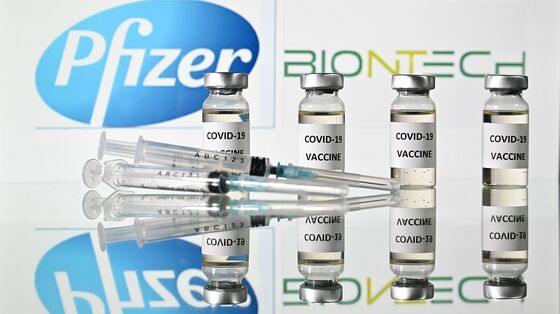 Most Related Links :
honestcolumnist Governmental News Finance News