ECONOMY
Ukraine Update: Mariupol 'Basically Encircled' Yet Hasn't Fallen
The city of Mariupol hasn't fallen but its defenders are encircled by Russian forces, Ukrainian officials said, hours after Kyiv warned of a possible naval landing operation and additional air strikes. Many of the remaining Ukrainian troops in the besieged city are thought to be within the giant Azovstal steelworks.
Air raid sirens were heard in Kyiv for a second day, with a missile strike reported nearby. Five deaths were reported from shelling in Kharkiv. Troops continue to move from positions within Russia and from Belarus toward eastern Ukraine ahead of what's likely to be a protracted conflict. 
Pope Francis called for peace in Ukraine in an Easter sermon, and warned that the conflict could lead to nuclear war. Billionaire Roman Abramovich is attempting to restart talks between Ukraine and Russia. Ukrainian officials will be in Washington for this week's meetings of the International Monetary Fund and the World Bank.   
(See RSAN on the Bloomberg Terminal for the Russian Sanctions Dashboard.)
Ukraine Says EU Questionnaire Completed (8:30 p.m.) 
Ukraine's government has completed a European Union questionnaire required to begin a membership application, Interfax Ukraine cited presidential aide Ihor Zhvokva as saying Sunday.
European Commission President Ursula von der Leyen ceremonially gave the paperwork to Ukrainian President Volodymyr Zelenskiy during her visit to Kyiv on April 8.  
Kuleba Says Russia Wants to 'Finish With Mariupol' (5:30 p.m.)
Ukrainian Foreign Minister Dmytro Kuleba said Mariupol's military defenders and a "large group of civilians" in the southern port city are resisting  while "basically encircled by Russian forces." 
"The city doesn't exist anymore," Kuleba said on CBS. "It seems from the way the Russian army behaves in Mariupol, they decided to raze the city to the ground at any cost." Prime Minister Denys Shmyhal said on ABC that Mariupol hasn't fallen but that a "huge humanitarian catastrophe" has taken place during the month-long siege.  
Mariupol's mayor has estimated that more than 10,000 civilians, and potentially many more, have died. The city has been cut off from humanitarian aid amid dwindling supplies of food, water and medicines.   
Ukraine to Seek Financial Support in Washington (4 p.m.)
Ukraine is running a budget deficit of about $5 billion a month, Prime Minister Denys Shmyhal said ahead of a visit by Ukrainian finance officials to Washington for the spring meetings of the International Monetary Fund and the World Bank. 
The Ukrainian officials will work with managers of the IMF, World Bank and the U.S. Treasury  on support for the country, Smyhal said on ABC.
"We need more money for executing our humanitarian and social obligations," he said. "Now only half of our economy is working. So we ask for financial support." 
Continuous Shelling of Mykolaiv, Governor Tells BBC (3:48 a.m.)
The Black Sea port city of Mykolaiv and surrounding areas have come under continuous rocket attacks since Sunday morning, the region's governor, Vitaliy Kim, told the BBC.
The region's military spokesman said targets have included power grids, houses and playgrounds. Earlier, on Telegram, Kim said Kalibr missiles had disrupted water and power supplies. 
Zelenskiy Seeks Biden Visit (3:30 p.m.)
Ukrainian President Volodymyr Zelenskiy said he hopes President Joe Biden will visit to survey the devastation from Russia's invasion. 
"I think he will," Zelenskiy said in an interview with CNN's "State of the Union" broadcast Sunday. "It's his decision, of course, and the safety situation depends. But I think he's the leader of the United States and that's why he should come here to see." 
White House aides said after U.K. Prime Minister Boris Johnson and Zelenskiy met in Kyiv on April 9 that they hope to send a senior U.S. official to Ukraine in the coming weeks. While Biden has said he wants to visit, White House press secretary Jen Psaki said neither the president nor Vice President Kamala Harris would make the trip.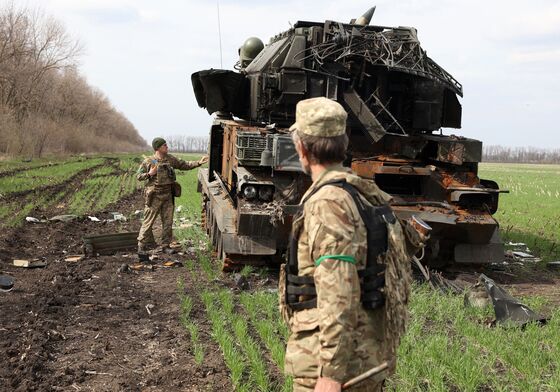 Pope Francis Pleas for Peace, Warns of Nuclear Risk (3:16 p.m.) 
Pope Francis made a plea on Easter Sunday to end Russia's invasion of Ukraine and warned of the threat of nuclear warfare.
"May there be peace for war-torn Ukraine, so sorely tried by the violence and destruction of this cruel and senseless war into which it was dragged," the pontiff said from the central balcony of St. Peter's Square in Vatican City. 
Francis quoted from a 1955 manifesto on nuclear proliferation by physicist Albert Einstein and philosopher Bertrand Russell: "'Shall we put an end to the human race, or shall mankind renounce war?'"  
Russian, Belarusian Trucks Queue at Polish Border (2:30 p.m.)
Long lines of trucks remain at two border crossings between Poland and Belarus as Russian and Belarusian drivers try to exit the European Union, the BBC reported. 
As of April 9 the vehicles weren't allowed to enter the EU, as part of sanctions imposed over Russia's invasion of Ukraine. Those within the bloc had seven days to exit — a deadline that passed on Saturday. 
The line of trucks extended as far as 80 kilometers (50 miles) at one point on Saturday. Vehicles were still being processed on Sunday, the BBC said. 
EU to Look at Sberbank in Next Sanctions Round (11:20 a.m.) 
The European Union will "look at" Russia's Sberbank in its next round of sanctions over the war in Ukraine, European Commission President Ursula von der Leyen told Germany's Bild am Sonntag, without offering details.  
"We continue to look at the banking sector, especially Sberbank, which alone accounts for 37% of Russia's banking sector," she said when asked about potential elements of a sixth sanctions package. 
Border Guards See Net Inflow of Ukrainians (10:21 a.m.)
Ukraine's border service said more people on Saturday entered from Poland, other EU countries and Moldova, than departed. It was the first time arrivals exceeded departures since Russia's invasion on Feb. 24, according to an Interfax tally. 
Authorities explained the movement in part as Ukrainians hoping to return home for Easter. The mayor of Kyiv and other officials have warned citizens not to hurry back as Russia steps up air attacks on the capital and other regions.  
Ukraine Pauses Evacuations from East (10:11 a.m.)
Ukraine announced a pause to centralized evacuations from eastern areas as it failed to get Russian forces to agree to halting fire along the planned routes. 
Kyiv continues to demand that Russia allows open humanitarian corridors, including from Mariupol, Deputy Prime Minister Iryna Vereshchuk said on Telegram. Ukraine also wants a special corridor to evacuate wounded soldiers from the besieged port city. 
Nine corridors were in operation a day earlier, but Russian troops shelled Lysychansk in the Luhansk region while people were gathered to leave, Vereshchuk said on Saturday. The corridors were also halted on April 13. 
EU Allocates Another 50 Million Euros in Humanitarian Aid (9:43 a.m.)
The EU said it will allocate a further 50 million euros ($54 million) of humanitarian support for people affected by the war in Ukraine, according to a Sunday statement by the bloc. 
About 45 million euros will go to projects in Ukraine and 5 million to Moldova, a country of about 2.6 million people which has taken in over 420,000 refugees. 
The EU has given about 143 million euros in humanitarian assistance since the war began. Over 4.8 million people have fled Ukraine since Feb. 24 and millions are displaced internally. 
Work on Oil Embargo 'Under Way': Von Der Leyen (8:50 a.m.)
The EU is working on ways for an oil embargo to be added to a forthcoming package of sanctions on Russia, European Commission President Ursula von der Leyen told Germany's Bild am Sonntag. 
At issue is that since oil is a globally traded commodity, "what shouldn't happen is that Putin charges even higher prices in other markets for supplies that otherwise go to the EU," von der Leyen said.  
Ukraine has repeatedly urged Europe to stop buying Russian oil and gas to cut off the massive flow of funds to Moscow. Putin has said Russia can redirect exports to the east.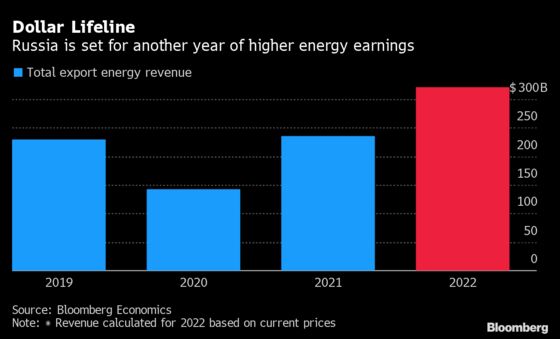 Eastward Movement of Russian Units Continues (8:10 a.m.)
Combat and support equipment for Russian forces is moving from Belarus, including to locations close to Kharkiv and Severdonetsk, the U.K. Defense Ministry said. Russian artillery continues to strike positions throughout Ukraine's east, where Moscow is thought likely to increase its offensive activity in the coming days. 
Moscow hasn't changed its "ultimate objective" in Ukraine, the U.K. said, and remains committed to "asserting its own regional dominance."
The Ukrainian General Staff said in a morning update that Russian units continue to move toward eastern Ukraine from the nearby Kursk, Bryansk and Voronezh regions. Russian missiles targeted "infrastructure" in Brovary, east of Kyiv, the city's mayor said. Russia said its forces hit an ammunition plant there. 
Ukraine Says Russia Continues to Pound Mariupol (8:01 a.m.)
Russia continues to pound Mariupol, according to the General Staff of the Ukrainian Armed Forces, amid Moscow's window for troops in the besieged city to surrender.
Preparations for a naval landing by Russian forces appear to be under way, Ukraine said. Russia has said it will spare the lives of soldiers who surrender from 6:00 a.m. Moscow time, with the window set to last for several hours. 
Russia Demands Mariupol Defenders Surrender (11:30 p.m.) 
Russia said it has cleared all of Mariupol's "urban areas" of Ukrainian forces, and called on remaining troops to lay down their arms or die. Ukraine has rejected similar Russian demands in the past.
Colonel General Mikhail Mizintsev, head of Russia's National Defense Control Center, cited a "catastrophic situation" at Azovstal, a sprawling steel plant that;s become a last stand in the city's defense. 
"All those who lay down their arms are guaranteed the preservation of life," Tass quoted Mizintsev as saying.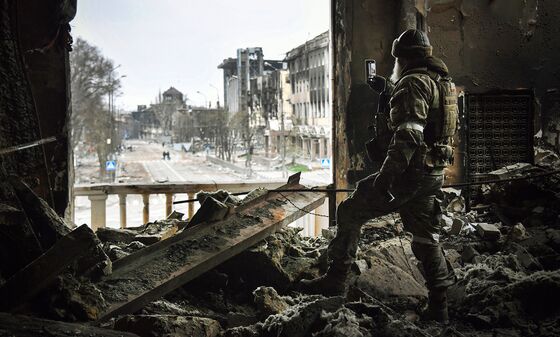 Most Related Links :
honestcolumnist Governmental News Finance News