ECONOMY
Ukraine Update: MasterCard Halts in Russia; Biden-Zelenskiy Call
(Bloomberg) — Visa Inc. and MasterCard Inc. have suspended operations in Russia amid growing pressure from within Ukraine and from U.S. lawmakers to do so. 
The decisions came hours after President Volodymyr Zelenskiy asked U.S. lawmakers to urge both companies to cease business in Russia as that country pursues its assault on Ukraine. President Joe Biden spoke with Zelenskiy on Saturday. 
The Ukrainian president said Elon Musk is sending more terminals for satellite internet access. The European Union is providing the first tranche of 500 million euros ($546 million) in assistance to refugees fleeing Ukraine, a step that Zelenskiy tweeted Saturday would help "ensure decent living conditions." 
The government in Kyiv offered to hold further talks with Russia on Monday, even as President Vladimir Putin repeated his demands for "demilitarization" of Ukraine. A Russian official said a meeting might take place on Monday, Interfax reported.
Radio Free Europe Suspends Russia Operations (6 a.m.)
Radio Free Europe, which also operates as Radio Liberty, is halting activities in the country after local tax authorities initiated bankruptcy proceedings against the broadcaster's Russian entity on March 4 and police pressured its journalists, the group said in a statement.
Biden Speaks to Zelenskiy in Call (3:58 a.m.)
Biden's "administration is surging security, humanitarian, and economic assistance to Ukraine and is working closely with Congress to secure additional funding," he told Zelenskiy on Saturday evening, according to a White House statement.
They spoke for about half an hour, according to the White House. The U.S. president highlighted actions to raise the costs of war to Russia, and welcomed Visa and MasterCard's moves, according to a statement.
The U.S. is working with Poland and in discussions with other NATO allies on a plan to have those countries supply warplanes to Ukraine for use against Russian forces, a White House spokesperson said.
Talks with Biden followed confusion over the proposed evacuation Saturday of non-combatants, and came after Putin issued a fresh warning to Ukraine's democratically elected leadership.
Australia Says Military Supplies Arrived in Ukraine (2:14 a.m.)
Military equipment including missiles and ammunition has arrived into Ukraine from Australia, Defense Minister Peter Dutton said Sunday.
"We want the Ukranians to have the best opportunity to defend their homeland, and to protect women and children," Dutton told Australian Broadcasting Corp. TV's "Insiders" program. "There's more assistance that we want to provide." Dutton declined to specify where the supplies had arrived in Ukraine, and said the delivery had been carried out with help from the U.S. and U.K.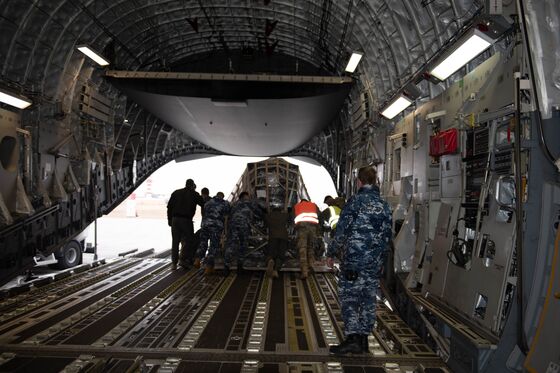 Bennett Briefs Germany's Scholz on Putin Talks (1:30 a.m.)
German Chancellor Olaf Scholz met Prime Minister Naftali Bennett to discuss the Israeli leader's talks with Putin earlier Saturday.
Scholz and Bennett agreed during a 90-minute meeting in Berlin "to remain in close contact," German government spokesman Steffen Hebestreit said in a statement, which didn't disclose details of the conversation. They'll continue working toward the goal of ending the war in Ukraine as quickly as possible, according to the statement.
Bennett landed back in Israel after the surprise visit to Moscow and Berlin, his spokesman said, adding that he also spoke with the Ukrainian and French presidents during travels
Bill Ackman's Warnings on Ukraine: Tweet thread (1:29 a.m.)
Musk Sending More Starlink Terminals to Ukraine (1:25 a.m.)
Musk, chief executive officer of Tesla Inc. and Space Exploration Technologies Corp., promised another batch of Starlink satellite terminals for Ukraine to help keep internet communication working as the country fights Russia's invasion.
In a Twitter post on Saturday, Zelenskiy said he spoke with Musk. Another delivery of Starlink systems will arrive next week "for destroyed cities," the Ukrainian president said. "I'm grateful to him for supporting Ukraine with words and deeds."
U.S. in Talks With Poland, Slovakia on Fighter Jets (12:06 a.m.)
The Biden administration is considering backfilling any Soviet-era fighter jets Poland may send from its own fleet to Ukraine, a White House spokesperson said.  
The decision is Poland's to make, the spokesperson said, adding that there are logistical and other challenges, including how to transfer aircraft from Poland to Ukraine. 
F-16 fighter jets are what the U.S. would likely send Poland, according to a person with the matter. The process would be time consuming and involve bidding for and awarding a contract, as well as building planes specific to the country and providing training. 
A member of Congress said the U.S. is also in talks with Slovakia. 
Visa, MasterCard Suspend Russia Operations (11:15 p.m.)
Visa Inc. and MasterCard Inc. are suspending their Russia operations after mounting pressure. 
All transactions initiated with Visa cards issued in Russia will no longer work abroad. Any Visa cards issued by financial institutions outside of Russia will also no longer work within the country, the company said in a statement Saturday. 
"We are compelled to act following Russia's unprovoked invasion of Ukraine, and the unacceptable events that we have witnessed," said Al Kelly, chairman and chief executive officer. MasterCard, which provided fewer details on the suspension, said in a statement that given the "unprecedented nature of the current conflict and the uncertain economic environment – we have decided to suspend our network services in Russia." U.S. lawmakers have called for the companies to halt transactions in Russia.
Blinken Crosses Into Ukraine to Meet Kuleba (11:10 p.m.)
U.S. Secretary of State Antony Blinken crossed from Poland into Ukraine on Saturday for a meeting with Dmytro Kuleba, Ukraine's foreign minister.
"We've come from several days of meetings with NATO, the European Union, countries beyond the G7, and we see that support not only continue – security support, humanitarian support, economic support – but that support will increase," Blinken said, according to a State Department account of the encounter at the border.
In Poland, Blinken toured a welcome center for Ukrainians who fled in the wake of the Russian invasion. "The Polish people's welcome has inspired the world amidst the tragedy and suffering Putin's war has wrought upon Ukraine," he said on Twitter.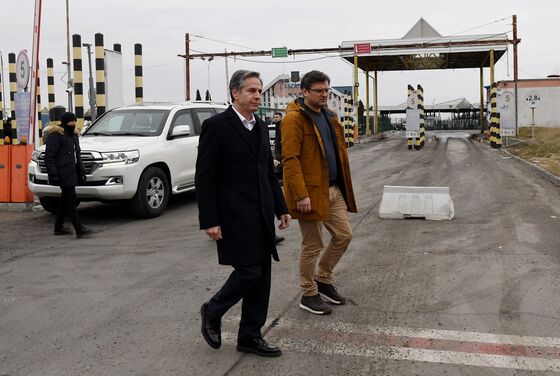 EU Provides Initial Refugee Assistance (10:57 p.m.)
The European Union on Saturday announced the first tranche of 500 million euros to help Ukrainian refugees crossing the border into European nations. 
"Refugees from Ukraine deserve our solidarity and support, and so do the countries that welcome them," EU President Ursula von der Leyen tweeted Saturday. 
The news comes on the heels of a Friday decision to allow most Ukrainian refugees to live and work in the EU and have access to health services and schools for at least a year.
IAEA Reports on Seized Ukrainian Nuclear Plants (10:37 p.m.)
Radiation levels at the Zaporizhzhia nuclear plant are normal and technical safety systems remain intact a day after Russian forces took control of the site, the International Atomic Energy Agency said in an update, citing Ukraine officials.
However, staff at the Chernobyl nuclear plant — seized by Russian military last week — have been on site since Feb. 23 and have been unable to rotate shifts, the IAEA said.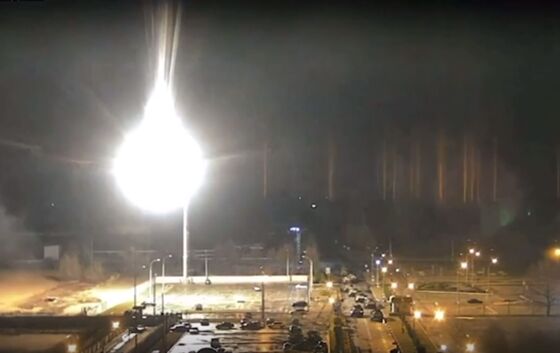 Putin Allows Foreign Credit Payments in Rubles (9:15pm)
Russia and Russian companies will be allowed, for now, to pay some of their foreign creditors in rubles, according to a decree signed by Putin on Saturday. 
The temporary rules let the government and other entities circumvent technical problems when dealing in foreign currency and pay instead in quickly depreciating rubles.
The decree applies to payments of more than 10 million rubles per month to creditors from "countries that engage in hostile activities" against Russia, its companies and citizens. The government will prepare a list of such countries within two days.
OMV to Write Off Up to $2 Billion in Russia Exit (9 p.m.)
OMV AG will book charges of as much as $2 billion as it exits most Russian projects, the company said on Saturday. The Austrian fossil-fuel company follows peers in writing off credit it provided for the construction of the Nord Stream 2 pipeline, and will also consider divesting its stake in a natural gas field.
OMV's executives will travel to Qatar and Abu Dhabi with Austrian Chancellor Karl Nehammer over the weekend to negotiate alternative gas sources.
Israeli Premier Meets With Putin in Surprise Moscow Trip (6:31 p.m.)
Bennett was accompanied by Housing Minister Ze'ev Elkin who speaks Russian and translated during the meeting, which went for around three hours. The White House was informed in advance of the trip, according to a spokeswoman for Bennett.
Bennett has held phone conversations with both Putin and Zelenskiy in recent days as Israel attempts to leverage its good relations with both Kyiv and Moscow to help mediate.
The prime minister also spoke with Putin about the situation facing Israelis and Jewish communities as a result of the conflict in Ukraine, according to an Israeli official.
Putin and Bennett discussed "various aspects of the situation in Ukraine in the context of the Russian special operation to defend Donbas," the Kremlin said in an emailed statement, which did not give further details of the talks.
U.S. Urges Americans to Leave Russia 'Immediately' (6:28 p.m.)
The State Department issued an updated advisory that cited the potential for harassment and the embassy's limited ability to assist citizens there. "Limited commercial flight options are still available. Overland routes by car and bus are also still open," it said. "If you wish to depart Russia, you should make arrangements on your own as soon as possible."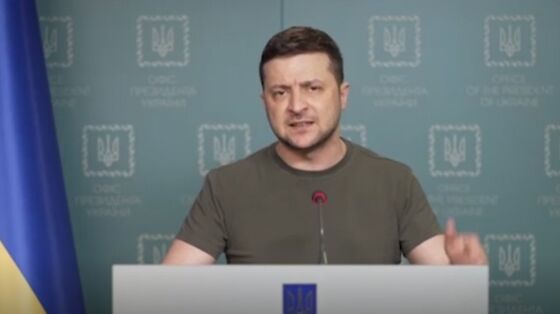 Russian Food Retailers Limit Purchases After Run on Goods (5:45 p.m.)   
Russian retailers restricted purchases of staple, "socially important" food items following reports of hoarding after this week's drastic ruble devaluation and on concerns about disruptions to imports. The Agriculture Ministry said in a statement it supported the move. 
Earlier, Russia's biggest food retailer said it would temporarily limit large purchases of some goods after a spike in demand for foods like sugar, sunflower oil and buckwheat in several regions. X5 Retail Group NV said it has sufficient supplies but is struggling to pack and transport products quickly enough to meet demand.
IMF Says Ukraine Wants $1.4 Billion in Emergency Funds (5:25 p.m.)
The IMF said Ukraine has asked for $1.4 billion in emergency financing, and that its staff expects to submit the request to the board to consider for approval as soon as next week. 
In addition to the rising human toll, Russia's invasion has done substantial damage to Ukraine's physical and economic infrastructure, including to sea ports, airports, roads and bridges. While it's difficult at this stage to assess financing needs precisely, it's clear Ukraine will face significant recovery and reconstruction costs, the IMF said. 
Neighboring Moldova also has requested an increase and adjustment of its current IMF loan to help meet the costs of the crisis.
Zelenskiy Asks U.S. Lawmakers to Boost Aid (4:45 p.m.)
Ukraine's president asked U.S. lawmakers to back a so-called no-fly zone over Ukraine, expand weapons shipments, and ban Russian oil imports, according to a person familiar with the conversation. 
NATO on Friday rejected Zelenskiy's call to enforce a no-fly zone over Ukraine because of the potential for a broader conflict with Russia. The U.S. is seeking an extra $10 billion in funding to respond to the Russian invasion, including humanitarian and military aid. 
Zelenskiy "made a desperate plea for Eastern European countries to provide Russian-made planes to Ukraine," said Senate Majority Leader Chuck Schumer. A number of European countries have rejected donating military aircraft. 
Ukraine Offers to Hold Talks With Russia on Monday (4:17 p.m.)
Ukraine has offered to hold another round of talks with Russia on Monday, the Ukrainska Pravda media outlet reported, citing people with knowledge of the matter in Zelenskiy's office. It would be the third set of talks since Russia's invasion of Ukraine. 
Putin Warns Ukraine Again on Statehood (3:10 p.m.)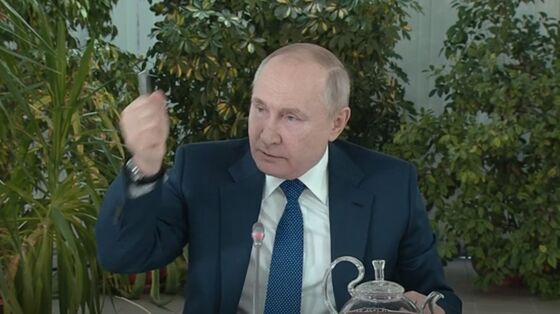 Putin repeated his warnings against the leadership in Ukraine as Zelenskiy and other officials call for a NATO no-fly zone over the country and further weapons to be sent to help it fight Russia.
The Russian president again demanded "demilitarization" of Ukraine. He's made clear he wants the government replaced, even as talks were held between Russian and Ukrainian officials in the past week on some sort of mediated solution. A third meeting is in the offing, with no firm date set. 
"The current leadership should understand that if they continue to do what they are doing, they will be putting the issue of Ukrainian statehood in question," Putin said at an event in Moscow on Saturday.
Putin said martial law would only be imposed "in the event of external aggression, including in specific areas of combat operations. But we aren't in a situation like that and I hope we won't be."
Russia Links Iran Nuclear Accord to Its Own Sanctions (3:00 p.m.)
Foreign Minister Sergei Lavrov said Russia wants guarantees from the U.S. that sanctions against Moscow won't affect its ability to work with Iran if the 2015 nuclear deal is restored, Interfax reported.
Moscow and other world powers are involved in talks in Vienna to revive the Iran accord. A resuscitated deal would see the U.S return to the agreement.
United Nations nuclear investigators are seeking answers about the origin of uranium particles detected at several undeclared sites in Iran. Tehran and the IAEA signaled progress on that front this weekend, removing one of the final hurdles to a deal that could see Iranian oil return to markets within months. 
Blinken Speaks With China's Wang on Ukraine (3:07 p.m.) 
U.S. Secretary of State Antony Blinken used a phone call with Chinese counterpart Wang Yi to push Beijing to take a tougher line against Russia. "The secretary noted the world is watching to see which nations stand up for the basic principles of freedom, self-determination and sovereignty," State Department spokesman Ned Price said in a statement.
China has so far refused to denounce Moscow, even as it recognizes Ukraine's right to sovereignty. And its public comments have signaled greater alarm at events on the ground with the war in its second week. President Xi Jinping spoke previously with Vladimir Putin and urged him to negotiate with the government in Kyiv.
Russian Plane En Route to Washington to Fetch Diplomats (2:47 p.m.)
A Russian plane is en route to the U.S. from St. Petersburg to bring home expelled diplomats, Foreign Ministry spokeswoman Maria Zakharova wrote on Telegram. A U.S. official said the jet would fetch what were described as Russian intelligence agents. 
Russia on Tuesday branded the expulsion of 12 diplomats from its United Nations mission in New York as an "escalation."
Flight radar is tracking the Ilyushin Il-96-300 jet, a model that's the main aircraft in the Russian presidential fleet, on its flight to Dulles International Airport near Washington, where it's scheduled to land in the early afternoon, local time.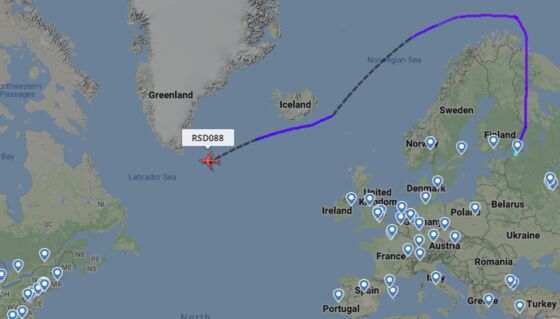 Russia Bans Some Foreign Flights to Stop Aircraft Seizures (1:11 p.m.) 
The order takes effect Sunday and applies to airlines that have leased planes from foreign owners, the country's aviation regulator said. It cited "the high risk of Russian airlines' planes being held or seized abroad."  
The move will give Aeroflot and other Russian carriers cover to hold on to hundreds of aircraft that, under European Union sanctions, must be returned to owners by March 28.   
Moody's Suspends Commercial Operations in Russia (12:14 p.m.)
Moody's Corp. will suspend its commercial operations in Russia for now. The move covers both Moody's Investors Service and Moody's Analytics operations, the company said in a statement. Moody's Investors Service will maintain analytical coverage for existing ratings from outside Russia, it added.
Poland Says Close to 800,000 Refugees Have Crossed Its Border (12:05 p.m.)
Poland said a record 106,400 people from Ukraine crossed its border on Friday, and another 34,000 early Saturday morning. Since Russia's invasion of Ukraine close to 800,000 people have fled Ukraine for Poland. Smaller numbers have traveled to Slovakia, Hungary, Romania, Moldova and other EU countries, as well as Russia itself. 
Most Related Links :
honestcolumnist Governmental News Finance News