ECONOMY
Ukraine Update: Moscow Considers Easing Capital Controls
(Bloomberg) — Russia is considering rolling back more of the capital controls imposed to stabilize markets after its invasion. President Joe Biden announced $800 million in additional U.S. military aid for Ukraine, and the European Union agreed to provide more cash for weapons. Russia continues to reposition its forces for renewed attacks in the east and south of Ukraine. 
The mayor of Mariupol said the weeks-long siege of the eastern port city has left more than 20,000 people dead. The Russian warship Moskva, which gained notoriety after it confronted Ukrainian guards on Snake Island in the early days of the war, has suffered damage, Moscow said, while a Ukrainian official said it was hit by anti-ship missiles.
The EU warned member states that complying with President Vladimir Putin's demand for Russian gas imports to be paid for in rubles would violate sanctions. 
(See RSAN on the Bloomberg Terminal for the Russian Sanctions Dashboard.)
Irish Foreign Minister Visits Kyiv (8:44 a.m.)
Ireland's Foreign Minister Simon Coveney visits Kyiv on Thursday to meet with Ukrainian counterpart Dmytro Kuleba and defense minister Oleksii Reznikov. Topics will include how Ireland can assist Ukraine in its application for EU candidate status, provide political, security and humanitarian support, and taking forward further EU sanctions on Russia.
Russia Considers Easing Capital Controls (7:40 a.m.) 
Russian authorities are considering a step-by-step approach to rolling back the harsh capital controls imposed to stabilize markets after the invasion of Ukraine.
Discussions this week focused on options that included extending the deadline for exporters to carry out mandatory conversions of their overseas earnings into rubles and lowering below 80% the share of foreign proceeds that companies are obliged to sell in the market, according to people informed on the matter.
The wartime controls have created a mismatch between the supply and demand for foreign currency, feeding a rally in the ruble that helped it regain all ground lost after the war began. Some Russian metal and mining companies are now struggling to sell dollars in such big volumes, according to people familiar with the matter. 
German Voters Back Sending Heavy Weapons (7:30 a.m.)
A majority of German voters favors supplying Ukraine with heavy weapons like tanks and fighter jets, according to a poll published Thursday. 
Germany has already sent Ukraine a considerable amount of military equipment, including anti-tank and anti-aircraft systems. Chancellor Olaf Scholz is under pressure to do more; even some members of his ruling coalition have criticized him for what they say is excessive caution. The Infratest Dimap poll of 1,226 voters for public broadcaster ARD showed that 55% support sending heavy weapons and 37% are against.
Dash to Quit Russian Coal Triggers Rally (5:24 a.m.)
Asian coal prices kept rallying — taking the gain in April to more than 20% — as Japanese and South Korean utilities avoided Russian fuel. Several Japanese power generators are seeking cargoes to replace Russian coal after Tokyo said last week it would ban imports, according to traders with knowledge of the matter. 
Australia Sanctions 14 Russian Enterprises (2:54 a.m.)
The Australian government imposed targeted financial sanctions on 14 Russian state-owned enterprises of strategic and economic importance to Russia, Minister for Foreign Affairs Marise Payne said in a statement. The firms include transportation company Kamaz, shipping companies SEVMASH and United Shipbuilding Corporation, as well as Russian Railways.
EU Says Rubles-for-Gas Violates Sanctions (11:25 p.m.)
The EU's executive arm said that complying with Putin's demand for Russian gas imports to be paid for in rubles would violate sanctions imposed on Moscow. Most EU member states have said they won't pay rubles for gas. Russia has threatened to halt deliveries if buyers don't accept the new rules.
Odesa Governor Says Russian Warship Hit by Missiles (10:49 p.m.)
Maksym Marchenko said on his Telegram account the Russian warship Moskva was "seriously damaged" after a strike from anti-ship missiles. He didn't say where the reported attack occurred in the Black Sea, or how many missiles were fired. Moskva is a flagship cruiser for Russia that gained notoriety in the early days of the conflict as one of two warships that confronted a small contingent of Ukrainian guards on Snake Island in the Black Sea.
The Ukrainian armed forces said on Telegram late Wednesday only that "something" had happened to the ship. Interfax, citing Russia's Defense Ministry, said the Moskva had been damaged when ammunition detonated during a fire. The crew was evacuated, according to the Interfax report. 
Russia Sanctions Members of U.S. Congress (8:41 p.m.)
Russia is introducing retaliatory sanctions against 398 members of the U.S. House of Representatives, according to the Ministry of Foreign Affairs. It had previously sanctioned other members including House Speaker Nancy Pelosi.
The measures come in response to those imposed by the Biden administration on March 24 against delegates of Russia's Duma. Russia is also imposing counter-measures against senators of Canada's Parliament.
Biden Pledges $800 Million More in Weapons (8:07 p.m.)
Biden said he is authorizing an additional $800 million in weapons, ammunition and other security assistance to Ukraine.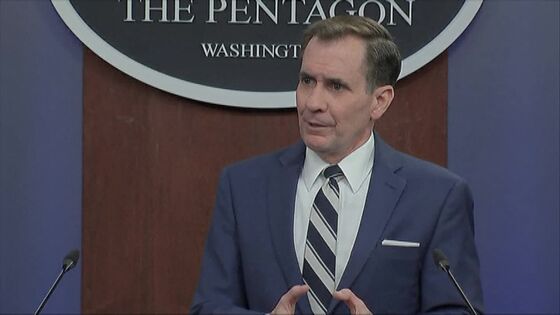 "This new package of assistance will contain many of the highly effective weapons systems we have already provided and new capabilities tailored to the wider assault we expect Russia to launch in eastern Ukraine," Biden said in a statement after a phone call with Ukraine's President Volodymyr Zelenskiy. "These new capabilities include artillery systems, artillery rounds, and armored personnel carriers. I have also approved the transfer of additional helicopters."
France's Le Pen Calls for Eventual NATO-Russia Alliance (7:58 p.m.)
French presidential hopeful Marine Le Pen said she wants NATO to enter an alliance with Russia once the war in Ukraine ends.
The far-right leader told reporters France should exit NATO's military command but that she would pursue collaboration. She also agrees with sending "defense equipment" to Ukraine but cautioned that she doesn't want France to deliver weapons directly because that would make the country a co-belligerent.
Surging Food Prices Due to War Risk Global Unrest, UN Says (6 p.m.)
Surging prices of food driven by the war in Ukraine risk driving social unrest across the developing world, according to a new report by the United Nations' Global Crisis Response Group.
Food prices are now 34% higher than at this time last year, the report found, citing disruptions to agricultural production in Russia and Ukraine — both major producers of staples such as wheat, barley, maize and sunflower oil — as well as pandemic-driven supply chain disruptions.
According to the report, 1.7 billion people across 107 economies are "severely exposed" to a combination of rising food prices, increasing energy prices, and tightening financial conditions. 
Russian Forces Hobbled by Morale Problem, U.S. Says (5:53 p.m.)
Russian forces continue to face major morale problems even as they prepare helicopters, artillery and troops for a renewed push in the east of Ukraine, a senior U.S. defense official told reporters.
Javelin missiles and other forms of military assistance continue to flow into Ukraine through airlift deliveries and ground movement, the official said. The official added that there are no indications that China has offered tangible lethal or non-lethal assistance to Russia.
Yellen Warns China on Russia, Hints at Consequences (4:15 p.m.)
U.S. Treasury Secretary Janet Yellen warned China that it may pay an economic price for its alignment with Russia over the war in Ukraine.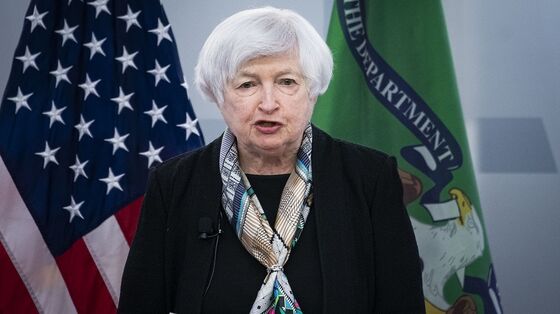 "The world's attitude towards China and its willingness to embrace further economic integration may well be affected by China's reaction to our call for resolute action on Russia," she said. President Xi Jinping's government has refrained from joining sanctions on Russia, while calling for respect for the principles of sovereignty and territorial integrity.  
Most Related Links :
honestcolumnist Governmental News Finance News