ECONOMY
Ukraine Update: Russia Bans Entry to Johnson, U.K. Cabinet
A U.S. defense official said Ukrainian missiles destroyed the flagship of Russia's Black Sea Fleet, backing Kyiv's version of events. With fears of Russian retaliation running high, President Volodymyr Zelenskiy said Ukraine's allies can help shorten the war with "more and faster" arms deliveries. Shelling resumed near Kyiv, and the far western Lviv region saw its first known missile attack in weeks. Russia has pledged to step up its air strikes.
Russia, which hasn't acknowledged a Ukrainian strike on the Moskva, warned the U.S. over its weapons shipments to Ukraine, according to a diplomatic note cited by the New York Times and Washington Post. Joe Biden said he's considering sending a senior official to visit Ukraine, though the White House says it won't be the president. 
Ukraine said its spring planting outlook has improved slightly as Russia's military narrows its focus to the country's east. The U.K. said wholesale destruction of roads is hampering the delivery of humanitarian aid to millions of displaced Ukrainians, and a UN agency demanded access to people in besieged cities running out of food and water. 
(See RSAN on the Bloomberg Terminal for the Russian Sanctions Dashboard.)
Lithuanian Leader Brushes Off Russian Threat on Baltics (11:38 a.m.)
President Gitanas Nauseda urged Finland and Sweden them to apply to join the NATO military alliance as soon as feasible, the Financial Times reported. 
He brushed off Moscow's threats to increase its military presence in the Baltics, saying Russia has had such weapons in Kaliningrad, a Russian holding wedged between Poland and Lithuania, for years.  
"The Kaliningrad region is probably the most militarized region in Europe, and tactical nuclear weapons are already there," Neuseda said. "I don't think we should react to this rhetoric."
Russia Slaps Entry Ban on Johnson, Other Top U.K. Officials (11:20 am CET)
Russia said it was retaliating against U.K. sanctions on its top officials with entry bans on Prime Minister Boris Johnson and much of his cabinet.
The move — largely symbolic as Western officials have all but stopped traveling to Russia since the war broke out — covers a dozen others, including Foreign Secretary Liz Truss, Defense Minister Ben Wallace and former Prime Minister Theresa May, the Foreign Ministry said. The list will soon be expanded to include politicians and members of parliament Moscow blames for "fueling anti-Russian hysteria," it added. 
The U.K. has been among the most assertive Western countries in imposing sanctions on Russia and supplying weapons to Ukraine. 
Russian Air strikes Target Far Western Lviv Region (10:06 a.m.) 
Russia made its first known attempted missile strike on Ukraine's far western Lviv area in about two weeks, the region's governor said. 
Maksym Kozytskiy said on Telegram that Russian SU-35 planes took off from the Baranovichi airfield in Belarus. Ukraine's air defense system shot down four cruise missiles, he said, offering no details about damage or casualties.
Russia's defense ministry claimed strikes overnight on military targets, including near Odesa and Mykolaiv in the south and Poltava in central Ukraine, Interfax reported, but didn't mention Lviv.   
More Ukrainians Head Back Over Border From Poland (9:53 a.m.) 
Polish authorities on Friday processed more departures to Ukraine than arrivals of refugees for the first time since the Russian invasion started on Feb. 24. There were 24,400 arrivals at crossings with Ukraine compared to 25,100 that left. 
As Russian ground forces gather for an expected assault in the eastern Donbas region, more Ukrainians are returning to the areas from which troops have withdrawn. 
Authorities have cautioned against rushing back, especially given Russian threats to step up attacks on the capital. Kyiv mayor Vitali Klitschko on Saturday warned against returning for now. 
U.N. Agency Calls for Access to Encircled Cities (8:39 a.m.)
The United Nations World Food Program called for unimpeded access to families trapped in conflict areas, including the besieged city of Mariupol. 
"It's one thing when people are suffering from the devastation of war. It's another thing when they're being starved to death," WFP Executive Director David Beasley said in a statement after a three-day visit to Ukraine.  
No humanitarian aid has been allowed into Mariupol since it was encircled more than two weeks ago, and it's thought to be running out of its last food and water. To the west, the city of Mykolaiv remains unreachable due to active conflict in the area. WFP said it's also concerned about several cities in Ukraine's east.
Road Destruction Hampers Delivery of Aid, U.K. Says (8:34 a.m.)
Widespread damage to roads in conflicted affected areas, as well as placement of land mines, "presents a significant challenge in delivering humanitarian aid" to areas where Russian troops have with withdrawn, the U.K. said in an intelligence update. 
As an example, the destruction of river crossings in and around Chernihiv has left only one pedestrian bridge across the Desna River. Before the war the northern Ukraine city had about 285,000 residents.  
Shelling Reported in Kyiv and Lviv Regions (8:21 a.m.) 
The Kyiv region, including the Darnytsky district to the city's southeast, sustained shelling from Russia early Saturday, Mayor Vitali Klitschko said on his Telegram channel, a day after Moscow threatened to step up attacks on the capital. Air raid sirens were heard a second time. 
Russia remains focused on taking control of Mariupol and pressing on to the administrative borders of the Kherson region, the Ukraine armed forces said. Mariupol has been subject to a brutal, month-long siege, part of a bid by Russia to create a land bridge to the Crimean peninsula. 
Shelling was also reported in Ukraine's far west Lviv region, close to the Polish border. 
Ukraine Army Chief Talks to U.S. General by Phone (4:19 a.m.)
Ukraine army Commander-in-Chief Valeriy Zaluzhnyi reiterated calls for more weapons in a telephone conversation with General Mark Milley, chairman of the U.S. Joint Chiefs of Staff, according to a post on Facebook. 
The two discussed heavy fighting on the Kharkiv-Izyum border, the Russian offensive in Luhansk and Donetsk and the "critical situation" around Mariupol, as well as rocket attacks throughout Ukraine.
Ukrainian Officials to Visit Washington, Reuters Says (1:52 a.m.)
Ukrainian Prime Minister Denys Shmyhal, Finance Minister Serhiy Marchenko and central bank governor Kyrylo Shevchenko will visit Washington during the spring meetings of the International Monetary Fund and World Bank, Reuters reported.
They're set to hold bilateral meetings with finance officials from the Group of Seven countries and take part in a roundtable on Ukraine that will be hosted by the World Bank on Thursday, according to the report. 
Ukraine Has Lost Up to 3,000 Soldiers, Zelenskiy Says (1:25 a.m.)
President Volodymyr Zelenskiy estimated Ukraine's military casualties at between 2,500 to 3,000 dead and about 10,000 injured, according to excerpts from an interview with CNN's "State of the Union" set to be broadcast Sunday. 
He said it's "very difficult" to estimate civilian losses, given that cities such as Mariupol and Kherson as well as other areas are inaccessible due to fighting.
Zelenskiy: More Military Aid Will Shorten War (1:00 a.m.)
Ukraine's allies have it in their hands to avoid a drawn-out war, President Volodymyr Zelenskiy said, renewing calls for them to deliver more weapons to his country and expand sanctions on Russia.
"When someone says it will take a year or years, I reply: it is in your hands to make the war significantly shorter," Zelenskiy said in his latest video address. "The more and the faster we will get all the weapons we asked for, the stronger our positions will be and the sooner peace will come."
He also called for an international embargo on Russian oil and a "full blockade of its financial sector." Ukrainian forces have liberated 918 towns and villages since the start of the war, Zelenskiy said.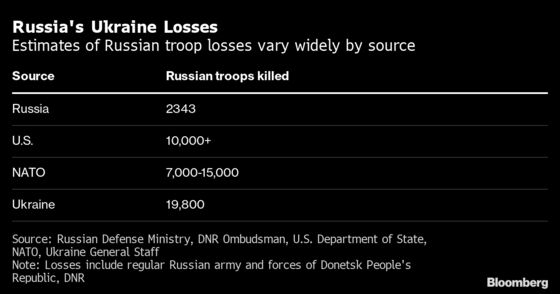 U.S. Says Moskva Was Hit by Ukrainian Missiles (8:17 p.m.)
Russia's Moskva cruiser, the flagship of its Black Sea fleet, was struck by two Ukrainian Neptune missiles, a senior U.S. defense official said Friday.
Russia's Defense Ministry has said the Moskva sank during a storm while being towed back to port after reporting fires and ammunition explosions on board. Ukraine's military says the ship was hit by Neptune anti-ship cruise missiles, resulting in significant damage and a fire.
Russia Reportedly Warns U.S. on Arming Ukraine (6:58 p.m.) 
Russia sent a diplomatic note to the U.S. this week saying U.S. and NATO supplies of the "most sensitive" weapons systems to Ukraine were stoking the war and could lead to "unpredictable consequences," the Washington Post reported. The note, the latest of several warnings from Russia to the Biden administration, wasn't signed by President Vladimir Putin or other senior Russian officials, the New York Times reported.
A State Department official said the department won't confirm private diplomatic correspondence.  
Most Related Links :
honestcolumnist Governmental News Finance News