Entrepreneurs
How I Hit Rock Bottom and Why Other Entrepreneurs Need to Know About It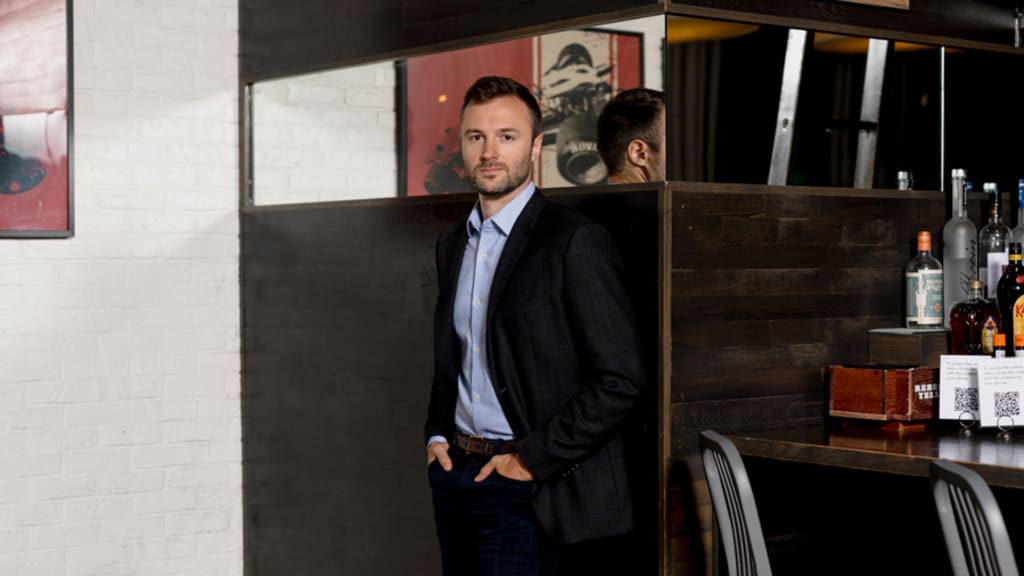 While he was creating Wisely, an Ann Arbor, Michigan-based software platform that allows restaurants to build stronger relationships with their customers, Mike Vichich hit some painful lows. In that regard, he's far from alone. Whenever Vichich shares those stories, he says, other entrepreneurs will often come back with their own tales of hitting rock bottom–even though admitting weakness doesn't square with the chest-beating ethos that dominates much of America's startup culture. Now that Wisely's path has finally reached the fast-growth stage, Vichich finds himself taking on a new mission: making entrepreneurship more vulnerable. –As told to Cameron Albert-Deitch
One evening in 2015, I got onstage at the monthly Ann Arbor New Tech Meetup, plugged my phone into the big screen, and started introducing myself to the few hundred people there–"Hey, I'm Mike from Wisely." Then I heard everyone start laughing. I turned around to look at the screen and saw a message: "From Jennifer Vichich: Are you coming with me to therapy tonight?"
I was mortified. Half the people were aghast and felt terrible for me. Half were awkwardly laughing. I said, "Everyone here who has started a company knows that it's hard. I'm happy to say my wife and I can be open and honest about our issues. That's how we get through them."
I walked offstage feeling semi- euphoric. I'd been real about the struggle that comes with this work. It was the moment I realized it isn't authentic when people talk about how much they're "crushing it."
A former Accenture co-worker and I launched our company in 2012. It was called Glyph back then–we used transaction data to help people find their ideal credit card–and there were a million reasons why it wasn't viable. It just took us about a year to realize that. We rebranded as Wisely and pivoted to a concept that we called Better Yelp, which also used transaction data, this time to recommend bars and restaurants. The app gained some traction, but not enough. We needed to pivot again.
One restaurant owner told me: "The last thing I need is another app to manage my presence on. What I would love is to know when my regulars walk in." So, in 2015, we built a customer loyalty program. We signed up 30 restaurants and about 10,000 people in Ann Arbor, and we concluded it might work at scale, so we took it to New York City. If it didn't work there, it wasn't going to work anywhere.
In the middle of winter, while my wife was pregnant, I took a 6 a.m. flight to New York on a Monday morning and spent the next three days walking into restaurants and trying to sign them onto this loyalty app. On Thursday, I flew home, and then I flew back the following Monday to do it again. I did that for four months before we ran out of cash–and again, before we got enough traction.
Over a period of years, we'd developed a belief that we would one day figure it out. We were relentless about believing that. Then we had to confront the reality that it didn't behoove us to believe our own bullshit.
We tried to sell the company. There were no takers.
I vividly remember going to bed one night thinking that I'd lost our investors' hard-earned money. Two angel investors had put a couple million dollars into Wisely over the span of a couple of years, and I drifted off to sleep imagining the conversations they were having with their families. "You put how much money into that company that died?" I woke up in the middle of the night having peed the bed.
There's no silver lining to that one. It was an incredibly stressful time.
As a last-ditch effort, we switched to a B2B model. We started with a very simple waitlist system for restaurants. When you join our waitlist for a restaurant, we want to know whether you're a regular there. We want to remember what foods you like and dislike, the kinds of details that can help restaurants offer you better hospitality. Shockingly, no other waitlist system out there did that.
We got the first version shipped to a Bartaco restaurant location in Port Chester, New York, on Labor Day 2016. It went well enough that the rest of Bartaco's locations signed on. Then we signed their sister company, Barcelona Wine Bar. Those two brands gave us a modicum of street cred–which helped us sign another brand, and another one, and so on.
Since then we've grown organically on the backs of customers, and now we see a path to hitting $100 million in annual recurring revenue within the next three to five years.
It's still a slog. But whenever I tell these stories to other entrepreneurs, they're like, "That makes me feel so much better! I've gone through similar stuff."
Chest-beating isn't good for entrepreneurship. Vulnerability is.
From the September 2021 issue of Inc. Magazine
Most Related Links :
honestcolumnist Governmental News Finance News