News
12 Great Closet Organizers for Maximizing Space and Minimizing Clutter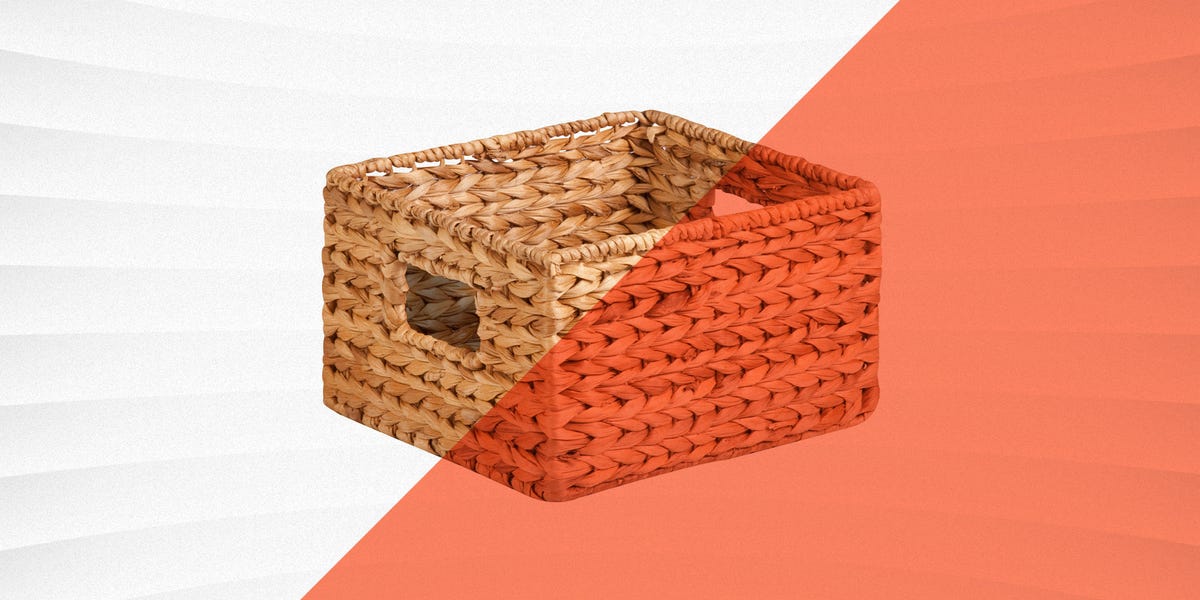 Staff, Courtesy of Wayfair
Whether you're finally ready to organize the mess in your closet or are tired of forgetting about your favorite jacket because it's always in the very back of your wardrobe, finding the right organizers can help you maintain a tidy space. There are a ton of different solutions, and chances are the right product requires little, if any, assembly or complex installation. We've put together a list of different closet organizers so you can find the clothes and accessories you're looking for when you need them.
How to Choose the Right Closet Organizer
This guide includes many different products to solve specific yet common challenges for keeping a closet organized. Some create a system to keep a shelf in order, and others utilize the closet door to hang the items you use the most. For example, these acrylic shelf dividers can help finally keep a chronically cluttered shelf tidy. Or if the drawers in your walk-in are the issue, these dividers can help keep socks and underwear separate. Small organizational tools can go a long way, too. For example, thinner clothes hangers can give you more space to hang your garments.
"When I assess a closet and recommend products, I think of functionality," says Millie Naor, founder of Bella Organizers, a New York-based professional organization company, "Which products will optimize your closet to the fullest, and aesthetically, what will look best?" She also recommends clearing out your closet before you purchase any new products. That way, you know exactly what you need and can factor in how the closet will be organized in the end when you're shopping.
How We Selected
To research this guide, we spoke to professional organizers about what kinds of products they use the most to organize clients' closets. These expert recommendations, in addition to our experience using some of these products and others we didn't include, helped us establish a set of guidelines for our recommendations. We included products that are functional, solve a specific and common problem—like organizing a large shelf space—and factored in aesthetics. As a last measure, we considered the customer reviews of top-rated organizers on popular retail sites, such as Wayfair, Walmart, and Amazon.
Advertisement – Continue Reading Below
Best Wicker Baskets
Wayfair Alberty 3 Piece Wicker/Rattan Basket Set
Wayfair
wayfair.com
$34.28
Key Specs
• Material: Wicker
• Dimensions: 9.1 x 9.1 x 5.9 in. (small),  10.5 x 10.5 x 6.5 in. (medium), 12.1 x 12.1 x 7.1 in. (large)
One of the challenges with choosing containers to organize your closet is selecting ones that help with organization and are also pleasant to look at. Naor recommends wicker baskets because you can store and hide items behind the uniformly opaque sides. This set includes three baskets in different sizes. 
Some people might want a uniformly sized set
Best Foldable Storage
Simple Houseware Foldable Cube Storage Bin
Simple Houseware
amazon.com
$19.87
Key Specs
• Material: Fabric
• Dimensions: 10.8 x 10.8 x 11 in.
The six-pack Simple Houseware Foldable Cube Storage Bin is another great option for baskets or bins. They can easily fit on shelves and are ideal for storing larger items that you might not use on a daily basis, like sweaters and jackets. The collapsible design makes it easy to put these away when you're not using them. These affordable bins also come in a wide range of colors, including bright red, navy blue, and more neutral colors like gray, black, and beige. 
Affordable
Folds down when not in use
Might be too big to be functional for everyday use
Label Your Items
Cosa Basket Bin Clip on Labels
Key Specs
• Material: Carbon steel
• Dimensions: 5.3 x 3.7 x 2.1 in.
Naor recommends labeling your boxes as a way to stay organized. These labels come with a white marker so you can write a description for and maintain the arrangement of each box. The white marker is erasable, so when the time comes to rearrange your closet, you can keep recycling them. They come in a pack of six.
Can rewrite labels when you reorganize
Comes with a white marker, which is difficult to replace if lost
Best Removable Wall Hooks
Command Large Wall Hooks
Command
amazon.com
$14.88
Key Specs
• Material: Metal
• Dimensions: 2.4 x 4 x 1 in.
If you want a quick and easy solution for hanging certain clothing items you use on a daily basis, utility hooks are a great choice. These Command hooks easily stick to a wall or door and can hold up to 4 pounds. When you're ready to remove them, just peel off the adhesive. They won't leave a mark on the wall. Plus, their attractive appearance is stylish enough to use as a permanent solution.
Easy installation and removal
Could create more visual clutter if used for clothes hanging
Best Over-the-Door Rack
Kangju Stainless Steel Over-the-Door Hook Rack
KANGJU
wayfair.com
$41.99
Key Specs
• Material: Stainless steel
• Dimensions: 16.9 x 8.3 x 1.8 in. 
"If you have a walk-in closet and need a bit more functionality, an over-the-door organizing unit is a great solution," Naor says. This stainless steel hook rack is a perfect way to keep your closet organized easily. It's elegant and sturdy and is a good solution to hang the everyday items you use most frequently, like jackets, bags and umbrellas. Before you purchase, make sure there's enough space for your door to be able to close properly. 
Virtually no installation necessary
Might not fit on every door
Best Shelf Dividers
CY Craft Acrylic Shelf Dividers
CY Craft
amazon.com
$26.98
Key Specs
• Material: Acrylic
• Dimensions: 3.5 x 9.9 x 12.8 in.
This four-pack of dividers can solve the problem of shelves that are too large to ever be truly organized. Naor recommends using these to divide your clothes by category. "I love acrylic because it has a clean look," she says and adds that dividers like these are not only great for clothing but also a solution to organize handbags.
A clean look that can fit almost any closet
Easy to install
Won't reach the end of a shelf deeper than 13 inches
Best Simple Hangers
Amazon Basics Velvet Clothes Hangers 50-Pack
Amazon Basics
amazon.com
$23.99
Key Specs
• Material: Velvet and plastic
• Dimensions: 16.4 x 8.9 x 0.2 in. 
"Matching hangers make a closet look much more organized and cohesive in minutes," Naor says. "It's something easy that you can do to upgrade your closet." She suggests using a slim hanger to get more out of your hanging space. At around $0.50 each, these velvet hangers are a great deal. They come in different shapes for hanging shirts, pants, and skirts in packs of 30, 50, and 100. 
Affordable
Will open up shelf space in your closet
Only available in packs of 30 or more
Best Tie Hanger
Umo Lorenzo Premium Wooden Necktie and Belt Hanger
Umo Lorenzo
amazon.com
$12.99
Key Specs
• Material: Wood and metal
• Dimensions: 6.7 x 12.2 x 1.3 in.
The Umo Lorenzo necktie is another hanger to consider. If you normally keep your ties in a drawer or don't have a designated place to keep them, this product provides a solution. It hangs up to 20 ties—10 on each side. You can also use this to hang belts or scarves. 
An easy way to display all of your ties
Space-saving design might make it harder to see some ties
Best for Shoes
mDesign Plastic Stackable Closet Storage Box with Pull-Out Drawer
mDesign
amazon.com
$35.99
Key Specs
• Material: Plastic
• Dimensions: 8 x 4.3 x 12.5 in.
Naor recommends plastic stackable storage boxes for shoes you want to store away for a season. These pull-out drawers are ideal for items that you don't need year-round and come in a 6-inch height if you need more space. Fill yours with shoes, clothes, or smaller items like gloves. 
Stackable design saves space
Takes up floor or shelf space
Multi-Shelf Shoe Rack
Whitmor Wood Stackable 2-Shelf Shoe Rack
Whitmor
amazon.com
$32.98
Key Specs
• Material: Wood
• Dimensions: 11.6 x 24 x 11.6 in.
When it comes to shoes, "I recommend using something that expands or that you can build on," Naor says. This 2-shelf rack is stackable so you can always add more as you see fit. This also will help make use of the vertical space in your closet. It comes in two different widths: 24 or 31 inches.
Expandable Shoe Rack
The Container Store 3-Tier Grippy Shoe Rack
The Container Store
containerstore.com
$34.99
Key Specs
• Materials: Walnut-finished hardwood frame and foam bars
• Dimensions: 25 x 18 x 8.5 in.
The 3-Tier Grippy Shoe Rack is one of Naor top choices for shoe racks. "This one is great because it extends to fit more shoes, or if you don't have as many you can reduce the size," she says. The rack expands from 25 to 46 inches wide and can fit up to 21 pairs of women's shoes and 15 pairs of men's shoes.
Expandable from 25 to 46 inches wide
Doesn't stack or allow for vertical storage
Best Drawer Dividers
OXO Good Grips Expandable Dresser Drawer Divider
Key Specs
• Material: Plastic
• Dimensions: 3.6 x 4.4 x 11.3 in.
If you find it impossible to keep drawers within your walk-in organized because there's just too much stuff that needs to be kept separate, these expandable dividers from OXO are an ideal solution. "I love using these to divide bras, underwear, and socks," Naor says. "They are helpful for any drawer that has more than one type of clothing in it." She advises shoppers to make sure to measure your drawer's height and depth before you buy any divider so that you can be sure it will fit.
Adjustable and easy to install
White plastic might not match your dresser's aesthetic
This content is created and maintained by a third party, and imported onto this page to help users provide their email addresses. You may be able to find more information about this and similar content at piano.io
Advertisement – Continue Reading Below
Most Related Links :
honestcolumnist Governmental News Finance News