News
20 Best Mother's Day Gifts on Amazon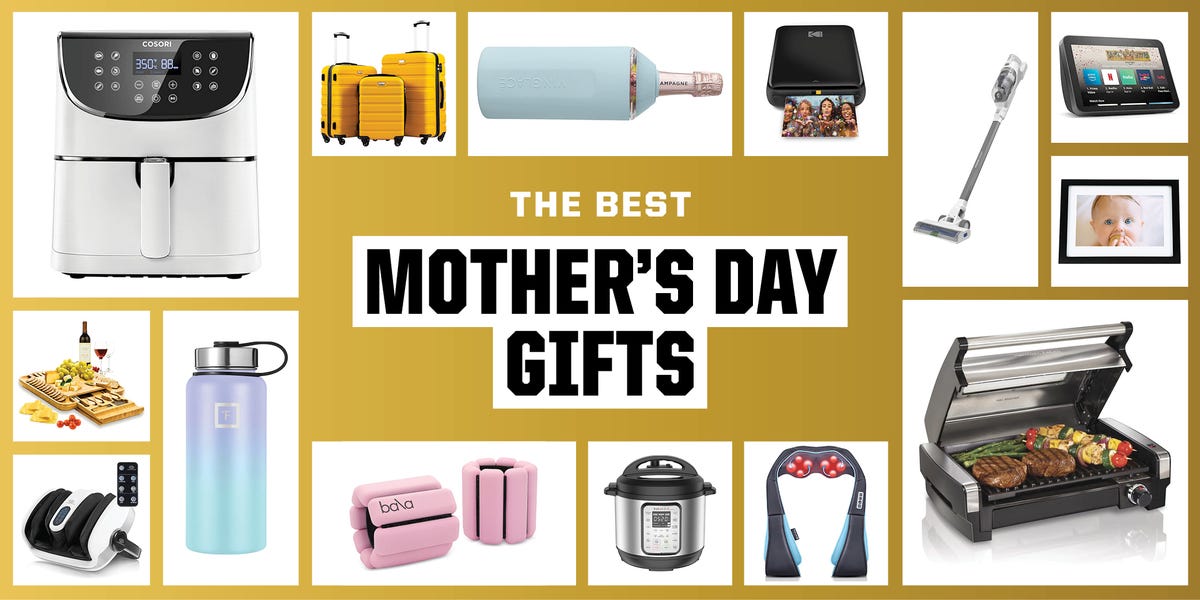 The moms in our lives do a whole lot for us—whether we realize it or not. The love and support they show us during our highest—and lowest—points is truly unmatched. Because they're such special and important people in our lives, they deserve to get showered with love every day of the year, but Mother's Day provides a unique opportunity to truly show them how much they're appreciated with a thoughtful gift.
Our picks for the best Mother's Day gifts this year will appeal to moms with a variety of hobbies and interests. We have some great options for those who love to cook, coffee connoisseurs, fitness fanatics, moms who love nothing more than hosting friends and family, and those who might just need a relaxing night to themselves every so often.
Read on for great Mother's Day gifts on Amazon that are sure to make her special day even better.
Advertisement – Continue Reading Below
1
For a Great Start to the Day
Specialty Coffee Maker
If your mom or partner can't get her day started without a cup of joe, this Ninja coffee maker is the perfect gift. It's equipped with four brew styles—classic, rich, over ice, and specialty brew—and has six brew sizes to choose from. She can take her cup on the go if she's heading into work, or savor it from the comfort of her WFH space.
Once she's had her fill for the day, all she has to do is throw the filter holder, reservoir, and frother onto the dishwasher's top rack to clean off so they're ready for her next cup.
2
For Relieving Daily Stressors
Shiatsu Massager
After a long day of working or taking care of the kids, she'll need some time to relax and de-stress. And what better way to indulge in some self-care than with this electric massager? It can get out the tough knots in her neck, back, and shoulders—all with the push of a few buttons.
The massager has adjustable speed and direction capabilities that control how strong—and in which direction—the nodes work. There's even a heat setting for deeper, more intense massages for the areas of her body that hold the most tension.
3
For Making Life Easier at Home
Echo Show 8
Whether she wants some tunes to dance to in the kitchen or wants to enjoy a rotating carousel of photos of her grandkids, any mom or grandmother will be thrilled to unwrap an Echo Show this Mother's Day.
The Echo Show 8 is built with an 8-inch HD screen with clear, bright colors, a 13-megapixel camera, stereo speakers, and Alexa voice control. With all these features, this device can do it all: manage her calendar, pull up recipes for family meals, put pictures on display, and even stream music or movies in the background.
Plus, it can monitor her home when she's away, thanks to the camera that can sense motion and voices.
4
For the Organization-Obsessed Mom
Pak Packing Cubes
Make packing for her next trip a breeze with these handy packing cubes. This set includes four cubes—one small-sized, two medium-sized, and one large-sized—that can fit everything she needs for travel. A laundry bag is also included, keeping dirty clothes away from clean ones in her suitcase.
Each packing cube is made of a water-resistant material that's easy to clean, and they can be secured with two zippers so nothing falls out of them.
5
For Putting Her Favorite Memories on Display
Skylight Digital Picture Frame
What's better than capturing your mom's favorite memories on a phone or camera? Putting them on display with this digital picture frame! Just plug in the frame and connect to Wi-Fi, then your mom is set to send some of her most cherished pictures straight to the frame for everyone to admire.
Over time, as she collects more pictures—or even uncovers some forgotten ones—all she has to do is email them to the frame and they'll be programmed to run on a loop with the rest of her collection.
6
For Healthier Meals
Air Fryer
Air fryers are among the most popular appliances of the past few years, and they make cooking a variety of different dishes a breeze. This Cosori air fryer has 13 cooking functions to choose from, so your giftee can quickly pop in some appetizers for the kids to munch on, make a meal for the whole family, or just whip herself up something to enjoy solo.
Included with this air fryer is a recipe book with 100 ideas for meal inspiration, so she'll never run out of things to make for herself or others.
7
For Calming Those Barking Dogs
Foot Massager
From working to running errands to picking up the kids from school and practices, many moms hardly have time to take a break during the course of an average day. Once she's returned home, she'll want to kick her feet up and relax—and this foot massager makes doing so a dream.
This model uses a deep kneading Shiatsu technique—with various levels of intensity—to relieve pressure and tension in her feet, ankles, and legs.
8
For the Novice Gardener
Indoor Herb Garden Seed Starter Kit
Moms who enjoy gardening—or herbal tea—will love this herb garden starter kit. It comes with four seed packets—chamomile, lavender, lemon balm, and peppermint—as well as burlap grow bags, potting soil disks, and plant markers.
If she's no stranger to gardening, it will be easy for her to put this kit to use and start brewing up some of her favorite teas. If she's new to gardening and wants to dip her toes in before committing to bigger plants, this kit is simple to use and comes with easy-to-follow instructions.
Once the herbs are all set up, all she has to do is leave them on a windowsill, kitchen countertop, or really anywhere that gets enough sunlight, for them to grow.
9
For Her Solo Jam Sessions
OontZ Angle 3 Bluetooth Portable Speaker
Even moms need to jam out to their favorite playlists every so often—and this portable speaker makes doing so easy anytime and anywhere. It's designed with high-quality sound and bass, and packs surprisingly good volume in a petite package.
This speaker can connect to any smart device via Bluetooth within a 100-foot radius, so it can be downstairs while Mom is upstairs, or even play from inside if she's working outside.
Plus, if she likes to play music all day long, this speaker has up to 14 hours of battery life on a single charge, so she'll never have to sit or work in silence again.
10
For the World Traveler
3-Piece Luggage Set
What better present to give your world traveler mom this Mother's Day than this three-piece set of small-, medium-, and large-sized suitcases? They're made of a durable, anti-scratch hard-shell plastic material to protect against any damage that could happen while they're in transit. The retractable grip handle and four spinner wheels make it easy to breeze through any airport or train station.
This set is available in a variety of colors, ranging from subdued neutrals to electric yellows and blues, and if she needs more space, there are even four-piece sets available.
11
For the Mom Who Loves to Host
Bamboo Cheese Board Set
Hosting family or friends will be that much easier—and more fun—when your mom or partner has this charcuterie board for putting snacks on display. Its square surface provides enough space for an array of cheeses, fruits, nuts, and other snack essentials. It also comes with three labels to indicate what's what, four utensils for guests to pick up small pieces of food, and a wine opener for those looking to pour themselves a glass.
12
For Printing Her Favorite Pictures
Step Instant Photo Printer
While having digital pictures to look at on a phone or computer is nice, there's something so nostalgic about printing out physical copies. And, if your mom likes to collect photos to hang up, put in a scrapbook, or frame, then she'll love this mini printer. It connects to an iOS or Android device via Bluetooth, allowing for easy printing. And, the sticky-back paper the pictures come out on can be easily hung up just about anywhere. If your mom wants to get really creative, Kodak even has an app that allows her to edit pictures with filters, borders, text, and more.
13
For a Cleaner House
Cordless Stick Vacuum
When unexpected messes come up, a good vacuum can be a lifesaver. This cordless stick vacuum from Black + Decker is a solid option and sure to become a staple in your mom's cleaning arsenal. This highly-rated vacuum works well on carpets and hardwood floors, and customers say it's highly portable and maneuverable, too, making it ideal for small and large messes alike—even those that are a bit pesky to reach.
14
For Easier Meal Prep
9-in-1 Cooker
If your mom or partner loves to cook, this versatile appliance will make her time in the kitchen much more enjoyable and efficient. It has nine functions and 13 programs for making a wide variety of delicious meals—all she has to do is press a few buttons to get things cooking. This pot can prepare food 70 percent faster than traditional cooking methods, so she won't have to wait long to devour her favorite recipes.
Once she's done cooking, all she has to do is throw the inner pot and lid in the dishwasher, and it'll be good to use for the next meal.
15
For the Fitness-Loving Mom
Adjustable Wearable Weights
With all the things that moms do on a daily basis, fitting in a workout may not always be an easy feat. Luckily, all your mom needs to get her fitness fill is this adorable set of wearable weights.
They can be used on wrists or ankles—depending on the muscles she wants to work—and she'll hardly notice they're there. If she's working at a desk all day, she can put them on her wrists while she types to get an extra arm workout.
If she takes a break to go on a quick walk, the weights can be worn on her ankles to help her feel the burn in her calves and thighs. While the weights themselves are small, they'll still give her the definition she's after if she uses them for long enough.
16
For Keeping Her Favorite Bottles Chilled
Stainless Steel Wine Bottle Insulator
Wine-loving moms have likely encountered the struggle of keeping a good bottle cold. If she's already short on fridge space, she can put her favorite vino in this stainless steel insulator. It's designed to keep wine chilled for hours—before and after it's been opened. All she has to do is unscrew the top of the insulator and place the bottle inside so it's kept at the perfect drinking temperature.
It's also incredibly portable, so she can bring it with her outside, on a picnic with friends, or put it back in the fridge for some extra chill.
17
For a Good Night's Rest
Gel-Infused Memory Foam Mattress Topper
Sleep is important for everyone—especially busy moms. For better, more comfortable sleep, give your favorite mom this memory foam mattress topper. It's available in nearly every mattress size—from twin to California king—and in two- or three-inch thicknesses.
Plus, it's infused with temperature-regulating beads, so she'll never have to worry about overheating in her sleep. After a few uses, she's bound to be on track for consistent, rejuvenating sleep every night.
18
For the Grillmaster Mom
Electric Indoor Grill
Leave the grilling to the moms this season with this genius electric grill. Because it's designed for use indoors, it can be put to work year-round to grill chicken, steak, fruits, vegetables, and more.
The temperature can be adjusted up to 450 degrees Fahrenheit for optimal results. And, when she's done cooking, cleanup is a breeze—the plates, drip tray, and hood are all dishwasher-safe.
19
For Some Serious R&R
Ceramic Essential Oil Diffuser
Help her make self-care a daily priority with this stylish diffuser. Its aromatherapeutic functionality can work with just about any essential oil—and a few bottles of her favorite scents are ideal for making this an even more well-rounded present.
This electric diffuser can run for up to five hours, giving her plenty of time to relax on a single charge. Aside from this diffuser, all she'll need is a good book to read, or her favorite movie to watch, for an ideal night to herself.
20
For All-Day Hydration
Water Bottle
Moms on the go need to stay hydrated so they don't lose steam. To ensure she doesn't find herself parched while out and about, this water bottle is a must-have. It's available in six sizes, and each one comes with three leakproof lids: a stainless steel lid, a flip lid, and a carabiner lid with two straws.
It's also made of insulated stainless steel, ensuring that liquid inside it stays cold for up to 24 hours.
This content is created and maintained by a third party, and imported onto this page to help users provide their email addresses. You may be able to find more information about this and similar content at piano.io
Advertisement – Continue Reading Below
Most Related Links :
honestcolumnist Governmental News Finance News