News
9 Best Bread Makers of 2021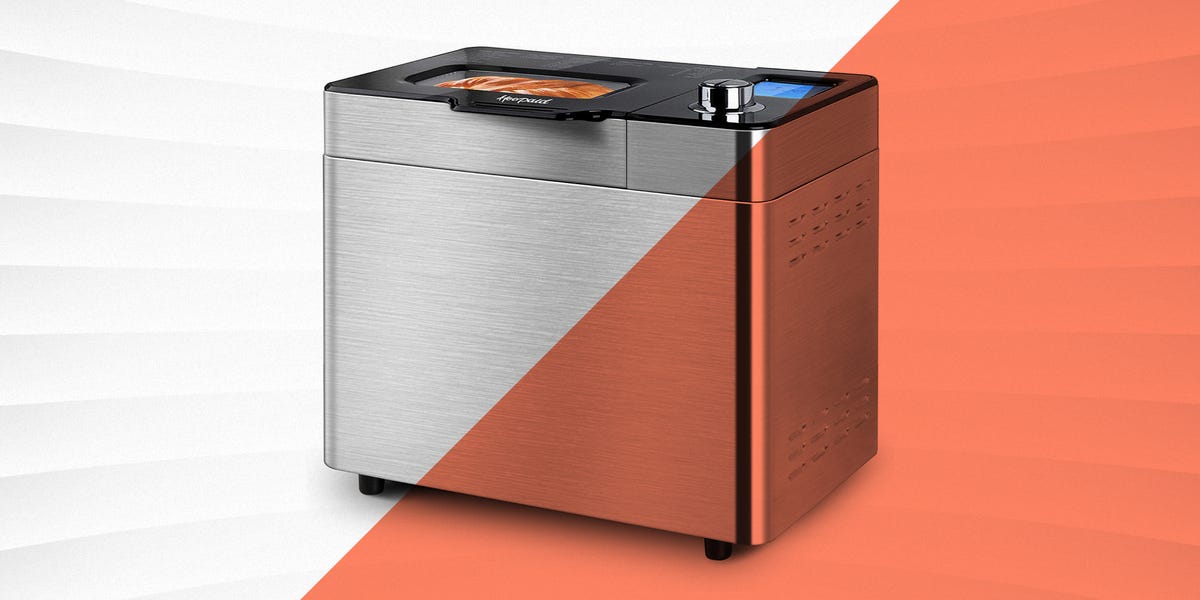 Staff, Courtesy of Hoepaid
If you're among the many Americans who dabbled in sourdough bread baking during 2020, don't let your newfound hobby fall to the wayside just because restaurants are open again. Making your own bread is a fulfilling and fun exercise in science, patience, and deliciousness. And the good news is that bread baking doesn't have to be an intensive, hands-on or all-day affair. Instead of watching your starter bubble and expand on the counter, why not let a bread machine do all the hard work? When you buy one of the best bread machines of 2021 that we've rounded up below, you can leave the machine to do its thing and come back just in time to enjoy the freshly baked results.
What to Consider
When buying a bread machine, there are a few key features to consider. First, look at size. Your storage and kitchen space should dictate the bread capacity and overall size of the appliance you choose. If you have a large kitchen with ample room, a larger bread maker will allow you to make bigger loaves. Look for a 2.25-pound or larger bread capacity. On the other hand, you can find excellent compact bread makers for smaller kitchens. A compact machine like the Cuisinart model below measures just over 13 inches on its longest side and is more vertical than horizontal, so it has a smaller footprint on your counter.
Next, consider features. Many of the bread makers on our list come with preprogrammed settings that can bake specific kinds of bread and, in some cases, other foods, too. If you're dying to recreate the crusty French bread you had on a trip to Paris, you may find that a machine with a "French" setting will get you a bit closer to the City of Love without leaving your kitchen. Or, if you want a bread machine that can do more than bread, look for one with functions like yogurt- and jam-making.
Another feature to consider is crust color. Many bread makers let you choose from different shades of "doneness" on the crust. If you want more control over your bake, or simply like a variety of crustiness levels, a more feature-rich model will give you those options.
Finally, consider the shape of your loaves. Most horizontal machines bake long loaves in the classic rectangular shape. However, some machines have a square or vertical bread pan, which produces taller loaves with a square bottom. If you're not a fan of these slightly less elegant shapes, opt for a model with a rectangular pan.
How We Selected
As someone who's been making bread for years, from quick breads to crusty sourdough boules to eggy brioche, I deeply appreciate the convenience and ease of using a bread maker. And as a private chef and writer for publications including the Chicago Tribune, Munchery, and Simply Recipes, I expect my appliances to be accurate, easy to use, and durable over years of regular use. The list of the best bread makers below reflects careful research and experience, including digging into customer reviews, to help you make the most informed decision.
---
Best All-Around Bread Maker
Cuisinart CBK-100 Bread Maker
Cuisinart
amazon.com
$169.95
• Weight: 17.3 lb.
• Capacity: 2 lb.
• Size: 18 x 12.25 x 15 in.
This stainless-steel bread maker from Cuisinart is well-designed and highly functional without going overboard. It has 12 preprogrammed bread settings, three crust settings, and a 13-hour delay timer for perfectly fresh bread every time. The bread basket is nonstick and easy to clean, and a large window lets you keep a close eye on every step of the bread-making process.
Easy-to-use digital interface
Users note that the machine beeps frequently and loudly
Best Budget-Friendly Bread Maker
Amazon Basics Non-Stick Bread Making Machine
Amazon Basics
amazon.com
$59.99
• Weight: 8 lb.
• Capacity: 2 lb.
• Size: 11.7 x 5.6 x 11.5 in.
This is a great first bread machine for the beginner home baker. It has a compact design that's convenient for small spaces. And despite the reasonable price tag, this machine doesn't skimp on features. It has 14 built-in settings and can even bake a fresh loaf of bread in under 90 minutes using the ExpressBake setting (you'll sacrifice some of the tangy sourdough flavor that comes from longer fermentation, but the loaf will be fluffy and light).
Compact size for its 2-pound loaf capacity
Most Compact Bread Maker
Cuisinart Compact Bread Maker
Cuisinart
walmart.com
$129.95
• Weight: 10.8 lb.
• Capacity: 2 lb.
• Size: 10.25 x 13.25 x 11.25 in.
If you're short on counter space and want to maximize your bread-making abilities, this appliance is a small but mighty option. It includes 12 preprogrammed settings, including sweet bread, gluten-free, and French. You can also use this machine to whip up a baked treat using a packaged mix. The sleek, stainless-steel design helps the bread maker fit into any kitchen.
Comes with a useful recipe book
The machine may move during kneading cycles, so don't leave it near the edge of a counter
Best Machine for More Than Bread
Hoepaid Bread Machine
Hoepaid
amazon.com
$179.98
• Weight: 17.24 lb.
• Capacity: 2 lb.
• Size: 18.03 x 16.38 x 12.95 in.
The home baker who dabbles in more than bread will enjoy the range of options on this fully equipped appliance. It has 25 settings that include pickled vegetables, pizza dough, and various styles of delicate cakes. For added inspiration, the machine comes with a digital recipe book.
25 baking, steaming, and fermentation settings
Heavier than most other bread makers
Most Portable Bread Maker
Zojirushi Maestro Breadmaker
Zojirushi
amazon.com
$329.99
$255.98 (22% off)
• Weight: 1 lb.
• Capacity: 2 lb.
• Size: 12 x 13 x 8 in.
If you need to travel with your bread maker, this compact machine is the best option. It has a comfortable carrying handle for easy transport and a vertical design that's easy to pack into a car, camper, or RV. Choose from 15 built-in baking settings and a 13-hour delay timer—and even save your preferences using three memory slots.
Includes settings for vegan, gluten-free, and sugar-free bakes
More expensive than other models
Best Large-Capacity Bread Maker
Saki Large Bread Maker
• Weight: 3.3 lb.
• Capacity: 3.3 lb.
• Size: 18 x 12 x 11 in.
This extra-large bread maker from Saki can satisfy large households better than the competitors. It can make up to a 3.3-pound loaf and includes options for 2.2- and 2.7-pound loaves, too. Twelve preprogrammed settings give you plenty of options, and a 15-hour-delay start means you can let this machine bake overnight and wake up to a big and fluffy, freshly baked loaf in the morning.
Bakes larger loaves than other models
The nonstick pan still needs grease to prevent sticking
Most Versatile Bread Maker
KBS Large 17-in-1 Bread Machine
KBS
amazon.com
$149.99
$101.99 (32% off)
• Weight: 14.7 lb.
• Capacity: 2 lb.
• Size: 13.7 x 8.6 x 11.8 in.
This is among the most feature-packed bread makers out there. It includes 17 preprogrammed settings, such as sourdough, soft bread, and sugar-free. Beyond bread, this machine makes tangy yogurt and even fermented foods. And one of the best features is the fruit and nut dispenser, which deposits crunchy and sweet additions into your dough at just the right time and mixes them in perfectly.
Includes accessories such as a measuring cup, spoon, stirring rod, and oven mitt
User manual and recipe book are not written in perfect English and may be difficult to follow
Most Stylish Bread Maker
Neretva Bread Machine
Neretva
amazon.com
$129.99
• Weight: 11.88 lb.
• Capacity: 2 lb.
• Size: 11.02 x 7.87 x 9.25 in.
This sleek, stainless-steel bread maker will make a splash in your kitchen. It has a clean, minimalist design and retro green (or white) color that makes it both an accent and a useful appliance. Aside from looks, this machine offers 20 preprogrammed settings and three crust colors, and has a 15-hour delay start timer.
Easy-to-follow recipes and user manual
Smartest Bread Maker
Breville Custom Loaf Bread Maker
Breville
williams-sonoma.com
$299.95
• Weight: 16.8 lb.
• Capacity: 2.25 lb.
• Size: 15.75 x 9.75 x 14 in.
Breville's large-capacity bread maker is built to take the guesswork out of baking. It has smart-detection technology and a clear interface that understands what you want and delivers every time. The stainless-steel exterior and nonstick bread pan also makes cleanup easy.
Internal light to check on your bake
Stainless-steel housing may dent easily
This content is created and maintained by a third party, and imported onto this page to help users provide their email addresses. You may be able to find more information about this and similar content at piano.io
Most Related Links :
honestcolumnist Governmental News Finance News