News
Banish Ice Patches with the 10 Best Salt Spreaders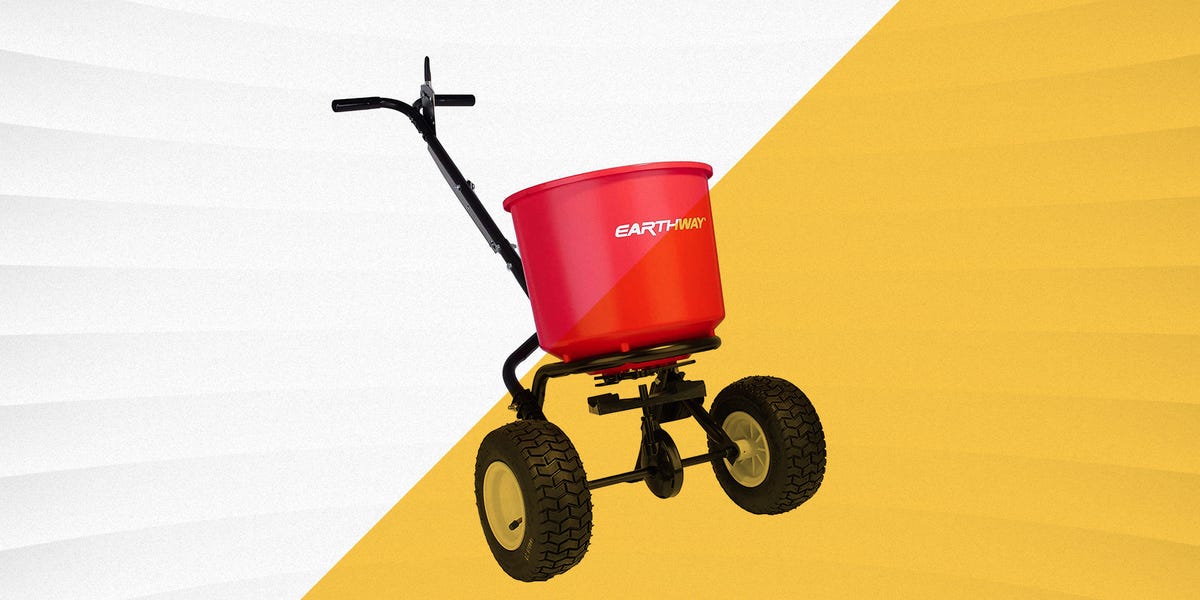 Staff, Courtesy of EarthWay
If you live in an area where ice is common in winter, you likely spend a considerable amount of time spreading salt and ice melt to avoid slipping and sliding. Manually applying salt can be a slow process that can cause aches and strains. This is where salt spreaders can make your life a whole lot easier.
Most (perhaps all) salt spreaders can also be used to spread other lawn materials, such as seed and fertilizer. This means you get even more bang for your buck, so it might be worth investing in a good spreader. Its versatility will allow you to use it in multiple ways all throughout the year.
The Expert: I've been involved with construction, maintenance, and home renovation for more than 30 years from both a personal and professional standpoint. I owned a maintenance and construction business with my husband for nearly 20 years. I love a lot about my home—a fixer-upper built in the 1800s that's located in a rural mountain region of Pennsylvania—but one thing I don't particularly enjoy is the chore of dealing with snow and ice removal. I have become well-known for my heavy usage of rock salt, often buying it by the truckload, and have used many types of salt spreaders over the years. I'm always eager to find tools that make the salting process easier and less time-consuming.
Specs to Consider
Type: Salt spreaders come in a variety of different forms, including:
Handheld: These are used to disperse small amounts of salt and are ideal if you only have a small space to treat, such as a patio or a set of steps.
Walk-behind: Probably the most popular kind, this type of salt spreader dispenses salt as you push the cart forward along the area you want to treat.
Towable: This type of salt spreader attaches to a tractor or other vehicle, which then tows the spreader around.
Mounted: Similar to a towable salt spreader, this model mounts onto the back of a tractor or ATV.
Capacity: The capacity range of salt spreaders varies depending on the type of spreader, with the towable models usually offering the highest capacities. Obviously, the higher the capacity, the larger an area you can treat without having to refill the spreader.
Weight: Keep in mind, salt and ice melt can be weighty, especially in large volumes, so if you are starting out with a spreader that is hefty even when it's empty, it will be quite heavy when full. Heavier walk-behind models are harder to push, and this will make it a more physically challenging job.
Snow Tool Essentials: 7 Sidewalk Scrapers to Rid Your Property of Ice and Snow • The Best Snow Shovels, Tested • The Best Snowblowers for Digging Yourself Out • The Best Cheap Snowblowers for $500 or Less
How We Evaluated
In evaluating a wide assortment of salt spreaders, I drew upon my personal familiarity with these tools and machines and also studied reviews from hundreds of Amazon, Lowe's, and Home Depot customers. I compared the capacity (or coverage area when capacity wasn't available), weight, design, and construction of each model. I aimed to include a variety of types, because each user's needs will differ depending on the size of property they have, but I put slightly more emphasis on walk-behind models because those tend to be the most widely used. After doing all that research, these 10 salt spreaders earned my recommendation.
Advertisement – Continue Reading Below
Good for Small Areas
Scotts Turf Builder EdgeGuard Mini Broadcast Spreader
Key Specs
Model Number: 76121
Type: Walk-behind
Coverage Area: 5,000 sq. ft.
Weight: N/A
The smallest model in the Scotts line of spreaders, this is categorized as a mini spreader. It's compact, efficient, and gets the job done with minimal setup or maintenance needed. This is a good option if you have small area to treat.
No assembly required
Low price
Smaller coverage area might not be best for spreading seed and fertilizer on large lawns
Steel Toughness
Agri-Fab 85-Pound Tow Spreader
Key Specs
Model Number: 45-0530
Type: Towable
Capacity: 85 lb
Weight: 18 lb
Use the universal fit hitch to hook this spreader up to your tractor or other vehicle. It has an adjustable spread width of up to 10 feet, so you can cover a lot of space quickly. The cable flow control lets you stop and start salt dispersing easily.
Levers and most other parts made from durable metal
Easy to operate
Best Manual Handheld Model
Chapin All Season Poly Hand Crank Spreader
Key Specs
Model Number: 8706A
Type: Handheld
Capacity: 1.6 L
Weight: 1 lb
When it comes to no-frills spreaders, it doesn't get much simpler than Chapin's Hand Crank Spreader. The specially designed funnel has a crank that lets you dispense salt as needed. There is no maintenance or setup, but some Amazon users said it was prone to clogging, especially if overfilled.
Lightweight
Super simple operation
Prone to clogging when overfilled
Durable Quality
EarthWay 40-Pound Residential Broadcast Spreader
Key Specs
Model Number: 2600A-Plus
Type: Walk-behind
Capacity: 40 lb
Weight: 14 lb
This walk-behind spreader features a 3-hole drop configuration that helps you distribute salt more evenly and efficiently. It also has a low profile compared to many walk-behind models that makes it easier to maneuver in tight spaces. The rugged 9-inch pneumatic tires provide added traction and stability that comes in handy in icy conditions.
Strong steel T-handle
Sturdy wheels provide good traction
Prone to rust if salt isn't rinsed out regularly
Covered Hopper Convenience
Meyer Products Hot Shot-85 Broadcast Spreader
Key Specs
Model Number: 38115
Type: Walk-behind
Capacity: 85 lb
Weight: 20 lb
This spreader has a generous 10-foot spread width, allowing you to cover a lot of ground in a short amount of time. The durable plastic hopper isn't prone to rust and can withstand the elements. The spreader also comes with a hopper cover that keeps material dry.
Hopper cover keeps contents secure
Heavy for a walk-behind spreader
Great for Large Areas
Brinly 175-Pound Tow Spreader
Key Specs
Model Number: BS36BH
Type: Towable
Capacity: 175 lb
Weight: 47 lb
This spreader boasts some impressive specs: It holds up to 175 pounds of salt or other materials and has a more-than-sufficient 12-foot spread width. That means you can treat even large areas quickly, without having to constantly refill the hopper or retrace your path. Thanks to the universal hitch pin connection setup, it is designed to be compatible with most tractors and riding mowers.
Universal single-pin hook connection
Directional spread pattern control system
Assembly process can take time
Heavy
Best Battery-Powered Handheld
Scotts Wizz Spreader
Key Specs
Model Number: 71131
Type: Handheld
Coverage Area: 2,500 sq. ft.
Weight: 2 lb
For a low-priced handheld model, this spreader is surprisingly sophisticated. It operates on four AA batteries and has 23 width settings. The maximum 5-foot width spread is reasonable for a handheld model. The EdgeGuard Technology ensures the salt only goes where you want it, without spreading into other areas (like your flower beds).
Lightweight
Wide range of settings
Requires batteries to operate
Best ATV-Mountable Model
Buyers Products All-Purpose Broadcast Spreader
Key Specs
Model Number: ATVS100
Type: Mounted
Capacity: 100 lb
Weight: 18 lb
This spreader works in a similar manner as towable models, but it mounts on the utility rack found on the back of an ATV. It has a strong, weather-resistant plastic hopper that comes with a cover to keep contents dry and secure. Amazon users appreciated the quick and easy assembly process.
Includes a hopper cover
Easy assembly
ATV must have rear utility rack for mounting
Harsh Weather Endurance
Chapin 80-Pound Salt and Ice Melt Spreader
Key Specs
Model Number: 81008A
Type: Walk-behind
Capacity: 80 lb
Weight: 26 lb
This spreader can withstand harsh elements thanks to the sturdy plastic hopper that resists rust. The gearbox is enclosed to help protect it from damage and debris, and the wide 10-inch pneumatic tires provide added traction and stability. The spiked auger is a nice feature that prevents clumps and clogging.
Easy assembly
Anti-clogging spiked auger
Some users reported less even distribution if hopper is near capacity
Heavy for a walk-behind spreader
User-Friendly Features
Echo 60-Pound Heavy-Duty Spreader
Key Specs
Model Number: RB-60
Type: Walk-behind
Capacity: 60 lb
Weight: 22 lb
This spreader boasts a heavy-duty agitator that chops up material and helps prevent clogs and clumps. The foot-controlled side deflector is a handy feature that makes it easy to direct salt exactly where you want it to go.
Quick, easy assembly
Agitator prevents clogs
Relatively modest capacity
This content is created and maintained by a third party, and imported onto this page to help users provide their email addresses. You may be able to find more information about this and similar content at piano.io
Advertisement – Continue Reading Below
Most Related Links :
honestcolumnist Governmental News Finance News