News
Father's Day: The Best Things Our Dads Taught Us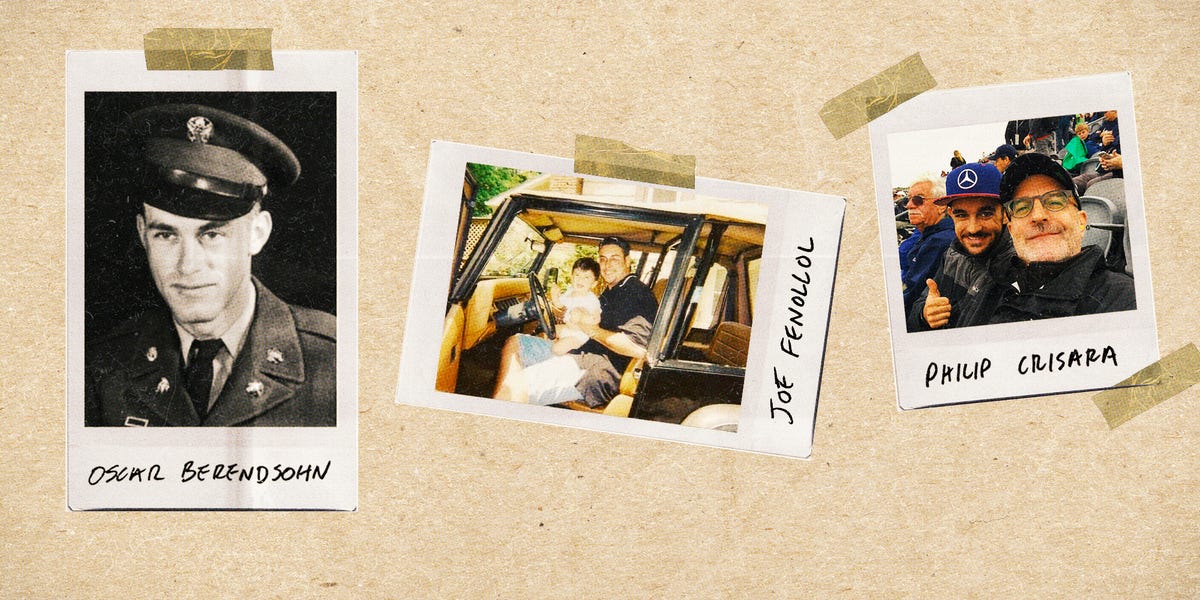 As we come up on Father's Day, I think back on how fortunate I was. My dad was one of the great influences in my life. I learned more about patience, loving kindness, skill, devotion to duty, and mechanical matters from him that I can relate here. Furthermore, he had an odd and endearing sense of humor, as my mother would often point out, that would cause him to tell and retell any joke to the point of wearing it out. My wife says the same thing about me. I suppose the proverbial apple didn't fall far from that tree.
Herewith are tales from five of us Popular Mechanics editors on our dads and what mechanical matters we learned from them. Happy Father's Day.
---
Concrete: Get it Right
When I was 13 and in high school, my dad and I put in a sidewalk next to our house. I was the laborer who did the digging and attempted to move the big heavy bags of concrete mix. My dad handled the form carpentry and the trowel work. As I added water to the mix from a garden hose, he cautioned, "Don't weaken the concrete by adding too much water. You need only enough to make it workable."
At once he launched into a lesson on concrete chemistry emphasizing the point that it needs just sufficient water to bring about the chemical reaction that turns it into man-made rock. He learned this as an engineering student decades before.
Fast forward 17 years and, as an editor here, I found myself meeting with representatives of the Portland Cement Association (Portland cement is a key ingredient in concrete). They had this to say: One of the most common mistakes homeowners make with concrete is adding too much water, thus disturbing what is known as the water-cement ratio, and in the process weakening the material. "I know," I said. "I learned that from my dad." —RB
---
The Bench: My Grandfather Designed It; My Dad and I Built It
When my wife and I bought our first house, in the fall of 2018, it was barely a teenager. The turnkey, single-level adobe home needed some roof maintenance but, other than that, no work from us besides decorating. I immediately went to the garage and imagined the possibilities, finding the perfect corner for a workbench.
So when my parents first visited us in the new place, my dad brought with him copies of bench plans his father—an engineer—had drafted up years before. The two of us spent a day crafting the wooden workbench, making do with the meager tool selection of a first-time homeowner. (I had no sawhorse or power tools other than a drill, so we propped any wood we had to cut on the open gate of my Silverado and set to it with a handsaw.) And we had to make some modifications, shortening the overall length to get the bench to fit in the space of that corner of the garage. But by the end of the day, we had a gorgeous work station.
More important than the workbench itself though was the process. My dad let me do most of the work, guiding and helping as we went about the build. Seeing the bench done was a reassuring shot in the arm in what was an exciting but stressful time, now that I no longer had a property manager to call whenever something broke or leaked. If we could build this, I could handle taking care of a house. And it's now a home that three generations of Egensteiners have a hand in through this workbench. Grandpa designed it, and as he'd passed a few years before that, my dad and I building this together was a poignant way of keeping him in our lives. —Will Egensteiner
---
The Big Project: Clutch Decisions
The biggest and most life-changing project my dad and I undertook was not something we built in the usual sense of that word. Odd as it may sound, our big project was his teaching me how to drive a car with a manual transmission. It was about eight years ago, when I was in my teens and learning to drive. My dad offered to teach me how to drive stick on his BMW, an early 2000s 3-series sedan with a 5-speed. The car was a beauty, fast off the line with wonderful handling, leather seats, the works. Some of my fondest memories are of him driving me to elementary school, and him letting me shift through the gears from the passenger seat. I was keen to learn how to master the art of driving a car with a manual transmission—a skill that's quickly becoming lost on today's drivers.
My father, an architect, also has an insatiable knowledge for explaining all things mechanically. Before I sat down in the driver's seat, we talked about how the clutch mates the power from the engine to the wheels—if you're teaching anyone how to drive a manual, this is a great place to start. With an image in my head of how the clutch plates blended together and transferred engine power, we had a successful first lesson in a quiet parking lot.
Everyone has stories of learning to drive stick being one of the most stressful things they've ever done. Not so for me. My dad was so patient with me every step of the way that I learned not only how to drive a car with a manual transmission, I learned a lot about patience and beginning any important undertaking with your kids with some patient explanation. I have to admit that I wasn't a smooth operator from the get go. That took time and practice, but I did get there.
Our little project, to call it that, may not have been a tree house or a tool box, but it turned out to be life-changing all the same. It helped me to build my career by kickstarting both my passion for all things automotive and how to explain something technical. —Matthew Crisara
---
Small Beginnings: A Bench Led to My Life's Work
My dad wakes up at 6 a.m. every morning to install, sand, and refinish hardwood floors using heavy power tools. I'm a grown man who rolls out of bed around 8:30 to play with tech toys. While we couldn't be any more different, I am happy to be who I am, and my dad helped me get here. He always let me chase my passions. One of the earliest examples of this was when I turned six years old and we built a child's workbench.
Even by that age, I had spent years hanging around my dad's basement workshop—now I would finally have my own bench. It was a simple project; we made a base of four 2 x 4s with an L-shaped top. We fastened a sheet of 3⁄4-inch plywood to the base and mounted a small vise on it at the front of the bench. Above this we installed a pegboard with kid-size tools. Now I could listen to Van Halen cassettes while working side by side with my dad. I used this surface to make wood crafts like small boxes, coat racks, and contraptions. Eventually it became my tech bench. I opened my first computer on it, our family Dell Inspiron desktop PC. From there I learned about components, how computer upgrades worked, and often brought my toys down there to replace batteries or troubleshoot why a voicebox wasn't working in my Spider-Man action figure. I've since helped my dad work on our deck, replace our living room floor, and install cabinets. But I still get the biggest kick out of thinking about that little bench. —Hunter Fenollol
---
A Mindset: Roll Up Your Sleeves
There weren't any specific projects or lessons that were seminal moments for me growing up. Sure, we made elaborate Halloween costumes, assembled models, and built train sets. But I don't recall a specific "here is how you do this" conversation. That's probably because there were too many small instances of instruction intertwined in our daily lives.
One of my grandfathers built houses, the other was an electrician, and dad was a building supplies salesman. My brother and I grew up around what seemed to be an unending stream of projects. When I was about 5, my parents bought their first house, which they promptly doubled in size with an addition. Then, about five years later, we built a new house from the ground up. As I recall, my grandfather completely renovated his house–twice. All these projects were one great big family affair where everyone pitched in. When I was too young to do much else, I stayed busy picking up nails and scraps of framing lumber. From there I progressed to nailing down the subfloor and helping anywhere else that I could.
Looking back on those times now, I realize that the lesson I've learned from my father and grandfathers wasn't how to hold a hammer, or how to build a birdhouse. It's that they equipped me with an idea that was far more formidable: There isn't much that I can't do. I rarely consider that any given project or repair is beyond my reach. While the practical skills that I acquired growing up on a series of construction sites are valuable, far more valuable still is the notion that you can do most anything when you set your mind to it and roll up your sleeves. —Brad Ford
This content is created and maintained by a third party, and imported onto this page to help users provide their email addresses. You may be able to find more information about this and similar content at piano.io
Most Related Links :
honestcolumnist Governmental News Finance News