News
Keep Your Entryway Clean With These Top-Rated Boot Trays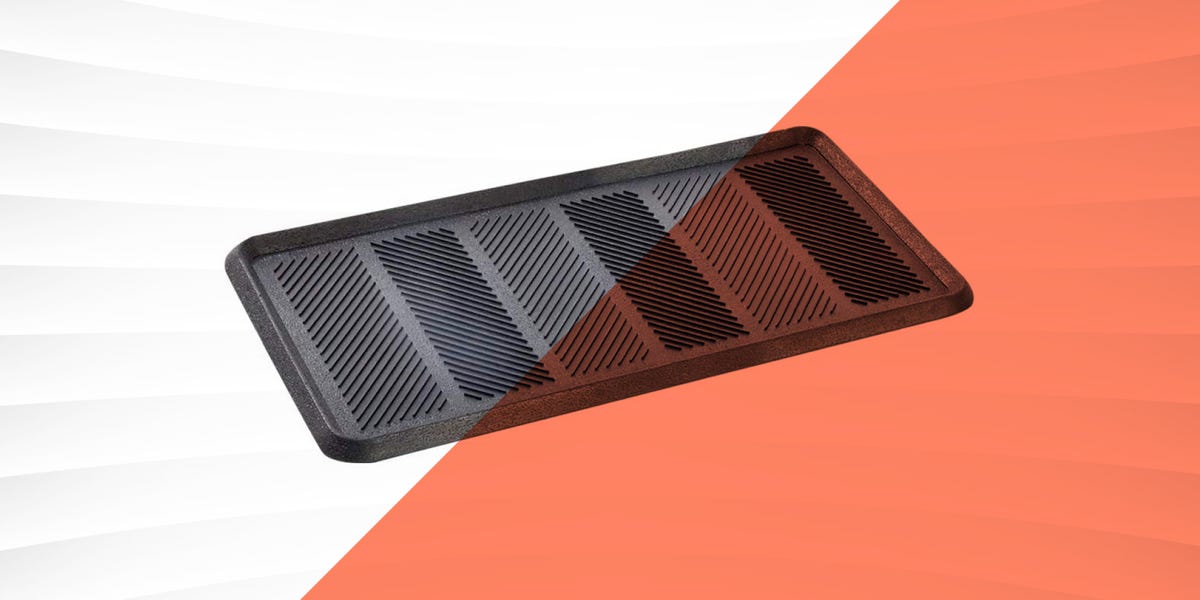 Staff, Courtesy of SafetyCare
Preventing messes before they happen is key to an orderly home. While you can't do much about accidents, like knocking a quart of milk off the table, you can keep mud, salt, and slush off your floor with an inexpensive boot tray—as long as everyone in the house remembers to remove shoes at the door.
There are tons of durable, high-quality boot trays on the market, so it can be tough to find one that best suits your space and needs. Read on for our top recommendations, plus things to consider before you shop.
What to Consider
After figuring out how much floor space you can potentially dedicate to a boot tray, think about how many pairs of shoes you'll typically need to store. Although there are metal options on the market, most boot trays are made of rubber or hard plastic.
If you plan to pick up and move the boot tray often, weight may influence your decision, and plastic may be the better option. Next up is the boot tray's rim, which generally ranges from 1 to 2 inches high, though some are shorter. If you live in an area with heavy snow and a muddy spring, the higher, the better.
The same goes for the boot tray's treads: Those that are wide and raised will dry caked-on debris faster than those with treads that are nearly flush with the tray's bottom. While most boot trays are square or rectangular, there are triangle-shaped corner trays and tiered trays that double as a shoe rack.
How We Chose
All of the boot trays included in this list about have an average customer rating of 4.5 stars or more. In making our selection, we considered options from reputable companies such as Stalwart, Gardener's Supply Company, and Birdrock Home, and we feature boot trays in a variety of sizes and styles, including trays to fit in small or awkward spaces and heavy-duty options. We also chose boot trays across multiple price points, from value to premium.
Advertisement – Continue Reading Below
1
Our Value Pick
All-Weather Boot Tray
Stalwart
amazon.com
$25.01
Key Specs
Dimensions: 30 x 15 x 1.25 inches
Material: Recycled polypropylene plastic
Weight: 1.2 pounds
This recycled hard plastic boot tray is a customer favorite, earning an average 4.7 stars from more than 4,400 reviewers. It's made by Stalwart, best known for their lineup of high-quality tools, and it features a raised cross-hatch pattern and a raised rim that's more than 1 inch high.
It's also fairly lightweight, at just over a pound, so it's a smart pick for those who'd rather skip lifting a heavy rubber mat.  
2
Our Premium Pick
Large Boot Tray
Gardener's Supply Company
amazon.com
$26.95
Key Specs
Dimensions: 46.5 x 15.5 x 2 inches
Material: Recycled plastic
Weight: 15.8 ounces
Vermont-based Gardener's Supply Company is the maker of this premium recycled plastic boot tray, which features a 2-inch rim for messy boots with caked-on mud and snow. It's an extra-long 46-plus inches, but narrow enough to tuck in a front entry hall, plus it's ultra-lightweight at less than 1 pound. 
The boot tray gets rave reviews too, with an average 4.8 stars from more than 500 customers.
3
Best Heavy-Duty
Heavy-Duty Boot Tray
Job Site
amazon.com
$17.82
Key Specs
Dimensions: 28 x 15 x 1.25 inches
Material: Heavy-gauge molded plastic
Weight: 1.3 pounds
This tough boot tray is made of heavy-gauge molded plastic yet weighs just over 1 pound. It features cross-hatch treads and can fit three pairs of adult shoes, plus there's a 1.25-inch raised edge to keep snow and mud off floors and carpet. 
It comes with a manufacturer's money-back guarantee and is available in a two-pack. It's also a customer favorite with more than 1,000 reviewers giving it an average 4.7 stars.
4
Best Value Set
Rubber Shoe and Boot Tray
SafetyCare
amazon.com
$27.99
Key Specs
Dimensions: 32 x 16 x 1 inches
Material: Rubber
Weight: 4.8 pounds
If you're lucky enough to have a mud room but still want a boot tray at your front door, this option offers excellent value and also comes with a manufacturer's money-back guarantee. Both mats in the two-pack are made of durable, flexible natural rubber, featuring treads covering the bottom of the tray and a wide, 1-inch rim. If you' have no use for the second tray, you can also buy this one in a single pack.
5
Best Decorative
Rubber Boot Tray
Birdrock Home
amazon.com
$42.96
Key Specs
Dimensions: 34 x 14 x 2 inches
Material: Rubber
Weight: 9 pounds
Just because boot trays typically prioritize function over form doesn't mean yours can't make a statement. This attractive option from Birdrock Home is slightly oversized at 34 inches long and features a lovely trellis design as treads so your shoes dry off; it also has a 2-inch raised edge to keep the mess contained. 
At a hefty 9 pounds, it certainly won't slide around, but it may not be the best choice for those who plan to move it between spaces.
6
Best Multipack
Multi-Purpose Boot Tray
Navaris
amazon.com
$18.99
Key Specs
Dimensions: 13.8 x 10.6 x 1 inches
Material: Plastic
Weight: 1.2 pounds
Those with small entryways will appreciate this well-designed boot tray, which comes in a 3-pack. It's available in black, but the light gray isn't as conspicuous, which can help make an area look less cluttered. 
The hard plastic trays each weigh just over 1 pound and have a 1-inch rim, as well as wide, raised treads so boots dry quickly.
7
Best Tiered
Two-Tier Boot Tray with Umbrella Stand
Innover
amazon.com
$42.99
Key Specs
Dimensions: 28 x 14 x 16 inches
Material: Polypropylene plastic
Weight: 3.75 pounds
This tiered boot tray adjusts to two heights, maxing out at 16 inches so you can store your Wellies and other tall boots. There's enough space for five pairs of shoes and three umbrellas, and each level has a 1.25-inch rim. 
The boot tray is made of injection-moulded plastic and requires zero tools to assemble.
8
Best Corner
Triangle Boot Tray
A1 Home Collections
amazon.com
$38.00
Key Specs
Dimensions: 21.6 x 21.6 x 0.6 inches
Material: Rubber
Weight: 4 pounds
If you only have a couple pairs of boots to dry off at any given time, this corner boot tray is a smart, space-saving pick. 
The heavy-duty rubber tray features a cheery welcome message and charming flourishes, plus at roughly 4 pounds it'll stay put. However, the boot tray's rim is just over a half-inch tall, which may be a drawback for some.
This content is created and maintained by a third party, and imported onto this page to help users provide their email addresses. You may be able to find more information about this and similar content at piano.io
Advertisement – Continue Reading Below
Most Related Links :
honestcolumnist Governmental News Finance News