News
Our Favorite 1440p Monitors of 2022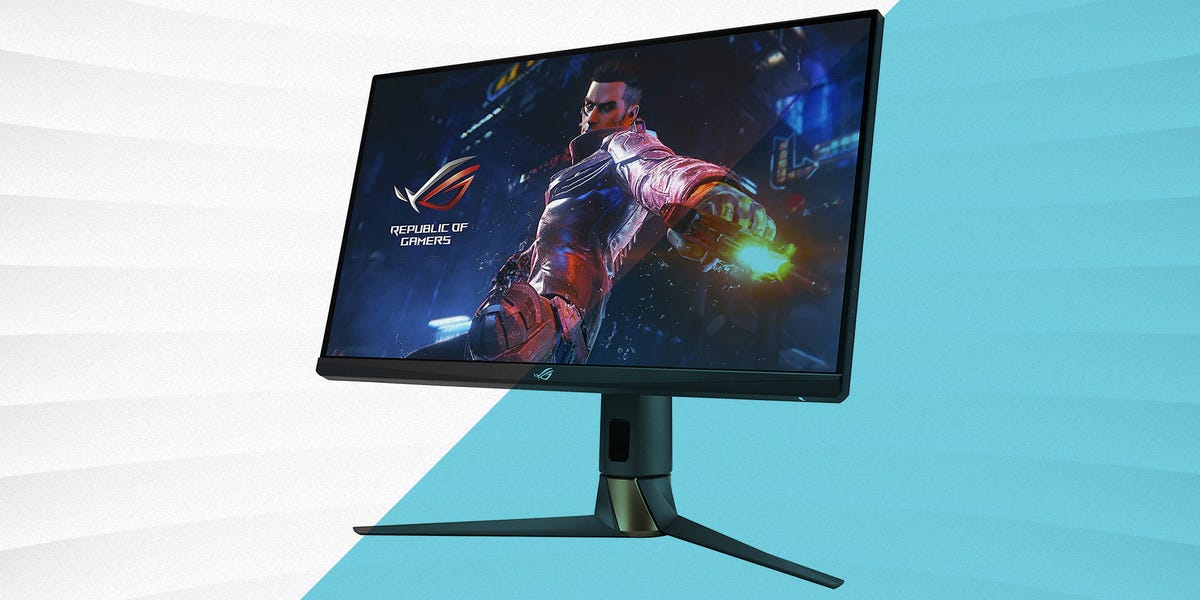 Monitors come in a range of resolutions, from 1920 x 1080 Full HD to 3840 x 2160 4K. The 1440p falls in the middle, with a standing resolution of 2560 x 1440. Sometimes called a QHD or 2K monitor, the 1440p tends to be less expensive than a 4K but offers double the pixel density of a Full HD. Its resolution is good enough to offer decent performance with productivity apps like Microsoft Office and Google Chrome and to see more details in your favorite games (without having to invest in a pricey gaming computer).
Best 1440p Monitors
The Expert: I've used more monitors in my lifetime than I care to admit. My passion for technology and my career as a tech journalist provide me with the opportunity to test everything from tablets and laptops to keyboards and monitors. My work has appeared in The New York Times, the Los Angeles Times, Lifewire, and many other publications. As someone who doesn't have the best eyesight and who spends a lot of time in front of a computer, I value a crisp, clear screen and find 1440p monitors to be the sweet spot between lower-resolution Full HDs and pricier 4Ks.
What to Look for in a 1440p Monitor
Refresh Rate
Refresh rate, which is measured in hertz (Hz), is the frequency at which the screen updates with new images each second. (For example, a 144Hz screen refreshes images 144 times per second). In general, the higher the refresh rate, the smoother the visual quality.
The standard refresh rate for desktop monitors is 60Hz. But in recent years, more specialized, high-performing monitors have been developed that support 120Hz, 144Hz, and even 240Hz refresh rates, which ensure ultrasmooth content viewing. The 1440p monitors we recommend here range from 60Hz to 240Hz.
The refresh rate won't matter much for simple tasks like web browsing and word processing. But if you intend to use your 1440p monitor for gaming or watching videos, for which you'll want a smoother picture, look for a screen with a higher refresh rate. For gaming, choose a monitor with a refresh rate of at least 75Hz.
Size
Size matters when it comes to monitors, and bigger isn't always better, especially if it's a lower-resolution screen. Because a larger monitor must distribute pixels over a bigger area, you end up with a lower pixel density and, thus, a lower-quality picture.
Also consider size in the physical sense, as in how much space you have available on your desk. The idea of a giant 40-inch monitor might sound appealing until you realize that it's crowding out room for a keyboard, mouse, and other accessories.
For most people, a 27-inch monitor is the happy medium between too small and too big. The 27-inch monitor is big enough to comfortably view two documents side by side or watch a movie, but it's not so big that it will overwhelm your space.
Shape
If you want a more immersive experience for gaming or multitasking, consider a curved monitor, which can improve your viewing experience and reduce eye strain. A curved monitor also takes up less space on your desk. That said, curved monitors often reflect more glare when placed near a window, so location is key and, depending on your space, you may run into limitations. They also tend to be slightly more expensive than the traditional flat kind.
How We Selected These 1440p Monitors
Even for someone like me, a tech journalist who is constantly surrounded by the latest in technology, choosing the right 1440p monitor is as much about personal preference as it is hard-and-fast specifications. After all, you are the one who will be staring at it for hours each day, so it has to please you first and foremost.
In addition to my experience using 1440p monitors, I spent weeks in a retail setting looking at and trying out different monitors, comparing specs, and scouring online reviews so I could pass that information on to you and hopefully guide you in your purchasing decision (I also recommend buying from a reputable seller with a good return policy). I considered value, design, and features and compared color and brightness, which can clearly make one monitor a better choice over another.
These are the 1440p monitors I, myself, enjoy using and, consequently, recommend to you.
Best Value 1440p Monitor
LG 27QN600-B
Reasonable price
Effective anti-glare coating
Key Specs
Size: 27 in.
Refresh Rate: 75Hz
This LG monitor is an astonishing value considering how great the picture quality is. The monitor offers a warm, vibrant picture with a refresh rate that's fast enough to make games or videos look smooth. The anti-glare coating works well enough that I wasn't bothered using it in direct sunlight, which can be a problem with other monitors in this price range. The design of the case is on the dull side, but it's hard to complain at this price.
Best 1440p Monitor for Casual Gaming
Asus TUF Gaming
Key Specs
Size: 27 in.
Refresh Rate: 165Hz
For a little over a hundred bucks more than our Best Value monitor (the LG, above), the Asus TUF lets you step into a display with a much higher refresh rate. You'll notice the faster refresh when playing games and watching movies, as the picture will look much smoother. The color reproduction on this model is outstanding. One nice extra is the included ergonomic stand that lets you control the height, swivel, and pivot. If you want to expand your setup in the future, Asus sells a kit that lets you attach more monitors together to make them look like one giant screen.
Best 1440p Monitor for Mid-Range Gaming
Asus ROG Swift
High refresh rate
Cooling system
Key Specs
Size: 27 in.
Refresh Rate: 240Hz
If you're in the market to spend close to $1,000, the ROG Swift offers a nearly pro gaming experience. The key to this monitor's success is its stunningly fast 240Hz refresh rate that makes games and movies look incredibly smooth. Colors are accurate and bright. Beware, though, once you see how good games look on this level of monitor, it can be hard to go back to a lesser model. Asus claims this model has an intelligent cooling system, and I did notice that it seemed to stay a bit cooler than usual during my hands-on test.
Best Curved Gaming 1440p Monitor
Samsung Odyssey G7
Immersive curved screen
Deep blacks
Key Specs
Size: 27 in.
Refresh Rate: 240Hz
A curved monitor provides a more immersive experience, especially when gaming, and the G7 steps up with a high refresh rate and silky smooth picture. The screen technology offers deep blacks with enhanced realism. Extra lights on the frame set the mood and satisfy gamers, who tend to like a little bling with their computer accessories. The height-adjustable stand works well and keeps your neck from getting cramped.
Best Budget Ultrawide 1440p Monitor
Asus VP348QGL
Weak speakers
Dull design
Key Specs
Size: 34 in.
Refresh Rate: 75Hz
This ultrawide monitor is a great deal for someone who doesn't want to pay for or have the room for two monitors on their desk. The relatively low 75Hz refresh rate isn't ideal for gaming, but it's plenty fast for performing productivity tasks and watching movies. This model comes with two built-in speakers, but truth be told, they're pretty weak; I recommend using your own plug-in models or having a pair of headphones on hand. The screen is nice and bright, but the design is a little staid.
Best Ultrawide 1440p Monitor for Productivity
LG 34WN80C-B
Key Specs
Size: 34 in.
Refresh Rate: 60Hz
If you really want to get a wraparound view of your spreadsheets, this LG monitor is the one for you. It's both ultrawide and curved, which can make it feel all-encompassing when you're sitting down to enter in numbers. I loved the bright colors and sharp screen in my recent test of this model, but I was underwhelmed by the paltry 60Hz refresh rate—gamers should look elsewhere. The USB-C compatibility makes it easy to plug in most modern laptops.
Best Ultrawide 1440p Monitor for Gaming
Acer Predator X35
Key Specs
Size: 35 in.
Refresh Rate: 200 Hz
If you've got the cash to spend, the X35 might be one of the best 1440p monitors available with a 200Hz refresh rate. Games look silky smooth, and the colors are incredible. The screen is bright enough to view in blazing sunlight, and the 4-watt speakers sound surprisingly good even though they fit neatly into the monitor. The X35's high price can be attributed to its screaming-high refresh rate and ultrawide layout.
Most Elegant 1440p Monitor
ViewSonic VX3276-2K-MHD
Beautiful design
Sharp picture
Key Specs
Size: 32 in.
Refresh Rate: 75 Hz
This monitor by ViewSonic looks almost like a sculpture with its minimalist design and silver casing. For a budget price, the picture on this model looks sharp and has bright, vivid colors. This display's 75Hz refresh rate is ideal for playing games, although it won't be quite as smooth as more expensive models that are intended for hard-core gamers. Note that this model lacks speakers.
Best 1440p Monitor for Business Users
ViewSonic VX2785-2K-MHDU
Sharp picture
Great stand
Key Specs
Size: 27 in.
Refresh Rate: 60Hz
Don't try playing demanding video games on this monitor; its 60Hz refresh is far too sluggish to display smooth pictures. On the other hand, the sharp picture makes this monitor a great option for business users. Its elegant, slim design will fit right into any desk setup and the USB-C connection makes it a snap to connect a laptop for a dual display setup. I particularly liked the swivel-and-tilt stand that helps you find just the right viewing angle.
PM: Of all the monitors you recommend here, which is your favorite?
S.B.: If I had unlimited cash, I'd choose the Acer Predator X35 as my go-to monitor. I spent some hands-on time with this model and was blown away by its picture quality. Even though the X35 is marketed for gamers (I'm not much of a gamer), I loved the incredibly bright and crisp ultrawide display, which feels all-encompassing when you are working with productivity programs like Microsoft Word and lets you simultaneously view several documents side by side. The 200Hz refresh rate makes movies look extremely smooth. That said, at more than $2,000, this monitor is way more technology than most people need.
PM: Why would someone want a 1440p monitor?
S.B.: For a lot of people, a 1440p monitor hits the sweet spot between price and performance. It offers an excellent picture for most modern games and streaming services, and is well-suited to everyday tasks like web browsing and word processing. Higher-resolution monitors tend to cost significantly more and, if you're using it for gaming, will often tax the performance of even the most advanced PCs.
PM: Are curved or ultrawide monitors worth it, or should I stick to my flat screen?
S.B.: Flat monitors are so last year, in my opinion. Unless you're a luddite, you're usually better off getting a curved or ultrawide monitor (or both in the same package) than just a plain flat one. Curved monitors are a little more expensive than the flat kind, but they offer a far more immersive experience for just about anything, from watching movies to playing video games. Having a screen that's curved means that you don't have to tilt your head and can also create the illusion that you're actually in the scene you are watching.
Ultrawide monitors are great for many of the same reasons. Like their curvy counterparts, ultrawide monitors provide an immersive experience because of the extra screen real estate. The downside, of course, is that ultrawide monitors take up a lot more room on your desk. However, if you can fit an ultrawide monitor into your setup, I think it's best to buy the biggest monitor you can get.
This content is created and maintained by a third party, and imported onto this page to help users provide their email addresses. You may be able to find more information about this and similar content at piano.io
Most Related Links :
honestcolumnist Governmental News Finance News