News
Our Favorite Cast Iron Stovetop Griddles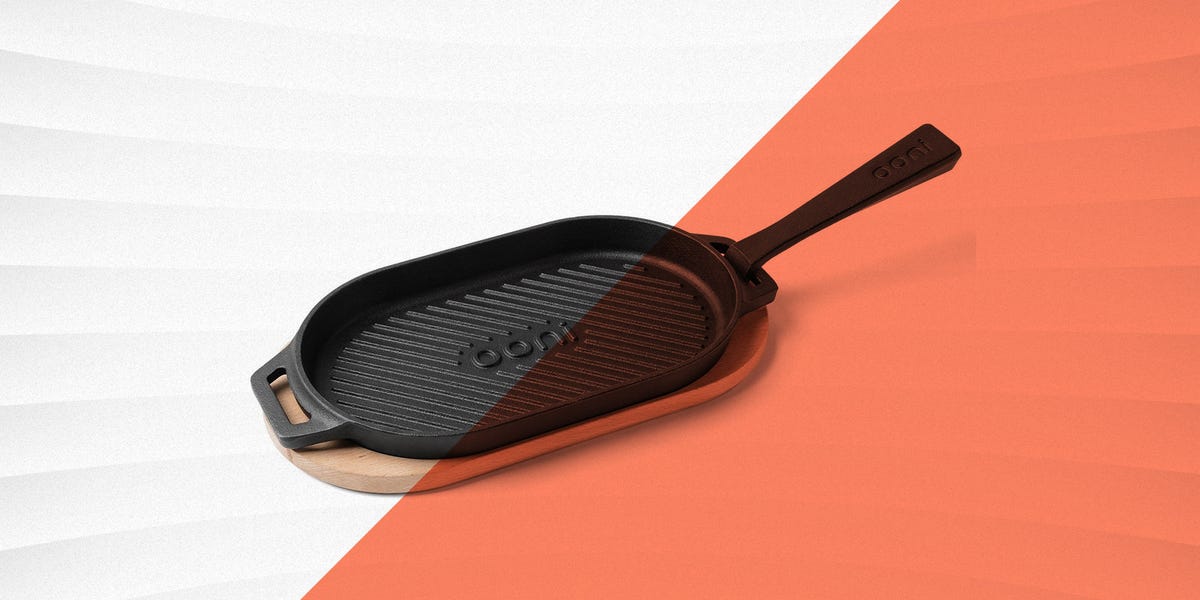 It's no secret that cast-iron cookware has its avid fans. From long-handled skillets to high-sided Dutch ovens, this ancient material is loved for many reasons. Compared to other cookware materials, such as stainless steel, cast iron has excellent heat retention and heats evenly, without any hot or cold spots, so the cook has more control and food cooks uniformly.
Unlike a skillet or a Dutch oven, a cast-iron stovetop griddle has no or very low sides, which makes it the perfect surface for flipping, searing, and sautéing indoors. Because cast iron can also hop happily from the stovetop to the oven, and even to the outdoor grill, this is also one of the most versatile pieces of cookware for your kitchen.
The Expert: I am a trained chef, recipe developer, and food writer for Insider, Munchery, Simply Recipes, and more. I've always had a cast iron skillet or griddle on my stove for the next stir-fry or pancake craving. As a life-long New Englander, I know that the best way to mimic the smoky char of an outdoor cookout in the depths of winter is to keep a high-quality indoor grill pan on hand. From years of using grills in various shapes, sizes, and designs, I know what makes a great griddle for the home cook, whether you're looking for perfectly marked steak or a gooey grilled sandwich.
What to Consider When Shopping for a Stovetop Griddle
Size and Shape
The size of the best stovetop griddle for you depends on how much storage space you have, as well as what you plan to use it for. If you regularly fire up the grill to serve burgers to a hungry sports team, you'll want something that spans two stovetop burners, at least 18 inches long and up to 28, depending on the depth of your stove. On the other hand, if you have minimal storage space or usually cook for one to two people, a skillet-style griddle or single-burner pan will suffice.
Weight
I've included weight as a key spec for each stovetop griddle below because you'll want to pay attention to how heavy your skillet is if you plan to travel with it or frequently move it around the kitchen. One of cast iron's great features is that it can be used everywhere from an induction stovetop to a campfire, so if you plan to cook in multiple locations, a lighter griddle will be easier to transport. However, cast iron is notoriously heavy, so if you're looking for a skillet on the lighter side, 10 pounds or less is a good benchmark.
Number of Handles
For the same reasons detailed above, having handles makes it easier to move your griddle. Many of the stovetop griddles below have two handles, though it's worth noting that in some cases, the handles may reduce the overall cooking surface area.
Is It Reversible?
Many cast-iron skillets are reversible, with a flat surface on one side and a ridged grill-style surface on the other. This is handy if you want the option to make fajitas on a flat-top or singe grill marks into burger patties on the other side. Note that smaller skillet-style stovetop griddles often have just one cooking surface, usually ridged. The ridges give your food a nice BBQ look and help collect fat and juices that can otherwise prevent your food from crisping up nicely.
Advertisement – Continue Reading Below
How We Evaluated
To find the best cast-iron stovetop griddles for every skill level and price point, I considered products across a range of sizes, shapes, and brands. I based my final selections on personal experience with the griddles, customer reviews, and product specs to include a griddle for every kind of kitchen and cook. I am a lifelong Lodge cast iron fan, and have personal experience using Misen, Le Creuset, and Staub products. During my testing and research, I paid particular attention to the griddle's size, heat retention, portability, versatility, and durability. The resulting list includes trusted premium name brands and budget-friendly options that will fit into any home kitchen.
Best All-Around Griddle
Lodge LDCRG Cast Iron Reversible Grill/Griddle
Key Specs
Dimensions: 19.5 x 10.25 x 1 in.
Oven-Safe: Yes
Weight: 10.10 lb.
It's nearly impossible to discuss cast iron cookware without mentioning Lodge, so it's no surprise that the iconic brand makes our favorite stovetop griddle. This reversible model has smooth and ridged sides, so you can toss fajita veggies or get beautiful slated grill marks on steaks without an outdoor grill. The griddle also has raised edges that prevent spills, but won't interfere with your spatula.
Reversible
Ergonomic handles
Best Budget Griddle
Victoria Rectangular Cast Iron Griddle
Key Specs
Dimensions: 18.5 x 10 x 0.75 in.
Oven-Safe: Yes
Weight: 9.80 lb.
Victoria makes a griddle similar in function to the Lodge, at a more affordable price. This two-burner griddle is reversible and has sturdy handles for transport. This griddle is slightly smaller than the Lodge, but still offers plenty of space to grill up to six full-sized hamburgers and spans two burners on a standard stovetop.
Handles cut into cooking surface area
Best for Travel
Ooni Cast Iron Grizzler Pan
Key Specs
Dimensions: 12.2 x 6.3 x 1.1 in.
Oven-Safe: Yes
Weight: 5.51 lb.
If you're packing for an RV or camping trip, or you're looking for a personal-sized griddle, this compact option from Ooni is a great choice. The Grizzler Pan comes with a long cast-iron handle that can be removed during cooking and reattached when it's time to pull your steak from the fire or oven. It's designed to fit into an Ooni pizza oven, so you can rest assured that this pan will be fine at high temperatures.
Includes wooden trivet
Reasonably priced
Removable handle
Not large enough to feed a crowd
Best Extra-Large Griddle
Pit Boss 14×28 Cast Iron Griddle
Key Specs
Dimensions: 32 x 14 x 1 in.
Oven-Safe: Yes
Weight: 27.7 lb.
The Pit Boss 28-inch griddle is made for large households and frequent entertainers. Many users like to turn their gas grill into a flat-top by placing the griddle on top. This griddle will fit on most indoor stoves as well, but be sure to measure the distance between the edge of the stovetop and wall to make sure the handles won't protrude, which can be a safety hazard. It offers an ample cooking surface to prepare multiple meal components at once. The handles add an extra inch of length on either end, so be sure to measure the interior of your grill to make sure it will fit. These handles also come in handy when it's time to move this heavy-duty pan.
Oversize cooking surface
Reversible
Heavy
May not fit on all stoves
Best Griddle for Small Homes
Misen Grill Pan
Key Specs
Dimensions: 15 x 1.5 in.
Oven-Safe: Yes
Weight: 6 lb.
This cute indoor grill pan is perfect for searing and charring indoors without dominating your stovetop. It's easy to store, and even doubles as a lid for the Misen 7-quart Dutch Oven. This pan has an enameled bottom that comes in five attractive colors to match your kitchen aesthetic, including French blue, red, and green.
Handles for hanging storage
High sides to prevent spills
Enamel may chip or blacken over time
Best Square Grill
Le Crueset Enameled Cast Iron Signature Square Skillet Grill
Key Specs
Dimensions: 13.9 x 15.1 x 2.6 in.
Oven-Safe: Yes
Weight: 7 lb.
Le Creuset's enameled grill pan looks great and is hard to beat when it comes to grilling indoors. The heavy-duty cast iron retains heat exceptionally well to develop deep color on burgers, paninis, and more. The pan also has deep ridges and two pouring spouts to remove fat and juices that can interfere with your sear. A long handle and shorter helper handle give you exceptional control over the skillet as it goes in and out of the oven or grill.
Long and helper handles
Two pouring spouts
No flat surface
Expensive
Best Extra-Thick Griddle
Viking Culinary Cast Iron Griddle
Key Specs
Dimensions: 20.87 x 11.22 x 2.17 in.
Oven-Safe: Yes
Weight: 11.73 lb.
The Viking heavy-duty grill pan is large, in charge, and built to last. It's the thickest griddle on our list, with a width of over two inches. This heft helps the pan retain heat for longer, so your food cooks more evenly. It's also reversible, with a smooth side and a ridged side great for those signature grill marks. Two carrying handles make it easy to maneuver the griddle between your indoor stove and outdoor grill, though it's bulkier and heavier to move than other options.
Channel around the edge collects grease
Covers two stove burners
Can be difficult to store
Best Griddle With Lid
Jean-Patrique Cast Alumium Griddle Pan
Key Specs
Dimensions: 1.77 x 13.39 x 10.63 in.
Oven-safe: Yes
Weight: 3.08 lb.
This 12-inch round grill pan from Jean-Patrique comes with a tight-fitting glass lid that helps trap in heat, odors, and smoke, a handy trick when you're grilling indoors. It's made from cast aluminum, which is a lighter cousin of cast iron that has similar heat-retention abilities. The pan has deep ridges to help drain off fat and juices, as well as high sides that help keep everything inside.
Two handles with glass lid
Lightweight aluminum
Best with Press
Staub Cast Iron Grill Pan
Key Specs
Dimensions: 13.9 x 15.1 x 2.6 in.
Oven-safe: Yes
Weight: 7 lb.
If you're serious about searing or paninis, this skillet is for you. The pan and press both have deep grill-style ridges. The cast-iron press works as a heavy weight to maximize contact between your food and the hot cast iron for an even seared crust. The skillet is designed for easy maneuverability with a small helper handle and a long handle.
Two handles
Multiple color options
No flat surface
Expensive
Cast Iron Cooking Tips from Our Expert, Elizabeth Briskin
Q: What are your go-to recipes when cooking with cast iron?
A: I turn to cast-iron cookware to make everything from stir-fries to braises to fried eggs. The surface gets very hot and heats evenly, so it produces reliable results. This makes it especially great when I want to develop a nice brown sear on meat and veggies. I also like to use cast iron in the oven to braise or brown up the top of a casserole. It's broiler-safe and works as a baking dish too!
Q: Do you have any different cooking techniques when using a griddle on the stovetop versus a grill?
A: The main difference between cooking indoors on the stovetop and outside on a grill is control. The open flame of a grill is less predictable than the steady gas- or electric-powered heat of a stove. This is part of what makes grilling fun, but it can also mean that food cooks unevenly. When I use a griddle on the stove, I pay attention to any hot and cold areas on the cooking surface and rotate the food more often to encourage even cooking.
Q: How do you recommend people take care of their cast iron griddles to prevent rust?
A: The most important thing is to never let cast iron cookware sit in water or be put away wet. After using, you can quickly rinse off any food and, if necessary, use small amount of mild dish soap and a soft brush to scrub away anything stuck on. Then dry the pan. I like to put it back on the stove over medium heat to help the water evaporate. Then I let it cool fully before putting it away (though in all honesty, my cast-iron skillet stays on my stove at all times).
Every time you use the pan with cooking oil, you're helping to season the surface so it becomes more nonstick. So don't be shy with the oil, especially during your first few times using the pan. Eventually, you will build up a nice slick nonstick layer so you'll need less oil each time you cook.
This content is created and maintained by a third party, and imported onto this page to help users provide their email addresses. You may be able to find more information about this and similar content at piano.io
Advertisement – Continue Reading Below
Most Related Links :
honestcolumnist Governmental News Finance News