News
Our Favorite Ultralight Camping Chairs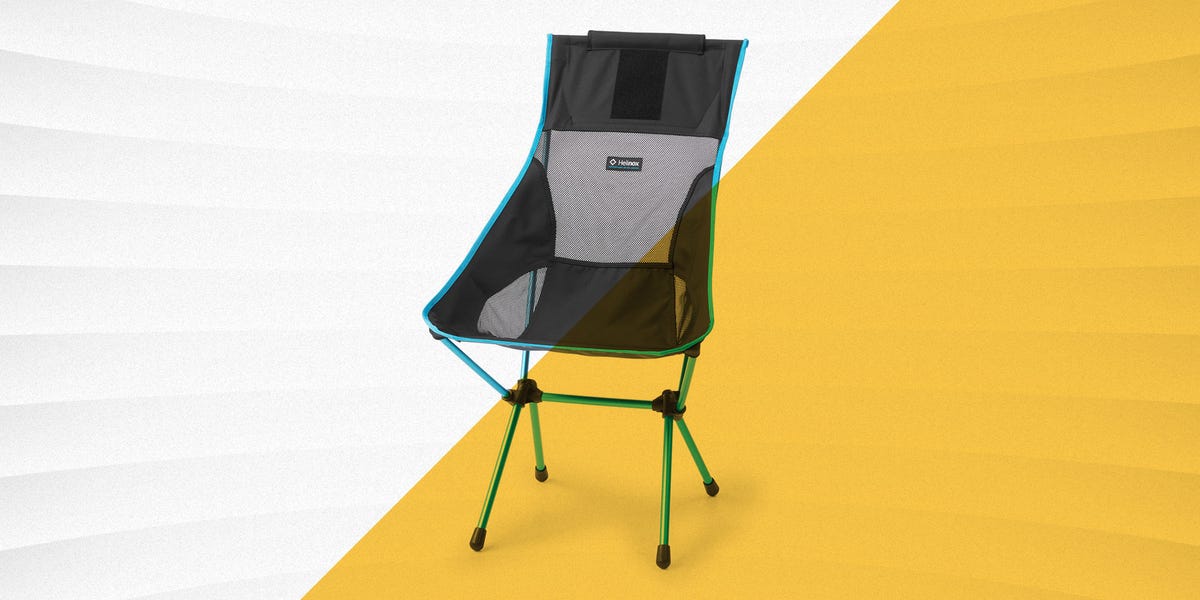 Staff, Courtesy of Helinox
One of the best things about camping is hanging out around a campfire at night, looking at the stars, talking about who-knows-what with your friends. One of the worst parts is balancing for three hours on a tree stump or log. Hence the rise in the availability of ultralight camp chairs: seating options that are lightweight and small enough to carry to campsites without much extra bulk.
If you're backpacking or walking to your campsite, you'll probably want an ultralight camping chair that weighs no more than two pounds and packs small enough to fit into or strap onto your backpacking pack. If you're just looking for an ultralight chair for use at daytime events like backyard barbecues and sports games, you can probably opt for one in the 3- to 4-pound range and don't need to worry quite as much about size, bulkiness, or a high price tag.
The Expert: I am a full-time travel writer and editor focusing on outdoor adventures. I spend my weekends skiing, hiking, mountain biking, or camping, all of which lend themselves well to using and testing various methods for staying comfortable when hanging out outdoors. I am familiar with nearly every outdoor brand on the market, from tried-and-true brands to new cottage brands. I frequently cover travel and outdoor gear for Popular Mechanics and have tested and reviewed products for publications like TripSavvy and INSIDER. As a writer, my work has appeared in Outside Magazine, AFAR, Playboy, Forbes, Fodors, TheKnot, and many more.
What to Look for in an Ultralight Camping Chair
Weight
If you want to backpack with your camp chair, you should prioritize weight above all else, comfort included. Even an ultralight chair with so-so comfort will be more comfortable than sitting directly on the ground. It may be fine to carry a chair in the sub-three-pound range for a one-night trip with a moderately difficult hike in. But if you're doing a multiday trip or a more challenging hike, you'll surely want to keep it to below two pounds. Your best bets will be creative options (like the Crazy Creek or Therm-a-Rest chairs) that cut metal to save weight.
Materials
Most ultralight camping chairs with a fold-out frame will have a fabric bucket seat, sometimes with mesh segments. These are great in the summer to prevent butt sweat, but can be a little chilly in the winter. You can wrap a puffy jacket around the bottom to insulate the chair in a pinch.
But if you're hoping to be warmer by using a chair, you'll want one with a foam seat and/or non-mesh materials. It's also important to note that ultralight camping chairs have much lower weight limits than standard camp chairs. A 200-pound maximum is common; 250 is rather generous. Unfortunately, ultralight metals like carbon don't lend themselves to extremely high weight limits, so be careful if you're planning on pulling your dog into your lap while relaxing.
More Ways to Get Your Relax On: Best Loveseat Camping Chairs • Best Camping Hammocks • Best Swinging Camp Chairs • Best Camping Cots • Best Sleeping Bags • Best Hammock Underquilts
Packed Size and Shape
You may be surprised to find that the packed size of your ultralight camping chair isn't quite as important as the shape. Most fold into a narrow, tube shape (like a smaller version of a rolled-up tent), so you can strap them to the side of your backpacking bag or slide them into a beach tote. Be sure to look at the packed shape of your chair of choice to make sure it won't be cumbersome to carry or take up too much space in your bag—square-shaped items may take up more space in your bag or backpack than you'd think.
Carrying Case
Most, but not all, ultralight camping chairs come with a carrying case. Some cinch with straps, while others come with no case at all. Having a case isn't essential, but it helps keep your chair clean and protects it from rips or other damage. A carrying case can also double as a pillow in a pinch if you're camping, and prevent the legs and clips from getting hooked on other items.
Advertisement – Continue Reading Below
How We Selected These Ultralight Camping Chairs
Aside from personal experience with these products and other products from the brands mentioned below, I relied on my experience backpacking and hiking as well as my familiarity with ultralight materials and fabrics. I looked at a long list of options on the market and narrowed down the final selections based on user reviews, warranties, technical specifications, and recommendations from experts.
Best Overall
Helinox Chair Zero
Key Specs
Material: Aluminum, mesh, rubber feet
Packed Size: 13.8 x 3.9 x 3.9 in.
Seat Height: 8.5 in.
Weight: 1 lb.
Helinox is known for making quality camp chairs, and the Helinox Zero (or slightly heavier Helinox One) is a common sight at both back- and front-country campgrounds. It should check most boxes for most campers: it folds into a relatively small storage sack, weighs about one pound, and holds up to 265 pounds. There's also an optional fabric footing to help it stay stable on snow or sand.
Incredibly light
Small storage size with storage sack
Rolls up around poles (like a tent)
Pricey
Sits low to ground
Best for Cold Weather
Helinox Reversible Seat Warmer
Key Specs
Material: Polyester, duck down
Packed Size: 11 x 5 in. cylinder
Seat Height: N/A
Weight: 9 oz.
If you're planning on late-night fall campfires or are among the small group of people who love winter camping, your best bet is the chair above (the Helinox Chair Zero) plus the Helinox seat warmer. It's essentially an insulated jacket for your chair that goes over the thin, all-weather seat. Helinox makes different covers for the Chair Zero and Chair One, though most reviewers say the fits seem fairly interchangeable.
Very light with stuff sack
Adds warmth to non-insulated chairs
May fit some non-Helinox chairs
Requires carrying another item
Expensive when combined with cost of chair
Best Convertible
Therm-a-Rest Trekker Lounge Chair
Key Specs
Material: Ripstop, fiberglass
Packed Size: 6 x 21 in.
Seat Height: N/A
Weight: 12.8 oz.
If you're a backpacker who uses a sleeping bag, you may want to skip carrying a chair altogether and instead carry the clever Therm-a-Rest Trekker Lounge kit. Using straps, slim poles, and a few clips, it turns your standard sleeping bag pad into a lounge chair, complete with an upright back. While you'll need to be a little extra careful not to set up on rocks or sharp sticks, the Trekker's ripstop fabric covers most of the bottom of your sleeping pad to give it some extra protection when hanging out on rougher surfaces.
Insanely light
Fits most sleeping pads
Warmer than fabric chairs
Useless if sleeping pad rips
Sits directly on the ground
Best Stool-Style Camp Chair
CGI Outdoors Pack Stool
Key Specs
Material: Aluminum, nylon
Packed Size: 15.7 x 4.3 x 3.9 in.
Seat Height: 20.5 in.
Weight: 1 lb. 4 oz.
Buyers who don't like the feel or style of the low, slingback-style seating typical with most ultralight camp chairs may prefer the affordable Packseat Camping Stool instead. While there's no back support, it does sit much higher and more upright than most chairs on this list. As a result, it's a more functional option for camp cooking or pulling up around a crowded picnic table. It also holds up to 250 pounds, making it a good option for taller buyers.
Very light and slim when packed
Sits higher than most chairs
Affordable
Very upright
Smaller seat area
No shoulder strap
Key Specs
Material: Aluminum, ripstop, rubber feet
Packed Size: 3.4 x 3.4 x 13 in.
Seat Height: 13.5 in.
Weight: 3.5 lb.
If you're not into the idea of having yet another item to set up when you arrive at your campsite, opt for the very popular Cliq Camp Chair. Setup is minimal, to say the least: Remove the strap and push the button—that's it. Setup takes probably five seconds if you're slow. It also folds up into one of the smallest packages on this list, making it easy to carry in a backpack or large purse.
Very easy setup
Small packed size
Sub-$100
A bit heavy
Mechanism hard to fix if broken
No storage sack
Best Budget
Trekology YIZI Lite Chair
Key Specs
Material: Aluminum, ripstop
Packed Size: 13.15 x 7.05 x 3.94 in.
Seat Height: 9.8 in.
Weight: 1 lb., 7.5 oz.
Most ultralight camp chairs have a similar design, so if you don't need any fancy features and don't care about brand names, opt for the sub-$50 YIZI Ultralight chair from Trekology. It weighs just over 2.5 pounds, making it light enough to carry on backpacking trips, especially with its small folded dimensions. Just note that it cuts out most of the metal legs to save weight and space, so it sits very close to the ground. If you want a comparably priced chair with a higher back, here's a similar option that weighs a bit more at three pounds.
Great price
Side pocket
Lightweight and reasonable carry size
Low weight limit (200 lb.)
Sits low to ground
No brand name/guarantee
Best for Distance Backpacking
Crazy Creek Hex 2.0
Key Specs
Material: EVA foam, ripstop nylon, carbon fiber
Packed Size: 16 x 4-in. tube
Seat Height: N/A
Weight: 1 lb., 4 oz.
If you want to shave down the ounces, you have to say goodbye to most of the metal pieces, which is exactly what the Hex 2.0 chair does. Save for two plastic buckles and a narrow carbon-fiber support, it's made entirely of foam and sits directly on the ground (or a stump, or a picnic bench) to provide padding for your butt and low back. The back is a bit prone to slumping, but the trade-offs may be worth it: It's super light, easy to carry, and can double as a short sleeping pad in a pinch.
Good for stadiums
Very light with warm foam
Unfolds to short sleeping pad
Comes in tall and long version
Back can be a little slumpy
Sits directly on the ground
Best for Back Support
Helinox Sunset Chair
Key Specs
Material: Polyester, nylon, aluminum
Packed Size: 18.5 x 4.7 x 5.6 in.
Seat Height: 18.1 in.
Weight: 3 lb., 4.8 oz.
Though it saves weight, the bucket-seat design of most ultralight camp chairs doesn't provide that much support. So if you're looking for something a little more supportive for your back and neck, go for the Sunset Chair. The high back cradles your spine, and the carrying case is also useful: Shove a hoodie or down jacket in the empty case and use the Velcro to attach it to the back. Boom! Your chair has an attached pillow.
High back for extra support
Case doubles as a pillow
Mesh around the seat
Heavy for long backpacking trips
Best carried on outside of bag
Expensive
Best Traditional Style
Big Agnes Big Six Armchair
Key Specs
Material: Nylon, ripstop polyester, aluminum
Packed Size: 22 x 5 x 6 in.
Seat Height: 20 in.
Weight: 3 lb., 14 oz. (without case)
The Big Six is not the type of chair you'd want to backpack or hike with—at 4 pounds, 2 ounces (with the case) and with a packed size of nearly 22 inches, it's just too big and heavy to throw into a pack. But it's still significantly lighter and more compact than your average camp chair, and comes with a wider seat, armrests with cup holders, and a high enough back to support your neck. If you want to shave ounces for your next car camping or beach trip without sacrificing comfort, it's an ideal pick.
300-pound weight limit
High seat height with armrests and neck support
Too heavy for hiking
Expensive
More Backpacking and Camping Chair Tips from Our Expert, Suzie Dundas
Q: How do you carry an ultralight chair?
A: There's no right or wrong way to carry a chair, but there are some general packing tips to keep in mind. If you're organizing a backpacking pack, you generally want your heaviest items to be closest to your back, so you'll want to pack the chair in the middle of your bag (close to the backplate). Alternatively, some larger ultralight chairs—especially those with a cylindrical shape—may work best strapped to the side of your bag. Most backpacking packs have large pockets on either side, so try to keep it balanced—if you add a two-pound chair to one side, put a full water bottle on the other side.
An alternate way to carry a chair is to strap it horizontally to the top of your pack. Place it on top of the cinched section, using the top cap/gear pocket to strap it down.
Q: Are ultralight camping chairs as comfortable as folding camp chairs?
A: In short, no. If you want your chair to be sub-three pounds, you're going to have to go without armrests, footrests, extra padding, or features like tech pockets. I've included a few alternates in the list above that are slightly more comfortable, but ultimately, it's a sacrifice between comfort and convenience. The most significant pain point, aside from not having armrests, is for tall users, who may find that the bucket-seat style doesn't provide enough back support. They're not uncomfortable, but they're not going to be as relaxing as chilling in a reclining camp chair with pillows and seat padding.
Q: Do I need an ultralight camp chair if I'm not a serious backpacker?
A: You don't need one, but you may find it useful more often than you think. In addition to being incredibly light, ultralight chairs also fold up quite small at a fraction of the size of a regular collapsible camp chair. That means you can carry them in tote bags and purses, or store them under the seat in your car without taking up any storage space. It also makes it easier to carry several at once if you're with younger campers who aren't always so good about carrying their own gear.
This content is created and maintained by a third party, and imported onto this page to help users provide their email addresses. You may be able to find more information about this and similar content at piano.io
Advertisement – Continue Reading Below
Most Related Links :
honestcolumnist Governmental News Finance News