News
Tested and Approved: 11 Hunting Backpacks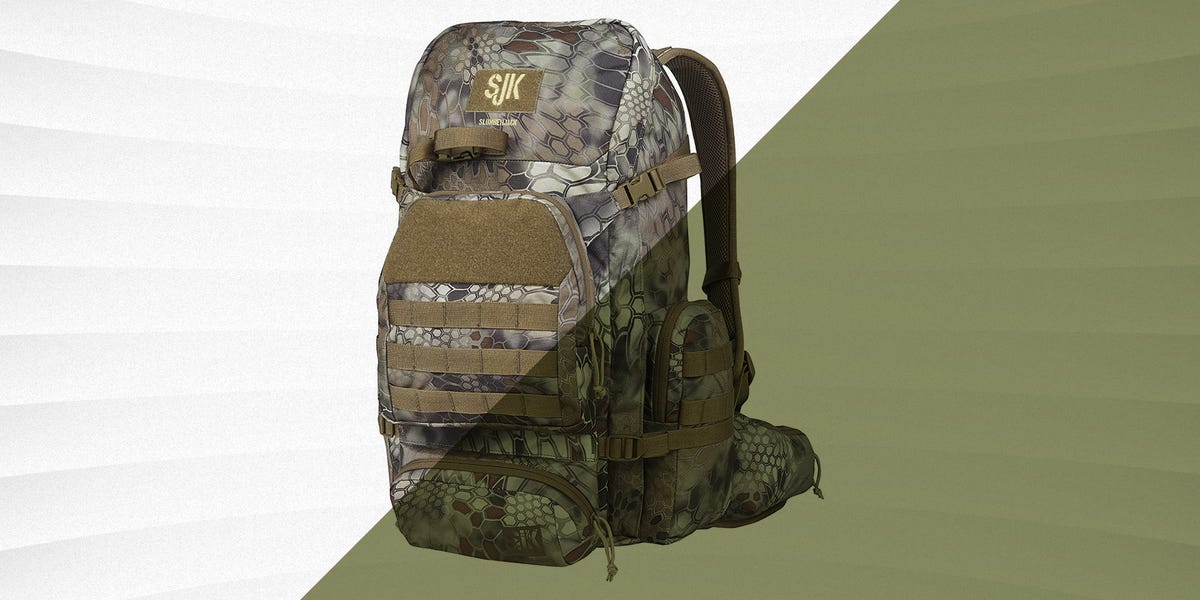 Staff, Courtesy of Slumberjack
Almost every hunter heads out with some sort of pack, whether embarking on a weeklong unsupported hunt in the wilderness or walking into a backyard treestand for a morning. The amount of gear required for hunting and successfully navigating the outdoors necessitates a pack for most hunters, but the type of hunting you do will dictate the type of pack you need.
Thankfully, pack design has come a long way in the past couple of decades, and hunters have benefited from advances made in other sports such as climbing and backpacking that have brought us lighter, more ergonomic packs. Besides lighter, tougher materials, the engineering and design of these packs has gotten truly impressive. Modular and expandable packs can morph in ways that make them much more adaptable to specific hunting situations, such as needing to pack out 100 pounds of meat when you already have a (seemingly) full pack.
Still, there's not one hunting backpack that's perfect for all situations, so I've made recommendations for packs that fit a handful of common types of hunting for which you might be shopping.
Best Hunting Backpacks
The Expert: As a Colorado-based hunter of deer, elk, pronghorn, waterfowl, and moose in the Rocky Mountains, I've tested hunting packs in a range of climates and conditions from hot and dry high desert to thick forest in heavy rain and snow. I also hunt back home in Upstate New York's Eastern hardwood forests and spend more time in a treestand in wide-ranging weather, so I understand the challenges of several different regions, seasons, and types of hunters.
What to Consider When Choosing the Right Hunting Pack
Fit
There's unfortunately no way to precisely judge the fit of a pack without actually testing it in person, but it's the one dimension that can render a pack painful or impossible to use properly. Luckily, many modern packs come sized (with helpful size charts online), so you can at least approximate which size ought to fit you best.
When ordering online, make sure the seller's return policy gives you a reasonable window to test the product and return if you find that the fit won't work for you. If you want to test several packs and keep the one that fits you best, keep in mind that some sellers may charge you for the return shipping.
Volume and Expansion
How you hunt will dictate the size and type of pack you need. For example, a whitetail hunter who walks a few hundred yards into a backyard treestand for a morning session needs a much different pack than one embarking on a 10-day, self-supported Alaskan moose hunt. Some hunters want one backpack they can use for day hikes as well as overnights and will prize expansion and adaptability. Other hunters may prefer dedicated packs for different types of hunts. Turkey hunters, for example, will benefit from a turkey vest, which is often a vest, backpack, and integrated padded seat all rolled into one.
Many modern hunting packs offer impressive expansion options that permit a medium-sized pack that can be used as a day pack to expand enough to carry several nights' worth of gear or to pack out meat from a successful hunt. These types of packs are good options for hunters who, for budget constraints or simplicity, want one pack that can work for most any situation and duration of hunt.
Judging how much pack volume you need is easiest if you have an existing frame of reference, such as previous hunting or backpacking packs you've used. Pack volume is usually measured in liters or cubic inches. A reasonably sized day pack for me is about 30 liters or just under 2,000 cubic inches. I find that packs any smaller than that often force me to strap things to the outside, especially when hunting colder seasons where more layers are required and I prefer to keep my gear inside the pack as much as possible. For up to three-day overnights, an 80-liter pack is about right for me, but different hunts and different people will have wide variations in volume requirements. For example, I have hunted areas without any water sources and have had to carry in all my water for three days, which at least doubled my pack weight. In this case, I used a burly external-frame pack where, in a different environment, a larger internal-frame pack might have sufficed.
Materials and Construction
As with hunting outerwear, modern hunters have benefited greatly from advancement in materials and coatings that make packs lighter, tougher, and more waterproof than your father's hunting pack. That said, I don't tend to scrutinize the materials used in a pack the way I would for a hunting jacket. Having a water-repelling treatment on a pack is nice, but I prefer to just use a rain cover, and many packs come with rain covers built in.
How We Selected These Hunting Backpacks
I've hunted in a wide range of conditions, having grown up hunting whitetail and upland game in Upstate New York then moving West and hunting big game in big mountains. However, my selections here are biased somewhat toward Western hunting. In part, that's because a hunting pack is a much more critical decision for most Western hunting where you're covering many more miles and likely doing some overnight backpacking hunts. Your average whitetail treestand hunter may not even use a backpack, and if they do, the details are less critical because there's generally less gear and it gets hauled for shorter distances. To make these recommendations, I considered both packs I own or have owned, as well as the half-dozen packs I tested specifically for this review. I also spoke with other hunters, brand reps, and store owners to make sure I was considering the best widely available packs for North American hunters.
Best Overall Hunting Pack
Mystery Ranch Sawtooth 45
Size that works for most situations
Burly build
Heavy for the size
Pricey
Key Specs
Colors/Patterns: Subalpine, Foliage
Sizes: S–XL
Weight: 5.3 lb.
Many hunters want one pack that can do it all, from day hikes to multiday trips to packing out an animal. Packs like the Sawtooth 45 offer expansion that lets you load up the frame when needed but pare the pack down when you want to stay light and compact. The problem I have with many of the packs in this category is that they're just way too big to be comfortable day packs, and I end up reaching for a different, smaller pack. With 45 liters of volume, the Sawtooth 45 is spacious enough to comfortably carry on shorter missions without being cramped or feeling overloaded with too much pack.
The internal frame is substantial and gives this pack a weight that's a bit high for the size, but that same robustness is what allows it to bear and distribute heavier loads when needed. The pack comes in several size options and has the Futura Yoke adjustment system, so you can really tailor it to your build, but it's still going to feel bulkier than a slim, true day pack. For example, the substantial frame can be felt against your neck/head when ducking under branches, but this is the compromise a hunter makes when they want one pack for all situations.
Best Day Hunting Pack
Slumberjack Hone Backpack
More agile for active hunting
Affordable
Need another pack for multiday hunts
Key Specs
Colors/Patterns: Kryptek Highlander, Perception DST
Sizes: One size fits all
Weight: 3 lb. 4 oz.
If you don't do a lot of overnight hunts or just prefer having a slimmer, lighter pack for short missions, consider a true day pack such as the Hone from Slumberjack. I have personally hunted with this pack for years and love the balance of light weight and rigidity from a contoured, metal-reinforced hard plastic internal frame sheet. The height of the back panel is big enough to distribute weight but compact enough for active hiking and to avoid snagging. An external compression segment offers two smaller storage options but also allows you to secure a rifle, bow, or extra gear between it and the main backpack. The pack isn't as rigid as other higher-volume expandable options, but I've successfully packed out entire smaller animals such as bighorn sheep using just this pack.
The design of the pack has (thankfully) remained mostly unchanged since I bought my first one years ago. One welcome update is the ability to extend the bottom of the compression panel, which used to be fixed and made it harder than it needed to be to strap in your bow or other gear. The waist-belt pockets are the perfect size for frequently accessed items such as phone, ammo, and rangefinder, and I've found there's enough compartmentalization in the pack volume without being over the top. Because the pack isn't sized, it might not be perfect for every build, and there's limited adjustment options for the height and positioning of shoulder and waist straps. Because the cost of the pack is reasonable, it's not as painful to add another pack if you already own one of the pricier frame packs or higher-volume expandable options. If you like the Hone but want a little more volume, consider its big brother the Slumberjack Bounty 2.0.
Best High-End Hunting Pack
Stone Glacier Sky 5900 Pack
Broad volume range possible through expansion modes
Highly customizable fit and add-ons
Made in the U.S.A.
Key Specs
Colors/Patterns: Foliage
Sizes: S–L belt
Weight: 5 lb. 8 oz. (paired with X-Curve frame)
The Sky 5900 pack stands out for its expansion and contraction options that can be summed up in one stat: The pack can pare down as small as 4300 cubic inches in bivvy mode and can expand to 7900 when using the load shelf option. In its normal configuration, it's 5900 cubic inches, as the name would suggest. Many packs tout expansion capabilities, and I've always been able to overload pretty much any pack with enough bungees and rope, but few pare down as effectively as the Sky 5900, whose bivvy mode is a welcome option when you're simply day hunting from a vehicle or camp.
Even in bivvy mode, this pack will be bigger than most day packs (the 26-inch X-Curve frame sits up above the base of my skull when properly fitted, and I'm 6-foot). But, pared down, it's a reasonably sized day pack that you can still expand enough to accommodate a pack-in for a weeklong hunt, meaning you don't need to carry separate packs. I also like the modularity and customization possible with the Sky 5900. The pack is hydration bladder-compatible, but if, like me, you just use a water bottle, there is a Hydration Holster add-on. Likewise, rangefinder and utility pockets, rifle slings, spotting scope sleeves, and more hunting-specific options can be added to turn the base pack into your own.
There are also several interchangeable frame options that let you choose the combination of materials and design that fits your priorities. One thing I love about the Stone Glacier frames and their harnesses is that the position and orientation of the shoulder and chest straps are easily adjusted for height and width so you can really dial in the fit to your body. Likewise the hip belts are sized so you can get a more precise fit where it matters most.
Best External Frame Pack
Eberlestock F1 Mainframe Frame Pack
Built to handle heavy loads
Highly customizable
Key Specs
Colors/Patterns: Military Green, Coyote, Skye, Mountain, Mirage, Dry Earth
Sizes: Regular, tall
Weight: 4 lb. 5 oz. (regular size)
While you can buy the F1 Mainframe as a standalone simple external-frame pack, it makes the most sense to talk about it as the base of Eberlestock's extremely customizable, modular EMOD system that allows you to add and remove packs and accessories as needed. Using different pouches and packs, such as the 10-liter Batwings or the expedition-ready 7500-cubic-inch Vapor pack, the F1 Mainframe can function as a day pack that easily expands for meat-packing or as a 10-day expedition pack that can pare down for trips from base camp. The engineering of this system is incredible, but it's intuitive enough that you don't need to carry an instruction manual just to understand how to add and remove pieces.
External-frame packs aren't as popular with hunters as they once were, since backpacking-style packs have become more expandable and better engineered to distribute heavy loads. But for my money, the F1 Mainframe is what I want when I'm packing a heavy camp, a heavy animal, or both. Rated to 700 pounds of load (not realistic for most mortals), the F1 is basically built to carry as much weight as you're physically able to bear. I still prefer a slimmer day pack when I have the option, but it's hard to beat the modularity of this system for overnights. Pack in with your camp on your back and then pare down to just a couple Batwings or one of the Vapor packs for day hunting. If you need to pack out an animal, use just the Mainframe, or adjust the setup to hold the animal against the frame and your camp on the outside.
Best Budget Frame Pack
Kelty Cache Hauler
Can handle much more than stated 56.5-liter capacity
Affordable
Need straps/bungees to expand capacity
Key Specs
Colors/Patterns: Olive
Sizes: One size fits all
Weight: 9 lb. 2 oz.
While it comes with none of the modularity found in the Eberlestock F1 Mainframe, this simple, 56.5-liter frame pack can haul. I have used this pack for a decade and managed to regularly strap a week's camp to it and about a dozen big game animals. The Cache Hauler isn't necessarily meant for the massive loads I've put on it, but it's held up remarkably well. I once dropped it, exhausted, while it was loaded with elk quarters and bent one of the hinges, but the solid metal bent back and still works great.
The Cache Hauler is a great, cheap option for leaving at camp or in your vehicle if you prefer to hunt with a smaller day pack and then retrieve the frame pack for transporting meat when needed. For years, I've used the Cache Hauler to bring both my camp and my day pack in, which allows me to hunt by day with the smaller, more nimble day pack but have the loadable Cache Hauler when needed.
Best Multiday Hunting Pack
Kuiu Pro LT 4000 Full Hunting Pack Kit
Ultralight
Expands for pack in, out
Key Specs
Colors/Patterns: Valo, Verde, Vias, Phantom
Sizes: Frame and suspension sized separately
Weight: 3.8 lb.
The Pro LT 4000 is the perfect pack for me for shorter overnights or later-season day hunts where I need to carry extra layers and want the extra volume. The 4,000 cubic inches (about 65 liters) is a great medium-sized pack, and while Kuiu doesn't list an estimate for how much volume you gain using the "load sling" created by separating the pack from the frame, I'd estimate at least an additional 2,000 cubic inches you can use for packing out meat or packing in a camp.
This pack is slim, light, ergonomic, and one of the best-fitting packs I've ever used. It fit well out of the box, but it also offers adjustment almost everywhere, including on the substantial lumbar pad. While I've grown accustomed to carrying rain covers for my packs, the Kuiu Pro LT 4000 eliminates the need by using waterproof 330D Cordura for the exterior fabric. The pack, frame, and harness come as a set here but can be purchased individually, which opens up the possibility of purchasing other bags for the same frame if, for example, you want a much bigger pack for extended, gear-intensive hunts. For my money, however, the 4000 delivers just the right volume for day hunts through about three-day stints in the field.
Best Whitetail Deer Hunting Pack
Sitka Gear Fanatic Optifade Pack
Engineered to be quiet
Pairs with other Fanatic products
Not built for substantial loads
Key Specs
Colors/Patterns: Gore Optifade Elevated II
Sizes: One size fits all
Weight: 41.1 oz.
The pack needs of a treestand whitetail hunter are far different than, say, an active Western elk hunter, so it makes sense to buy a pack designed for the purpose. Unlike generic hunting packs, the Fanatic pack uses the same berber fleece and quiet closure of other Fanatic line items such as the brand's excellent Fanatic jacket, perfect for when the slightest noise can blow your shot. If you pair the pack with some or all of the other Fanatic line, you not only get the same whitetail-oriented design and performance, but you'll have a consistent camo pattern designed for concealment in a treestand. The quiet fleece material is paired with a combination of quiet closures such as YKK Vision zippers, webbing latches, and magnetic snaps.
At 35.5 liters, the pack is big enough for a morning or day's worth of sitting and has straps for your weapon or rattling antlers. What it doesn't have is much structure or any chest or waist straps, so if you buy the Fanatic pack, don't expect it to do double-duty hiking any significant distances still-hunting or hiking deep in to a spot. This is a purpose-built treestand bag meant to keep you unnoticed while elevated.
Best Bird Hunting Pack
Norrøna finnskogen 40L Pack
Key Specs
Colors/Patterns: Green
Sizes: One size fits all
Weight: 4.25 lb.
While Norwegian outdoor gear brand Norrøna is best known for its ski outerwear in North America, it also makes really high-tech and well-made hunting outerwear and gear such as the "finnskogen," named for a wildlife-rich area in eastern Norway. The soft, recycled loden wool is quiet to the touch and gives it a throwback feel, but the waterproof membrane inside reveals the invisible but effective modern tech behind the classic look.
The pack fits well. The straps have the right amount of padding for the size, and the hip belts stash away easily if desired. This is a perfect day-pack size—big enough to stash a jacket and supplies for an afternoon without packing the main compartment to its limit. The removable 10-liter mesh bird net on the back is just big enough to keep a grouse or two secure and cooling down on your back. There are a few other nice hunting-specific features, such as the rifle holder for the hike in and luggage-grade abrasion-resistant YKK RC zippers. Best of all, the finnskogen pack is attractive enough that you can easily remove the grouse net and wear it year-round for hiking and casual use.
Best Backpack for Travel
Sitka Gear Drifter Duffle
Not much internal organization
Key Specs
Colors/Patterns: Lead, Covert, Burnt Orange
Sizes: 50L, 75L, 110L
Weight: Varies
Sitka makes great high-tech hunting outerwear, but the Drifter Duffle (I like the largest 110-liter size) is perfect for travel by train, plane, boat, or truck to keep hunting and fishing gear together and protected. The entire bag is waterproof, making it a great choice for keeping extra clothing and outerwear dry, and the 150D TPU-coated fabric (and reinforced tub bottom) means you (or baggage claim staff) can beat it up without worry.
I love the backpack option for when you need to hustle with the bag fully loaded, but there are handles on either end and both sides, making it easy to grab and move quickly. It's also a great-looking bag in solid colors, so my significant other isn't shy about borrowing and it looks just as at home next to a deer in a truck as it does heading out as beach vacation luggage.
Best Tactical Hunting Pack
5.11 Tactical RUSH100 60L Backpack
Lots of MOLLE attachments
Durable
Key Specs
Colors/Patterns: Kangaroo, Black, Ranger Green
Sizes: one size fits all
Weight: 5.7 lb.
Plenty of hunters appreciate the versatility and durability of tactical gear that borrows features and style from military and law enforcement gear. 5.11 Tactical manufactures dozens of packs for everyday carry as well as hunting, and the RUSH100 is a great option for hunters who prefer the tactical style and features. The bag is covered in MOLLE (Modular Lightweight Load-Carrying Equipment) webbing, which provides a ladder of nylon that permits strapping accessories and equipment directly to these attachment points, making the bag infinitely customizable.
While plenty of hunting bags offer custom add-ons specific to their pack systems, the MOLLE system attachments on the RUSH100 are much more universal, meaning things such as first-aid kits and pistol holsters can move easily between packs from different brands. The heavy-duty fabrics employed also make this pack extra-durable, if a little heavy for the size.
Best for Storage
Whiteduck Filios Canvas Duffel
Affordable
High-volume sizes available
Key Specs
Colors/Patterns: Black, Black/Tan, Brown/Olive, Black/Olive, Black/Brown, Brown/Tan
Sizes: Standard, large, extra-large
Weight: 2.9 lb. (standard), 3.2 lb. (L), 4.6 lb. (XL)
The longer you hunt, the more gear you collect and I like to have large bags for storing bulky items such as jackets, pants, and layers. The shockingly affordable Filios duffels from Whiteduck deliver volume for less than $50, and the rugged canvas fabric means you can count on the bags for years to come.
The duffels come in three sizes ranging from 79 liters up to a massive 247 liters, which is great for big, awkward items such as waterfowl decoy sets. While these aren't as waterproof as rubberized fabrics, the cotton-based canvas does have a water-repellent coating to keep contents from getting soaked if exposed to the elements.
More Tips From Our Expert Justin Park on Finding Just the Right Hunting Backpack for You
PM: Any advice for finding the right fit?
J.P.: When testing the fit of a pack, I find it helpful to add weight and walk around in it as much as you can. Most packs feel fine when empty, but putting weight in offers a more realistic experience because it puts stress on the points where the pack distributes the weight on your body. Most hunting packs, even burly external frame packs, weigh in at less than 10 pounds. I like a pack that's about 6 pounds or less since modern materials and design mean even high-capacity packs need not weigh much more than that.
If you struggle with finding a pack that fits you properly, look for a brand and model that offers more adjustment. For example, the Stone Glacier pack on our list uses hook and loop (Velcro) attachment to the frame which allows you to move the shoulder straps and hip belt both up and down on the frame but also side to side.
PM: Any advice for someone who is shopping for their first hunting backpack?
J.P.: If you're shopping for a hunting-specific backpack for the first time and don't have previous experience to guide you, see if you own a suitable backpack already (or can borrow one) that you can load up with your hunting gear to get a feel for the size and style that makes sense for you. You can even spend a season testing a pack and noting its shortcomings or features you like before buying a hunting-specific one.
PM: Should I look for a particular pattern that works with the area in which I hunt?
J.P.: I won't be making any recommendations on camouflage (or lack thereof) here, but suffice to say that if there's a particular pattern or color you prefer for your outerwear and other gear, there is probably a pack manufacturer that offers a pack with the same pattern. My only advice is to first make sure you're choosing a pack that delivers the volume, fit, and function you need before you worry about the colorway.
This content is created and maintained by a third party, and imported onto this page to help users provide their email addresses. You may be able to find more information about this and similar content at piano.io
Most Related Links :
honestcolumnist Governmental News Finance News