News
The 10 Best Body Groomers for Men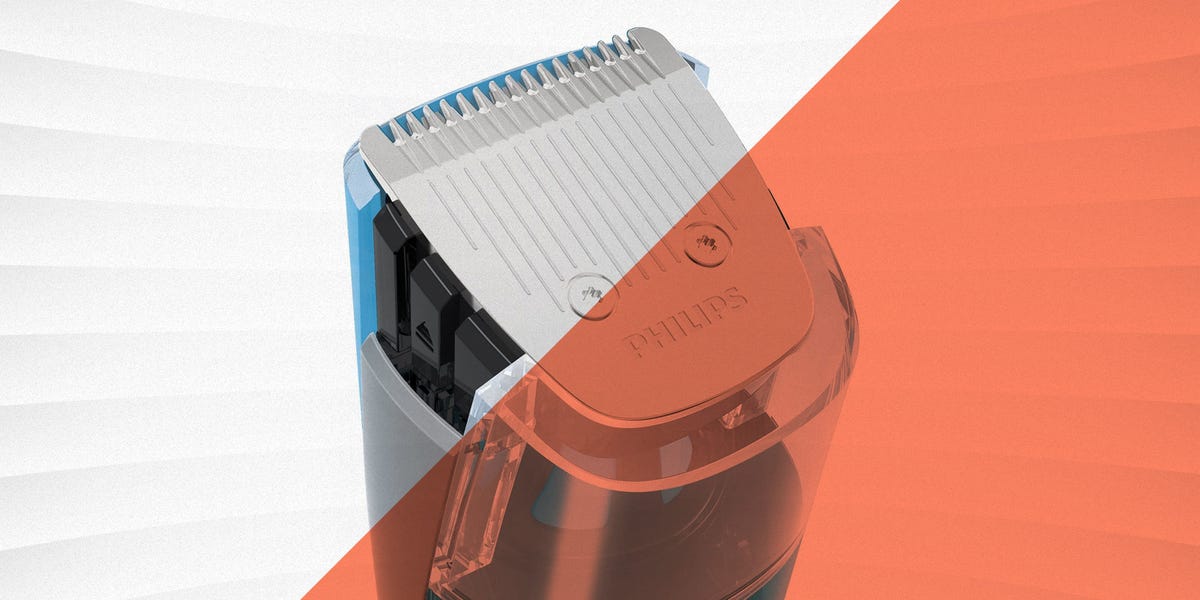 Staff, Courtesy of Philips
Although I'd love to tell you that one device can do it all when it comes to full body grooming—from shaving the head to trimming the beard to sanding the back and snipping the pubes—it's simply not true. Plenty of devices can multitask, but only a rare few were designed with that in mind. The best body groomers don't necessarily do it all, though; instead, they do their job the best.
In the list below, you'll find the best body groomers—most of them dedicated to one or two tasks, and a few of them designed with multitasking in mind. I guarantee you that there's something optimal for you and your hirsute job(s) on the roster.
The Expert: I've been a grooming journalist for more than eight years and have written for nearly every U.S. men's media outlet in that time, including GQ, Men's Journal, Robb Report, and Gear Patrol. I love trying new products, speaking with brand representatives, helping readers perfect their self care, and offering my own skin and hair up as a petri dish. Also, I'm extremely hairy, everywhere. TMI? Maybe. But it means I've also tested hundreds of hair clippers, including those that multitask above the neck—where I also sprout ample amounts of hair. Call it a talent. The hair growing, that is. Well, and the journalism of it all.
What to Consider When Buying a Body Groomer
Here's a common blunder: Many of us mistake our beard trimmer as a head-to-toe task rabbit. But that's like going to the "Choose Your Fighter" menu of a video game and selecting the big muscled guy—let's pretend he earns a perfect 10 at mowing through mounds of head hair—and then giving him the assignment of artfully grooming a big pubic nest. For that job you want to send out the sleek, humming groin trimmer (who ranks first in "never snipping the grapes" and second in buzzing the melon you call your head). Catch the drift?
Ergonomics, efficiency, and effectiveness—those three things create the bottom line here. Factors like battery life and wet/dry usage are mere side perks compared to what matters most: That these devices trim your hairs without snipping your skin, and that they do so in a clean, quick manner, be it a DIY back shave, pubic cleanup, chest trimming, or anything in between. Unlike beard trimmers, electric shavers, and hair clippers, there isn't a single design for a body groomer that bests the competition in every category, so you have to consider the tasks for which you need this device, and buy with ergonomics, efficiency, and effectiveness in mind.
Advertisement – Continue Reading Below
How We Evaluated These Body Groomers
By looking at the above considerations, we wanted the best for each type of task or for each type of buyer. Some guys want a device that does it all fairly well, whereas others want a dedicated device for each task—the single best in class, instead of the best all around. And some might benefit from a razor instead of a trimmer altogether. So, with ergonomics, efficiency, and effectiveness in mind, these are the best trimmers (and shavers, in some instances) in each lane. Where applicable and available, I listed the manufacturer's information on battery charge time and duration, trimming lengths, blade width, and so forth. (Hence some disparity between metric and imperial measurements.) And although I didn't use cost as a filter, my recommendations fall across a range of price points and all deliver on quality, in terms of construction and longevity, too.
Best Universal Body Trimmer
Panasonic ER-GK60-S Body Hair Groomer
Key Specs
Guard Lengths: 3 and 6 mm
Battery Life: 40 min
Charging Time: 8 hr
Although its (currently unavailable) big brother is a worthy upgrade for its one-hour charge time, especially, this Panasonic body groomer covers all the bases at half the price of the latest model. Its best feature is the vertical teeth that allow for easy behind-the-back and over-the-shoulders trimming, along with armpit and groin cleanups at any and all angles. A little ergo friendliness goes a long way with this one, and it can give you a very close shave with a 0.1 mm finish using just the bare guard.
Round-edge blades shield the skin from nicks
Shower-friendly construction
Best Dual Trimmer/Shaver
Mangroomer Lithium Max Plus Body Groomer
Key Specs
Guard Lengths: 1/16–½ in.
Battery Life: N/A
Charging Time: N/A
One end trims, the other shaves; this double-ended, waterproof device can give you the custom trimming you prefer, including a nick-free shave in your most precious parts. For scalp and beard maintenance, choose from eight lengths (in 1/16-inch increments) for trimming. Meanwhile, the foil shaving head delivers a smooth finish. Although Mangroomer doesn't specify battery specs, I've never encountered an issue with battery life or charging time of its products.
Best all-in-one device for people who simultaneously want to maintain some hair and some smoothness
Shower-friendly
Not ergo-friendly enough for the top spot on this list
Best Groin Trimmer
Meridian The Trimmer
Key Specs
Guard Lengths: 3-6 mm and 9-12 mm
Battery Life: 1 hr 30 min
Charging Time: 1 hr
An all-over manscaping trimmer, the Meridian mows through the unruliest of nests for a more hygienic and aesthetically pleasing amount of fur. The USB-rechargeable device masterfully trims the balls and shaft, too (pull the skin taut, fellas), thanks to teeth that won't nip on saggy skin like any standard-fare trimmers.
Won't nick your balls
Great for all manscaping
Shower-friendly
Chest and pubes won't feel smooth; light stubble remains (which, on the junk, will still feel smooth)
Best Back Shaver
Mangroomer Platinum Pro Backshaver (Generation 8.0)
Key Specs
Guard Widths: 1.8 and 2.7 in.
Battery Life: N/A
Charging Time: N/A
Three trimming/shaving heads and an extending handle—from 10.5 inches to 2 feet—give this generation of Mangroomer all the adjustability you need to remove back hair. Start with a trim followed by a foil shave for the smoothest, no-look, electric self-shave ever.
Interchangeable trimming and shaving heads means you can actually shave your back in the absence of a razor
Power Burst function is effective for those long-haired, thick tasks
Awkwardly large for travel
Best Body Grooming Kit
Remington Head-to-Toe Grooming Kit
Key Specs
Guard Lengths: Up to 7 mm with Body Groom Attachment
Battery Life: 1 hr 10 min
Charging Time: 5 hr
Remington's kit has swappable heads for respective tasks, like body grooming, nose hair trimming, foil shaving, and beard trimming alike. And it comes at a terrific low investment, making it a good entry-level pick for rookies.
Vertical body grooming attachment is the most ergo friendly way to manage body hair (see our top pick on this list)
Very affordable
Long charge with unreliable charge indicator
Best Beard Trimmer for Body Hair Cleanup
Philips Norelco Vacuum Beard Trimmer Series 7200
Key Specs
Guard Lengths: 0.5–10 mm with adjustable guards
Battery Life: 1 hr 20 min
Charging Time: 1 hr
I'm not an advocate of using a beard trimmer on the rest of your body, mostly for ergonomic reasons. But if you're going to get a beard trimmer and use it on periodic chest, shoulder, and back trimmings (the latter with the help of a friend), then I suggest this vacuum one from Philips Norelco. It'll catch the large majority of those little clippings (up to 90 percent of them), saving you big time on cleanup. However, it won't be able to suction them if they're long and overgrown—just a month's worth of stubble, at most. Any longer and you really ought to get a dedicated body groomer.
Easy cleanup for short-haired jobs
Nicely trims to a longer length, too (up to 10 mm, barring any curl in your body hair)
Has trouble suctioning longer hair
Expensive
Best Detailing Pen
Conair 2-Blade Trimming System
Key Specs
Blade Lengths: Short and long
Power Source: 1 AAA battery (not included)
Many guys will get this grooming pen for their mustaches or eyebrows, but they work just as well on the neckline, around the nipples, under the pits, and around the groin. Dual blades allow for larger or detail-oriented trimmings.
The dual-trimming head truly doubles the detailing prowess
Easy travel companion, for quick facial (and body) cleanups on the fly
Who buys batteries anymore?
Best Body Shaving Blade
BakBlade BodBlade Body Shaver
Key Specs
Blades: Two large "dry glide" blades
Blade Width: 5.2 in.
Power Source: None
Some of us simply want to mow through an entire winter's worth of chest fuzz. This is a fast way to go from bear to bare—but it will require that you follow with an aftershave of some sorts, because the razor is shaving the hair beneath the surface of the skin. The additional precision blade allows for cleanup around nipples and armpits.
Can shave wet or dry through high-density hair
Battery-free option
Ergo friendly for chest shaves only—that width and grip angle won't satisfy shoulders or behind-the-back shaves angles (BakBlade's hero product does that, though)
Potential for ingrowns and irritation (as with any blade shave)
Best Electric Body Grooming Wet-Shaver
Philips Norelco Bodygroom Series 3500 Showerproof Body Hair Trimmer
Key Specs
Guard Lengths: 1/8, 3/16, and 9/32 in.
Battery Life: 1 hr
Charging Time: 1 hr
With three guards, this handheld rotary shaver converts into a trimmer and can morph into a flexible back-hair tamer when you tuck it into the included attachment. It's the easiest wet-shave option of the picks, if you prefer to mow over your body stubble in the shower.
A top pick for back shaving
1:1 charge time (one hour to charge, for one hour of use)
Best Palm-Grip Body Groomer
Remington Shortcut Pro Body Groomer with Handle
Key Specs
Guard Lengths: 2–12 mm
Battery Life: 40 min
Charging Time: 4 hr
Ergonomics times two: This waterproof palm-held trimmer converts perfectly to a back-hair mower with the attachable handle. Choose from five guards, or skip the attachments for a 0.2-millimeter close shave.
One of the faster options for quick chest cleanup
Perfect for chest- and/or back-only tasks
Less effective for other areas due to its width
This content is created and maintained by a third party, and imported onto this page to help users provide their email addresses. You may be able to find more information about this and similar content at piano.io
Advertisement – Continue Reading Below
Most Related Links :
honestcolumnist Governmental News Finance News