News
The 10 Best Food Vacuum Sealers to Keep Your Meals Fresh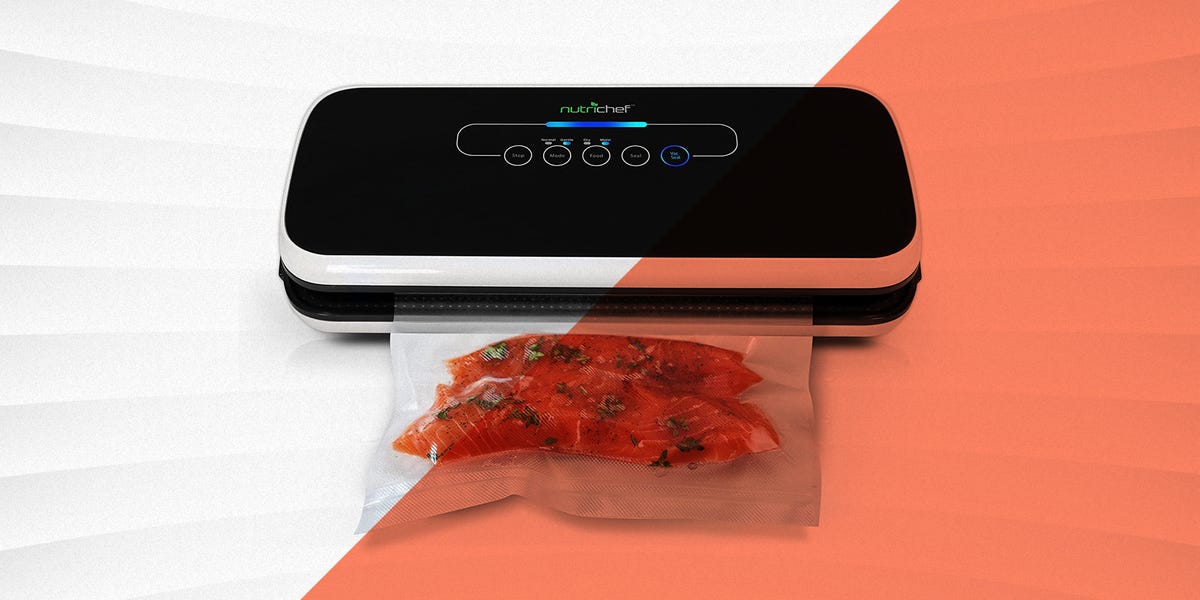 Vacuum sealers protect your food by removing and blocking all oxygen from the bag or container—crucial, because oxygen is what causes food to break down and rot. So if you like to buy in bulk or just want to extend the life of the veggies, meat, or fruit you put in the freezer, a vacuum sealer is a great investment to reduce your food waste (and wasted money!). In fact, vacuum-sealed raw meat will keep on ice for up to three years, and it will be fresh and free of freezer burn when you unseal it. Whether you're new to cooking sous vide or looking to stock up game, there are plenty of great options here to serve your needs.
Check out quick info below on the top five vacuum sealers, then scroll farther for buying info and full reviews of those models plus other high-ranking options.
What To Look For
There are generally three types of vacuum sealers: automatic, semi-automatic, and handheld. Automatic sealers will sense the bag once it's placed in the device and seal it. Semi-automatics allow you to open the device and place the bag inside and manually press a button to seal it. And handheld models boast portability but usually work only to remove oxygen from a bag without any heat-sealing capabilities. A vacuum sealer that doesn't use heat is compatible only with bags and containers that are designed specifically for that sealer, so be sure they're a match. Otherwise your food may not be well sealed and protected.
Also be aware that because some sealers use heat to close the bags, they can take time to cool off after a certain number of uses (usually around 40 seals in succession).
And if you plan on cooking sous vide, you will want a heat-sealing model because it provides the most pressure and reliable seals. Meaning literally under-vacuum, sous vide cooking is achieved by vacuum-sealing food (usually meat) and cooking it at a low temperature for a long period of time in a pot of water. This process achieves an even cook while retaining moistness.
When it comes to the vacuum, some will suck out all the air in one go. But other models have a pulse feature, which allows you to slowly vacuum by hand, great for more delicate foods like vegetables and raw fish.
How to Use a Vacuum Sealer
When operating a vacuum sealer, you will want to be sure that you leave enough room in the bag (about four inches from the top) to properly suck the air out. If the bag is filled to the brim with food, there won't be room left to seal it properly, and it could lead to contamination. And while this may go without saying, sealing foods that are usually refrigerated does not mean that they will be safe in warmer temperatures; sealing will simply prolong their freshness in the environment that they're usually stored in.
Also, note that you should blanch vegetables before you freeze them to help keep their shape. When you're ready to defrost your food, be sure to take it out of the bag that it was frozen in: Letting it thaw in the vacuum-sealed bag can lead to food poisoning caused by the bacteria clostridium botulinum, which thrives in low-oxygen environments.
How We Selected and Rated
We researched 10 expert sources such as Digital Trends, The Spruce Eats, and Wirecutter, as well as 30,000 consumer reviews to select the top ten food vacuum sealers. Our Consumer Score represents the percentage of customers who rated the product at least four out of five stars on retail and review sites like Amazon, Walmart, and the manufacturers' websites.
---
—HIGHLY RATED—
NESCO American Harvest VS-12
Consumer Score: 92% give it 4 stars or higher
Powerful and top-rated by expert testers and consumers alike.
Settings: Dry, moist, double | Weight: 6 lb. | Dimensions: 16 x 8 x 4.5 in.
The top pick from testing by Good Housekeeping and Wirecutter, the Nesco American Harvest VS-12 is an efficient and reliable vacuum sealer at a reasonable price for most households. In addition to great suction and a variety of settings, this sealer comes with a built-in bag cutter and a compartment to store your rolls. Users also find it easy to use thanks to the large handle and well-labeled control panel.
---
—COMPACT—
Anova Culinary ANVS01-US00 Precision Vacuum Sealer
Consumer Score: 91% give it 4 stars or higher
A sleek full-size sealer without added bulk.
Settings: Vacuum, seal, pulse vacuum | Weight: 2.3 lb. | Dimensions: 17 x 5 x 3 in.
If you want a vacuum sealer with a sleek design that you won't mind leaving out on the countertop, the Anova vacuum sealer is a great option for beginners and experts alike. It has three buttons for vacuum sealing, sealing, and pulse vacuuming—and does so quickly in just 20 to 30 seconds. However, it does lack convenient features like a bag cutter, accessory port, and roll storage. You can pair it with Anova's Sous Vide Precision Cooker for a complete sous vide set.
---
—BEST VALUE—
Geryon E2900-MS
Consumer Score: 83% gave it 4 stars or more
Plenty of convenience and capability for the cost.
Settings: Vacuum seal, seal, canister, dry, moist | Weight: 2.5 lb. | Dimensions: 3 x 5 x 14 in.
For a mid-range price, this heat-sealing Geryon machine is a pretty high-end product, ideal for storing bulk items despite its compact size. To get you started, the E2900-MS comes with bags, sealable material (allowing you to create custom-sized bags), large compatible Tupperware, and an extension hose for non-food bags (for sealing and storing other items). Its sleek design isn't an eyesore on the counter, and, at just two pounds, it's easy to pick up and store. Bonus: It has dry and wet settings to appropriately store foods like cereals and soups.
---
—BEST HANDHELD—
FoodSaver 31161370
Consumer Score: 87% gave it 4 stars or more
Tiny, but impressively effective.
Settings: One button | Weight: 1 lb. | Dimensions: 4 x 6 x 11 in.
If you live in a tiny apartment or perhaps don't use your vacuum sealer too often, this is a great option that you can easily stow away in a small space. Despite fitting easily in your hand, the 31161370 can seal up to 60 one-quart bags on a 24-hour charge. It features a lithium-ion battery, which means that it's entirely cordless—even the charger—so you don't have to position it near an outlet. The package comes with four one-quart vacuum seal bags, but it's also compatible with any of FoodSaver's containers, bags, or accessories.
---
—QUIET—
NutriChef Vacuum Sealer
Consumer Score: 84% gave it 4 stars or more
Works quickly without producing a ton of noise.
Settings: Moist, dry | Weight: 3 lb. | Dimensions: 6 x 14 x 3 in.
Vacuum sealers can be noisy. And while that may not be a dealbreaker, this model's quiet operation is certainly a selling point for an already stellar product. Not only is it compact, it's also speedy, and able to seal a three-gallon bag in four minutes and smaller bags in seconds. It's also designed to seal both wet and dry foods, making it ideal for sous vide cooking. While this NutriChef is small and light enough to move into storage, it's also attractive enough to leave on the counter. Like most starter kits, the package includes five reusable bags and a roll of bag material.
---
—FOR HUNTERS—
FoodSaver GM710-000
Consumer Score: 87% gave it 4 stars or more
Seal your meat wherever and whenever it's the freshest.
Settings: Seal, vacuum seal | Weight: 9 lb. | Dimensions: 24 x 5 x 10 in.
If you regularly hunt or fish for your food, you'll want to make sure that your game stays as fresh as possible. One of the best ways to preserve your catch is by vacuum sealing it right away—particularly before you put it on ice. The GM710-000 is designed to come with you and function just as well in the middle of the woods as it would in your kitchen. It features a rugged design with large, rubber, non-slip buttons and a 12-volt DC adaptor, meaning it can run off of power from autos, boats, and RVs. Unlike most vacuum sealers, it is designed to be on-the-go, and comes with a built-in handle for easy portability. It also comes with an 11-inch x 10-foot heat seal roll, an 8-inch x 10-foot heat seal roll, five one-quart pre-cut heat seal bags, five one-gallon pre-cut heat seal bags, and an accessory hose to get you started.
---
—BEST BUDGET—
Geryon E2800-C
Consumer Score: 85% gave it 4 stars or more
All of the basic capability without a steep price.
Settings: Seal, vacuum seal | Weight: 2 lb. | Dimensions: 3 x 5 x 15 in.
Don't be skeptical at the number after the dollar symbol. Reviewers raved about this vacuum sealer, citing its ease of use and praising its secure and leak-proof seal during sous vide cooking. This Geryon can heat-seal bags up to 12 inches in size. The starter kit includes five 8 x 7-inch bags and a roll of 8 x 78-inch bag material. However, this budget model does have cheaper plastic construction, as well as only two settings for seal and vacuum sealing, without wet/dry specificity.
---
—VERSATILE—
FoodSaver VS3150 Multi-Use
Consumer Score: 84% give it 4 stars or higher
A powerful multiuse sealer with a stylish charcoal stainless-steel design.
Settings: pulse, marinate, dry, moist | Weight: 9 lbs | Dimensions: 18 x 10 x 11 in.
This versatile FoodSaver vacuum sealer can handle pretty much any food thanks to its four settings, including pulse vacuuming, marinate, dry, and moist. The sleek, charcoal stainless-steel construction is not only attractive, but also practical with built-in roll storage, an alignment tool, and a bag cutter. The starter kit comes with two bag rolls, two pre-cut quart storage bags, and two quart zipper bags.
---
—COMMERCIAL—
Weston Pro-2300
Consumer Score: 88% give it 4 stars or higher
A commercial-quality sealer for restaurants or large families.
Settings: Automatic, manual | Weight: 22 lb. | Dimensions: 23 x 15 x 9 in.
If you're a restaurant owner or just do enough vacuum sealing to justify a commercial-grade appliance, the Weston Pro is a great option thanks to its heavy-duty stainless steel build, fast double-piston pump, and extra-wide seal bar for bags up to 15 inches wide. The fan-cooled motor also ensures the machine won't overheat if you use it for long periods of time. However, due to its hefty price tag and hefty size, it's not a model we'd recommend for the average user.
---
—FOR BEGINNERS—
Mueller Automatic
Consumer Score: 86% give it 4 stars or higher
A popular, reliable option for many at an affordable price.
Settings: Wet, dry, gentle, airtight | Weight: 2.2 lb. | Dimensions: 14 x 3 x 5 in.
A user-friendly sealer for beginners, the Mueller automatic has easy settings for wet or moist foods, as well as gentle or airtight vacuuming. It's a fairly compact and lightweight option, as well as relatively affordable at well under $100. We like that the starter set comes with 5 medium vacuum bags, an extra-long bag roll, and the air suction hose.
Most Related Links :
honestcolumnist Governmental News Finance News