News
The 10 Best Nose Hair Trimmers, According to Our Grooming Expert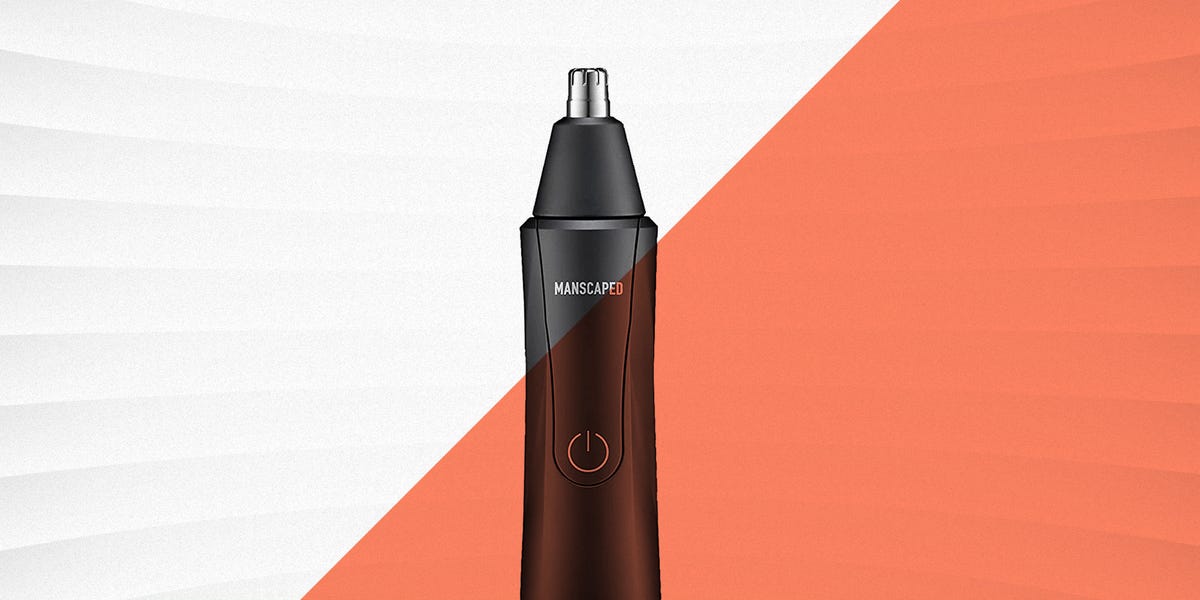 Staff, Courtesy of Manscaped
Nose hair trimming is relatively straightforward, because there isn't much customization to consider. (Nobody is worrying about how to style their nose hairs, or not yet at least.) The task at hand is to keep the hairs from popping out into public view while still maintaining a functional length. You don't want to eliminate the hairs—they need to catch dust and prevent germs from entering the body and to prevent mucus from leaking out. Boogers need somewhere to cling, or else you're left sneezing and dripping with snot all day.
For this reason, I can tell you that plucking and tweezing nose hairs is almost never encouraged, though you might feel compelled to extract the ones that are practically growing on the outer edge of the nostril—that's about as much as I'll endorse. (And for that, you will see a tweezer at the end of this roster.)
Read on to see my picks for the best nose hair trimmer, in numerous categories.
The Expert: I've been a grooming journalist for more than eight years and have written for nearly every U.S. men's media outlet in that time, including GQ, Men's Journal, Robb Report, and Gear Patrol. I love trying new products, speaking with brand representatives, helping readers perfect their self care, and offering my own skin and hair up as a petri dish. And that does include nose hairs, too. I've overgroomed with the wrong trimmers and suffered the snotty consequences, and I've trimmed with the best devices, too, for a well-filtered, no-show result.
What to Consider When Buying a Nose Hair Trimmer
Because this is a straightforward task, it is most important to consider your own preferences: electric versus manual, for example. And in the case of electric picks, choose from a battery-powered or rechargeable device, as well as a multifunctional device or purpose-built nose hair trimmer. (That said, almost all nose hair trimmers double as ear hair trimmers, given that the task at hand is essentially the same; so, I will consider these two tasks as a singular function, whereas some devices offer much more.)
Manual nose hair trimmers come in three designs: a twisting model that requires two hands, a squeeze-to-snip option, and basic scissors. If you want scissors, make sure the ends are rounded so you don't accidentally pierce the nose from the inside out.
How We Evaluated These Nose Hair Trimmers
The trimmers in this list are the best in their respective categories, with manual and electric picks in a variety of lanes. That means they cut the hairs most cleanly, at a functional length, without any pulling and tugging. Less important is how many blades or how much muscle they have. You don't have enough hairs in your nose for that to matter. (Yeah, they can be weak, but manufacturers easily clear that threshold these days.)
Unlike body groomers or beard trimmers, we didn't favor quick charge times, long battery life, or the long list of functions a device can do (aside from one very specific "multipurpose tool" pick). In some instances, those details might be noted, but they weren't the deciding factor. Nose hair trimmers pretty much put it all on display, and the 10 tools here successfully ensure that you have no nose hairs in view, while allowing the hairs you can't see to still function properly up inside your schnoz.
Best Vacuum Nose Hair Trimmer
Panasonic Ear and Nose Trimmer with Vacuum Cleaning System ER-GN70-K
Key Specs
Power Source: 2 AAA batteries
Run Time: 40 min
As sparse as nose hairs can be compared to the beard and head, you still don't want to go chasing down the clippings after a trim if you don't have to. For that reason, Panasonic's excellent vacuum-equipped nose hair trimmer stands atop my roster. The vacuum clippings are easy to rinse clean, too, though it is an extra step.
Wet/dry usage
Ergo-friendly pivoting handle
Although you save time on sink cleaning, a vacuum catch-all requires more attention to device cleaning
One of the pricier stand-alone nose trimmers
Best Rechargeable Nose Hair Trimmer
Manscaped The Weed Whacker
Key Specs
Power Source: Rechargeable lithium-ion battery
Run Time: 90 min
The majority of electric picks on this list are battery-powered, given that the task doesn't require much oomph. Still, how annoying is it in modern times to buy batteries, when you can just plug in a USB to your computer or outlet and juice up the device? Manscaped's electric nose hair trimmer makes charging convenient and packs a powerful purr, too, if that's what you value. The edge of the device has a 23-degree angle to match the contour of nostrils.
Easy USB charging
Wet/dry usage
One of the more expensive options
Best Travel-Friendly Nose Hair Trimmer
Wahl Micro Groomsman Battery Trimmer
Key Specs
Power Source: 1 AAA battery
Run Time: 60 min
Ideally, you'll snip your nose hairs before a trip so that a trimmer is one less thing to pack. But if you've got to bring one along, make it Wahl's lightweight, battery-powered pen. It also has a detailing attachment to clean up your facial hair lines and sideburns, so maybe it's worth packing even if your nose hairs don't need tidying.
Can tidy up any and all hair on your face
Compact and portable
Fragile—don't drop it, and pack it safely!
Best Nose Hair Scissors
Tweezerman Gear Nose, Ear, & Facial Hair Scissors
Key Specs
Power Source: Manual
Length: 3.5 in.
Tweezerman, as you'll see twice in this list, is the go-to for the tiny details, like a manual scissor snip or a quick nostril-perimeter tweeze. In this instance, its stainless steel, round-tipped scissors make for a safe snip, minus any poking and piercing inside the nostril. They're terrific for facial hair flyaways, especially long eyebrow hairs and mustache lip-line cleanups, too.
No poking thanks to rounded ends
Entire blade is sharp enough to cut
Comes with free lifetime sharpening from Tweezerman
Like all scissors, requires a blind trim inside the nose
Best Manual-Squeeze Nose Hair Trimmer
Royal Golden Birdie Nose Hair Trimmer
Key Specs
Power Source: Manual
Length: 3 in.
Nose hair clipping really can be as easy as a quick squeeze. That's what Royal's 12-blade golden trimmer does with aplomb: Invert it, insert it, and squeeze it to clip away at longer nose hairs. With this method, you might need to rotate once or twice and repeat, which will consume an extra five seconds of your time. No harm, no foul. (And as one big perk: No batteries or charge cord needed.)
12 blades are six times thicker than most electric options
Easily disassembled for washing
No charge or battery needed
Manual clippers typically take longer to use than electric options
Best Manual-Twist Nose Hair Trimmer
Groom Mate Platinum XL
Key Specs
Power Source: Manual
Length: 2.4 in.
This old-school two-handed twist of a trimmer is still preferred by many, largely because of its durable platinum shell. It's got heft, and the manual act of twisting this pen isn't all that arduous. If you want a sleek, easily totable, not-so-easily corroded device, then here it is.
Compact and portable
No batteries or charging required
Requires two hands to operate
Best Multipurpose Trimmer
Conair Man Ear and Nose Hair Trimmer
Key Specs
Power Source: 1 AA battery
Run Time: 60 min
This device is foremost a nose and ear hair trimmer, but it also has a detailer and electric shaver attachment, which are particularly helpful at cleaning up the hairs around the nose (that is, the mustache and beard lines). Customize your facial hair style and clean up your nostrils in one charge.
In addition to nose and ears, also cleans up eyebrows, sideburns, neckline, and facial hair
Triple-angled clipper mows through hairs better than other picks (which isn't necessary for the nose but could be beneficial on facial hair cleanup)
The non-nozzle tip cuts nose hair shorter than nozzle options
Not waterproof
Best Grooming Kit with Nose Hair Attachment
Philips Norelco Multigroom 7000
Key Specs
Power Source: Rechargeable lithium-ion battery
Run Time: 5 hr
And this device is foremost a beard trimmer, but it has just about every attachment in the books (19 in all), including a terrific nose hair trimmer. So, if you want one kit that manages all of your hirsute needs, get the Multigroom.
Seamlessly integrates nose hair trimming into grooming regimen
Wet/dry usage
Quick two-hour charging time
Ample options are a blessing and a curse: This has more attachments than you know what to do with—but at least nose trimming is straightforward
Best No-Frills Nose Hair Trimmer
Braun Ear and Nose Trimmer
Key Specs
Power Source: 1 AA battery
Run time: 2 hr
A nose hair trimmer doesn't need to be special. It can simply be a battery-powered trimmer that you take out once every month or two for all of 15 seconds. In that case, Braun's can be the single trimmer you need to purchase in this lifetime. (OK, to be sanitary, maybe replace it after five years, but in that period of time, enjoy it without any woes.)
Safe to rinse trimming head under water
Long battery life
Larger than other purpose-built alternatives
Best Tweezer for Nose Hair—If You Must
Tweezerman Point Tweezer
Key Specs
Power Source: Manual
Length: 5.7 in.
Again, it's not wise to entirely remove your nose hairs, because you need them to trap dirt and other particles on their way in and to catch mucus on its way out. Still, every so often you'll see a nose hair that is so near the outer opening of your nostril that it merits a plucking, simply because trimming it would still leave it on full display. For this, you have our blessing, but only if you do it with a very precise, pointed tweezer that won't tug. It's this Tweezerman to the rescue for those quick, easy extractions.
Aligned tips make full-root extraction easy
Doubles as ingrown-hair remover for elsewhere on body (whereas slanted edge tweezers are recommended for eyebrows)
Limited utility as a nose hair maintenance tool
This content is created and maintained by a third party, and imported onto this page to help users provide their email addresses. You may be able to find more information about this and similar content at piano.io
Most Related Links :
honestcolumnist Governmental News Finance News