News
The 10 Best Pool Toys for Summer 2021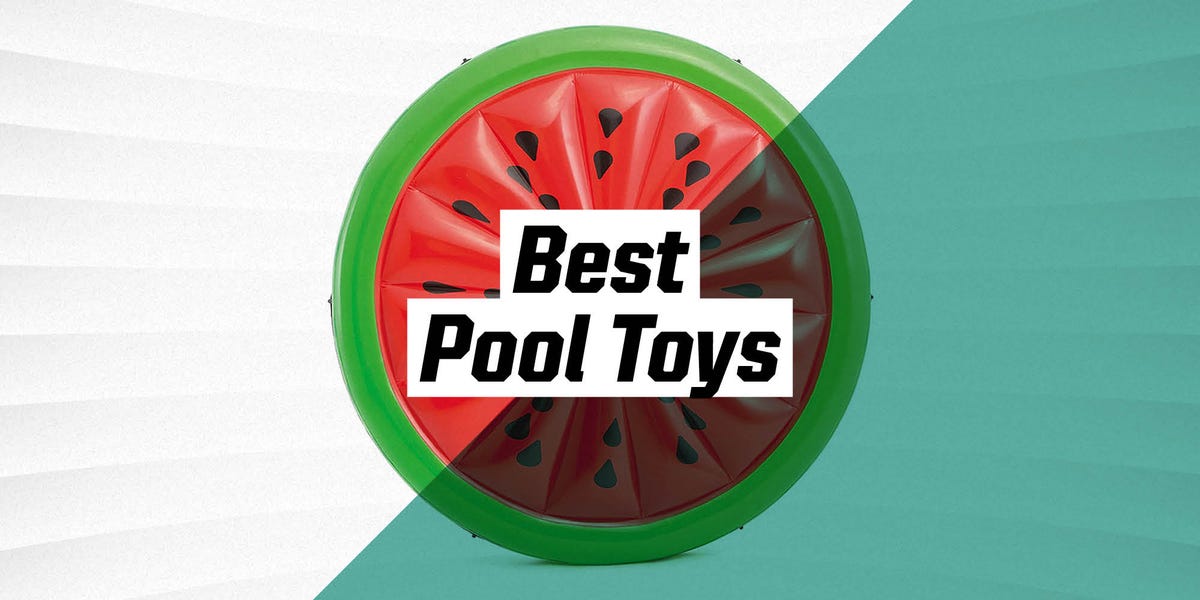 Summer is here, and if you have a pool, then you're already in a very happy place. But if you want to kick the fun up an extra notch, then feast your eyes on the amazing array of toys that will make the hottest summer days even cooler.
What to Consider
For more social play, choose a pool toy that can be used with others. But if you're looking for alone time, we have options for you too. If you're trying to encourage relaxation, a pool float will do the trick. To keep water in the pool, stay away from water blasters and go with toys for diving and swimming. Obviously, you'll want to keep your pool party's age range in mind to make sure your toy is age appropriate.
How We Selected
We reviewed hundreds of pool toys, keeping a range of needs and desires in mind. All of our selections aim to be wallet-friendly and durable. We also only picked items that received the thumbs up from both professional reviewers and customers.
Advertisement – Continue Reading Below
1
Best Diving Challenge
Diving Masters Treasure Chest Pool Diving Game
Prime Time Toys
amazon.com
$24.68
Your mini mermaids and pirates will dig the diving challenge of Splash Bombs Sunken Treasure Chest Diving Game. Your divers will also be able to strengthen their swimming and diving skills while having a blast. 
The game includes a sinkable 8 x 5 x 8-inch chest with 39 coins. Reviewers raved about the chest, saying their kiddos "absolutely love" it and stay busy for hours diving for treasure. Best for ages 6 and up.
2
Best Party Float
Intex Inflatable Watermelon Island
What pool party couldn't be made better by a six-foot floating watermelon island? It's big enough for two adults and two to four kids to catch rays and spread out. 
The floating watermelon can be inflated with an air pump, and it comes with a repair patch. Reviewers raved about the float, saying it works great for the pool, but is perfect for beach and lake parties as well. Best for ages 4 and up.
3
Best Water Blasters
ToyerBee Water Blasters (Set of 6)
This six-pack of 15.9-inch long water guns shoots water more 35 feet. They are simple and light enough for younger kids to use, just immerse the nozzle in water, pull the handle to inject water, then aim and shoot. These water blasters are made of nontoxic materials and eco-friendly plastic. 
Caregivers say that these blasters are huge hits for the entire family, with amazing bang for the buck. Best for ages 4 and up.
4
Underwater Surfboard
Poolmaster Swimming Pool Underwater Surf Board
Poolmaster
amazon.com
$30.83
This underwater surfboard is made from durable foam that will withstand rough play. The curved design of the 29 x 10.5 x 2-inch board makes for optimal balancing. 
Reviewers attest to its sturdiness, with one 270-pound customer writing that it works well, and that they don't appear to be brushing up against a weight limit. Others say their teenage kids use and abuse it without signs of wear and tear. 
Best for ages 8 and up.
5
Best Floating Game for Big Kids
Joyin Inflatable Volleyball Net and Basketball Hoop
This inflatable pool float set includes an inflatable volleyball court with two weight bags, an inflatable basketball hoop, an inflatable volleyball and an inflatable basketball. 
The volleyball court measures 105 x 28 x 35 inches, and the basketball hoop measures 27 x 23 x 27 inches. 
Reviewers say the set-up is easy, and once up, the nets are sturdy. Best for ages 8 years and up.
6
Best Floating Game for Little Kids
H2OGO! Pool Play Game Center
Bestway Toys
amazon.com
$19.95
The whole family (especially the littles) will love this floating game center. Made from durable PVC, the 24-inch inflatable center will withstand serious use all summer long. 
There is a basketball hoop and a ring-toss game built-in. The floating center includes one inflatable basketball and three rings. Best for ages 3 years and up.
7
Best Pooch Float
Milliard X-Large Dog Float
Milliard
amazon.com
$59.99
If your do enjoys the pool party but you'd rather not have him swimming around, this dog float allows him to be a part of the group. The floating pooch raft measures 60 x 45 x 9 inches, and supports up to 220 pounds. It is also sturdy enough to withstand dog claws, and is UV-resistant. 
When your dog is finished with the pool, you can flip it over and fill it with your favorite beverages for a floating bar cart. Reviewers say their dogs of all sizes love it, even the pups who are afraid of the water.
8
Best Swimming Rings
Water Sports Swim Thru Rings (Set of 3)
Water Sports
amazon.com
$19.99
If you want to get into the Olympic spirit, you can turn your own pool into an obstacle course with these underwater 11.5-inch swim-through rings. It also helps kids get the hang of underwater swimming while playing. 
The rings unfold easily and take seconds to inflate, and each pool hoop has adjustable air chambers so you can choose your own underwater depth. Best for ages 8 and up.
9
Best Educational Toy
SwimWays Gobble Gobble Guppies Water Toy
SwimWays
amazon.com
$8.99
These Swimways Gobble Gobble Guppies are a great way to keep preschoolers busy in the water while also reinforcing counting skills. Each guppy is numbered one through four. These guppies are easy to use for little fingers, and the whale has an easy-squeeze trigger. Reviewers say it keeps their toddlers busy for hours. Best for ages 2 years and up.
10
Best Ride-On Toy
Intex Inflatable Wave Rider
This ride-on Intex toy is 46 x 30.5 inches, give it a wide base for stabilization and an enjoyable ride even for young kids. 
The ride-on also features kid-friendly heavy-duty grab handles. The toy comes with a repair patch and two air chambers for added safety. Reviewers say the weight maxes out around 70 pounds, but that it makes for hours of happy play in the water. Best for kids 3 years and up.
This content is created and maintained by a third party, and imported onto this page to help users provide their email addresses. You may be able to find more information about this and similar content at piano.io
Advertisement – Continue Reading Below
Most Related Links :
honestcolumnist Governmental News Finance News