News
The 10 Best Swing Sets Will Turn Your Backyard Into a Kid-Approved Paradise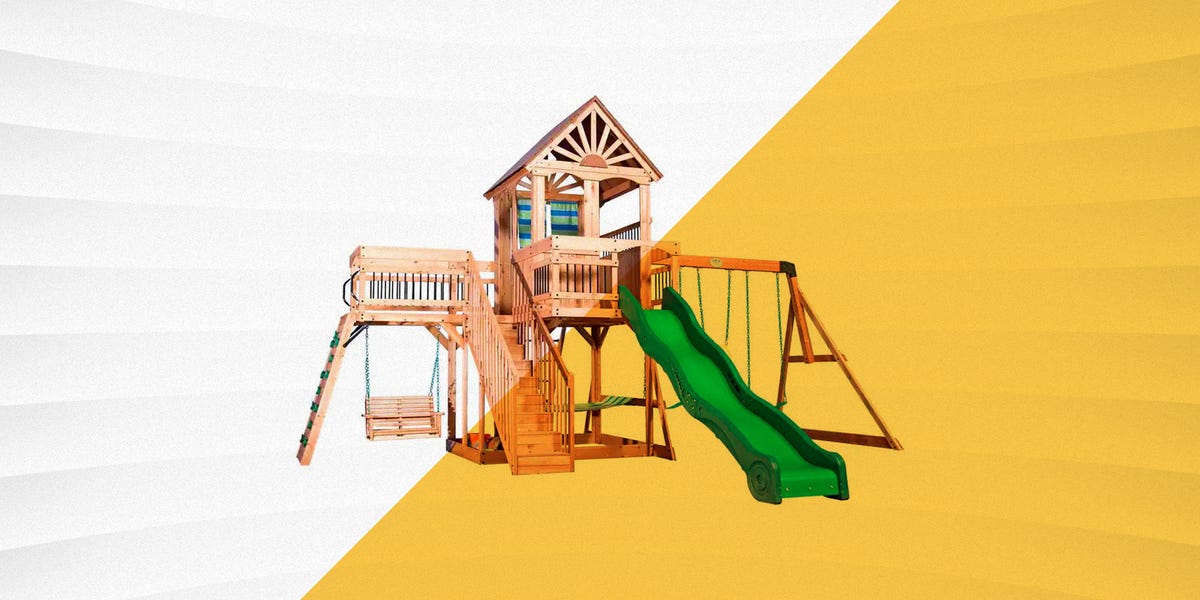 Staff, Courtesy of Backyard Discovery
No matter your age, nothing beats the feeling of swinging back and forth on the playground swings. The thought alone is often enough to make kids beg for a trip to (or a little more time at) the park. But if your local playground isn't conveniently located, and you've got the room and budget for it, investing in a good swing set can be advantageous in the long run. Not only will it encourage your kids to spend more time outdoors, it'll also give them a bit of a workout (pumping those legs back and forth is great for their gross motor skills) while simultaneously keeping them out of your hair when you're trying to have some quiet time at home. Plus, it'll give them something to do when their friends come over to play. It's a win-win, but it can be challenging knowing what to seek out in a swing set. To recommend the best swing sets, we consulted an expert, talked to a number of parents, and thoroughly researched the market. Here's what you need to know before delivery day.
Best Swing Sets
The Expert: Mike Powell is a structural engineer and the owner of Red Flag Home Inspection in Tampa, Florida. With over 20 years of experience, Powell has inspected hundreds to thousands of homes, many of which have swing sets and wooden playsets that were part of the inspection, to determine the cause and origin of structural failure. Powell has also assembled a number of pre-purchased swing set kits over the years and has used his expertise to construct his own playset from lumber and metal bracketry. Suffice to say he knows a thing or two about what makes a swing set safe, stable, and secure for your family.
The Basics of Finding the Right Swing Sets
Initially, you should consider what materials a set is made with; wood, metal, and plastic are the primary materials that manufacturers use. "Wood is by far the most popular in residential settings, while you see more metal in commercial/public play areas," structural engineer Mike Powell says. Look for pressure-treated or cedar wood for lasting durability. Powell does not advise using non-treated wood (though it's rare to find a commercially available model that uses this). Metal sets can be more affordable, especially with limited amenities such as swing-only designs. As for plastic sets, they tend to be more popular with families of younger children as they won't get hurt as easily bumping into plastic parts.
Swing sets also come in a variety of designs and with various features. "In a wood-based set, there are nearly unlimited amenities ranging from swings to rock climbing walls," Powell says. "Theme-based units have pirate ship sails and wheels or educational-based toys and features." Swing sets can also include playhouses and other shade structures, firefighter poles, wave slides, tunnel slides, clatter bridges, tunnels, and sandboxes. As for the swings themselves, there are also a multitude of types, such as traditional belt swings, tire swings, glider swings, platform swings, and more relaxing bench swings.
How to Choose, Install, and Maintain a Swing Set for Years of Fun, According to Expert Mike Powell
PM: What should families know about metal versus plastic swing sets?
M.P.: Assembly of an all-metal system may save you time and effort in installation, and you don't have to worry about splinters, wood rot, or distortion/deformation of the wood. Plastic swing sets are great options, particularly for those with aged children that will outgrow the playset in several years. They are not recommended for long-term use outdoors, as they do not hold up as well under direct UV exposure. If used outdoors or in a commercial or public environment, I would ensure that the plastics used are rated for this use (which typically means they hold up to exposure/elements more gracefully).
PM: How can someone ensure their playset is safely anchored into the ground?
M.P.: If a kit is purchased, the manufacturer's recommendations should be rigidly followed. Most kits come with ground anchors similar to those used on mobile homes and other surface devices in high wind areas like Florida. They are helical screws that are rotated into the ground to a given depth and bolted to the legs of your playset. This makes them easy to install and uninstall or move, and provides solid strength in normal soil conditions. The eyebolts of the helical screws remain at the base of the posts, which can create a tripping hazard. This connection strategy is also weaker than a concrete embedment option.
The concrete embedment option is where a bracket or the posts themselves are encased in concrete (and left to cure for at least 24 hours before use). Concrete embedment gives a solid connection, but take care to ensure that the concrete [sits] below grade, as it can become an impact hazard if left exposed. Using this option will require quite a bit of work to break [the swing set] free of the concrete. This option is not advisable if you are renting the space or considering relocation, as it becomes more of a permanent installation.
More Backyard Fun: The Best Wooden Playsets for Hours of Outdoor Fun • 12 Sturdy Trampolines the Whole Family Will Love • Kids Will Zoom Around on These Great Electric Scooters
PM: What advice do you have for someone who is installing their own swing set?
M.P.: My greatest advice is to pre-plan the entire situation from start to finish. Start with your available space and terrain [to] determine what size kit you can accommodate. Then determine your ability to complete the build, and [if need be,] hire supplemental or primary labor to get it done safely. Once at this point, make sure you have all the components necessary prior to commencing construction and ensure you have an anchoring strategy to keep it all in place regardless of the conditions thrown at it.
PM: How can readers extend the life of their swing set?
M.P.: By performing maintenance on the playset annually, in accordance with the manufacturer's guidelines. This process would include lubrication of the moving/metallic components. Additionally, the fasteners should be checked periodically to ensure proper attachment. You can do a "hammer" test, where you tap the bolts with a hammer; and a solid sound means it's tight, while a hollow sound means it needs tightening. If the set is painted, make sure you up-keep the finish when it shows signs of cracking or wear. Metals should not have any visible oxidation [to prevent rust]. Surfaces should remain painted or treated to prevent rust/oxidation. Once you find rust development, it must be abraded to remove it and sealed to prevent strength loss.
[For wooden swing sets,] this process would include maintaining a water-resistant stain/seal over the wooden components. I would also look for splinters and/or fracturing of the wooden members. If you see any, they can be broken [off] or sanded down to no longer pose a threat to the children playing on them.
How We Evaluated These Swing Sets
To recommend swing sets, we first looked into whether sets were ASTM-certified—that is, if they had been tested according to the methodology developed by the American Society for Testing and Materials, a standards development organization. All but one set (the SportsPlay ADA Swing Platform with Frame) are ASTM-certified. Additionally, we considered structural engineer Mike Powell's advice on the best materials for swing sets, prioritizing cedar and metal models and including a couple of plastic sets that are geared toward younger children (when longevity isn't quite as important as safety).
Furthermore, we surveyed customer feedback on sites like Home Depot, Walmart, Wayfair, and Amazon, referenced other articles about swing sets, and asked parents what their preferred sets and brands were. Finally, we considered the size, cost, as well as the array of features of each model and made sure to include a variety that fit into different budgets, backyard sizes, abilities, and general needs. Some kids might enjoy a bench swing versus a tire swing, while others might simply want a good ol' belt swing. Our recommendations of the 10 best swing sets reflect this variety of interests.
Best Value
Creative Cedar Designs Cedar Chalet Wooden Swing Set
It's a pretty basic swing set design that helps you save on space and cash. Grown-ups can play, too!
Some reviewers have mentioned some difficulty with assembly; consider hiring outside help
Key Specs
Age Range: 3–12 years
Weight Capacity: 600 lb.
Primary Material: Cedar
Dimensions (L x W x H): 17.6 x 9.1 x 9.2 ft.
Although you can easily find cheaper swing sets, odds are the weight limit will also be drastically reduced—meaning the set will have a limited life span. But the Cedar Chalet can withstand more weight and stays under the $1,500 mark. It includes two belt swings, trapeze rings, a climbing wall, single slide, and a small crow's nest and sand box to keep littles entertained.
Most Affordable Full-Size Swing Set
Sportspower Super Star Swing, Saucer, and Slide Set
Three types of swings included, so kids don't fight over control of the swing
Includes a slide
Lower price tag
Kids will outgrow this set within a few years due to weight limitations
Adults can't use
Key Specs
Age Range: 3–8 years
Weight Capacity: 700 lb. (100 lb. per child)
Primary Material: Steel
Dimensions: 14.75 x 8.6 x 6 ft.
This is an excellent introductory swing set for families whose children go wild for swings. Featuring two belt swings, a two-person glider swing, plus a saucer swing (which can also hold up to two kids), this affordable set will keep your younger kiddos happily swinging all day long.
Best Swings-Only Set
TiramisuBest Outdoor Steel 3-in-1 Swing Set with Height Adjustment
Lots of swing style options to choose from, including a glider that's best enjoyed with a friend
Budget-friendly set
Kids might get bored faster without additional features beyond swings
Key Specs
Age Range: 3–12 years
Weight Capacity: 110 lb.
Primary Material: Steel
Dimensions: 4.6 x 9.2 x 5.8 ft.
If your kids are mainly looking for a swing set without any other frills, this is a solid option. This ASTM-compliant swing set features a belt seat swing, a glider, and a saucer swing so kiddos can choose which way they want to swing each time.
Best Swing Set With Tire Swing
Gorilla Playsets Sun Palace Swing Set
Has a wide number of features, including three swings (one being a tire swing), so kids won't run out of ideas for play here
Price tag is a hefty investment, though still worth it for a set that will last a long time
Key Specs
Age Range: 3–11 years
Weight Capacity: 1,125 lb. (individual feature limits vary)
Primary Material: Cedar
Dimensions: 21 x 12 x 11 ft.
Some kiddos can't get enough of a tire swing, so they'll love the one on the Sun Palace. This wooden swing set has plenty of additional features, too, including a climbing wall, monkey bars, wave slide, tic-tac-toe game, a steering wheel, and telescope for imaginative play. All that and more make it well worth the price tag.
Plastic Swing Set
Step2 Naturally Playful Adventure Lodge Play Center with Glider
Great for younger kiddos
Lower to the ground which prevents against injuries
Plastic components won't hold up as well as metal and wooden sets against UV rays (though claims to be weather resistant all-around)
Kids will outgrow this set sooner
Key Specs
Age Range: 36 months–8 years
Weight Capacity: 75 lb. per swing, 300 lb. for playhouse
Primary Material: Plastic
Dimensions: 16.75 x 8.5 x 7.4 ft.
This kid-friendly set from trusted brand Step2 offers belt swings, a two-person glider swing option, as well as a number of other fun features such as a slide, playhouse, and a basketball hoop (though the ball isn't included). Plastic sets can be a great option for younger children to avoid potential splinters from wooden sets or burns and injuries from metal sets, particularly on hotter days.
Best Set with Monkey Bars
Backyard Discovery Skyfort II Swing Set
Monkey bars and picnic table will engage older kiddos, while younger kids will dig the glider swing and telescope
Taller features mean kiddos might be more susceptible to falls from higher up; adult supervision recommended
Key Specs
Age Range: 3–10 years
Weight Capacity: 1,350 lb.
Primary Material: Cedar
Dimensions: 16.6 x 22.6 x 12.4 ft.
If your swing-loving kids are also wild about the monkey bars, the Skyfort II is the set to go for. This spacious playset also boasts a climbing wall ('cause kids gotta climb!), two belt swings, a glider swing, and a three-story playhouse with a picnic table and telescope for endless outdoor play.
Best Set with Unique Features
Lifetime Big Stuff Adventure Swing Set
Multiple swing options plus plenty of less-common features to keep kids engaged
Some of the unique features (like the car map and binoculars) might not be as exciting to older children
Expensive
Key Specs
Age Range: 3–12 years
Weight Capacity: 150 lb. for belt swings, slide, trapeze bar; 300 lb. for spider swing
Primary Material: Powder-coated steel
Dimensions: 15.4 x 13.75 x 11 ft.
This swing set has plenty of fun and unique features, including a clubhouse with chalkboard, climbing walls, a ship's wheel, binoculars, plus side-by-side wave slides for the more competitive kiddos looking to have a race. And there's multiple swinging options including two belt swings, a trapeze bar, and a spider swing to install among the three hanging spots.
Most Relaxing Swing Set
Backyard Discovery Caribbean Swing Set
Great investment for kids who enjoy relaxing outdoors after active playtime
Parents can hang out on the bench swing while kids play elsewhere
Large footprint might not work for smaller yards
Key Specs
Age Range: 3 and up
Weight Capacity: 1,080 lb.
Primary Material: Cedar
Dimensions: 16.4 x 20.5 x 12.3 ft.
Although most swing sets include features to go wild on, this set also has a few features that are great for low-key relaxation. Not only does this set have a 10-foot slide, two belt swings, and a trapeze, but it also has a clubhouse with a hammock underneath (great for reading a good book in the shade) as well as a two-person bench swing.
Best For Toddlers
Costway 4-in-1 Toddler Climber and Swing Set Slide Playset
Inexpensive
Created with toddler safety in mind so you won't have to worry about bumps and bruises
Limited use as older children likely won't want to play with it
Key Specs
Age Range: 1–6 years
Weight Capacity: 110 lb. for swing, 88 lb. for slide
Primary Material: Plastic
Dimensions: 4.6 x 5.8 x 3.6 ft.
For littles who are just beginning to toddle, this colorful compact set is ideal and can be used indoors as well as outdoors (though preferably under some shade to avoid too much UV exposure). The safety belt and forward-leaning guardrail allow your young child to swing happily without incident, and the anti-slip steps up to the slide add extra traction.
Best Set For Wheelchair Users
SportsPlay ADA Swing Platform with Frame
A great choice for individuals and families who use wheelchairs
Comes with a hefty price tag, unfortunately
Key Specs
Age Range: 5–12 years
Weight Capacity: 700 lb.
Primary Material: Galvanized steel
Dimensions: 8 x 8 x 8 ft.
Wheelchair users enjoy swings as much as anyone else, and although these accessible sets with platforms aren't as easy to find, SportsPlay delivers with its ADA Swing Platform. Children or adults can use this set that includes to-and-fro hangers to keep riders secure as they swing.
This content is created and maintained by a third party, and imported onto this page to help users provide their email addresses. You may be able to find more information about this and similar content at piano.io
Most Related Links :
honestcolumnist Governmental News Finance News