News
The 7 Best Controller Grips for Improved Comfort and Precision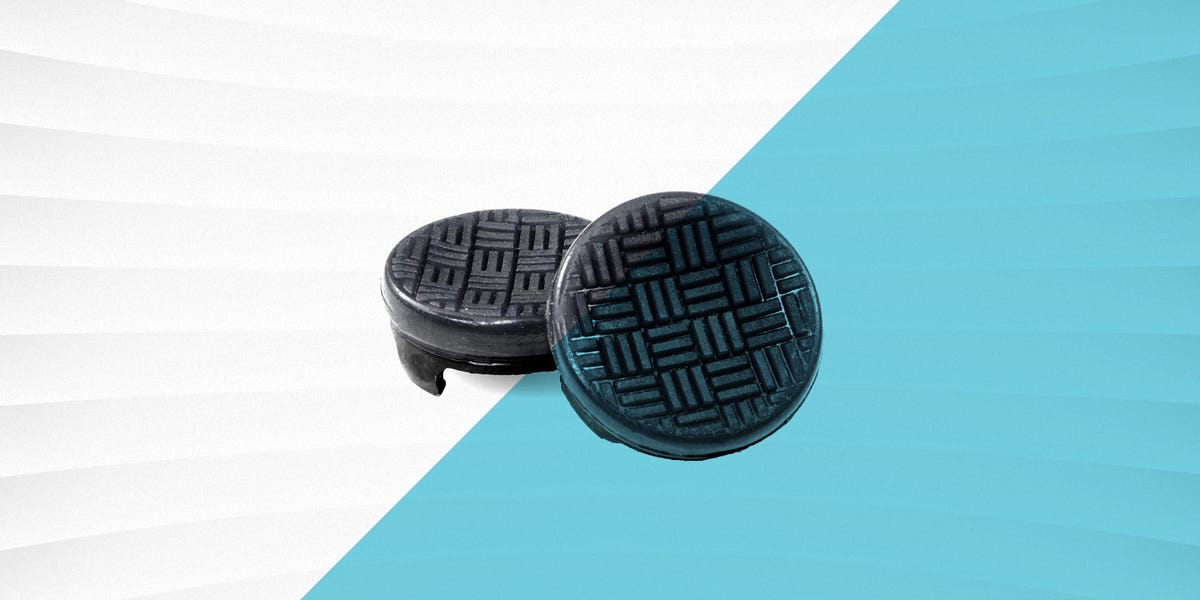 Staff, Courtesy of KontrolFreek
After years and years of continued use, controller grips of all varieties can start to look a little ragged. Especially with intense, competitive games, having a worn-down, ripped, or overly smooth thumbstick can make it harder to execute the precise, minute movements needed to win. While the stock thumbsticks on the latest gaming controllers are serviceable, many pro gamers opt for attachable thumb grips for more precision and durability. We'll review some of the best ones available, and explain why a pair of dedicated thumb grips might be right for you.
What to Consider
There are a few things to keep in mind when shopping for dedicated thumbstick grips.
The main concern is thumb grip height, or "rise." Many thumb grips place your thumb much higher than stock thumbsticks. The reason for this additional height is precision: By placing the thumb at a higher point, it is easier to input slight and minute movements. Taller thumb grips are popular for genres like first-person shooters, where slight inputs make the difference between a headshot and a missed kill.
Decide which types of games you'll mostly be playing, and keep those genres in mind when deciding on the best thumb grip for you.
How We Selected
We strive to rigorously test every product we recommend. For those products we can't test ourselves, we perform intensive research, reviewing content from expert sources like PC Gamer, Eurogamer, IGN, Tom's Guide, PCGamesN, and others, as well as thousands of consumer reviews from online storefronts on Amazon, Best Buy, and Walmart. As for the products themselves, we evaluated them on comfort, durability, performance, and cost.
Advertisement – Continue Reading Below
1
Best Overall Thumb Grip
KontrolFreek Omni
KontrolFreek
amazon.com
$14.99
For folks looking to replace their controllers' aging thumb grips, or try out a dedicated thumb grip for the first time, the KontrolFreek Omni offers the best gaming experience. Made by a brand used by casual and pro players alike, the KontrolFreek Omnis offer an approachable form factor that's comfortable and durable. 
The low-rise style only adds a slight bump to height, so it's an easy adjustment for gamers trying a grip for the first time. The grips themselves offer a concave shape with a grippy cross-hatch design that's much more comfortable than a stock thumbstick. These thumb grips are also wider than stock ones, offering more surface area for precise control.
The KontrolFreek Omni are available for Playstation and Xbox (use these if first are still sold out) systems.
Low-rise design
Textured concave grip
Wider surface area
2
Best for First-Person Shooters
KontrolFreek FPSFreek Galaxy
KontrolFreek
amazon.com
$16.99
For fans of FPS games, the KontrolFreek FPSFreek Galaxy is game changing. Unlike the Omnis, the Galaxy comes with two different thumbsticks, one mid-rise, meant for the left joystick, and one high-rise, meant for the right. 
The right high-rise thumbstick may take a little getting used to, but it offers a whole new world of control and precision compared to stock thumbsticks. The higher height makes small, slight inputs much easier, making precise aiming more attainable and less fatiguing when compared with stock thumbsticks. Both thumb grips feature textured, concave designs that are comfortable and very grippy.
The KontrolFreek FPSFreek Galaxy is available for Playstation and Xbox systems.
Mixed height thumb grips
High-rise thumb grip is great for FPS
Textured concave grip
3
Best Thumbstick Covers
Grip-iT Analog Stick Covers (4-Pack)
Total Control
amazon.com
$4.99
For gamers simply looking to cover up a worn down thumbstick without any major adjustments to height or gameplay, check out the Grip-iT analog stick covers. Like KontrolFreek, Grip-iT has been making thumb grips for over a decade, and their Grip-iT analog stick covers have stood the test of time. 
With barely any added stick height and a convex design, the Grip-IT are very similar in shape to stock thumbstick covers. However, they offer much more grip and comfort with their textured design. They come in an affordable four-pack and fit PS4, PS3, Xbox One, Xbox 360, and Switch Pro controllers.
Familiar shape and height
Textured, grippy design
Not fit for new PS5, Xbox Series, or Switch Joy-Con controllers
4
Best Thumb Grip Variety Pack
AceShot Thumb Grips (8-Pack)
Foamy Lizard
amazon.com
$9.99
For Xbox users looking to try out a variety of thumb grip heights and shapes, consider the AceShot thumb grip eight-pack. The main draw here is the variety, with four distinct pairs of thumb grips included, including a pair of convex low-rise, convex high-rise, concave low-rise, and concave high-rise grips. The convex grips in particular feature a dotted texture cap that adds a good amount of grip for precision during intense moments. Overall, AceShot offers an affordable, quality variety pack that's great for experimentation.
Variety of heights and shapes
Affordable
Only for Xbox-type controllers
5
Best Thumb Grip for Switch
Skull & Co. Skin Joystick Caps
Skull & Co.
amazon.com
$9.99
While the thumbstick market is largely focused on Playstation and Xbox, there are still great thumbsticks out there for Nintendo Switch lovers. The best of the best are the Skull & Co. Skin Joystick Caps, offering a great mix of flexibility and precision for an affordable cost. 
With the Skull & Co. skin caps, you get three pairs of thumb grips, each pair at a different height. Mix and match different rise thumb grips to create the perfect controller layout for you.
Three pairs of varying height stick caps
Affordable
Variety of colors
6
Best Thumbstick Cover for Switch
Ferkurn Replacement Caps (8-Pack)
For Switch fans simply looking to cover up aging thumbstick caps, Ferkurn's replacement caps have you covered. Offered in an affordable pack of eight, these Ferkurn caps are as close to regular Joy-Con caps as you can get (without buying new Joy-Cons). 
Fit for Switch and Switch Lite, they replicate the Switch's stock convex design, even adding notches at each cardinal point of the cap. For simple replacement caps, Ferkurn keeps it basic and effective.
Close to stock design
Works for Switch and Switch Lite
7
Best Grips for Joy-Cons
FastSnails Joy-Con Grips
FASTSNAIL
amazon.com
$13.99
Separate from any thumb grips or thumb caps, you may want a more comfortable way to grip your Switch Joy-Con in the first place. Luckily, the FastSnails Joy-Con grips are just that: durable, comfortable, rubberized Joy-Con grips. Simply slot a singular Joy-Con into the horizontal grip and viola, you have a much more comfortable, traditional controller grip.
The FastSnails Joy-Con grips also come with three pairs of thumbstick caps, two low-rise and one high-rise, meaning you can experiment with heights to find the perfect single Joy-Con setup.
Added grip is much more effective than single Joy-Con
Also comes with thumbstick caps
Affordable
Only useful for horizontal Joy-Con use
This content is created and maintained by a third party, and imported onto this page to help users provide their email addresses. You may be able to find more information about this and similar content at piano.io
Advertisement – Continue Reading Below
Most Related Links :
honestcolumnist Governmental News Finance News