News
The 8 Best Photo Printers For Budding Photographers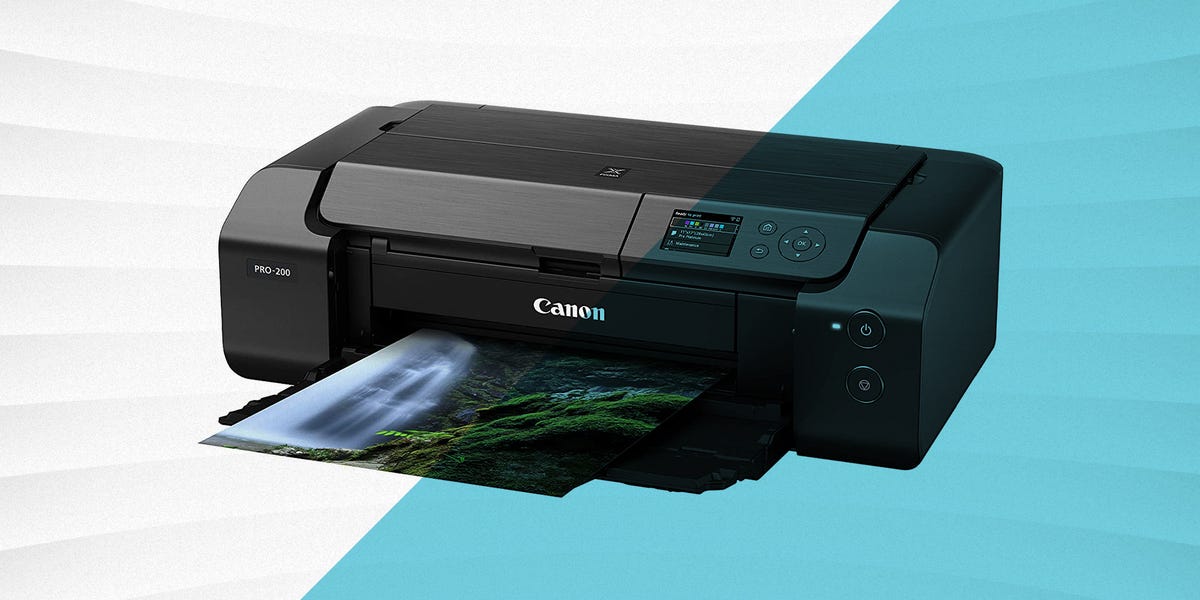 It's true that just about any inkjet printer can print your photos nowadays. But if you're a budding photographer who wants top quality, you can benefit from a dedicated photo printer. If you prefer your photo printer to pull double-duty in your home office to print other documents, we found some great all-in-one printers that still produce excellent prints. Read more below about the types of printers to consider, what features you should look for, and more tips for how you can get the best prints from home.
Types of Photo Printers
Near-dedicated photo printers: Aimed toward amateur photographers, these photo printers offer more professional quality and can usually print up to 13 by 19 inches, also known as A3+ or 13-inch printers.
Snapshot printers: These are designed to print only small photo prints, including 2 by 3 inches, 4 by 6 inches, or 5 by 7 inches, but won't support letter-sized paper. Compared to all-in-one printers, they're fairly compact and portable.
All-in-one printers: These inkjet printers can do more than photos, including regular text documents as well as scanning, copying, and faxing. Some inkjets come with more than just cyan, magenta, and yellows inks, though, which make them better for photo printing.
Dye vs. Pigment Inks
We interviewed UK architectural photographer Keith Cooper, who has been testing printers and color management kits for over 15 years, for his advice on how to decide between dye versus pigment-based ink printers.
Pigment inks can produce prints that are considered archival quality, which is important if you're selling fine art prints, but may not be worth the additional expense, compared to dye inks, for you. "If you are interested in black and white printing, then pigment inks are invariably better," says Cooper. Pigment inks also often have a wider color gamut, and pigment ink printers may come with extra ink colors like grey, which produce better black-and-white photos. However, in addition to generally being more affordable, dye-based inks can produce superior results for ultra glossy prints, so your decision depends on your photo printing needs, if you want your photos to last over a lifetime, and your budget.
With all inks, it's also important to stick with the ink by the same brand as your printer to ensure compatibility and quality, instead of cheaper and lower-quality third-party inks.
How to Print the Best Photos From Home
Cooper also provided tips for photographers looking to improve the quality of their prints from home, besides investing in a quality printer. For one, he recommends learning the basics of color management, such as using printer profiles and calibrating your computer monitor.
The quality of photo paper you use is also just as important as the printer itself. But Cooper recommends to not "get carried away trying paper after paper to search for 'better printers' until you have mastered a few basic paper types." If you're new to photo printing, start with a few basic papers and experiment with printing test images to learn the process. In the end, "learning to print is a wonderful way of improving all aspects of your photography," according to Cooper.
That being said, if you print infrequently, the price of the printer and its associated maintenance may not be worthwhile for you. Amateur photographers who want the occasional professional print are better off going with a professional printing service, and those who just want occasional family photos on standard 4 x 6 glossy paper can go to the local drugstore printing service. A good rule of thumb is that you should use your printer at least every two weeks to help extend its life and prevent ink from drying, so be realistic about the type of equipment you really need before investing in one of these printers.
How We Selected
In addition to consulting with photography printing expert Keith Cooper, we researched six expert sources including PC Mag, Digital Camera World, and Tech Radar to determine the best photo printers. We considered a variety of printer and ink types, including pigment and dye-based photo printers, all-in-one inkjets, and portable snapshot printers, so we're confident one of these printers will meet your needs no matter what type of photos you want to print. In addition to expert reviews, we also considered consumer reviews from sites like Amazon to determine how user-friendly and reliable these models are.
---
Professional Quality
Epson SureColor P700
• Ink type: UltraChrome Pro 10 Pigment
• Paper sizes: Rolls and sheets up to 13 in.
• Connectivity: USB 3.0, Ethernet, Wi-Fi
• Dimensions: 25 x 20 x 14 in.
The Epson SureColor is equipped to print all kinds of media on built-in roll paper or sheets up to 13 inches wide. Compared to the previous P600, the new ink feed system allows it to seamlessly transition between matte black and photo black, so you won't need to switch out ink types. Its design is also a bit more compact (though it's still a large printer), and it has an easy-to-use 4.3-inch LCD touchscreen display. According to Wirecutter's testing, it also reigned as the fastest photo printer. Its pigment-based inks mean that fine art prints can last longer than a lifetime (which is important if you want to sell prints that meet archival quality), but keep in mind that you'll have to pay about $380 to replace the premium ink cartridges for this level of quality.
Archival-quality prints
LCD touchscreen display
Pricey
Premium ink cartridges expensive to replace
Vibrant Colors
Canon Pixma PRO-200
• Ink type: 8-color dye-based ink
• Paper sizes: up to 13 x 39 in.
• Connectivity: Wi-Fi, Ethernet, USB, CD/DVD
• Dimensions: 29 x 19 x 13 in.
The Canon Pixma Pro-200 can certainly challenge the professional photo quality of the Epson SureColor, but it does use dye-based inks instead of longer-lasting pigment ink. However, Canon's eight color system results in the best color gamut that can produce the most vibrant prints. Choose from a variety of photo papers up to a custom size of 13 inches wide to 39 inches long (with no border restrictions), and print via Wi-Fi, Ethernet, or USB ports.
Uses dye-based ink, which doesn't last as long as pigment ink
Portable
HP Sprocket Select
• Printing technology: Zink
• Paper sizes: 2.3 x 3.4 in.
• Connectivity: Bluetooth
• Dimensions: 5 x 3 x .7 in. 
This portable photo printer by HP uses Zink technology, which stands for "zero ink" and means that the print paper itself holds the ink, which is released through a pressure-printing process. Therefore, you must use HP's Zink 2.3 by 3.4-inch sticky-backed paper with this printer. But the perks of this technology mean that the Sprocket is super portable at only 5 x 3 inches, so you can use Bluetooth to print right from your smartphone and hand out photos to your friends and family while making memories.
Small and portable
Prints right from your smartphone
Works only with HP's Zink sticky-backed paper
Great All-In-One
Canon Pixma TS9520
• Ink type: PGI-280 Pigment Black and CLI-281 Dye Based Ink
• Paper sizes: up to 11 x 17 in.
• Connectivity: Wi-Fi, Bluetooth, Ethernet, USB, SD Card
• Dimensions: 19 x 15 x 8 in.
Though not quite a dedicated photo printer, this all-in-one Canon Pixma is known for producing quality color and black-and-white photos. Its 5-color individual ink system utilizes both pigment and dye-based ink, so you can get the best quality whether printing glossy photos or black text documents. Compared to other inkjets that only use cyan, magenta, and yellow, this system includes two black inks to make both text and photos appear deeper and richer. It supports a range of paper sizes up to 11 by 17 inches and has an SD memory card reader to easily print right from your camera, or wirelessly through the Canon Print app.
Uses two black inks that make text and photos appear richer
Not a dedicated photo printer
Refillable Inks
Epson Expression EcoTank ET-7700
• Ink type: Five EcoTank™ Ink Bottles
• Paper sizes: up to 8.5 x 11 in.
• Connectivity: Wi-Fi, Ethernet, USB, SD Card
• Dimensions: 17 x 14 x 7 in.
Instead of replacing ink cartridges, Epson's EcoTank line of printers are known for their refillable ink tanks. This printer comes with up to two years' worth of ink in the box, and you can save in the future with their lower-cost replacement bottles, though the EcoTank printer itself comes at a higher cost. This printer also uses a five-ink system with a 512 black and photo black, which improves the quality compared to three-ink inkjets. We like that it has dedicated trays for letter-sized paper and photos. However, if you need to print above the standard letter size, you may want to opt for the more powerful EcoTank ET-8550, which is 13 inches wide and uses a six-color Claria ET photographic dye set.
Comes with two years' worth of ink
Dedicated tray for letter-size paper and photos limits size
Stylish Smartphone Printer
Canon SELPHY QX10
Canon
amazon.com
$149.00
$129.00 (13% off)
• Printing tech: Dye sublimation
• Paper sizes: 2.4 to 2.7 in.
• Connectivity: Wi-Fi, USB
• Dimensions: 6 x 4 x 1 in.
If you care about the style of your printer as much as the prints themselves, it's hard to beat the Canon SELPHY QX10. This portable smartphone printer uses a printing technology called dye sublimation that's similar to Zink printing, but can produce a more vibrant image due to more passes made on the paper, though you will need to replace the ink cartridges. This technology also makes photos water-resistant and durable to last up to 100 years in the right storage conditions. This printer can produce square photos between 2.4 to 2.7 inches in size, and the adhesive paper backing allows you to easily stick your favorite photos to cards, scrapbooks, and other projects. We also like that this printer can connect to your devices via Wi-Fi or USB instead of just Bluetooth like most portable printers.
Makes water-resistant and durable prints
Produces square photos between 2.4 and 2.7 inches max
Portable Polaroids
Polaroid Originals Hi-Print
Polaroid
amazon.com
$99.99
• Printing tech: Dye sublimation
• Paper sizes: 2 x 3 in
• Connectivity: Bluetooth
• Dimensions: 6 x 3 x 1 in.
Another portable printer that uses dye sublimation like the Canon SELPHY, the Polaroid Hi-Print can create vibrant polaroid-size prints right from your phone in under a minute. However, you do have to purchase Polaroid's photo paper cartridges separately. Like HP's portable printer, Polaroid similarly offers an app for you to apply filters and more customizations to your photos.
Small enough to take anywhere you want to print photos, which you can do right from your smartphone
Works only with Polaroid's photo paper cartridges
Great Value
Epson Expression Photo HD XP-15000
Epson
tigerdirect.com
$326.61
• Ink type: 6-color Clara photo ink
• Paper sizes: Up to 13 x 19 in.
• Connectivity: Wi-Fi, Ethernet, CD/DVD
• Dimensions: 31 x 19 x 16 in.
This wide format A3+ printer is fairly affordable for its ability to print photos up to 13 x 19 inches. At just $350, it's well under the cost of many other printers with comparable six-color ink systems, which add in red and gray inks for a better color gamut and improved black and white prints. It boasts more convenient printing features too, like auto two-sided printing, a 200-sheet paper tray, and a fast output of 29 black and white pages per minute.
Has auto two-sided printing
Its six-color ink system includes red and gray
This content is created and maintained by a third party, and imported onto this page to help users provide their email addresses. You may be able to find more information about this and similar content at piano.io
Most Related Links :
honestcolumnist Governmental News Finance News