News
The 8 Best Tower Speakers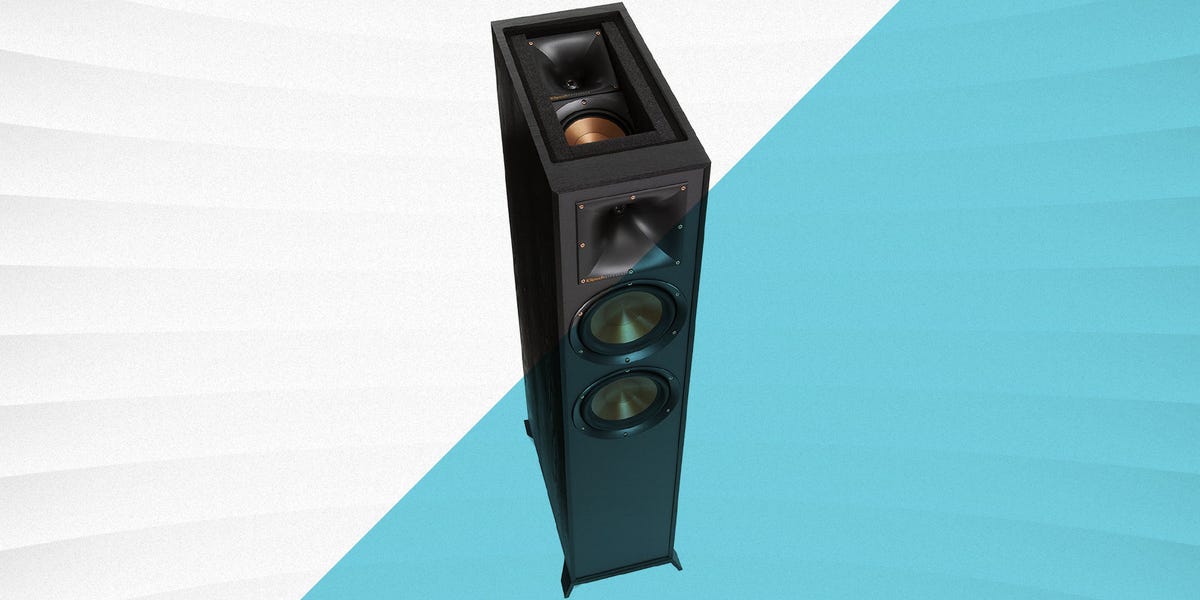 Staff, Courtesy of Klipsch
If you have the space, tower speakers—also known as floor-standing speakers—are great for getting the best sound out of your home theater system or even your record player.
Many consumers and designers might try to minimize the visual presence of speakers by installing a set in walls or ceilings, says Micah Sheveloff, a consumer electrics industry veteran and the founder of WIRC Media, a Florida-based marketing company specializing in audio and other consumer tech. Although built-in speakers can be outstanding, the detail and realism of good tower speakers is almost always preferable for music enthusiasts, not to mention free-standing speakers are easier to add to your living space.
How to Choose the Right Tower Speakers
Two- vs. Three-Way Speakers: You'll need to decide between a two-way or three-way speaker. "A two-way speaker sends the high tones to a tweeter and the low and mid tones to a woofer," explains Carl Prouty, a technologist at Abt Electronics in Illinois. "Three-way speakers incorporate mid-sized drivers to handle the mid tones and send the low tones to a subwoofer." The mid-sized driver and subwoofer make for a richer audio experience.
Two-way speakers tend to be more affordable, and Prouty recommends them if you already have, or you intend to purchase, a separate subwoofer. "But if you're using these speakers more for music, a three-way is a great choice as they already have a subwoofer built in," he says.
And in case you're thinking of purchasing a single speaker, that's generally a bad idea. "Using a single speaker will only provide half the audio, which is a very bad experience and definitely not recommended," Prouty says. He recommends two speakers to get the full stereo effect.
Listen Up: The Best Bookshelf Speakers • Bluetooth Speakers for High-Quality Audio Anywhere • 7 Wireless Surround Sound Systems for Every Budget • The Best Alexa Speakers of 2022
Amplifiers: Depending on the type of speakers you get, you'll also need an amplifier or receiver, which helps power your speakers. (For example, I use a Denon AVR-S540BT Receiver.) Make sure that the speakers you choose will work with your amplifier, unless you plan on buying another one. "If your amplifier doesn't meet the minimum power requirements of the speaker, it can cause problems," Prouty warns. You can purchase powered floor-standing speakers that don't need an amp, but in most cases, he says they won't provide the quality of sound you'd get from using a separate amplifier.
Audio Quality: Speaker sensitivity (or sound pressure level), as measured in decibels, is another factor to consider. But keep in mind that a higher sensitivity rating doesn't guarantee the best sound. The combination of many features is what determines sound quality, including the size and shape of tweeters (like cones or domes), materials (such as silk or aluminum), woofer size, frequency response, and even the cabinet quality.
Sheveloff recommends manufacturers, such as Klipsch, Polk Audio, and others, that have been making excellent speakers for decades. "These brands are renowned for applying innovative solutions that improve the experience for the listener," he says. "Driver materials, cabinet construction, port designs—these are all factors that engineers toil over to ensure best possible resolution."
And when in doubt, try it out. "Because each human ear is different and each listening room presents its own challenges, finding a way to audition tower speakers is the best way to make an informed buying decision," Sheveloff says. "Some online retailers offer flexible in-home audition policies that enable consumers to comfortably make an informed choice."
How We Selected
I've tested and written about tech and home products for a variety of digital publications, including Architectural Digest, CNN Underscored, Tom's Guide, Bob Vila, Popular Science, The Spruce, Realtor.com, Apartment Therapy, and The Daily Beast. This list includes floor-standing speakers that I've tested, as well as brand and individual speakers recommended by our experts, Carl Prouty and Micah Sheveloff, combined with extensive research on each of these products. I evaluated the speakers here based on their design, performance, and value for the money, and also included options at various price points.
Best Overall
Klipsch RP-6000F Floorstanding Speaker
Klipsch
amazon.com
$689.00
Key Specs
Dimensions: 39.6 x 9.4 x 17 in.

Weight: 49 lbs

Sensitivity: 97 dB 
We agree with Prouty that the Klipsch RP-6000F Floorstanding Speakers are the best overall option, combining quality, features, and value for the money. (I have the Klipsch RP-5000F model at home.) The speakers have a Hybrid Tractix Horn, which produces detailed high-frequency sound, and two 6.5-inch cerametallic cone woofers. The two-way speakers also have dual binding posts, removable magnetic grilles, and a frequency response of 34-25,000 Hz. "This model has great mids and highs, can handle 125 watts of continuous power, and can be bi-wired for more clarity of sound," Prouty says. The Klipsch speakers are available in piano gloss, ebony, and walnut finishes.
Hybrid Tractix Horn for detailed sound
Great mids and highs
Can be bi-wired
Probably need a additional subwoofer for more bass
Best Value
Polk Audio Signature Series S55 Floor Standing Speaker
Polk Audio
amazon.com
$329.00
Key Specs
Dimensions: 41.5 x 8.5 x 12.5 in.

Weight: 44 lbs

Sensitivity: 90 dB 
If you're looking for something a little more economical, we're in sync with Prouty that the Polk Audio Signature S55 is the best choice when you want a step up from the budget picks. Each of the two-way speakers use Power Port technology (which eliminates turbulence and distortion), 1-inch Terylene dome tweeters, and two 6.5-inch Dynamic Balance cone drivers. They have detachable magnetic grilles, dual binding posts, and a frequency response of 32 to 40,000 Hz. The Polk speakers are available in polished black walnut and washed black walnut.
Relatively inexpensive
High frequencies are amazing
Power Port technology reduces distortion
Probably need an additional subwoofer for more bass
Best High-End
Focal Aria 926 Floorstanding Speakers
Focal
amazon.com
$1,499.99
Key Specs
Dimensions: 40.8 x 11.6 x 14.6 in.

Weight: 55 lbs

Sensitivity: 91.5 dB
The third option from Prouty's top three picks, the Focal Aria 926 are high-end speakers that are worth the splurge. "I love the beautiful design with leather-effect coating, and the TNF tweeter handles high tones with minimal distortion," Prouty says. "In addition, the Flax Cone midrange drivers provide smooth mids and low bass tones, extremely accurate sound reproduction." The three-way design also includes 1-inch dome tweeters made of aluminum and magnesium, and dual 6.5-inch woofers. The Focal Aria speakers are available in black high gloss, brown, and prime walnut.
3-way speakers for rich audio
Stylish design
Accurately portrays music spectrum
Expensive
Large body might not fit everywhere
Best Budget
Polk Monitor XT60 Tower Speakers
Polk Audio
bestbuy.com
$249.99
Key Specs
Dimensions: 36.4 x 9.1 x 7.5 in.

Weight: 20 lbs

Sensitivity: 86 dB 
The Polk Monitor XT60 Floorstanding Tower Speakers are wildly popular for a reason: They're affordable speakers that aren't cheap in quality and won't eat up too much floor space. Each speaker has a 1-inch Terylene dome tweeter, 6.5-inch bi-laminate paper driver, and two 6 .5-inch passive bass radiators, which are designed to deliver great mid-ranges and bass. The black two-way speakers have a set of binding posts and a frequency response of 38 to 40,000 Hz, and they can support Dolby and DTS.
Great price
Lightweight
Space-saving
Best 3-Way Tower Speakers
Bowers & Wilkins 603 S2 Anniversary Edition
Bowers & Wilkins
bestbuy.com
$1,149.98
Key Specs
Dimensions: 41.5 x 12.6 x 14.6 in.

Weight: 53.1 lbs

Sensitivity: 88.5 dB
When its 600 series turned 25, Bowers & Wilkins released a superb celebration model. The Bowers & Wilkins 603 S2 Anniversary Edition floor-standing speakers have an upgraded version of the decoupled double dome tweeter and a continuum mid-range cone equivalent to two dedicated bass drivers. Given their size and audio quality, they're ideal for large rooms—especially if you have a home theater. The three-way speakers have a frequency response of 48 to 28,000 Hz. The anniversary edition speakers are available in black, white, and oak finishes.
3-way speaker for rich audio
Upgraded features
Great for large rooms
Large body might not fit everywhere
Best for Dolby Atmos
Klipsch R-625FA Floorstanding Speaker
Klipsch
amazon.com
$829.00
Key Specs
Dimensions: 40 x 17.3 x 9.5 in.

Weight: 49 lbs

Sensitivity: 96 dB 
The Klipsch R-625A Floorstanding Speakers aren't just floor-standing speakers. They also have Dolby Atmos speakers in the top that are aimed at the ceiling to reflect sounds and provide a more immersive experience. The speakers use Tractrix Horn technology for more accurate high-frequency sounds, and Linear Travel Suspension aluminum tweeters, along with two copper injection-molded graphic woofers. The frequency response is 38 to 21,000 Hz, and both the front and top grilles are removable.
Great for use in Dolby Atmos surround sound system
Excellent high frequencies
Best 2.5-Way Tower Speakers
Focal Chora 816 Floorstanding Speaker
Focal
amazon.com
$2,398.00
Key Specs
Dimensions: 40.3 x 15.3 x 12 in.

Weight: 40.8 lbs

Sensitivity: 89.5 dB
If you can't decide between a two-way speaker and a three-way speaker, consider the Focal Chora 816 Floorstanding Speaker, which is a 2.5-way speaker with a woofer and a mid-range/bass speaker driver. "It's reasonably priced for speaker quality and great for reproducing movie theater quality sound," Prouty says. Both components have a slatefiber cone made of non-woven carbon fibers and thermoplastic polymer. Available in black, dark wood, and light wood, the Flora Chora speakers have a frequency response of 50 to 28,000 Hz.
Available in 3 different finishes
Great for home theaters
No bi-wiring option
Expensive—even though it's good price for the performance
Most Compact
Master & Dynamic MA770 Concrete Speaker
Master & Dynamic
masterdynamic.com
$1,199.00
Key Specs
Dimensions: 14.5 x 18 x 9.5 inches

Weight: 35 lbs
Sensitivity: N/A
If you like the idea of a floor-standing speaker, but not necessarily the idea of a tower speaker taking up visual space, Master & Dynamic's MA770 Concrete Wireless Speaker might fit the bill. The low-profile speaker weighs 35 pounds, so it's heavy enough to sit firmly on your floor without fear of knocking it over. Designed with architecture Sir David Adjaye, the speaker is a work of art. It has a Class D amplifier, 4-inch woven long throw woofers, and a 1.5-inch titanium dome tweeter. The concrete composite provides excellent acoustics, and there are inputs for your turntable, TV, and other sources. The speaker has Bluetooth 4.1 with LE, works with Chromecast, and has inputs for optical and a 3.5 mm aux cord. It comes with a power cable and magnetic grille and can be used alone or paired. The speaker is available in either gray or black.
Low profile design that isn't boxy
Works with Chromecast
Superb audio
Less powerful than some speakers
This content is created and maintained by a third party, and imported onto this page to help users provide their email addresses. You may be able to find more information about this and similar content at piano.io
Most Related Links :
honestcolumnist Governmental News Finance News