News
The 9 Best Wooden Playsets for Hours of Outdoor Fun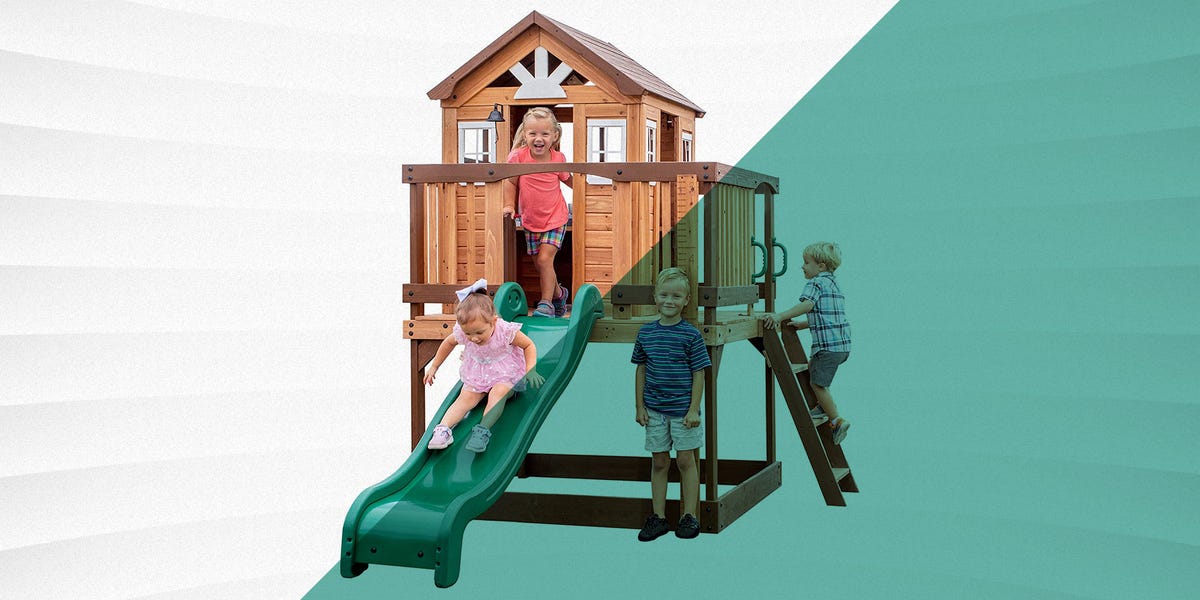 Staff, Courtesy of Backyard Discovery
Taking kids to the park is great, but there's something to be said about being able to bring the park to you. That is to say, being able to set up a wooden playset in your own backyard is lovely and convenient for a slew of reasons. For one, it inspires kiddos to spend more time outside. For another, you won't have to pack up the kids (and the snacks and the toys) and haul them to your local playground. And for the less sociable parents? It also means not having to make awkward small talk with the other parents. Wooden playsets are perfect for keeping kids entertained and active for hours. But how do you pick one out? To recommend the best wooden playsets, we consulted an expert and a number of parents, and thoroughly researched the market. Here's what you need to know before delivery day.
Best Wooden Playsets
The Expert: Mike Powell is a structural engineer with over 20 years of experience and the owner of Red Flag Home Inspection in Tampa, Florida. He has inspected hundreds to thousands of homes, many of which have wooden playsets and swing sets that were part of the inspection, to determine the cause and origin of structural failure. Additionally, Powell has assembled a few swing set kits over the years and also used his expertise to construct his own playset from lumber and metal bracketry. Simply put, he knows plenty about what makes a wooden playset safe, stable, and secure for your kiddos.
Finding the Right Wooden Playset for You
You'll want to consider things like how much space you have in your yard to dedicate to a playset and what kinds of activities your child or children enjoy when at their local playground. You'll also want to consider the size of your family. Unless your child is frequently bringing friends over to play, a one-child household probably won't require as large a set as a family with five children. You'll also want to consider the materials. Cedar and redwood are among the most termite- and weather-resistant types of wood, making them the preferred lumber for wooden playsets.
How to Install and Maintain a Wooden Playset for Years of Fun, According to Expert Mike Powell
PM: What advice do you have for someone who is installing their own wooden playset?
M.P.: My greatest advice is to pre-plan the entire situation from start to finish. Start with your available space and terrain [to] determine what size kit you can accommodate. Then determine your ability to complete the build, and if need be, hire supplemental or primary labor to get it done safely. Once at this point, make sure you have all the components necessary prior to commencing construction and ensure you have an anchoring strategy to keep it all in-place regardless of the conditions thrown at it.
PM: How can someone ensure their playset is safely anchored into the ground?
M.P.: If you purchase a kit, be sure to rigidly follow the manufacturer's recommendations. Most kits come with ground anchors similar to those used on mobile homes and other surface devices in high-wind areas like Florida. They are helical screws that are rotated into the ground to a given depth and bolted to the legs of your playset. This makes them easy to install and uninstall/move, and provides solid strength in normal soil conditions. This connection strategy is weaker than a concrete embedment option, and the eyebolts of the helical screws remain at the base of the posts, which can create a tripping hazard.
The concrete embedment option is where a bracket or the posts themselves are encased in concrete (and left to cure for at least 24 hours before use). Concrete embedment provides a solid connection, but take care to ensure that the concrete sits below grade, as it can become an impact hazard if left exposed. This option will require quite a bit of work to break [the playset] free of the concrete and is not advisable if you are renting the space or considering relocation, as it becomes more of a permanent installation.
PM: What's the typical lifespan of a wooden playset, and when should it be repaired or replaced?
M.P.: Most sources I have identified state around a 15-year lifespan of playsets, which seems consistent with what I have seen. Playsets should be repaired or replaced once outward signs of failure are observed. If you see oxidation of the fasteners, distortion of the wooden members, or if components show signs of cracking/weathering, you should consider conducting localized repairs or replacements.
PM: How can readers extend the life of their wooden playset?
M.P.: By performing maintenance on the playset annually, in accordance with the manufacturer's guidelines. This process would include maintaining a water-resistant stain/seal over the wooden components and lubrication of the moving/metallic components. If the wood is sealed, I would do a small-scale water test. Apply a few drops of water to the wood surface. If the water beads up, the finish is still protected. If it absorbs, it means that the sealant has degraded and needs replacement. I would also look for splinters and/or fracturing of the wooden members. If you see any, they can be broken or sanded down to no longer pose a threat to the children playing on them.
Insects that consume wood materials are common around the U.S., so the annual inspection should include looking for small rounded "tubes" that are made of tiny pieces of sawdust or evidence of insect consumption. Warping should also be a maintenance consideration. This distortion could make some of the components rub or fail to function properly.
Outdoor Fun Is Only Just Beginning: 12 Sturdy Trampolines for the Whole Family • 10 Picnic Tables for Kids • The Best Kids Electric Scooters • Wannabe F1 Drivers Will Love These Electric Kids Cars
How We Evaluated These Wooden Playsets
Following structural engineer Mike Powell's advice, nearly all the wooden playsets we recommend are made from long-lasting cedar except for the Plum Discovery Woodland Treehouse, which is made with pine (another acceptable material for wooden playsets) and comes from a brand that's been trusted for 30 years. We surveyed customer feedback on sites like Amazon and Wayfair, referenced other articles about wooden playsets, and asked parents what their preferred sets and brands were. Additionally, we considered size and cost as well as the array of features and made sure to include a variety that fit into different budgets, backyard sizes, and general needs. Some kids might prefer more swings, while others prefer climbing above all else, and still others are all about the slides. Our recommendations reflect this variety of interests.
Best for the Whole Family
Gorilla Playsets Treasure Trove I Swing Set
Key Specs
Model: 01-1021-AP
Age Range: 3–11
Weight Capacity: 800 lb.
Dimensions (L x W x H): 19 x 27.5 x 13 ft.
This massive wooden playset meets the American Society of Testing Materials safety standards and is made of premium cedar wood to stand the test of time. Featuring everything from an alpine wave slide and 7-foot tube slide, to a rock wall with climbing rope, two belt swings, a clatter bridge, two sandboxes, a telescope, picnic table, and so much more, there's no way kiddos of all ages won't have the time of their lives again and again on this set.
Plenty of space and features in this weather-resistant set mean you'll get plenty of bang for your buck
Great for larger families
Most Affordable
KidKraft Appleton Wooden Swing Set / Playset
Key Specs
Age Range: 3–10
Weight Capacity: 770 lb.
Dimensions: 10.25 x 9 x 8 ft.
At under $500, this is a great and affordable wooden playset for your family. Features include two belt swings, a wave slide, an easy climbing wall, plus a shady deck where kiddos can cool off between activities.
The price can't be beat, especially for smaller families
Fewer activities to choose from might result in bickering when more than one or two kids are at play
Best for Toddlers
Step2 Woodland Adventure Playhouse and Slide
Key Specs
Age Range: 3–8
Weight Capacity: 75 lb.
Dimensions: 6.3 x 5.6 x 5.8 ft.
This Step2 playset is the perfect introduction to playsets for your youngest littles thanks to its short height that minimizes the risk of serious falls. The small plastic slide is great for helping toddlers build confidence, and creativity will grow thanks to the play kitchen located inside the playhouse.
Lower to the ground so height-weary toddlers will feel at east climbing and sliding
Includes more plastic features than most wooden playsets meaning shorter lifespan overall
Best for Smaller Yards
Backyard Discovery Echo Heights Playhouse
Key Specs
Age Range: 3–10
Weight Capacity: 223 lb.
Dimensions: 10 x 6.25 x 7.6 ft.
This smaller wooden playset is definitely not short on imagination. Featuring a playhouse with working doors and an indoor play kitchen, plus a wraparound deck and 6-foot slide, littles will spend hours whipping up all kinds of creative fun.
Unique features including play kitchen and grow board (to mark children's height progression)
Older kiddos might grow out of this smaller set more quickly
Best Playset with a Built-In Garden
Plum Discovery Woodland Treehouse
Key Specs
Age Range: 3 and up
Weight Capacity: 110 lb.
Dimensions: 8.9 x 7.9 x 6.3 ft.
This delightful pine playset allows children to create their very own ecosystem thanks to the built-in potted garden (including gardening tools) along with pail and rope to pull up water they can use for watering. There's also a slide, climbing features, and a bamboo wind chime to engage your little one's senses.
This playset can double as an outdoor classroom to teach kiddos about science and nature all at once
No shaded feature at the top might make playtime limited on sunnier days
Best Playset with Monkey Bars
Backyard Discovery Skyfort II Swing Set
Key Specs
Age Range: 3–10
Weight Capacity: 1,350 lb.
Dimensions: 16.75 x 21.9 x 12.3 ft.
Every child has that one playset item they love most, and for some, nothing beats the monkey bars. This spacious playset has that plus a climbing wall ('cause kids gotta climb!), two belt swings, a glider swing, and a three-story playhouse including a picnic table and telescope for endless outdoor play.
Monkey bars and picnic table will engage older kids, while younger ones will dig the glider swing and telescope
Taller features mean kiddos might be more susceptible to falls from higher up; adult supervision recommended
Best Playset with a Spacious Clubhouse
Backyard Discovery Woodridge Elite Swing Set
Key Specs
Age Range: 3–10
Weight Capacity: 1,080 lb.
Dimensions: 15.6 x 19.25 x 11.75 ft.
Kids will love inviting all their friends over to come and play in this spacious playset, featuring a large playhouse that's the perfect place to play board and card games or host club meetings. The set also has plenty of other features including trapeze rings, two belt swings, a slide, sandbox, and covered bridge.
Spacious enough to fit all your kids and their friends
With so many kids, there might be more competition for the single slide
Best Simple Design
Creative Cedar Designs Cedar Chalet Wooden Swing Set
Key Specs
Age Range: 3–12
Weight Capacity: 600 lb.
Dimensions: 17.6 x 9 x 9.2 ft.
Although some basic designs feature only swings or climbing features, the Cedar Chalet isn't too basic. The more compact set features two belt swings, trapeze rings, a climbing wall, single slide, and a small crow's nest and sandbox, so it's simple but still enough to keep your little ones entertained.
Standard swing set design helps you save on space and cash
Some reviewers have mentioned some difficulty with assembly; consider hiring outside help
Perfect for Indoor Use
Cassaro Jumbo Waldorf Rocker with Slide
Key Specs
Age Range: 3 and up
Weight Capacity: 200 lb.
Dimensions: 3.3 x 1.5 x 2.3 ft. (rocker only)
Not everyone has a backyard they can dedicate to a playset, so if all you've got right now is indoor space, we recommend Cassaro's wooden playset pieces. The Jumbo Waldorf Rocker with Slide includes a climbing rocker and 3-foot ramp, which is two-sided and can be used for climbing or sliding down. It's a great introductory set, and you can buy additional pieces to mix and match as your child grows.
Easy to install
Mix and match new pieces as your child grows
Older kids might not find it as exciting after a while
This content is created and maintained by a third party, and imported onto this page to help users provide their email addresses. You may be able to find more information about this and similar content at piano.io
Most Related Links :
honestcolumnist Governmental News Finance News