News
The Best Blenders for Smoothies, Soups, Margaritas, and More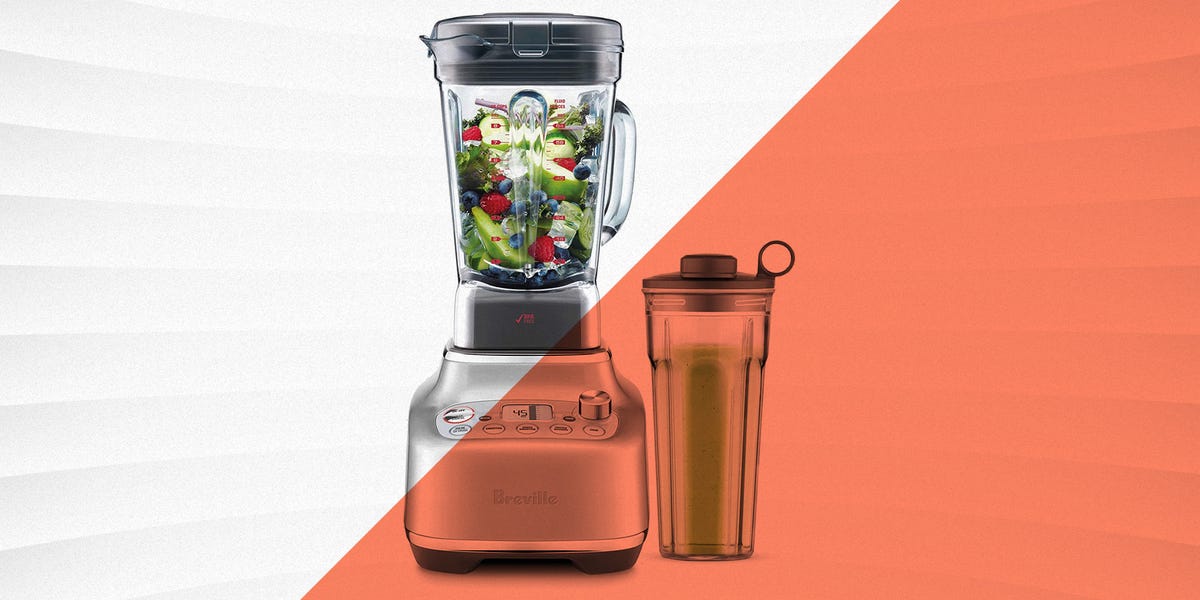 Staff, Courtesy of Breville
Though many single-use appliances—like the air fryer—are trendy right now, we'd be remiss not to call out the multi-functionality of a great blender in the kitchen. More than just a smoothie station, blenders are also good for pureeing simple sauces or intricate soups, crushing ice for frozen drinks, or sometimes even using one as a food processor to chop ingredients. Here, we give you some aspects of blenders to keep in mind as you're buying, followed by our reviews of the best models.
The 9 Best Blenders
Blender Features to Consider
Size: Consider how much you realistically plan to use a blender, as well as how much countertop space versus cabinet storage you have in your kitchen. Opt for a lightweight, more portable blender, such as an immersion blender, to make it easier to store it away when not in use. Or, if you're a daily blender user, don't discount the importance of an attractive design to keep on your countertop.
Power: Wattage is one way to tell how powerful a blender is, but it's not the only indication of performance. It may be best to select models with more speed settings, as well as stronger (rather than sharper) blades for safer cleaning and durability over time.
Price: Blenders can range from under $50 machines to $500 premium appliances, so it can be hard to tell the right price you should pay. However, you should expect to shell out more if you want more versatility and durability. Someone who wants to make the occasional smoothie may not need the most heavy-duty design compared to someone who makes daily protein shakes, for instance.
How We Selected
We researched reviews from 10 expert sources, such as Good Housekeeping, Best Products, and CNET, as well as considered consumer reviews from retailers like Amazon, Walmart, and Wayfair to select these nine blenders. We evaluated each product based on the amount of speeds and presets available and the right balance of capacity and power for its overall dimensions and weight. We also looked for special features like dishwasher-safe containers and portable blending jars. Overall, these selections represent a variety of size, power options, and aesthetics that will work well in any kitchen for any personal needs and price ranges.
Advertisement – Continue Reading Below
Best Value
Ninja Professional BL610 Blender
Key Specs
Watts: 1,000
Capacity: 72 oz.
Dimensions: 17 x 9.5 x 7.5 in.
Weight: 7 lb.
For under $100, the Professional—as it's aptly named—can outperform other budget models while providing versatile power that rivals more premium options. This blender is equipped with a large 72-ounce (and dishwasher-safe) jar, as well as six blades, three speeds, and a pulse function for up to 1,000 watts of power. CNET reported that it worked great for smoothies and batters but can in reality hold only up to 64 ounces of liquid.
Large capacity
Six blades and three speeds
Good price for performance
Professional-Level
Vitamix E310 Explorian
Key Specs
Watts: 1,400
Capacity: 48 oz.
Dimensions: 18 x 11 x 8 in.
Weight: 12 lb.
According to Good Housekeeping, the E310 Explorian has premium precision and control thanks to a powerful motor and an impressive 10 speed settings. The Vitamix name may mean this is an investment. And, unfortunately, the pitcher size is a bit small at 48 ounces (six cups), especially compared to its overall footprint and hefty 12-pound weight. However, the E310 makes up for its bulk with its durable design, motor, and blades, making it good for daily use. Bonus: a self-cleaning feature that Vitamix claims will get rid of grime in just a minute.
10 speed settings
Self-cleaning
Large footprint for capacity
Pricey
Personal-Size Smoothie Blender
NutriBullet NBR-0601 Smoothie Blender
Key Specs
Watts: 600
Capacity: 24 oz.
Dimensions: 12 x 11 x 7 in.
Weight: 5.5 lb.
If you mainly use a blender to make small batches of smoothies, consider this NutriBullet. The 24-ounce cup is large enough to make servings for one or two people and doubles as a travel cup thanks to the included to-go lid and lip ring. With a 600-watt motor and stainless-steel blades, the blender can process your daily smoothie in just about 60 seconds. However, if you want slightly more power and a larger capacity, you should consider the NutriBullet Pro for around $100.
Compact and lightweight
Travel cup
Can handle up to only two servings
Best Design
KitchenAid K400
Key Specs
Watts: 1,200
Capacity: 56 oz.
Dimensions: 16 x 9 x 8 in.
Weight: 12 lb.
It's understandable that you'd want your kitchen staples that stay on your countertop to look stylish and match the room's aesthetic. Fortunately, KitchenAid's 56-ounce blender comes in a variety of sleek color options, from black and white to silver, even blue velvet. Even the simple silver knob that controls the five speed settings and three presets adds a retro element to the design. The reviewers at Best Products noted that it's a bit on the loud side and is cumbersome when storing, so it may be best for kitchens with a lot of counter space.
Soft start feature with multiple speeds and presets
Good capacity
Travel-Size
Oster My Blend BLSTPB-WBL Compact Blender
Key Specs
Watts: 250
Capacity: 20 oz.
Dimensions: 15 x 6 x 6 in.
Weight: 1 lb.
If you find bulky blenders inconvenient and unnecessary for making smoothies and shakes to-go, then consider the compact, affordable Oster My Blend. It whips your preferred ingredients right up in a 20-ounce, dishwasher-safe, plastic sport bottle. Yet, the 400-watt motor is powerful enough to crush ice. The 6 by 6-inch base is so compact, you could even take the whole unit with you when traveling. We also like that it comes in colorful options, including green, blue, orange, and pink.
Portable and dishwasher safe
Several color options
Small capacity
Not very powerful
Best Immersion Blender
Cuisinart CSB-179 Smart Stick Immersion Blender
Key Specs
Watts: 300
Capacity: 2 and 3 cup
Dimensions: 13 x 8.5 x 5.5 in.
Weight: 3.3 lb.
We highly recommend immersion (also known as hand) blenders for small kitchens or infrequent blending because they can get most jobs done then easily pack away in a drawer. The Smart Stick has a quiet, 300-watt motor housed in the eight-inch unit, as well as several attachments for most needs, including a puree and a whisk, three-cup chopper/grinder bowl, and a two-cup mixing cup. Immersion blenders like this one also make it much easier to blend hot foods like soups and sauces right in the pot, without dirtying additional cookware.
Whisk, chopper, and mixing cup attachments
Easy to store
Not as powerful as dedicated blenders
Best Budget
Hamilton Beach Power Elite Blender
Key Specs
Watts: 700
Capacity: 40 oz.
Dimensions: 15 x 9 x 6.5 in.
Weight: 5.6 lb.
A $30 blender may sound too good to be true, but the Power Elite has over 17,000 four- and five-star reviews on Amazon. It's also dishwasher-safe and reasonably sized with a 40-ounce glass jar. While it does have 12 blending functions, it may take some time to decode what presets are necessary for low to high power. Hamilton Beach also backs this blender with a three-year limited warranty.
12 versatile presets
Affordable price
Quietest Blender
Breville Super Q Blender
Key Specs
Watts: 1,800
Capacity: 68 oz.
Dimensions: 12 x 7 x 5 in.
Weight: 18 lb.
The price tag may be hefty, but the Super Q is one of the quietest—and most powerful—blenders around. The 1,800-watt motor can power the blades up to 186 mph. Plus, it's equipped with 12 speed settings and five presets and comes with a personal-size blending cup in addition to the large 68-ounce jug. Not to mention, its gorgeous brushed stainless steel design will look good in any kitchen.
High watt motor
12 speed settings and 5 presets
Includes personal blending cup
Best Dual Purpose
Cuisinart SmartPower Duet 500
Key Specs
Watts: 500
Capacity: 48 oz.
Dimensions: 15.5 x 13 x 7 in.
Weight: 10.6 lb.
It's smart to opt for multipurpose kitchen appliances whenever possible, especially if you have limited storage. Cuisinart merges a blender and a food processor into one without skimping on functionality. The SmartPower Duet has both a two-cup food processor attachment and a large 48-ounce glass blending jar that are both powered by the 500-watt motor and seven settings. This unit is reasonably priced and a fairly compact design, too.
Versatile blender and food processor
Good capacity, but still compact
This content is created and maintained by a third party, and imported onto this page to help users provide their email addresses. You may be able to find more information about this and similar content at piano.io
Advertisement – Continue Reading Below
Most Related Links :
honestcolumnist Governmental News Finance News