News
The Best Gas Leaf Blowers to Maintain Your Large Lawn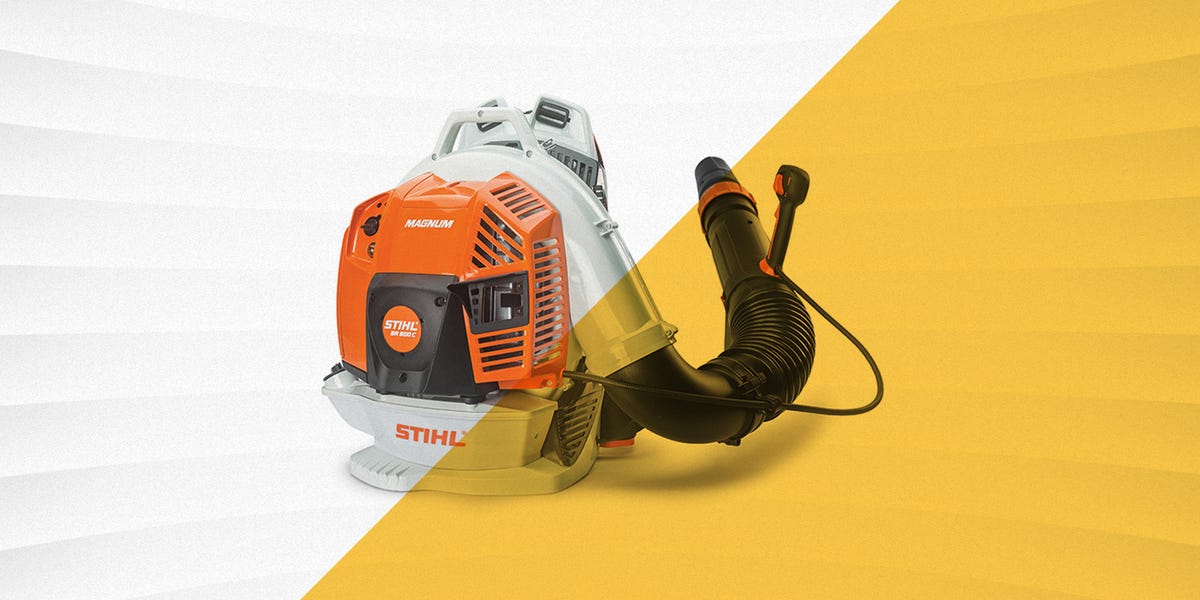 Capable of blasting leaves and debris quickly and easily, a leaf blower is one of the most useful and time-saving machines you can have in your power tool collection. Gas-powered models—as opposed to corded or battery-powered models—provide the power, portability, and extended running times usually not found in their electric counterparts. They do require a bit more maintenance, and fueling them isn't as convenient as popping in a fresh battery, but for customers that have to tackle large yards, or have heavy leaves and debris to blast away, a gas-powered blower could be the perfect fit.
What to Consider
The first factor to think about when choosing a gas leaf blower is whether or not you need a handheld or backpack model. While handheld options are typically lighter, and feature a nice large handle to aim and swing them around, they wouldn't be practical for tackling extra-large spaces. Backpack blowers are more comfortable to wear over longer periods of time, and their larger fuel tanks mean you won't be stopping as often to refill.
Two other factors to think about are the amount of air that flows out of the tube, measured in cubic feet per minute (CFM), and the actual speed of the air leaving the blower, measured in miles per hour (MPH). These metrics can be a bit complicated to understand, but you can simplify them by thinking of the CFM number as a measure of how much debris it can move (the higher the number, the more volume you'll get), while the MPH number represents how heavy of objects it can move.
The type of engine in your blower is something else to think about. Two-cycle engines are the more common type of blower, and require a mix of fuel and oil to run. These tend to be cheaper than four-cycle models, but are also usually noisier and less fuel efficient. Four-cycle engines are more like a car engine, where you put regular gas into the fuel tank, and the oil into a separate crankcase. This design makes these blowers more fuel efficient, although their additional components typically make them heavier.
How We Selected
We spent years working on the landscaping crew of a large state park, which required us to use and maintain a variety of gas leaf blowers, including handheld and backpack models. This experience, in addition to significant leaf blower testing by the Popular Mechanics staff, has provided the insight needed to assemble this list of the best options you can buy. We made sure to only include brands that we know to be of high quality, and since potential readers may plan on using their blowers in California, we decided to exclusively choose blowers that were CARB-compliant. This designation simply means that they meet the current emission requirements by the state of California.
Advertisement – Continue Reading Below
1
Best Overall Option
Stihl BR 800 C-E Magnum
Stihl
stihlusa.com
$649.99
Key Specs
Noise Level: 78 dB(A)
Air Volume: 912 CFM
Max Air Speed: 239 MPH
Engine Type: 4-cycle
Weight: 25.8 pounds
Gas Capacity: 67.6 ounces
It might be on the higher end of the price spectrum, but this commercial-style blower from Stihl packs a serious punch, and with an air speed of 239 MPH was even able to skip a brick across the pavement during our testing. 
The location of the rope pull on this specific model is also really convenient, and allows you to start the machine when it's already on your back. It does weigh a bit more than most of our other picks, at 25.8 pounds, but if your priority is powerful air flow, it might be worth the extra weight.
Powerful output
Easy to start
Noisy
May be too bulky for some
2
Best Affordable Option
Remington RM125
Remington
amazon.com
$79.99
Key Specs
Noise Level: 73 dB(A)
Air Volume: 400 CFM
Max Air Speed: 180 MPH
Engine Type: 2-Cycle
Weight: 11.8 pounds
Gas Capacity: 14 ounces
This Remington blower might lack some of the air volume and speed found in the more expensive models, but at this low price, it could be worth the trade-off. Despite this budget-friendly price, this blower still has a lot of useful features, like a variable throttle and cruise control, allowing you to dial in the precise power and speed you need for the job. At 9.7 pounds it's also one of the lightest options we chose, making it a great choice for anyone who wants to cut down on arm and hand fatigue.
Affordable price
Lightweight
Not suited for heavy-duty blowing
3
Best Budget Commercial-Style Handheld Blower
Husqvarna 125B
Husqvarna
amazon.com
$162.23
Key Specs
Noise Level: 94 dB(A)
Air Volume: 425 CFM
Max Air Speed: 170 MPH
Engine Type: 2-cycle
Weight: 9.4 pounds
Gas Capacity: 16.9 ounces
This handheld blower features an oversized handle for comfortable transport, and at just 9.4 pounds, is a perfect choice for those who don't require the bulk and weight of more powerful models. The cruise control feature makes it even more convenient, allowing you to set the speed you want, and simply carry it around, suit-case style, as you work. 
Since this is also one of the most affordable blowers we featured on our list, it's also great for those who want the reliability of a brand like Husqvarna, but don't have the budget for an expensive model.
Not ideal for extra-large yards
Noisy operation
4
Best Ergonomic Design
Echo ES-250 Shred n Vac
Key Specs
Noise Level: 70 dB(A)
Air Volume: 391 CFM
Max Air Speed: 165 MPH
Engine Type: 2-cycle
Weight: 12.6 pounds
Gas Capacity: 16.9 ounces
The optional shredding capability of this Echo blower makes it more versatile than other standard blowers, and the 4-blade impeller reduces leaves and other debris by a ratio of 12:1. These shredded clippings are then deposited directly into a zippered bag for easy storage and disposal. We also appreciated the little design features of this blower, like the clearly marked power switch, color-coded choke positions, as well as an offset blower tube for easier control, all of which make operating it just that much easier for first-time users. The 70 dB(A) noise level is also lower than most.
Easy to transition from blower to shredder
Quiet operation
5
Best for Maximum Power
Echo PB-9010T 7
Key Specs
Noise Level: 80 dB(A)
Air Volume: 1110 CFM
Max Air Speed: 220 MPH
Engine Type: 2-cycle
Weight: 31 pounds
Gas Capacity: 83.9 ounces
If you have an extra-large yard, or heavy debris that needs to be moved like wet leaves or pine cones, then this powerful Echo blower could be just what you're looking for. It delivers an impressive 1110 CFM air flow, and our testing showed that it's easy to start, and usually fires up with just one or two pulls. 
It also features an intake system that's designed to pull cool air across you back while you use it, making this a great option for those in warm or humid climates. At $600, it's definitely on the higher end, so make sure you need all this power before you buy.
Incredibly powerful
Comfortable to wear
Very expensive
May be overkill for light-duty users
Loud
6
Best 4-Cycle Option
Makita EB5300TH
Makita
amazon.com
$399.00
Key Specs
Noise Level: 70 dB(A)
Air Volume: 516 CFM
Max Air Speed: 184 MPH
Engine Type: 4-cycle
Weight: 19.62 pounds
Gas Capacity: 60.9 ounces
This Makita backpack blower could be ideal for anyone who wants the convenience and fuel efficiency of a four-stroke blower, but without the heavy weight and loud operating noise. Its gas tank can hold up to 60.9 ounces of fuel, and combined with the relatively low 516 CFM air flow, makes this a great choice for large areas with relatively light debris to blow, like dry leaves or pine straw. 
The most interesting feature of this blower is the fact that it's able to weigh only 19.62 pounds, which is significantly lower than the other backpack options on our list.
Fuel-efficient engine
Lightweight design
Large fuel tank
7
Best for Quiet Operation
Stihl SH 86 C-E
Stihl
stihlusa.com
$299.99
Key Specs
Noise Level: 70 dB(A)
Air Volume: 444 CFM
Max Air Speed: 170 MPH
Engine Type: 2-cycle
Weight: 12.3 pounds
Gas Capacity: 14.9 ounces
If you have close neighbors who value their peace and quiet, this handheld Stihl blower could be just what you're looking for. Despite this relatively low, 70 dB(A) output, this blower still boasts a maximum 170 MPH air speed which should be more than sufficient for medium-sized blowing tasks. Plus, since it converts into a vacuum, you can easily gather up your leaves and debris into the attached storage bag. 
The light weight of this blower also makes it ideal for older users, or those who just don't feel like lugging around a heavy machine.
1.5-cubic-foot storage bag
Lightweight
Quieter than most
Not as powerful as similar models
8
Best Wheeled Option
Landworks Super Duty Leaf Blower
Landworks
amazon.com
$499.99
Key Specs
Noise Level: 95 dB(A)
Air Volume: 2000 CFM
Max Air Speed: 200 MPH
Engine Type: 4-cycle
Weight: 130 pounds
Gas Capacity: 90 ounces
A single swiveling front wheel makes this blower easy to maneuver around the yard, and the all-terrain rear tires are capable of rolling over rough terrain. Its 7 HP engine helps generate its impressive 2000 CFM output, and the side-mounted blower allows you to easily encircle your leaves and gather them in a central location. Plus, the blower vent features an adjustable discharge plate, so you can even customize the angle of the air flow. 
This combination of power and versatility make this model just as effective at blowing snow as well, which could make it a useful choice for those in cold-weather climates.
High output
Adjustable vent
Expensive
May be too bulky for some users
Very heavy
9
Best Low-Budget Vacuum Option
Craftsman BV245
Craftsman
amazon.com
$126.02
Key Specs

Noise Level: 74 dB(A)
Air Volume: 450 CFM
Max Air Speed: 205 MPH
Engine Type: 2-cycle
Weight: 10.2 pounds
Gas Capacity: 12.8 ounces
If you're looking for a leaf blower that can also handle the task of bagging up your loose leaves — and without breaking the bank — this vacuum model from Craftsman could be a good fit. Its 1.5 bushel capacity bag can hold nearly 2 cubic feet of leaves, and the included instructions clearly explain how to switch from blower to vacuum modes. A second handle also allows you to maintain control when using it as a vacuum, and combined with the light 102.-pound weight of the unit, makes it comfortable to operate and transport.
Low price
Lightweight design
Relatively low fuel capacity
10
Best Low-Budget Back Option
Husqvarna 150BT
Husqvarna
mowersatjacks.com
$329.00
Key Specs
Noise Level: 72 dB(A)
Air Volume: 434 CFM
Max Air Speed: 251 MPH
Engine Type: 2-cycle
Weight: 22.5 pounds
Gas Capacity: 42.27 ounces
This Husqvarna blower hits a nice sweet spot by combining commercial quality with the smaller size and weight that's valued by residential users. The variable speed throttle fits nicely in your hand, and makes it easy to dial in the precise amount of power you want to apply to your job.
You'll definitely appreciate the shoulder, waist, and chest straps that keep the weight evenly balanced as you work, although with a maximum air flow of 434 CFM, you'll probably be wearing it for less time than you think. Its 42.27-fluid-ounce fuel tank is larger than most, which makes this a great option for larger lawns.
Efficient X-Torq engine
Easy to start
This content is created and maintained by a third party, and imported onto this page to help users provide their email addresses. You may be able to find more information about this and similar content at piano.io
Advertisement – Continue Reading Below
Most Related Links :
honestcolumnist Governmental News Finance News