News
The Best Outdoor String Lights for Adding Festive Vibes to Your Backyard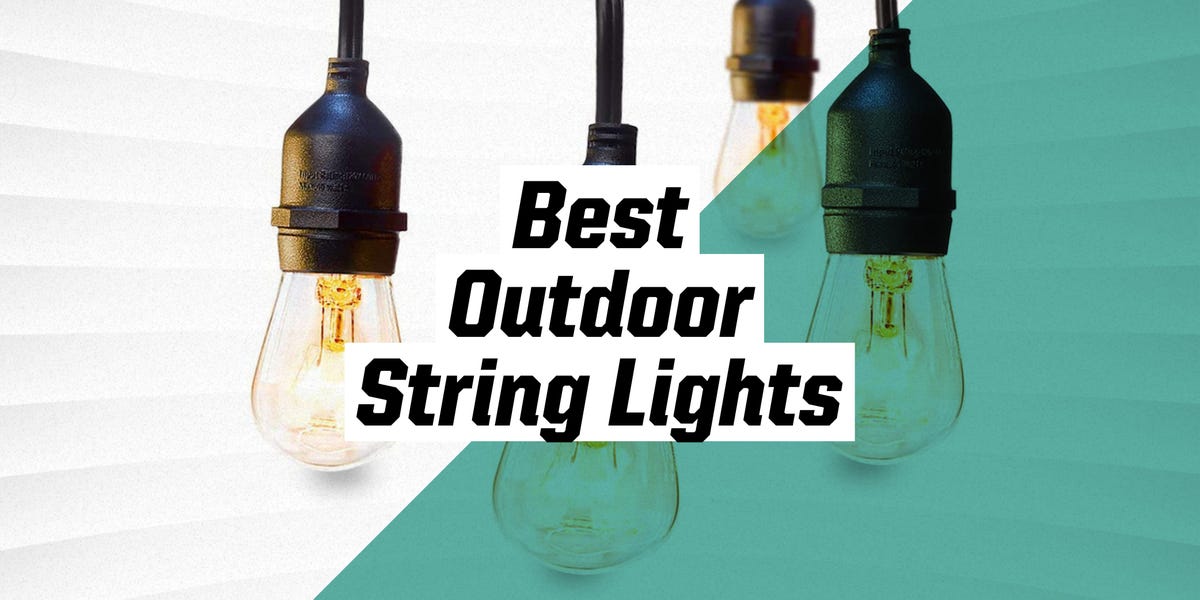 A single set of string lights can give your outdoor space a boost—whether you attach them to the railing of your deck or balcony or hang them underneath your cantilever umbrella or new pergola. While they're often used for summer weddings and showers, you don't need a special occasion to brighten up your backyard. You can spend long relaxing evenings underneath string lights with friends and family enjoying meals and roasting marshmallows over the fire pit. Whether you're looking for a set that's simple and elegant, with frosted globes or vintage bulbs, or festive palm trees or pineapples for a party, read on for our top recommendations.
What to Consider
You may be surprised how much there is to know before buying outdoor string lights. After measuring the feet you need to cover, decide whether you want incandescent or LED bulbs. You can check out our deep dive on light bulbs and our primer on LEDs for more guidance. If there's no accessible outlet and you'd rather not deal with an extension cord, your best bet is to go with a solar- or battery-powered set. When a single set won't do the job, you'll want the option for end-to-end connection, though pay attention to maximum wattage and how many sets can be strung together.
Next up: the number of lights per strand—and how far apart they're spaced, which is usually several inches to 3 feet or more. Finally, aesthetics: Cords come in a range of colors and bulbs range from vintage-style Edison to frosted globes to novelty, made from glass or "shatterless" plastic.
How We Chose
Our selection includes all the most popular outdoor string light styles, with ratings of four stars or more. As noted above, there are a slew of features to take into account, and we highlighted the most notable ones for every set we wrote about. Outdoor string lights are generally inexpensive, but we covered options across a range of price points and chose a few value-added picks, such as sets with longer wire lengths, more lights for less, and strings sold in two-packs.
Advertisement – Continue Reading Below
1
Our Value Pick
50-Foot Outdoor String Lights, 50 Bulbs
Brightown
amazon.com
$38.99
This set of attractive Edison-style bulbs is an excellent deal—with 50 bulbs spanning 50 feet for less than $40 at the time of this writing. They're a customer favorite too, with an average 4.6 stars from more than 30K reviewers. 
The incandescent G40 glass globes are roughly 1.5 inches each and will cast soft white light over a dining table or large patio. Bulbs have an E12 base and an estimated 1,000-hour lifespan, and they're spaced 12 inches apart on the wire, with a 6-inch lead. The maximum is set at one other set, for a total of 100 feet of lights, and the set is both waterproof and dimmable. Two spare replacement bulbs are a bonus.
2
48-Foot Outdoor String Lights, 15 Bulbs
If it's a retro look you're after, these charming, vintage-style Edison-style bulbs will add the perfect touch to your outdoor setup. The heavy-gauge wire is 48 feet long, with 15 elongated incandescent glass bulbs that are fairly bright at 11 watts each.
The waterproof light set is dimmable and features end-to-end connection. The set gets high marks, with an average 4.8 stars from more than 11K customers. Keep in mind that the bulbs are spaced more than three feet apart and there aren't any spares included.
3
Best Globe Bulb
50-Foot Outdoor String Lights, 50 Bulbs
Charlton Home
wayfair.com
$69.90
These on-trend frosted globes will bring an upscale vibe and warm glow to any space. There are 50 incandescent G50 bulbs spaced 1 foot apart on the 50-foot, heavy-gauge wire, which can be connected end-to-end with other sets for a 959-watt maximum. The bulbs are said to have a 3,000-hour lifespan and the set is available with a green or white wire in addition to the black that's shown.
4
Best LED Bulb
48-Foot Outdoor String Lights, 15 Bulbs
Brightech
amazon.com
$43.99
The main advantages of using LED outdoor lights is that they're energy-saving and don't need to be replaced as often. This set comes from LA-based Brightech, known for their high-quality, affordable designer-style lighting. It has a 48-foot-long cord with 15 Edison glass bulbs strung 3 feet apart, and it can be connected with up to seven additional strands.
The set is waterproof and dimmable, and gets rave reviews, with an impressive average 4.8 stars from nearly 7,900 customers.
5
Best White Wire Option
25-Foot Outdoor String Lights, 25 Bulbs
SkrLights
amazon.com
$17.49
White wire string lights always look elegant outdoors, often used for backyard summer weddings and showers. This set has a weather-resistant wire that's 24 feet long, with 25 glass incandescent Edison bulbs spaced 1 foot apart. 
It's dimmable, and three strings can be connected end-to-end for a maximum of 432 watts. The G40 bulbs are 5 watts each and have a E12 base, but there aren't any replacement bulbs included. Several additional wire colors and lengths are available.
6
Best Solar-Powered
27-Foot Outdoor String Lights, 12 Bulbs
Brightech
amazon.com
$39.99
No need to worry about finding an outlet for your outdoor string lights with this solar-powered set. The 27-foot wire has 12 plastic LED bulbs strung 20 inches apart, and they can easily be hung underneath a patio umbrella because there's a 6-inch lead from the first light to the solar panel.
Expect five to six hours of light if the panel is charged for six hours in direct sunlight, less in indirect light. The S14 LED bulbs are replaceable and said to have a 20K-hour lifespan, and although there aren't any extras included, the set does comes with a clip and stake to attach to the solar panel. 
7
Best Industrial-Style
20-Foot Outdoor String Lights, 12 Clear Bulbs
Brightown
amazon.com
$20.99
These industrial-style outdoor lights look sleek, plus the metal cages help protect the bulbs if you accidentally drop the wire. The 20-foot waterproof wire is strung with 12 clear incandescent glass bulbs that give off a warm, soft glow, and they're spaced 20 inches apart, with a 10-inch lead on both ends. The set is dimmable and waterproof, with G40 bulbs that have an E12 base. 
No extra bulbs are included, but it does come with 10 metal hooks and four plastic clips.
8
Best Lantern-Style
7-Foot Outdoor String Lights, 10 Bulbs
LampLust
amazon.com
$22.99
This classic outdoor string light set features 10 mini white lanterns strung on a 7-foot-long wire. They're illuminated with soft white 8.4-watt incandescent bulbs—four replacements are included with the set—said to have a 1500-hour lifespan. 
The lanterns are roughly 3 inches in diameter and made from nylon to hold up in the rain. They're strung 8 inches apart on the water-resistant black wire, which can be connected with additional sets end-to-end with a 216-watt max. 
9
Best Fairy Lights
33-Foot Solar Outdoor String Lights, 100 Bulbs (2 Pack)
Brightown
amazon.com
$16.98
Ultra-romantic fairy lights work best when clustered, or wrapped around things like tree branches and poles. This set has 100 bright LED bulbs on a 33-foot-long bendable copper wire. There are eight options for illumination, from twinkling to waves to flashing, plus they're solar-powered and have a built-in rechargeable battery. Two sets are included, priced at a mere $17 at the time of this writing.
10
Best Novelty Option
9-Foot Outdoor String Lights, 20 Bulbs (2-Pack)
Wintergreen Lighting
amazon.com
$33.99
These irresistible, oh-so-summery novelty outdoor string lights are as festive as they come. You can never go wrong with palm trees, but the pink flamingos and pineapples are equally appealing. 
There are 10 incandescent light fixtures placed 9 inches apart on a 7-foot-long white wire, with an 18-inch lead before the first bulb. They're sold in single strands, but you can connect them end-to-end, so your best bet for value is to buy a two-pack.
This content is created and maintained by a third party, and imported onto this page to help users provide their email addresses. You may be able to find more information about this and similar content at piano.io
Advertisement – Continue Reading Below
Most Related Links :
honestcolumnist Governmental News Finance News