News
The Best Portable Air Conditioners of 2022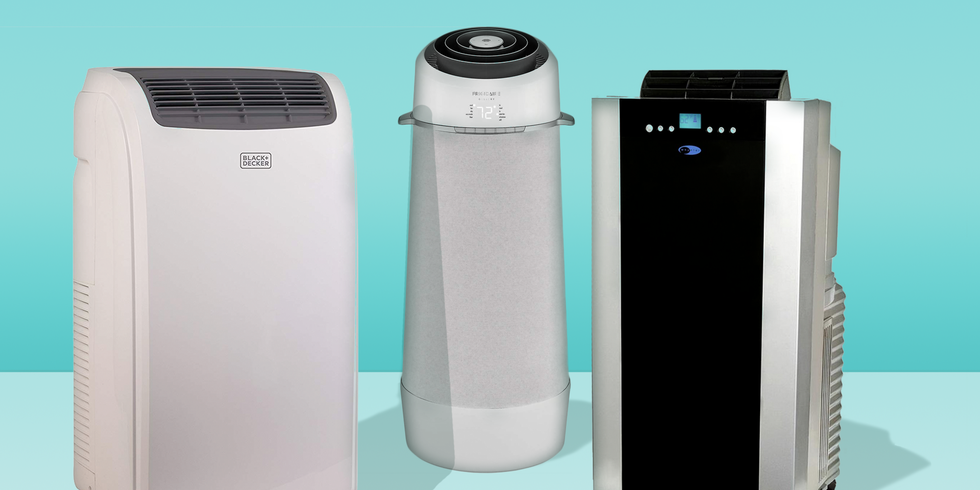 A portable air conditioner makes it easy to cool down each room inside of your home. So long as you can create a connection between this appliance and outdoor air, you've got it made. Simply wheel the portable a/c where you need it most. Next, attach the hose and window bracket kit that comes with it to blend interior and exterior air. Plug in the unit, turn it on, and start enjoying a cool and dry living area. Even better, you don't even need a second person to help you install a portable air conditioner, like you often do with window units. In our testing, we found it takes just about ten minutes to go from unboxing one to cooling a space.
Below is a quick list of some of the best portable air conditioners. Scroll down to read buying advice followed by more in-depth reviews.
The Best Portable Air Conditioners
How Portable Air Conditioners Work
Portable air conditioners take in air that's hot, stale, and humid, and blow it over a cold metal coil. Inside the coil is refrigerant gas that's at a much lower temperature than the room's air. The temperature of the air drops as it passes over the cold coil. This cold air enters the room and begins to mix with the hot air in the room, lowering its temperature. Meanwhile, the appliance draws in moisture vapor suspended in the room's air. There, it comes into contact with the cold coil surface. The vapor in the air condenses on the coil, drips off, and collects inside of a pan for easy dumping.
As for the cold refrigerant gas, it gets sucked back to a compressor, where it changes phase, converting from a gas to a liquid. At this point, all its heat energy is concentrated in a small area. A fan blows over this hot coil, and the heat energy is released outside.
Known as condensate, the water that was condensed out of the air may be disposed of in any number of ways. You can remove the pan and dump it. Or the air conditioner itself may sling the moisture against the hot part of the coil where it will be converted back to vapor and expelled in the exhaust. In the rare instances where the portable air conditioner is located near a floor drain, the condensate can be simply run through a tube to the drain. In other cases, the tube leading from the air conditioner's drain pan can lead to a condensate pump that will pump the liquid water to the outside or to a drain elsewhere in the building.
Some portable air conditioners have one hose while others have two. One-hose appliances take in air for cooling from the room and discharge heated air from the hot end of the coil to the outdoors. Two-hose models are slightly more complex and may be more expensive than some single-hose models. One hose takes in outdoor air, cools and dehumidifies it, then sends it into the room while discharging hot air off the hot end of the coil using the second hose. Two-hose models reduce the risk of discharging cooled air to the outside and are less likely to create a negative pressure in a tightly sealed living space. This occurs when any air-discharging appliance, whether a fan or an air conditioner, discharges air at a faster rate than the dwelling can take it back in.
How We Test
We place each portable air conditioner inside of the same room made up of tall windows that take in a strong amount of sun. We then set the temperature on each air conditioner to 68 degrees and the fan speed to maximum, aiming the appliance at a target 8 feet away. Then we measure the temperature at four locations on the target using an infrared thermometer and thermocouples. We also check the appliance's outlet temperature (it should be consistent and a lot hotter than what the air conditioner is putting into the room). We run the appliances on a hard surface that amplifies rattles and squeaks.
To analyze the cooling value of these appliances, we divide their cooling BTU by their cost. A higher number is better in that it indicates you get more cooling BTUs for your dollar. We tested the LG LP1419IVSM and Black & Decker BPACT14H and included several others that we think are worth investigating based on their attractive features or because the appliance earned high marks from our colleague publication Good Housekeeping and its staff of engineers.
---
Best Overall
LG LP1419IVSM Portable Air Conditioner
Key Specs
Modes: Cool, fan only, dehumidify
Cord length: 54 in.
Hose, fully extended: 57 in.
Electrical /BTU: 12 amps, 14,000 BTU
Condensate removed: 10 tbsp

LG's portable air conditioner was the most powerful. After we set the temperature and fan speed, this unit was blowing ice cold air before we could even return to our notes. And the automatic movement of the discharge louvers ensured even temperature distribution directed toward the target. It held its temperature very well. Given those features and the appliance's large BTU number, we think this LG portable unit is well suited for large apartments or office areas that might need extra cooling capacity due to digital equipment. In terms of maintenance, the LP1419IVSM is very good. Two grills cover its twin air filters, and neither requires tools for removal. The top grill is particularly well designed with an easy lift-off feature.
Most Compact
Black & Decker BPACT14H Portable Air Conditioner
Key Specs
Modes: Cool, fan only, dehumidify, heat pump/heat
Cord length: 70 in.
Hose, fully extended: 57 in.
Electrical /BTU: 10.8 amps, 10,000 BTU
Condensate removed: Produced no measurable condensate
This Black & Decker portable air conditioner is best suited to small-room cooling, perhaps even supplementing a central-air system in a tall condominium or townhouse that has an uncomfortably warm upstairs room. We liked the BPACT14H's air distribution. You manually set the output louver vertical direction to adjust the appliance's throw (HVAC lingo for how far the air conditioner pushes the air), but behind those louvers is an oscillating louver that shifts automatically left to right. The result is smooth, clean, cold air softly delivered over a broad area.
The portable a/c's maintenance is pretty easy. The owner's manual says that you'll need to drain condensate only under extreme conditions. We found no condensate in our test; we're left to conclude that was an accurate statement. Grill removal was not as simple as the other portable air conditioners, but it's still pretty good. The top grill is removed tool-free; the side grill is held by two thread-forming screws for plastic. The third filter slides out. Three filters, two screws. That's a pretty good score in our book.
Most Versatile
Whynter Elite ARC-122DS Portable Air Conditioner
Key Specs
Modes: Cool, Fan only, dehumidify
Hose, fully extended: 60 in.
Electrical/BTU: 9 amps, 12,000 BTU

This a/c is one of several appliances we observed that have a dual-hose design. One hose pulls in outdoor air and then filters, cools, and dehumidifies it before blowing it into the room. The other hose takes warm air and ejects it to the outdoors. The design prevents the appliance from creating a negative pressure in the cooled space, which can pull in warm, humid air from building cavities, the attic, the crawlspace, and other undesirable locations. We also like that the a/c creates very little condensate, so you won't have to change the collection tank as often.
Smart Design
Frigidaire FGPC1244T1 Portable Air Conditioner
Key Specs
Modes: Cool, fan only, dehumidify
Hose, fully extended: 59 in.
Electrical/BTU: amps not available, 12,000 BTU
Two specific design attributes of the Frigidaire make it attractive: powerful, high-BTU cooling capacity and a cylinder shape that is unlike any portable air conditioner we've reviewed. And if you like to automate your tech, you'll dig the Frigidaire app that lets you run this appliance remotely. The on-machine controls are simple and intuitive: A large panel on the front with a row of buttons below helps you set modes and fan speed. And a cleanly designed, pancake-shaped remote control nests into the appliance's top. By pancake shape, we mean something like the iconic Honeywell wall thermostat: round and simple. Finally, Frigidaire makes it easy to get service or parts should the air conditioner break or wear out.
Best Dual-Hose Air Conditioner
Whynter ARC-14S Portable Air Conditioner
Key Specs
Modes: Cool, fan only, dehumidify
Hose, fully extended: Not listed
Electrical/BTU: 10.8 amps, 14,000 BTU
This Whynter's amperage and BTU capacity position it firmly in the heavy-duty cooling category (and the heavy category; this portable air conditioner weighs 80 pounds). It's a dual-hose (intake and exhaust), which, theoretically, should reduce the amount of condensate that the a/c collects, since it's supposed to be removed in the exhaust air stream. A similar model (ARC-14SH) also operates in heat pump/heater mode. For a slightly smaller model, check out the Whynter Elite ARC-122DS above.
Best for Small Rooms
Midea MAP05R1WWT Portable Air Conditioner
Key Specs
Modes: Cool, fan only, dehumidify
Hose, fully extended: Not listed
Electrical/BTU: 7.3 amps, 5,000 BTU
If you just need to cool a small space, there's no sense in getting a larger air conditioner than you need. You can save space, money, and energy with this appropriately-sized a/c from Midea. Although it's not an Energy Star-rated appliance, it uses next-generation R32 refrigerant, has a perfectly respectable efficiency (CEER) of 10.9, and a modest current draw of 7.3 amps while cooling. Its remote senses the temperature and allows you to adjust the cooling.
Sleekest
DeLonghi PACEM360 WH Portable Air Conditioner
Key Specs
Modes: Cool, fan only, dehumidify
Hose, fully extended: Not listed
Electrical/BTU: 8 amps, 11,000 BTU
Sleek styling, high efficiency, and convenient features all meet in Delonghi's PACEM360, rated to cool and dehumidify rooms up to 400 square feet. Given the respectable performance we've seen from DeLonghi appliances in other tests, we're inclined to think that it's rated cooling capacity is accurate. We like the handy placement of its remote—on top and easily visible. The appliance's 24-hour timer can help you manage your cooling load, and the low setting is especially designed for night time comfort and to help you get a good sleep.
Best for Home Offices
GE APFD06JASW Portable Air Conditioner
Key Specs
Modes: Cool, fan only, dehumidify
Hose, fully extended: Not noted
Electrical/BTU: 8.7 amps, 6,100 BTU
With a rated cooling area of about 250 square feet, this little GE appliance is a perfect fit for the home office. Its front grill and louver design have a distinct horizontal discharge bias. That means its most effective cooling zone is directed right about where you're seated at your desk. Plus, its 24-hour timer allows you to set it up to begin cooling in the early morning. It's a great way to start your work day in an office that's already cool, dry, and comfortable. Weighing only 44 pounds, it's a snap to wheel out of the way and stash it in a corner.
This content is created and maintained by a third party, and imported onto this page to help users provide their email addresses. You may be able to find more information about this and similar content at piano.io
Most Related Links :
honestcolumnist Governmental News Finance News