News
The Best Portable Tire Inflators for Peace of Mind on Your Next Road Trip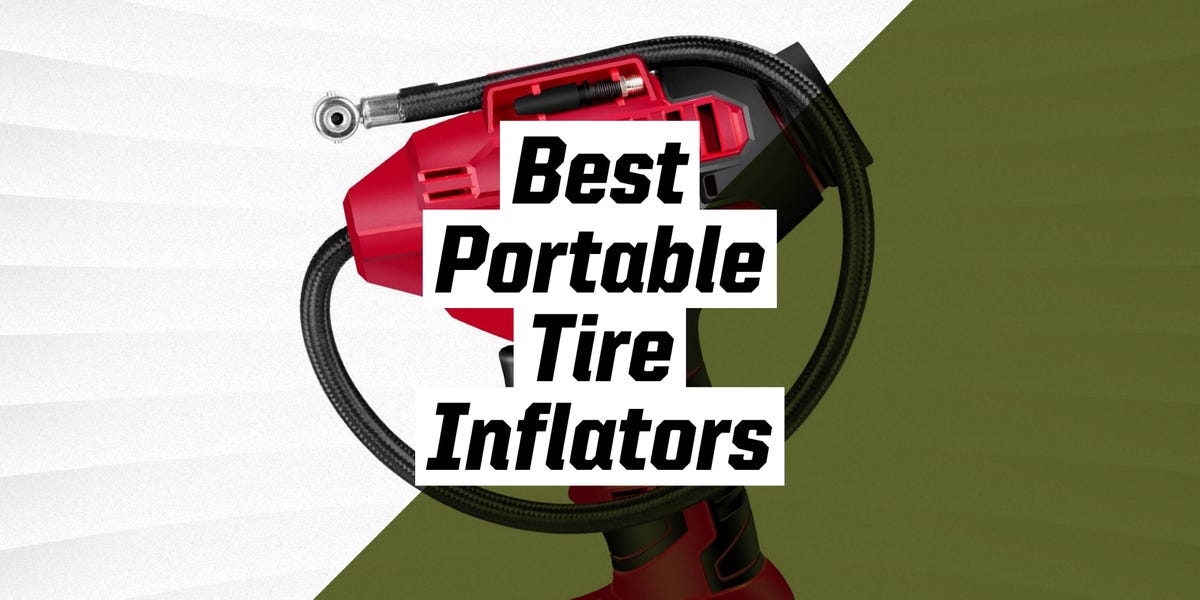 Staff, Courtesy of Avid Power
Portable tire inflators often get thrown under the bus for not being as powerful as their plug-in counterparts. However, years of R&D in battery and motor technology has led to big gains in power and portability. Aside from portability, the peace of mind that you gain from having readily available onboard air is simply invaluable. Whether you're crawling through the Rubicon trail or cruising down the interstate, you never know when you'll need a quick hit of air.
What to Consider
While there are plenty of metrics to look at when it comes to air compressors, the most important will be cubic feet per minute (cfm). The higher the number, the faster the compressor can add air. For typical road usage, any unit with around 1 cfm will do the trick. Most road tires have a very small air volume and can be inflated with relative ease. However, off-road enthusiasts with bigger tires will want to look for at least 2 cfm. Anything lower than that isn't worth the investment, however modest.
Keep Rolling: The Best Tire Pressure Gauges | Everything You Need to Know About Buying Car Tires | The 2021 Automotive Excellence Awards
The other important number to pay attention to is the maximum psi. While cfm refers to the amount of airflow being produced, psi is a measure of how fast that air can be supplied. The closest comparison would be putting your thumb on the nozzle of your garden hose. It's still supplying the same volume of water, only at a much higher pressure.
If you're a casual motorist, we recommend the more portable–and affordable–units on this list. There's no reason to spend more than $75 for everyday needs. However, if you're a weekend warrior in the overlanding scene, some of the more brawny units will be right up your street.
How We Selected
As a lifelong petrolhead and adventure seeker, I've developed a deep understanding of the importance of being prepared. In narrowing down my list, I looked at factors like cfm, max psi, portability, and price. Aside from my personal experience, I also consulted expert reviews from longstanding websites like Overlander, 4 Wheel Parts, and Mobile Air Systems, along with customer feedback on retail sites like Amazon.
Advertisement – Continue Reading Below
Best Overall
ARB CKMP12 Portable Air Compressor
Weight: N/A | Max PSI: 120 psi | CFM Output: 2.18 cfm  
Despite its eye-watering price tag, this unit from ARB is all you will ever need when it comes to mobile tire inflation. While outfitting off-road enthusiasts with  gear for decades, ARB has been equally committed to high-performance air compressors. Under the skin, the CKMP12 features a hard-anodized cylinder bore and a Teflon-impregnated carbon fiber piston seal for optimum performance and reliability. The unit also allows for plenty of headroom if you wish to add an air tank further down the road.
Excellent expandability
Mountable
Best Bang For Your Buck
Viair 300P Portable Compressor
Weight: 8.7 pounds | Max PSI: 150 psi | CFM Output: 2.3 cfm
Viair has cemented itself as one of the world's leading manufacturers of high-performance air compressors. The 300P is no exception with premium parts including stainless steel valves, an anodized aluminum cylinder, and an oilless direct-drive motor. The unit is powered using alligator clips that connect to your car battery and tips the scales at 8.7 pounds. With 2.3 cfm of power on tap–and a max psi of 150–the Viair can inflate a 35-by-12.5-inch tire from flat to full in just five minutes. And we think that says it all.
Powerful
Comes with everything you need
Good All-Around Performance
GSPSCN Silver Tire Inflator
Weight: 6.6 pounds | Max PSI: 150 psi | CFM Output: 2.4 cfm
Although GSPSCN doesn't share the same recognition as bigger brands in the air compressor industry, its Silver Tire Inflator has a competitive lineup of features. Similar to the Viair 300P, this unit can be powered by a car battery. Despite its modest price tag, GSPSCN didn't skimp on the construction. Weighing 6.6 pounds, it features twin pistons and a direct drive motor capable of pumping out around 2.4 cfm, maxing out at 150 psi.
Best Value
Viair 00088 88P Portable Air Compressor
Weight: 4.5 pounds | Max PSI: 120 psi | CFM Output: 1.4 cfm 
Not everyone has the luxury to spend $300 on a portable tire inflator that can inflate a 37-inch tire in under a minute. That's why the Viair 88P occupies a very important spot in the brand's lineup of portable air compressors. Although this more modest unit can only muster 1.4 cfm, it still has enough muscle to air up a 33-inch tire using a direct battery connection. Despite several complaints about units being dead on arrival, a bigger brand like Viair should have top-notch customer service.
Some customers received non-working units
Easiest To Use
AVID POWER Tire Inflator
Weight: 4.0 pounds | Max PSI: N/A | CFM Output: N/A  
This handheld unit from Avid Power isn't close to being the most powerful inflator on the list. However, it makes a good case for itself as a lightweight, small, and affordable option. Along with its nice form factor, the Avid features a nifty auto-stop function: It will inflate to a predetermined air pressure number. Its backlit digital display and built-in flashlight will make your next air-up quick and painless.
Very portable
Auto-stop function ensures you don't over inflate
Best Budget Option
AstroAI Air Compressor
Weight: 2.2 pounds | Max PSI: N/A | CFM Output: 1.24 cfm  
While many of the inflators on this list are capable of inflating massive off-road tires, this unit from Astro AI is much more pedestrian. The company claims it can inflate a 195/55/R15 tire from flat to full in under five minutes. With the power to supply roughly 1.24 cfm, this package is best for emergency scenarios like a slow leak or a spare tire that needs a bit more juice. 
Highest Air Flow
Smittybilt 2781 Air Compressor
Weight: 20.3 pounds | Max PSI: 150 psi | CFM Output: 2.5 cfm  
Despite Smittybilt's history of outfitting Jeeps with go-anywhere gear, its 2781 compressor is built like a tank. Tipping the scales at just over 20 pounds, it's comfortably the heaviest unit on the list. Not without reason though, as the Smittybilt features a 0.3-hp oilless direct-drive motor that can run continuously for 40 minutes before overheating.  The unit also comes with a 24-foot air hose and can be permanently mounted to your vehicle if you so choose.
Excellent fit and finish
Long runtime
Most Versatile
Makita DMP180ZX Cordless Inflator
Weight: 2.64 pounds | Max PSI: 120 psi | CFM Output: N/A
Despite its more modest power, this Makita comes with a myriad of features to bridge the gap. Its backlit digital display will be easy to read and lets you set a target pressure to inflate to. However, the big drawback with this unit is the lack of an auto-hold function on the trigger. The $99 price point also doesn't include batteries or a charger.   
Excellent portability
Backlit display is easy to read
Batteries and charger aren't included
No auto-hold trigger
Best Entry-Level Option
Tirewell 12V Tire Inflator
Weight: 7.26 pounds | Max PSI: 150 psi | CFM Output: 2.12 cfm 
Tirewell isn't a household name in the air compressor industry, but this 12-volt model brings many impressive features at a solid price. It packs a direct-drive motor connected to twin pistons, which can supply over 2 cfm of air. And at 7.26 pounds, this unit will be easy to move around your vehicle without being too much of a hassle. 
Quiet
High cfm is good for off-roading
Most Portable
Jaco SmartPro Digital Tire Inflator
Weight: 2.05 pounds | Max PSI: 100 psi | CFM Output: .89 cfm  
With its slim form-factor, the Jaco SmartPro offers equal parts functionality and portability. It  can't compete with other more powerful compressors on this list, but it's still a jack of all trades and features a 10-foot power cord. As such, this unit is another great candidate to keep in your trunk for use in emergency scenarios.
Affordable
Long power cord
This content is created and maintained by a third party, and imported onto this page to help users provide their email addresses. You may be able to find more information about this and similar content at piano.io
Advertisement – Continue Reading Below
Most Related Links :
honestcolumnist Governmental News Finance News