News
The Best Push Blocks for Safe and Precise Woodworking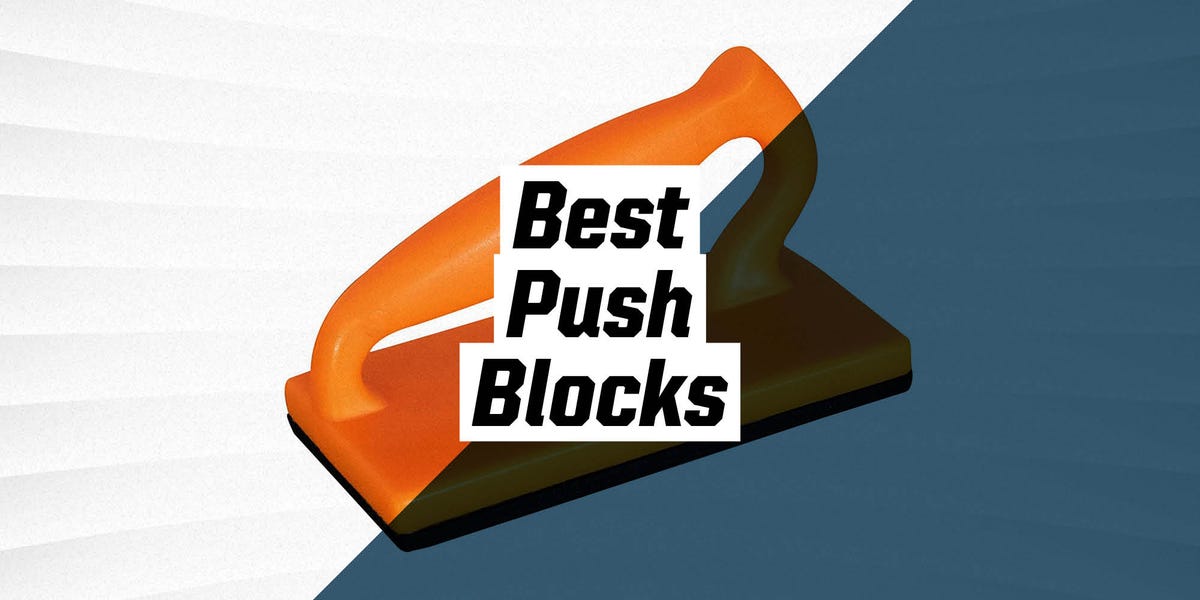 Staff, Courtesy of Powertec
User safety is paramount when it comes to working with stationary power tools like table saws, jointers, or router tables, where even a small mistake can lead to a serious accident. These push blocks reduce the chances of injury by allowing you to keep your fingers away from the blade, using a top-mounted handle and a foam or rubber coating to get a firm grip on the board you're pushing through. This design increases stability and control as well, and keeps your workpiece pressed firmly against the saw fence, jointer, or router bit while you work.
What to Consider
Most push blocks will be appropriate for a range of uses, although some are more versatile than others. If you know that you'll primarily be ripping panels and boards on a table saw, then a basic block should be fine. If you think you'll need a bit more control, like when using a freehand table router for example, you should probably go with a model that has a little more surface area to provide maximum control while you maneuver your workpiece. If you know you'll be tackling a wide variety of projects, it could be a smart choice to go for a multi-functional block that has adjustable components. These tend to be more expensive than other options, but their versatility could be worth it, since they can be customized to accept irregular and oddly-shaped pieces that basic blocks could not.
How We Selected
I worked in a large woodshop during my time as a residential and commercial carpenter, and this experience taught me the importance of push blocks, as well as the value of their different shapes, styles and sizes. We made sure that the list below has a healthy variety of options, so regardless of how you plan on using them, you should find a model that's perfect for you. I also included a couple of push stick options, and although they're not technically blocks, they can achieve the same purpose, especially when you have limited space between the saw blade and fence.
Advertisement – Continue Reading Below
1
Best Overall
GRR-RIP BLOCK Smart Hook Push Block
The ergonomic handle of this block is designed to apply pressure directly against the fence, unlike other models that don't take the angle of your wrist and arm into account. We especially like the raised grip on the bottom, which provides a strong and sturdy hold on your wood pieces, and is a proprietary feature that you won't find on other brands. This extra grip also comes in handy when you want to flip it vertically, and use it to make 90 degree cuts with your bandsaw. The convenient heel hooks drop down from the back of the block to provide even more control when finishing your cuts. 
Lightweight
Affordable price
Heel hooks retract when you don't need them
More expensive than most other options
2
Best for multiple pieces
Fulton Safety Woodworking Push Block and Push Stick Set
Peachtree Woodworking Supply
amazon.com
This kit includes 5 different tools, including two blocks, two push sticks, and an extra-long block, so whatever you're working with, you should have an appropriate tool for the job. We're huge fans of high visibility safety items, like the bright orange color of these tools. It not only helps to be aware of exactly where your fingers are while cutting — reducing the chances of accidents — but also makes them easy to find in the shop, which is a safety perk in itself, since it can be easy to forgo the block altogether if you can't find it. 
Comes with 5 pieces
High-vis color
Great price
3
Best low-budget option
Powertec Straight Handle Push Block
POWERTEC
amazon.com
$8.49
If you don't have the budget for more expensive models, this block could be a great fit if you're looking to stay under $10. A solid rubber pad on the bottom of this block allows you to safely and securely guide your workpiece, and at just 5.6 ounces, is light enough to use for extended periods of time. The bright orange color allows you to always be sure of where your hand is in relation to the saw blade, and at just 3.5 inches tall should be easy to store out of the way when not in use.  
4
Best Multifunctional Option
GRR-RIPPER Advanced 3D Push Block
MICROJIG
amazon.com
If you want to be prepared to safely and effectively guide wood through a variety of woodworking tasks, this multifunctional board could be just what you're looking for. Virtually every part of this board can be adjusted and customized to whatever your project may be, whether that's ripping a board through a table saw, or performing intricate routing work on a small work piece. Even better, you can use two of these when cutting extra-long boards, up to 8 feet long. Not only does this technique increase your own safety, but it also helps to protect your boards from unsightly burn marks from the saw blade. 
Totally customizable
Durable construction
Expensive
May be overkill for the average DIY-er,
5
Best Stick Option
Powertec Deluxe Magnetic Push Stick
POWERTEC
amazon.com
$9.49
Although it's not technically a block, this push stick is just as effective, and could be more convenient for users who are limited on storage space. Magnets allow you to store it within easy reach on your table saw, or you can use one of the cutouts on the handle to hang it from a nail or hook. Both of these storage options are especially important if you're buying it for a shop, or if you have family members that may not use a stick simply because they can't find it easily. It also keeps your fingers a nice distance away from the saw blade, which is always preferred. 
Small size
Magnets for easy storage
Low price
Lacks the surface area of a block
6
Best High-End Option
GRR-RIPPER Complete 3D Push Block System
MICRO JIG
amazon.com
$129.00
If you've got the budget for it, as well as a range of projects to take advantage of all of its bells and whistles, this GRR-Ripper push block could be a practical and convenient choice for the right user. We're most impressed with the five sacrificial heels that come with this block, which are actually designed to be cut by the saw blade, and help to prevent tear-out on your boards. A transparent deflector makes this model even more safety-forward, as it prevents wood chips and debris from flying towards your face. The 1/8-inch leg attachment also allows you to rip extremely thin boards. 
Covers a variety of cutting tasks
Reduces amount of flying debris
7
Best for shaping small pieces
INCRA PushGuard Push Block
The compact size of this board makes it easy to maintain control while guiding your wood piece around the bit of a router table, something that would be less convenient with a larger block. It's just as useful as a traditional push block too, allowing you to safely rip boards or run them across a jointer. Our favorite feature of this product is the optional debris shield, which protects the user from flying wood pieces or dust, which can be an issue for those precision jobs where you need to get a bit closer to your work piece.
Debris shield
Compact size
Textured handle
More expensive than similar models
8
Best with Featherboard
Milescraft Push Block, Stick, and Featherboard Safety Bundle
Milescraft
amazon.com
$26.98
The included featherboard in this kit essentially acts as a second fence, and keeps your workpiece positioned exactly where you want it. This way you only have to worry about keeping your piece pressed down against the table, and pushing it forward through the blade. In addition to the standard push block, this kit also includes a push stick with a nice and tall handle, which should keep your fingers out of harm's way while you use it. Both of these tools feature a non-skid coating that won't rub off or mar your wood surface.
Includes featherboard
Good value for the price
Yellow color is easier to lose in a workshop
This content is created and maintained by a third party, and imported onto this page to help users provide their email addresses. You may be able to find more information about this and similar content at piano.io
Advertisement – Continue Reading Below
Most Related Links :
honestcolumnist Governmental News Finance News