News
The Best Table Saws for DIYers and Professionals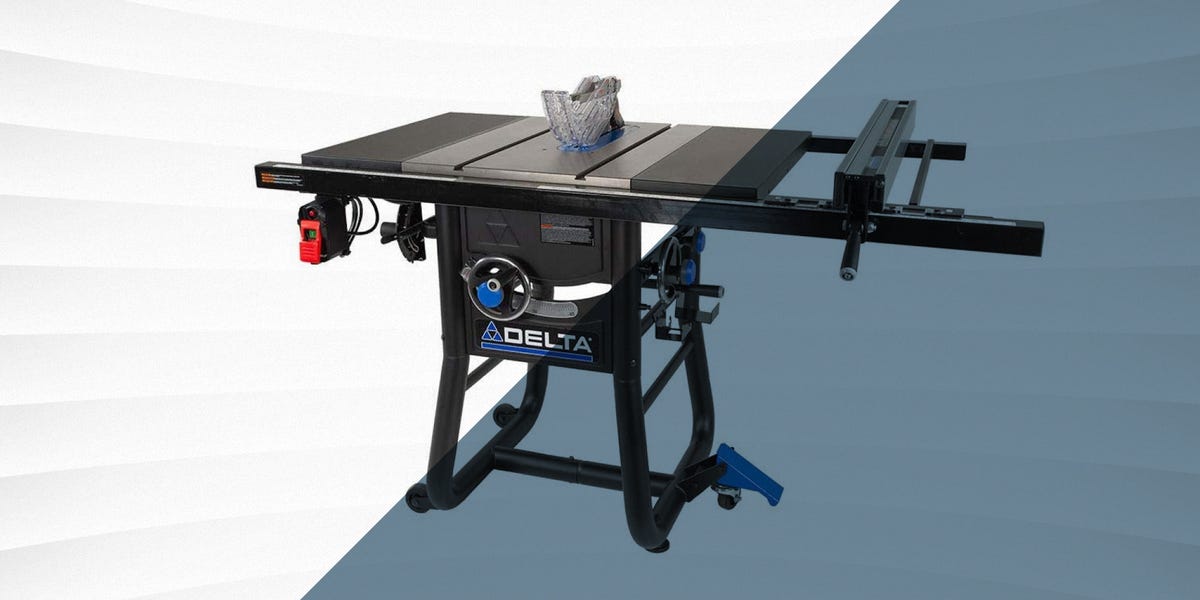 Table saws can be used for a wide range of professional tasks and DIY projects. Although they are commonly used to cut wood, most table saws can also be used for a variety of other materials, such as tile and plastic. No matter what you're sawing through, be sure to use a blade designed for that particular material.
What to Consider
When shopping for table saws, there are a few things you will want to think about.
Model Type
The two broad categories of table saws—portable and stationary—are based on how easy (or not) they are to transport. There are further sub-categories within each of those two groups.
Portable: Benchtop, compact, and jobsite
Stationary: Cabinet, hybrid, contractor
Sometimes, the retailers use the jobsite and contractor labels interchangeably, so be sure to read the specs carefully to ensure that particular saw is the kind you want and will meet your needs.
Buying a table saw is one situation where bigger doesn't always mean better; if you go overboard, you'll get a more substantial machine than you need. A high-end cabinet saw is a major investment. They are expensive and also very heavy. These are for serious professionals—a casual DIYer wouldn't need this type of power, nor would they likely have the space (or budget) to accommodate it.
Blade Size
The most common table saw blade size is 10 inches. A larger blade generally won't make as precise of a cut as a smaller blade, but the larger option is able to cut through thicker materials.
Get Ready to Rip: The Best Portable Table Saws, Tested | 8 Circular Saws For Any Job | How to Build Your Own Workshop Sawhorse
Rip Capacity
To "rip" means to cut a wooden board along the grain. In simple terms, rip capacity refers to the distance between the edge of the blade and the edge of the saw's fence. This determines the maximum width you can cut with that saw. The type of projects you plan to do will determine the minimum rip capacity that would be best for you. Larger rip capacities generally correspond to a higher price tag, so choosing a saw with more rip capacity than you actually need might end up costing you money needlessly.
Safety features are also an important consideration. Table saws can be potentially very dangerous and should be operated with extreme caution. Any features that can help encourage safe operation or offer enhanced protection, such as blade barriers and auto-stop or anti-restart functions, are a big plus.
How We Evaluated
In evaluating a broad range of table saws, I started by drawing on my own firsthand experience. I was the co-owner of a construction business for more than 10 years and am also a hard-core DIYer who has used a variety of table saws of varying styles and sizes. I personally tend to prefer the more compact models that are easier to store and transport, but professionals who handle big jobs involving large pieces of wood or thick materials would likely need a larger model like a cabinet style.
We obtained details like rip capacity and machine weight from manufacturer spec sheets and retailer listings. We also considered reviews submitted by hundreds of Amazon and Home Depot customers, along with reviews on manufacturer websites.
---
Advertisement – Continue Reading Below
Best for All-Purpose Use
DeWalt DWE7491RS
DeWalt
amazon.com
$599.00
Key Specs
• Model Type: Jobsite
• Blade Size: 10 in.
• Rip Capacity: 32.5 in. 
This table saw offers the durable quality you expect from DeWalt combined with the convenience of features such as telescoping fence rails that retract for easier portability. The onboard storage system makes it easy to keep all of your accessories handy yet organized and out of the way. At 90 pounds, this table saw isn't light, but it's designed to fold up quickly for relatively easy transport.
High rip capacity
Built-in rolling stand with sturdy wheels
Limited compatible accessories
Best Hybrid Model
Ridgid R4520
Ridgid
amazon.com
$1,095.77
Key Specs
• Model Type: Hybrid
• Blade Size: 10 in.
• Rip Capacity: 30 in. 
The completely enclosed fan-cooled 3.8-hp motor combined with a 30-inch rip capacity of the R4520 means you can easily zip through big jobs involving large pieces of wood. Register your machine to take advantage of a lifetime service agreement that provides free pars and service. Some Home Depot reviews report a poorly positioned bolt that can push the clade out of alignment.
High rip capacity
Dust collection port
Bolt in awkward position might cause alignment issues
Best Bargain
Rockwell RK7323
Rockwell
amazon.com
$139.00
Key Specs
• Model Type: Benchtop
• Blade Size: 4 in.
• Rip Capacity: 6 in.
This table saw offers decent performance for smaller jobs at a modest price point. It isn't intended for challenging professional jobs, but at only 15 pounds, it is light enough for you to carry anywhere or stash in your trunk. The toolless blade change system means you can swap blades in seconds without reaching for your tool bag.
Lightweight
Affordable price
Not intended for tough jobs or thick wood
Great for DIYers
Ryobi RTS22
Key Specs
• Model Type: Compact
• Blade Size: 10 in.
• Rip Capacity: 27 in. 
This compact table saw is more than capable of handling a wide range of household projects and woodworking jobs. At barely over 50 pounds and with an integrated folding stand, it's also super portable. Some Amazon users complained that the miter gauge doesn't follow standard dimensions.
Non-typical miter gauge dimensions
Great Safety Features
Bosch 4100XC-10
Key Specs
• Model Type: Jobsite
• Blade Size: 10 in.
• Rip Capacity: 30 in. 
This table saw delivers both innovative convenience and enhanced safety protections. The Gravity-Rise wheeled stand allows for single-action collapsing that lets you store, transport, and set it up quickly and easily. The Smart Guard System encompasses several key safety features, including anti-kickback pawls and a guard assembly that provides a protective barrier preventing inadvertent contact with the blade.
Integrated safety features for added protection
Powerful 4-hp motor
Stand requires some assembly
Reliable Performance for Serious Professionals
SawStop PCS31230-TGP236
SawStop
amazon.com
$3,399.00
Key Specs
• Model Type: Cabinet
• Blade Size: 10 in.
• Rip Capacity: 36 in. 
This SawStop model is intended for professionals who need to be able to achieve smooth cuts on a consistent basis and want a hard-core table saw that can handle any job. The powerful machine offers valuable protection with an array of features, such as the patented safety that immediately stops blade rotation when it senses skin contact. According to the manufacturer, the blade comes to a halt in less than 5 milliseconds.
Reliable performance even with heavy usage
Smart safety features
Precision and Strength
Delta 36-5000T2
Delta
amazon.com
$1,120.00
Key Specs
• Model Type: Contractor
• Blade Size: 10 in.
• Rip Capacity: 30 in. 
This contractor table saw combines power and precision so you can breeze through tough jobs with finesse and style. The rail and fence system are strategically designed to guide you through highly precise cuts every time. Choose from steel or cast-iron extension wings.
Precision-promoting features
Built for longevity and durability
Rip capacity not as high as some other contractor models
Easy to Transport
Skil TS6307-00
Skil
amazon.com
$368.01
$329.00 (11% off)
Key Specs
• Model Type: Jobsite
• Blade Size: 10 in.
• Rip Capacity: 25.5 in. 
This table saw is a great choice for both DIYers and pros who need to frequently move from one jobsite to the next. It has a built-in folding stand with legs that collapse quickly so you can have this ready to move in minutes. The dust port elbow keeps mess to a minimum.
Folds up quickly
Anti-restart switch prevents accidentally starts
Relatively low rip capacity
This content is created and maintained by a third party, and imported onto this page to help users provide their email addresses. You may be able to find more information about this and similar content at piano.io
Advertisement – Continue Reading Below
Most Related Links :
honestcolumnist Governmental News Finance News