News
These 8 Bug Zappers Keep Insects Away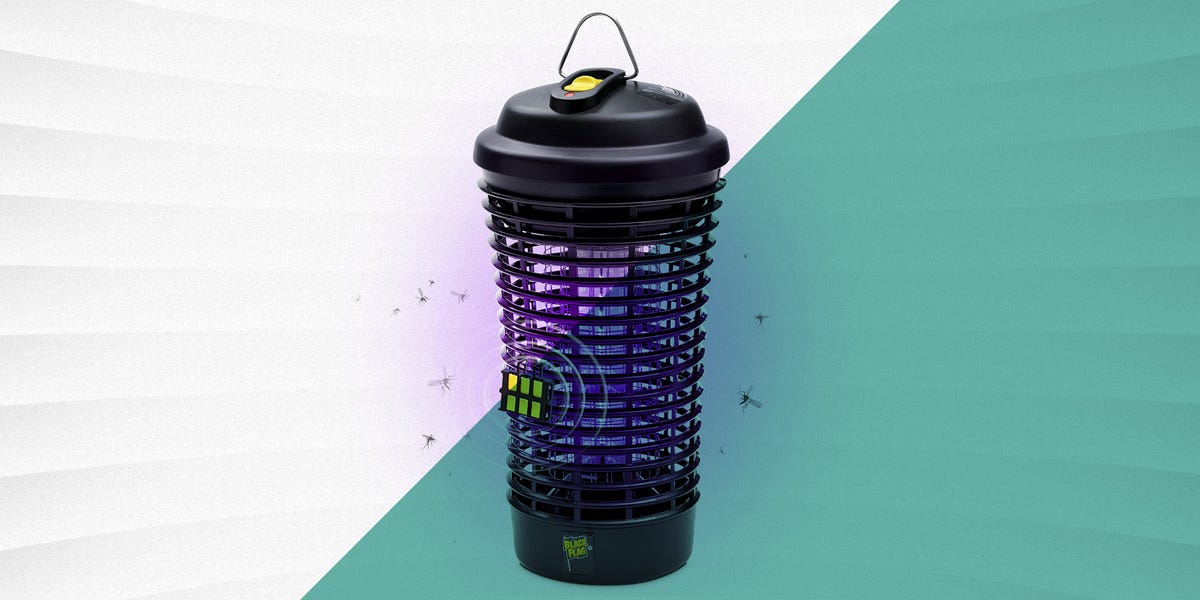 Staff, Courtesy of Black Flag
Whether you prefer to do your outdoor entertaining on sunny days or warm nights, there's one thing that almost everyone can agree on: Getting targeted by an invasion of stinging, chomping insects really bites (no pun intended). Few things ruin a relaxing evening on the deck faster than constantly swatting pests who see your family and guests as an all-you-can-eat buffet.
But bugs aren't just annoying; they can also be a health hazard. Mosquitoes carry diseases such as West Nile virus. Many people also have allergic reactions to bites, ranging from irritating rashes to severe medical emergencies.
Bug zappers can be an effective defense to keep insects from taking over your space. Here, we've laid out some things to keep in mind when looking for your own, followed by our evaluations of the best.
Best Bug Zappers
The Expert: For more than 10 years, I owned a construction business in rural Pennsylvania with my husband, and our job sites were often near creeks or ponds that served as mosquito breeding grounds. We used zappers designed for larger insects and made from stronger materials able to withstand the elements, learning quickly which ones were up to the task, and which features mattered most.
Tips for Finding the Right Bug Zapper
Bug zappers give off an ultraviolet light that attracts small flying insects—and then kills them with a fatal shock when they get too close. Some people find the sight or sound of insects getting zapped distracting, annoying, or even distressing. So you might want to set up your bug zapper in a strategic location near enough to your gathering area to help protect your space yet at a distance that keeps the sound and sights from bothering you. Remember, the point is to establish a peaceful, relaxing, and, most important, annoyance-free haven. (Be sure to read the product descriptions carefully, as some devices are only intended for use in certain areas or conditions.) You might also need an extension cord, even for patio or deck settings, as some products have short cords.
For maximum insect protection, fight pests on several fronts. In addition to a bug zapper, use insect repellent or an insect-repelling device and a citronella candle close to where people are. Ideally, you can also create an enclosed space protected by netting or other material.
How We Evaluated
To recommend the best bug zappers, I relied on my experience using many different zappers as a contractor and homeowner, particularly of the lantern and hanging light varieties. I also researched newer models and technologies and consulted Popular Mechanics's past testing of the category. When evaluating these zappers, I took into account the claimed coverage area each provides, its power source, and how easy it is to empty (a.k.a. the mess factor) on a scale ranging from simple to difficult. I gave extra consideration for energy-efficient options, such as models that are solar-powered or have light sensors to conserve power. To back up my recommendations, I consulted hundreds of reviews at Amazon, Walmart, and other retailers. After reviewing all of that information, these eight models earned my recommendation as the best bug zappers.
Advertisement – Continue Reading Below
Biggest Coverage Area
Black Flag 5,500-Volt Deluxe Bug Zapper
Trusted, well-known brand
Safety guard to protect kids and pets
Some reviewers said it sometimes doesn't kill insects instantly
Key Specs
Coverage Area: Up to 1.5 acres
Power Source: Electrical outlet
Ease of Cleanup: Relatively easy to clean with minimal mess
When it comes to insect control, Black Flag is one of the most recognizable names around. The manufacturer recommends situating this unit at least 20 feet away from where you gather, but with a claimed coverage area of up to 1.5 acres, that doesn't affect its performance. Energy-efficient features include an LED light and dusk-to-dawn sensor that can turn the unit on only during insect primetime. It's relatively quiet, and the soft purple light adds some cool ambiance at night. Additionally, it has a clip-on lure that contains octenol, a chemical that attracts insects. Each lure cartridge lasts about a month.
Ideal for Indoors
Black & Decker Indoor Bug Zapper
Decent coverage area for an indoor model
Reliable high-quality construction
Reviewers say the zapping noise isn't as quiet as they would like
Key Specs
Coverage Area: 6,000 sq. ft.
Power Source: Electrical outlet
Ease of Cleanup: Simple; just empty the collection tray (cleaning brush included)
This unit is designed for use indoors or in an enclosed or covered area outside. You get the durable high-quality construction you would expect from Black & Decker and reliable performance. When using it indoors, I recommend not positioning it near a window at night, or you might discover a high volume of insects swarming around outside the glass or screen trying to figure out how to get to the light.
Stylish Design
DynaTrap ½ Acre Mosquito and Insect Trap
Very quiet
Can be set up almost anywhere
Key Specs
Coverage Area: ½ acre
Power Source: Electrical outlet
Ease of Cleanup: Simple; just twist off the collection basket and empty
Among the pricier of the models that I evaluated, this zapper offers a stylish look and durable, high-quality construction. And because it's not technically a zapper, it's almost totally silent, so it's fine to put near seating. Instead of electric shocks, it wipes out insects via a three-pronged approach: the warm UV light combines with a carbon-dioxide lure created by the specially coated surface to attract bugs, and then the built-in fan ensures that any insects that venture near the device will get drawn in and trapped until they die.
Solar-Powered
Westinghouse Solar Bug Lantern with Shepherd Hook
Solar-powered design for electric-free operation
Attractive decorative design with option to use with white LED lightbulb
Key Specs
Coverage Area: 15 sq. ft.
Power Source: Solar
Ease of Cleanup: Relatively easy, once you learn how to remove the lid
This bug zapper has a classic look that can blend in with your outdoor decor. The fact that it's solar-powered is a nice energy-efficient and earth-friendly feature. It's also versatile, as you can replace the purple UV light with the white LED light (both of which are included) when you want to simply use it as a regular light.
Budget Pick
Pic Mosquito Zapper with Octenol Lure
Inexpensive
Small and lightweight
Key Specs
Coverage Area: Not specified; given its minimal size, best for a small/enclosed area
Power Source: Rechargeable battery
Ease of Cleanup: Easy; comes with a cleaning brush
This affordable option is even more impressive when you consider it does double duty as both a bug zapper and a decorative accent light. You can opt to use either or both functions, and the USB-rechargeable battery lasts up to seven hours. The accent light gives off a cool purple glow. This zapper uses an octenol lure in addition to the UV LED light for dual insect-attracting power (lure cartridges last up to 30 days). This compact (2.5 x 4-inch), portable unit can be used anywhere indoors or outside—great for an RV, office, or at a campsite.
Quietest
Koolatron UV/LED Flying Insect Killer Hanging Lantern
Very quiet
Portable and easy to set up anywhere
Relatively small coverage area
Key Specs
Coverage Area: 323 sq. ft.
Power Source: Electrical outlet
Ease of Cleanup: Easy; comes with a small cleaning brush
The manufacturer boasts that this unit is "noise-free," and many reviewers back up that claim, noting that they couldn't hear it at all. It's lightweight yet weather-resistant and durable, so you can put it anywhere in your yard where insects are an issue. It comes with a hanging ring, but the base is flat so you can also sit it on any smooth surface. (Because it's so lightweight, it's best to avoid placing it where strong winds might knock it over.)
Durable for Outdoors
Flowtron BK-40DK Electronic Insect Killer
Large coverage area
Sturdy and weatherproof
Key Specs
Coverage Area: 1 acre
Power Source: Electrical outlet
Ease of Cleanup: Relatively easy; just empty the bottom tray
This bug zapper gets high marks from Home Depot reviewers for being efficient and reliable. The polycarbonate material is durable and weatherproof, so it's great to use outdoors in a range of moderate to harsh climates. It might not be as quiet as some other models, but the large coverage area—and the optional cartridge of mosquito attractant that can boost its results—make this a popular choice.
Handheld Option
Zap It! Bug Zapper Large
Inexpensive
Can use anywhere
Requires work—and relatively close contact with insects
Key Specs
Coverage Area: Limited to arm's length
Power Source: Rechargeable battery
Ease of Cleanup: Moderate; this can create a bit of a mess
If you would get some satisfaction out of personally destroying your insect foes, you might enjoy this option. But it should go without saying that you must be okay with letting insects invade your personal space before you eliminate them. Like a high-tech version of a fly swatter, the Zap It! Bug Zapper requires some effort but allows you to pursue and safely dispatch unwanted pests, such as moths or stinging insects inside or outside your home. The electric swatter is also available in two smaller models: medium and mini.
Tools to Create a Bug-Free Backyard, According to Expert Bobbi Dempsey
PM: What's your preferred design for bug zappers?
B.D: I tend to like the lantern-style models because they are versatile, offer more options for placement, and often have a decorative look that allows them to blend in discreetly. I've also used hanging light models and liked them fine. I'm not a huge fan of handheld models because they involve continuous effort and also require close contact with bugs.
PM: What's one feature you always prioritize when searching for a new bug zappers?
B.D.: I prefer bug zappers that are as quiet as possible. I'm not a fan of loud zapping noises. Unfortunately, it can be tough to gauge exactly how loud a bug zapper is until you actually use it. This is another reason why I appreciate bug zappers with a large coverage area—that way, you can set it up far from where you'll be gathering, so the noise won't be as much of an issue.
PM: What other products do you rely on for warding off bugs?
B.D.: I'm not a fan of harsh chemicals or toxic materials in general, so I try to opt for natural pest repellents whenever possible. I use citronella candles and essential oils such as peppermint. When using bug sprays and similar pesticides, I look for products made from plant-based ingredients. I also use diatomaceous earth as an effective, long-acting way to kill any insects that might get inside the home or garage.
This content is created and maintained by a third party, and imported onto this page to help users provide their email addresses. You may be able to find more information about this and similar content at piano.io
Advertisement – Continue Reading Below
Most Related Links :
honestcolumnist Governmental News Finance News