News
These Compost Tumblers Will Turn Your Food Scraps Into Nutrient-Rich Compost Fast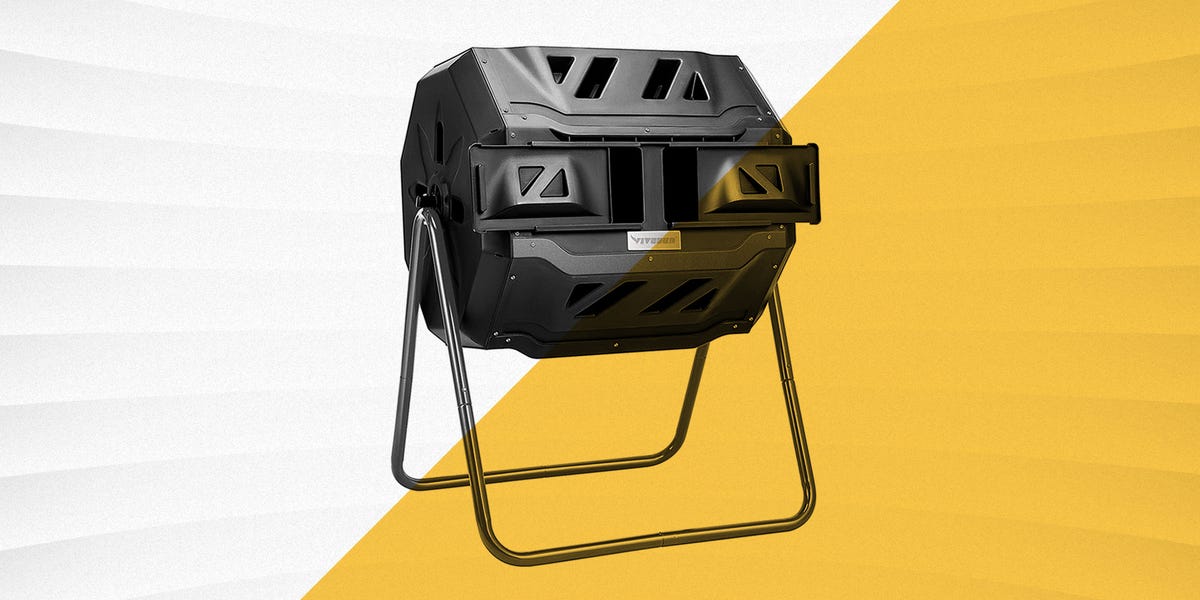 Popular Mechanics; Courtesy VIVOSUN
Making strides to become more environmentally friendly has become the norm these days. While you may already be using metal straws instead of plastic ones, bringing your own reusable bags to the store, or even driving a hybrid car to cut down on carbon emissions, those aren't the only ways to be more eco-conscious and support a healthier planet and future. If you're looking for another way to further improve the environment, investing in a compost tumbler is a great place to start.
Compost tumblers are easy to install and use, and can be placed in a backyard or any outdoor space. Compost bins—which can be used inside or outside—vary in size from countertop models used for scraps alone to large, freestanding bins that can take up a significant portion of your yard. Compost tumblers typically have relatively large capacities, take up a moderate amount of space, and can produce a significant amount of nutrient-dense compost for plants.
What to Consider
Because compost tumblers are best suited for an outdoor space, you'll first want to consider where you'll want to put it. If there's a large corner or empty area in your yard, your tumbler could comfortably live there. Compost tumblers typically have capacities ranging from 20 gallons to over 100 gallons.
It's also worth noting that compost tumblers require manual operation, meaning you'll have to crank or turn them to put them to use. If you prefer to take charge of your composting, then a tumbler is the go-to option for you. While it may seem daunting, it is relatively simple to turn your own compost—and it even takes less time to get results compared to bins. Plus, compost tumblers are more durable and sturdy, so they can withstand the outdoors.
How We Selected
To find the best tumblers for you and your composting needs, we reviewed top-rated options from retailers like Amazon and Lowes. Our selections have all received average user ratings of 4 stars or more, and users claimed that they were easy to use, transport, and create enough compost for their yards. The tumblers we've selected also range in size and capacity, so there's an option for everyone. Below, read more about the best compost tumblers for any yard.
Advertisement – Continue Reading Below
1
Best Overall
Small Composter
Compact
Made of recycled materials
Key Specs
Material: Recycled plastic
Dimensions: 23 x 23.5 x 29.5 inches
Capacity: 27.7 gallons
If you're looking for a great all-around composter, then this one from Miracle-Gro is a great choice. It's compact enough to fit into most corners of a backyard, yet its 27.7-gallon capacity can still churn out plenty of compost. The composter is made of recycled plastic and has sliding doors that tightly lock to prevent any pests or animals from getting in.
Once you load this composter with any kitchen scraps or food waste, it should take between four to six weeks for your compost to break down and be ready to use. Then, you can spread it throughout your yard or garden to help fertilize your lawn and plants.
2
The Runner-Up
Outdoor Tumbling Composter
Two chambers
Comes with garden gloves
Takes a long time for compost to be made
Key Specs
Material: Alloy steel
Dimensions: 26.25 x 23.6 x 36.5 inches
Capacity: 43 gallons
Those with a bit more space in their yard—and a lot more food waste—would benefit from this tumbling composter from Vivosun.
Armed with a 43-gallon capacity and two chambers, you can easily fill this tumbler in batches and decide what materials go on which side. Once it's loaded, all you have to do is close its doors and start rotating it to get the compost to break down. Then, in six to eight weeks, you'll have fertile soil for your yard or garden.
The composter has an average user rating of 4.5 stars, and reviewers give it high marks for its easy assembly and how simple it is to use.
3
Best Dual Chamber
Dual Chamber Compost Tumbler
Two chambers
Takes four to six weeks to make compost
Small capacity for number of chambers
Key Specs
Material: Recycled plastic
Dimensions: 25 x 23.5 x 29.5 inches
Capacity: 18.5 gallons
If you thought Miracle-Gro's single chamber composter was good, then you'll think its dual chamber composter is even better. The heavy-duty composter has two compartments for your food waste, and can hold up to 18.5 gallons in total. Once it's full, just turn the handle five to six times a day, and in four to six weeks, you'll have rich, fertile soil to use in your garden or on your lawn.
The composter is made of recycled materials and is BPA-free, plus it has tightly locking sliding doors to prevent anything from getting in and disrupting the composting process.
4
Best for Beginners
Recycled Plastic Tumbler Composter
Great starter composter for beginners
Makes compost relatively fast
Key Specs
Material: Recycled plastic
Dimensions: 24 x 12 x 24 inches
Capacity: 19 gallons
Composting may seem like a daunting task, but if you have the right composter, it doesn't have to be. For those starting out on their composting journey, this compact option is a great choice. Using it is simple: all you have to do is fill it up, close the lid, and turn it five to six times a day for two to three days. Then, your compost will be ready to spread across your lawn or garden.
In addition to being especially compact, this composter is incredibly portable, and can be rolled around to fit in any empty space outside.
5
Largest Capacity
Compost Bin Tumbler
Large capacity
Two chambers
Made of a sturdy, durable material
Might be too large for smaller yards
Key Specs
Material: Metal
Dimensions: 44 x 28 x 52 inches
Capacity: 70 gallons
For larger amounts of waste—resulting in a larger amount of compost—you'll need a composter with significant capacity. Enter: this Jora composter, which can hold up to 70 pounds of food scraps.
It's made of a durable and stable metal, and has two chambers that can be loaded with all sorts of kitchen and food scraps. Due to its larger size, the composter will need to be stored in a relatively open space or corner in your yard. But, if that works for you, it's the best option for the most amount of compost to be made.
6
Most Ergonomic Handle
RSI Tumbling Composting Bin
Large capacity
Handle makes turning less of a chore
Easy to use
Relatively expensive compared to other options
Key Specs
Material: Plastic
Dimensions: 41.3 x 30 x 44.5 inches
Capacity: 65 gallons
Turning a composter is no easy task; cranking the handle several times a day, multiple days a week, can turn into a bit of a workout. However, with this composter tumbler from RSI, you won't feel as fatigued while you turn your food waste into nutrient-rich compost. The geared handle allows for easy turning—no matter how full the composter is—a major bonus, considering this model has a 65-gallon capacity.
The composter also has two chambers that can be used together or separately, as well as built-in air vents for circulation. It has an average rating of 4.7 stars from reviewers, earning high marks for its easy assembly and simple usage.
7
Best Single Chamber
Tumbling Roto Composter
Easy to use
Made of durable materials
Large capacity
Key Specs
Material: Plastic
Dimensions: 30 x 28 x 36
Capacity: 37 gallons
With a capacity of 37 gallons, the FCMP tumbling composter can produce more compost compared to many other single chamber options—and more than certain models with two chambers, as well.
Once you've filled it with waste, close the door and turn it five to six times a day, several days a week. Then, in two weeks, you'll have fertile, ready-to-use compost to spread throughout your lawn or garden.
8
Best With a Thermometer
Large Compost Tumbler Bin
Large capacity
Two chambers
Easy to use
No distinguishable handle
Key Specs
Material: Alloy steel
Dimensions: 25.9 x 25.9 x 36.8 inches
Capacity: 43 gallons
Once a composter is filled with waste and is in the process of creating compost, it can be difficult to check on how well it's coming along. With the Squeeze Master compost tumbler, however, you'll be able to easily monitor the temperature of your compost, thanks to its built-in thermometer. Doing so will ensure you're making compost successfully, and can alert you to exactly when your compost is ready for use.
Aside from checking on the temperature every so often, to get your compost going, all you need to do is turn the tumbler six to seven times a day every few days; reviewers say it's simple to use and give it a 4.5-star average rating.
This content is created and maintained by a third party, and imported onto this page to help users provide their email addresses. You may be able to find more information about this and similar content at piano.io
Advertisement – Continue Reading Below
Most Related Links :
honestcolumnist Governmental News Finance News