News
These Countertop Compost Bins Will Help You Reduce Waste in Style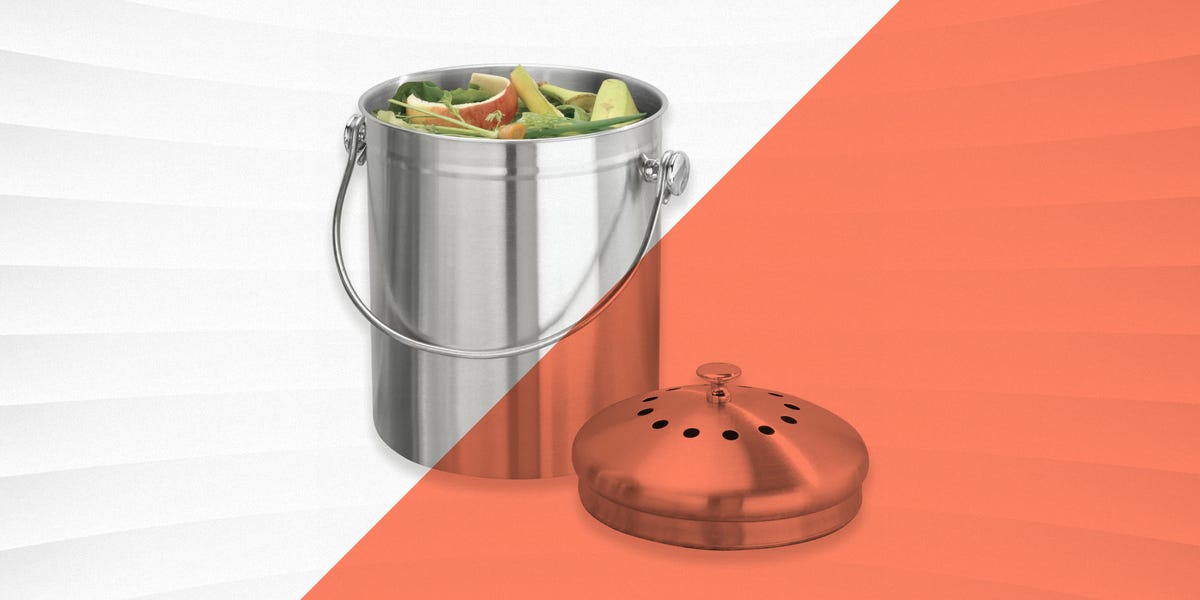 Popular Mechanics; Courtesy Prep & Savour
If you're keen to reduce waste and improve the way you manage your kitchen trash, a countertop compost bin is a great place to start. These self-contained systems allow you to collect coffee grounds, fruit and vegetable scraps, egg shells, and more, and either compost them yourself, or deliver them to the closest local collection center.
Technically, you could collect these items in any old bowl or bin, but without the proper set-up, kitchen compost will begin to smell and attract flies or other critters. Countertop compost bins give both beginners and experienced composters the tools they need to keep the kitchen scraps in one neat, odor-free package.
We scoured the market for the most attractive and efficient countertop compost bins on the market, and found 10 winners in a range of sizes, materials, and styles, and at various price points.
Best Countertop Compost Bins
What to Consider
The perfect compost bin for you is going to depend on a number of factors. Keep the following in mind and we think you'll end up happy.
Size
Think about where you want to put your countertop compost, and how much space you're willing to give up for it. We have bins in a range of sizes below, perfect for kitchens with very tight quarters, or acres of counter space. If you have next to no counter space, consider the bin that can be mounted on a wall or door.
Material
Countertop compost bins generally come in stainless steel, plastic, or bamboo. Stainless steel is the most durable, plastic is the easiest to clean, and bamboo is the most eco-friendly.
Design
You're going to want to pick a compost bin that will mesh with your general kitchen aesthetic. The bins below come in a range of colors, shapes, and styles.
How We Selected
We reviewed hundreds of compost bins, considering how durable, easy-to-clean, and user friendly they were. We also consulted expert reviews, and read through thousands of comments from users. Below, you will find the best of the best, all of which are designed to lock in odor and help you compost kitchen scraps easily and efficiently.
For more great ways to start your composting journey, check out our coverage of the best compost tumblers, indoor and outdoor compost bins, and worm composters!
Advertisement – Continue Reading Below
1
Best Overall
Stainless Steel Indoor Compost Bucket
Durable
Attractive
Nice price point
Can't go in the dishwasher
Key Specs
Dimensions: 10.8 x 8 x 7.9 inches
Material: Stainless steel
Dishwasher Safe: No
This cylindrical countertop compost bin is great for experienced and novice composters alike. It's designed to combat odors, locking them in with its airtight lid. The bin is made of high-grade 430 stainless steel, which is durable and rust-resistant. The stainless steel is nontoxic and will not release chemicals into the compost if you plan to reuse it in your garden. This bin is relatively easy to hand wash, but cleaning the lid requires some extra work because its two charcoal filters have to be removed first.
2
Best Plastic Bin
Easy-Clean Compost Bin
Comes in multiple colors
Easy to clean
User-friendly
Key Specs
Dimensions: 6.6 x 6.4 x 7.5 inches
Material: Plastic
Dishwasher Safe: Yes
This cylindrical plastic compost bin is ideal for beginners who don't have a lot of counter space. The lid flips open for easy filling, then locks in an airtight seal for odor-free storage. The smooth interior walls prevent food from getting stuck and caking up, and when it's time to clean this OXO bin, you can stick it in the dishwasher. The sturdy rotating handle makes this bin easy to transport. Reviewers say this bin, unlike many others on the market, does not attract fruit flies. Still, not everyone loves that the bin is made from plastic.
3
Best Odor Filtration
Dustin Kitchen Composter
Great design
Odor free
Can hold a week's worth of scraps
Key Specs
Dimensions: 11.26 x 8.66 x 8.66 inches
Material: Stainless steel
Dishwasher Safe: Yes
While all of the bins we've included are designed to lock in odor, those with the most sensitive noses say this one rises above the rest of the pack. This stainless steel compost bin is beautifully designed, with smooth and sleek lines, and is made from recycled materials. Its large size means you can pile up scraps all week long, and the powerful charcoal filters absorb odors for up to six months before needing to be replaced. While you may have a hard time fitting this bin in the dishwasher, it can be cleaned by hand if you pop out the removable charcoal filters.
4
Best Large Bin
Odor-Free Kitchen Compost Bin
Stays cleaner than other models
Made of recycled materials
Larger size is good for families
Compostable bags are extra
Key Specs
Dimensions: 11.38 x 8.5 x 9 inches
Material: Plastic
Dishwasher Safe: No
This is not your typical plastic compost bin. Not only does the larger capacity allow you to store your scraps for multiple days, it's made from recycled materials, is BPA-free, and has no harmful coatings, dyes, or chemicals. The green bin opens easily with the push of a button. Reviewers who previously used stainless steel bins love this one, noting that it comes with compostable bags that eliminate concerns about cleaning it out every few weeks.
5
Best Mountable Bin
Hanging Small Compost Bin
Key Specs
Dimensions: 6.9 x 8.3 x 9.6 inches
Material: Plastic
Dishwasher Safe: No
This sturdy compost bin can be wall-mounted, stored on the countertop, or placed under your cabinet. Everything you need to hang the bin is included, with straight-forward directions on how to install it on a door or hang it from a wall. This smaller size makes it ideal for apartments, RVs, or other small spaces. This plastic bin is made from non-toxic materials and comes in multiple colors, but it should be hand-washed to ensure long-term durability. Reviewers love how simple and functional this bin is, adding that its removable lid makes it easier to clean, and locks in odors well.
6
Best Eco-Friendly Bin
Indoor Food Composter
Completely biodegradable
Manufactured sustainably
Durable
Filters need to be replaced every two months
Key Specs
Dimensions: 7 x 6.25 x 9 inches
Material: Bamboo
Dishwasher Safe: Yes
If you want a vessel as eco-friendly as your composting habit, look no further. This Bamboozle bin is made of biodegradable, dishwasher safe, sustainably harvested bamboo. This compost bin requires a charcoal filter to absorb odors, which should be replaced every two months. This square bin looks modern and comes in multiple colors; when you're ready to move on, you can toss it without a second thought, because the material will biodegrade. The small-to-medium size makes it a great option for people with smaller kitchens, too.
7
Coolest Design
Rust-Proof Kitchen Compost Bin
Great design
Durable
Efficient
Key Specs
Dimensions: 13.46 x 7.68 x 5.91 inches
Material: Stainless steel, acacia wood
Dishwasher Safe: Insert is, shell is not
If you want to compost, but you have no desire to clutter your countertop with a clunky bin, this rectangular one may be a good fit. The food-grade stainless steel bin features a secure lid that locks in odors and locks out flies and other pests, while still looking stylish, thanks to the sustainably crafted acacia wood cover. To clean, slide the pail out of the wooden box and place it in the dishwasher. The wooden housing unit needs to be hand-washed, however. Reviewers love that form and function come together in such a beautiful and efficient package, dubbing it "by far" the most attractive bin on the market.
8
Best for Small Spaces
Kitchen Compost Bin
Attractive
Good size for small spaces
Easy to use
Replacement filters cost extra
Key Specs
Dimensions: 14.25 x 12.87 x 9.61 inches
Material: Stainless steel and plastic
Dishwasher Safe: Yes
This stylish bin is cute enough to put on your counter, and is the right size to hold a few days' worth of scraps. This compost bin features two buckets; the inner bin can be removed to discard compost and wash. The caddy bucket is made of anti-rusting stainless steel. The ventilating lid and plastic body are designed to create the optimal temperature and humidity for proper composting. The unique fruit fly trapping charcoal filters absorb odors and ward off insects, but they need to be changed every six months to ensure effectiveness.
9
Farmhouse Style
Farmhouse Kitchen Compost Bin
Comes with two replacement filters
Effective
Great design
Key Specs
Dimensions: 11.26 x 7.91 x 7.91 inches
Material: Metal
Dishwasher Safe: No
If you have a farmhouse-style kitchen, this countertop compost bin will fit right in. The bin comes with one built-in charcoal filter and two extras. Each filter absorbs odors effectively for three to four months, and then needs to be replaced. This premium black metal bin is rust-proof and its handle is sturdier than most, making it easy to tote the bin outside. This compost container should be hand-washed. Reviewers love the size of this countertop compost bin, saying it holds several days' worth of scraps, locks in odors, and looks great in the process.
10
One-Handed Lid Open
Compost Bin With Filters
Great design
User-friendly
Nontoxic
Key Specs
Dimensions: 10.79 x 7.99 x 7.76 inches
Material: Stainless steel
Dishwasher Safe: No
This bin was designed by product engineers who wanted to create a compost bin that was equal parts stylish, easy to use, and convenient. They succeeded, and the design will appeal to both novices and more experienced composters. This bin features a vented filtration system to control odors, and an easy-access charcoal filter that can be popped out without a fuss, a convenient carrying handle, stainless steel construction, and a one-handed lid open that won't slow you down when you're on a roll in the kitchen. The filter lasts about six months before requiring a change and the bin's nontoxic design ensures no harmful chemicals will make their way into your compost.
This content is created and maintained by a third party, and imported onto this page to help users provide their email addresses. You may be able to find more information about this and similar content at piano.io
Advertisement – Continue Reading Below
Most Related Links :
honestcolumnist Governmental News Finance News