News
These Retractable Awnings Will Make Your Yard More Comfortable All Year Long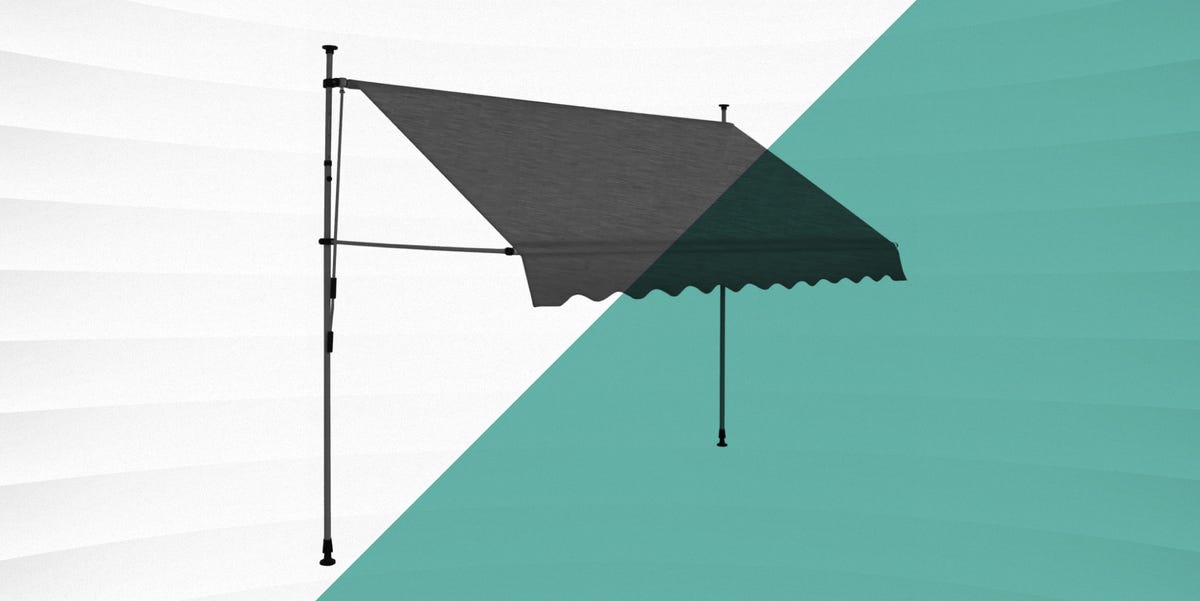 Popular Mechanics; Courtesy Arlmont & Co.
Retractable awnings are a practical, energy-saving investment—and they give your home an elegant finishing touch that may even help increase your property value. They dress up windows and doors like icing on a cake—a scalloped valance with white piping will give you a classic look, while a black-and-white striped one can offer Paris bistro vibes—and they provide more shade for your patio or deck than a standard cantilever umbrella or patio umbrella.
While retractable awnings can certainly be a major expense if you go for a high-end motorized model, there are plenty of lower-cost options on the market that'll only set you back a few hundred dollars, even if you have a large area to cover. And, buying one on the cheap doesn't mean you'll have to sacrifice quality or style.
We've rounded up several worthwhile retractable awnings for your consideration, so read on for our top picks, plus detailed info on essentials, along with shopping advice and tips.
Best Retractable Awnings
What to Consider
There are a lot of features to take into account when shopping for a retractable awning, and finding the best option for you will largely depend on budget. The awning's size and retraction mechanism are what drives cost.
Motorized vs. Manual
The first decision to make is whether to go with a manual awning, which extends and retracts with a hand crank or pulley system, or a remote control-operated electric motorized retractable awning, which always has manual functionality as backup. As you might guess, manual models are considerably less expensive than motorized ones. Generally speaking, manual retractable awnings start at around $200, and you can expect to spend upwards of $1,000 on a motorized model.
The Size
Most retractable awnings are available in a range of sizes, solids, and prints. The smallest can be installed above doors and windows—which look elegant and are an excellent way to save on your summer energy bill—starting at 3 or 4 feet wide. Patio retractable awnings can range from 5 feet to 20 feet wide or more.
The Frame
Frames are typically constructed of aluminum, steel, or a combination, with a rust-resistant powder coating. Lateral arms connected to the mounting bar and front bar are what extend and retract the awning on both manual and motorized models. Most awnings also allow you to adjust their pitch—the angle or slope from back to front—which is an especially helpful feature in the early morning and late afternoon when the sun is low. If you're on a budget, there are also relatively inexpensive freestanding awnings that mount with vertical tension rods.
The Fabric
Polyester is the most common fabric used for awnings, and those on the higher end are made of solution-dyed woven acrylic. Both tend to feature a coating to block UV rays, repel water, and prevent mold. There are also awnings made of materials like PVC that are completely waterproof and offer the best protection from sun and rain. Almost all awnings have a scalloped or straight valance in the front, a decorative detail that provides additional shade.
The Extras
If you have several thousand dollars to spend, top-of-the-line extras include wind sensors that automatically retract awnings in strong gusts, smart motorized retractable awnings that operate via app rather than remote control and can be connected to your smart home hub, and retractable awnings with integrated LED lighting.
How We Selected
During our research, we looked at countless motorized and manual retractable awnings with average customer ratings of four stars or more. We sought out a wide range of sizes and styles for window and doors, patios and decks, and even RVs, and chose options that span multiple price points to suit every budget. We also considered the quality of frame materials and awning fabrics, as well as overall design, to make our final selections.
1
Best Overall
8-Foot Retractable Awning
Key Specs
Type: Manual
Dimensions (W x L): 8 x 7 feet
Frame Material: Aluminum
Fabric: Polyester
Options: 1 size; 9 colors
If you don't want to spend more than couple hundred dollars on a retractable awning for your patio or deck, this manual option is an excellent choice.
The medium-weight, water-resistant polyester awning comes in nine solids and stripes, all with a scalloped, white-trimmed valance. The hand crank extends down nearly 5 feet, and all mounting hardware is included, with the exception of screws for wood.
2
Best Upgrade
13-Foot Retractable Awning
Key Specs
Type: Manual
Dimensions (W x L): 13 x 8 feet
Frame Material: Aluminum
Fabric: Polyester
Options: 1 size; 4 colors
This retractable awning is a standout for value and for the color selection offered. There are four gorgeous hues, including coffee, wine red, and pretty mint green. All have a white-trimmed scalloped valance.
It's supported by a rust-resistant powder-coated aluminum frame, which spans a generous 13 feet wide and extends to 8 feet, and features a manual crank handle. The awning itself is made of a medium weight water- and fade-resistant polyester fabric.
3
Best Motorized
LX-Maui Retractable Awning
Key Specs
Type: Motorized/manual
Dimensions (W x L): 16 x 10 feet
Frame Material: Steel and aluminum
Fabric: Woven acrylic
Options: 8 sizes; 19 colors
If you have more to spend, this retractable awning gives you the convenience of remote control operation, with a manual hand crank as backup in case of a power outage.
There are eight sizes and you're sure to find a color or pattern that suits your style, with 19 options available, plus you can choose the motor's orientation on the left or right.
The durable woven acrylic awning is coated to repel water and mildew, and the aluminum and steel powder-coated frame is constructed to handle year-round weather and high winds. Its heavy-duty lateral arms are another highlight, with dual stainless steel cables providing extra strength and support.
4
Best Side Awning
Loveshare Retractable Awning
Key Specs
Type: Manual
Dimensions (W x L): 19.6 x 5.9 feet
Frame Material: Aluminum
Fabric: Polyester
Options: 4 sizes; 3 colors
This reasonably priced double-wide side awning is a brilliant solution for anyone who lives in a duplex or condo and needs more privacy in the backyard. It's also is a smart bet if you want extra shade for a kiddie pool or play area on the deck or patio, or a privacy screen for a hot tub.
The screen's medium-weight opaque polyester fabric is tear-resistant, blocks UV rays, and repels water, and it features a rustproof aluminum frame.
To install, simply mount the center support post into the ground. Screens extend by pulling on side handles and fully retract into the housing for storage.
The side awning comes in black, beige, and gray, and there are four sizes available.
5
For Extra-Large Spaces
Motorized Woven Acrylic Retractable Soffit Patio Awning
Key Specs
Type: Manual
Dimensions (W x L): 20 x 10 feet
Frame Material: Aluminum
Fabric: Woven acrylic
Options: 12 sizes; 30 colors
If you need an extra-large retractable awning for your patio or verandah, this is excellent choice. The awning spans 20 feet wide and fully extends to 10 feet.
The powder-coated aluminum frame won't rust, and the woven acrylic features a water- and fade-resistant PU coating and a scalloped valance trimmed in white. It's also available in 12 sizes and a whopping 30 colors and prints.
6
Best Freestanding
Monmouth Retractable Awning
Key Specs
Type: Manual
Dimensions (W x L): 9.8 x 4 feet
Frame Material: Steel
Fabric: Polyester
Options: 6 sizes; 1 color
This freestanding retractable awning has two tension rods on each end for quick and easy installation, plus it comes with solar-powered LED lights that wrap around the side support arms and line the top of the scalloped valance.
There are six sizes available ranging from 5 feet to 13 feet wide, all with UV- and water-resistant charcoal gray polyester awnings that unfurl and retract using a 4-foot hand crank.
7
Best for Windows
Slope Window Retractable Awning
Key Specs
Type: Manual
Dimensions (W x L): 48 x 25.2 inches
Frame Material: Aluminum
Fabric: Woven acrylic
Options: 1 size; 8 colors
Retractable awnings for windows save energy and can help reduce your summertime electric bill, plus they're a charming addition to your home's exterior. This option comes in eight solid colors, made of a heavy-duty woven acrylic fabric with a UV- and water-resistant finish. It can handle winds up to 30 miles per hour and manually retracts with a hand crank.
Customers are "extremely impressed with the quality and craftsmanship" and several note that the awning holds up to rain, wind, and direct sun.
8
Best for RVs
Retractable RV Awning
Key Specs
Type: Motorized/manual
Dimensions (W x L): 12 x 8 feet
Frame Material: Aluminum
Fabric: PVC
Options: 8 sizes; 8 colors
If you have an RV and hit the road every summer, a retractable awning is key for enjoying some space outdoors. And, with fully motorized operation and an eye-catching design, this option is well worth the investment.
It comes in eight sizes, ranging from 8 feet to 21 feet wide, as well as eight ombre prints in fun colors and cool neutrals. Made of PVC, the awning has a powder-coated aluminum frame, is fully waterproof, and won't fade. It's easy to adjust the awning's pitch, and it offers good coverage in the rain.
This content is created and maintained by a third party, and imported onto this page to help users provide their email addresses. You may be able to find more information about this and similar content at piano.io
Most Related Links :
honestcolumnist Governmental News Finance News